Discover more from Some Meals
Writing on — and recs for — food and restaurants. Mostly in LA & NYC, sometimes elsewhere.
Over 1,000 subscribers
In regard to Los Angeles
I always love spending time in LA, mostly to see dear friends and family who left NY for temperate SoCal; partly due to the sunshine and flora; and of course, because of its great food.

I try to get there once or twice a year, but I hadn't been back in almost two until this past week. Needless to say, there were lots of new spots to try. I went in with the idea that the city is bustling with all sorts of super cool, new restaurant concepts; that these days, LA is ten times more thrilling than New York in terms of the food scene. In some ways, that's true.

There's the kind of space to build a monstrous and ambitious operation like The Manufactory (and yes, the sourdough is all that). Speaking of bread, there's so much of it being baked by excellent practitioners, like the specialty creations from Bub and Grandma's that you'll find at All Time (focaccia) and Konbi (the fluffiest Japanese milk bread); crusty loaves sliced and layered with fillings for Gjusta's perfect sandwiches; flakey malawach reminiscent of Hot Bread Kitchen's buttery m'smen and soft, steamy pita for dunking in Bavel's silky hummus; Sonoratown flour tortillas, so thin and slightly doughy that they're similar in accomplishment to an exemplary soup dumpling skin; and Sqirl's famed eggy clouds of brioche. In the Cali chef's eschewal of avocado toast, there are endless and extraordinary savory and sweet takes on toast, and I'm here for them all. And then there's the fact of breakfast and lunch-centric eateries with a thriving community feel, pioneered by Sqirl first, on the east side, and later Gjusta, further west, that New York has never quite figured out how to replicate. Perhaps it's just the differing natures of the two cities. In New York, everyone has a 9-6 gig at the end of which and on the weekends, all they want is full-service dinner.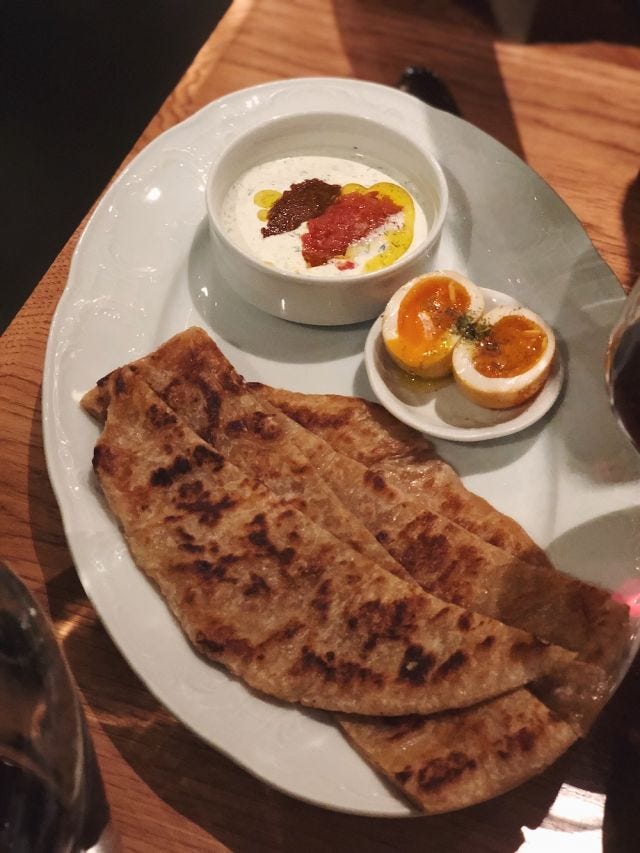 Bavel's malawach with grated tomato, dill crème fraiche, aged egg, and strawberry zhoug.

I checked out Konbi, a detail-oriented gem box where the layered omelet sando spiked with dashi, mayo, and Dijon is very worth traveling for. Chase it with an iced hojicha latte. We hit Bavel, and it did not disappoint (if you like Amaro, finish with their house variety). Fun wine stuff is happening at All Time, where a dinner of whole branzino with crispy sushi rice and charred lemon on the back patio is a delight. At Baroo Canteen, my vegetal and earthy barley bowl was made even better with a side of smoked and pulled gochujang chicken breast—at once creamy, nutty, spicy, and funky. Javier Ramos, former CDC of Sqirl and a hyper-talented chef, is cooking every Tuesday and Wednesday at Trois Familia, and if you live in LA or are visiting soon, I highly recommend you pay him a visit. His food is cheffy but familiar, influenced from people and places all over the city, from mind-bending veggie dishes, to wings that are almost bouncy in their crispness and topped with spoonfuls of (my favorite) salsa macha, and a juicy all-American burger coated in melted Kraft singles and served on a squishy potato bun. He'll be opening his own spot soon enough, so keep your eyes peeled. Finally, there's no denying the thrill of tackling a giant spicy bo ssam, Momofuku-style, at majordomo. Oh, and I snuck in a martini at Musso & Frank Grill, the iconic institution in its 100th year. It was my first time, but it won't be my last. Talk about atmosphere!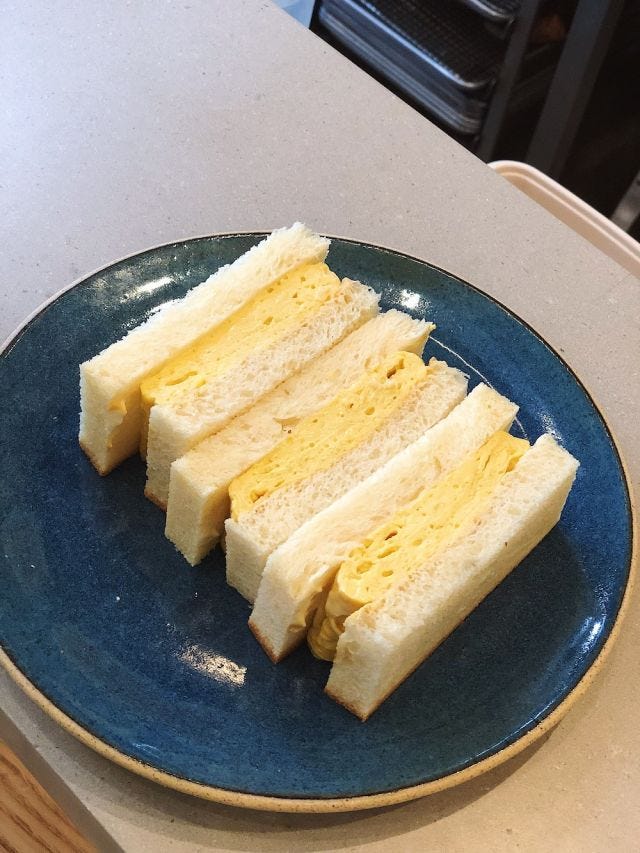 Konbi's layered omelet sando

And yet, the meals I enjoyed most were at the two spots I wasn't new to. We dined at Kismet when we first got to town on Sunday night, and it welcomed us warmly. We swiped crunchy house barbari in zippy labneh with vibrant green zhoug and slick tahini under stewed beans and a mess of herbs. There were freekeh fritters, completely oozy inside. Caramelized lamb belly and cabbage, a dish that honestly outshines the praised lamb neck shawarma at hotspot Bavel. And the signature crispy jeweled rice, fragrant like panettone, entirely addictive, and completely messy to eat. My favorite of all was a plate of marinated feta paired with glossy, umami-packed roasted tomatoes; little sugary orbs of oroblanco grapefruit; and a sprinkle of black mint. Holy shit, all I could think was: Sara Kramer and Sarah Hymanson are geniuses. On top of that, the relaxed vibe is comforting, especially compared to a booming restaurant like Bavel—a place that could exist only in LA and, for someone used to dining in more intimate eateries, can be a bit overwhelming.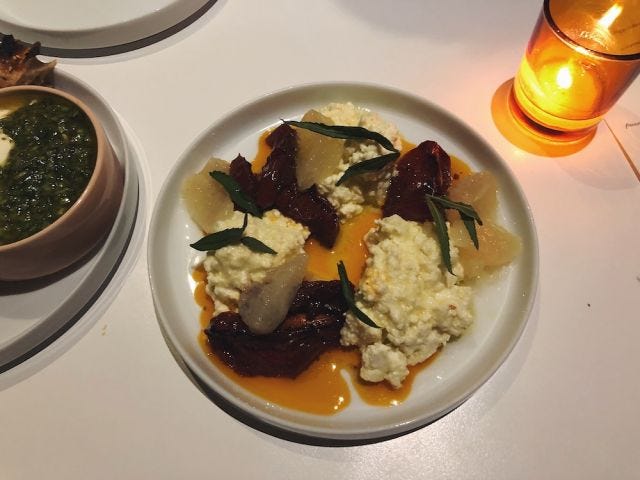 Marinated feta with roasted tomatoes, oroblanco grapefruit, and black mint at Kismet

At 10:45 on a Wednesday morning (a great time to beat the rush), Sqirl took it away, as it always does. We split a crispy rice salad, disco style (with crumbled sausage, avocado wedges, and a fried egg)—a bowl full of perfect bites and a masterpiece in texture—and chicken rice porridge that tasted like summer, bursting with West Coast tomato flavor, yet warmed the soul like the best of winter soups. And because peanut butter and jelly holds a special place in my heart and resistance is futile when on vacation, I opted for an order of hazelnut-almond butter toast with blueberry-rhubarb jam. Every component is made in house, it's the best version I've ever had, and I'll dream of it always.

I'm making a pact to myself to always return to them both, at least once if not twice in every visit. While my thirst for trying every last place on my list (and especially those getting buzz) is undying, I learned a lesson about placing equal, if not more, value on revisiting the restaurants I know I love, in a city that's not my own.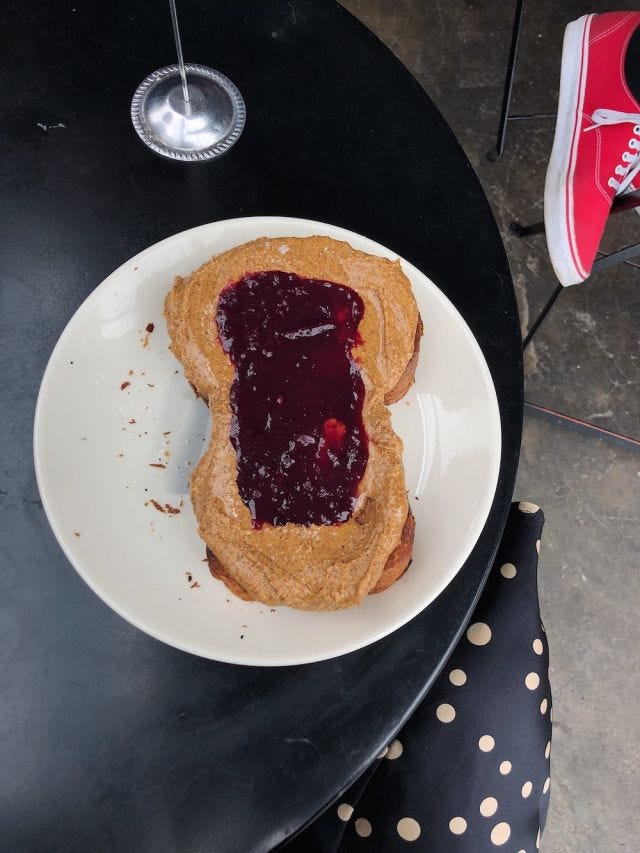 Sqirl's brioche toast with freshly milled almond-hazelnut butter and blueberry-rhubarb jam

But back to the food scene, as it compares to New York. New York is still New York, and there are restaurants that have opened, just in the past few years, executing and delivering on a level that never fails to impress and excite me. I'm talking about Chez Ma Tante, Ops, Claro, King, Frenchette, Bernie's, Flora Bar, the bar at Momofuku Ko, my local favorite Hart's, and it's new sister bar and chicken spot, The Fly. HaSalon just opened, and I'm pumped to try it. I'm probably missing a few.

Rents are expensive as ever, Hudson Yards is a mall, and many of us have to travel to deep parts of outer boroughs to sample some of the best immigrant cuisines. But all those count as reasons I live in Brooklyn.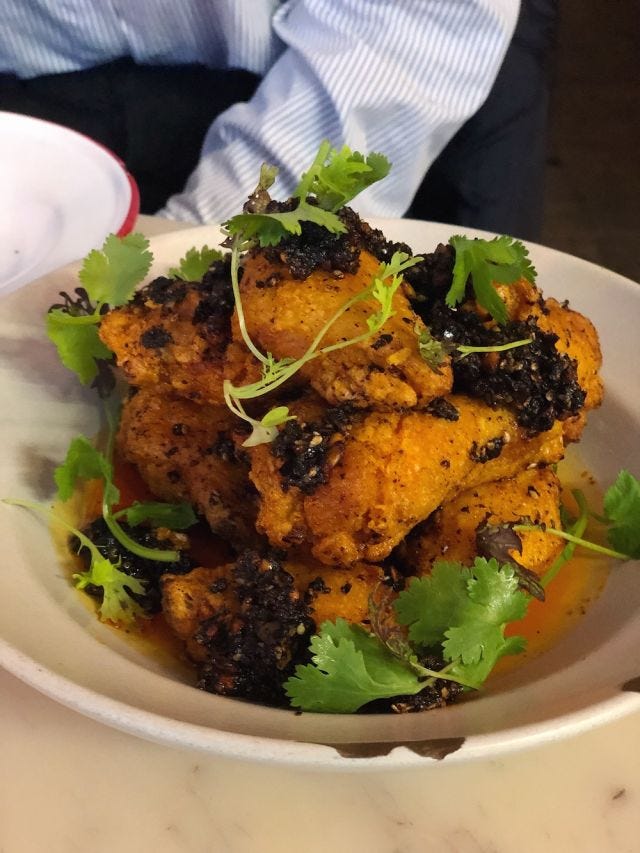 Crispy wings with salsa macha a la Javier Ramos at Trois Familia

So yes, fun, innovative stuff is happening in LA. There are so many spots I still need to try, and there are ample mainstays I can't wait to keep returning to. But what they say still holds true: if you can make it in New York, you can make it anywhere.

🌞🌵🧡

I'm a bit behind, but here are a few recommended reads:
New to Some Things Considered? Read my archive here.