Discover more from Some Meals
Writing on — and recs for — food and restaurants. Mostly in LA & NYC, sometimes elsewhere.
Over 1,000 subscribers
I want to move to Paris
Cliché? Perhaps, but it's less because of the city's enduring allure and more due to its current dining climate. A distinct youthfulness courses through the breakout restaurants of the 11th and 10th arrondissements. Natural wine flows rigorously, for as little as €6 a glass, at wine bars ("caves") that are as vivacious as they are serious about the product they pour (and the snacks they serve with it). Altogether, these are places propelled by a knack for imagination and playfulness, built by chefs, sommeliers, and restaurateurs deeply attuned to the notion that to eat and drink well is to live well.

Here's a round-up of my latest favorites:

Mokonuts
I've already written about Mokonuts, which has become my new go-to for lunch upon landing. A lovely entry point to Paris.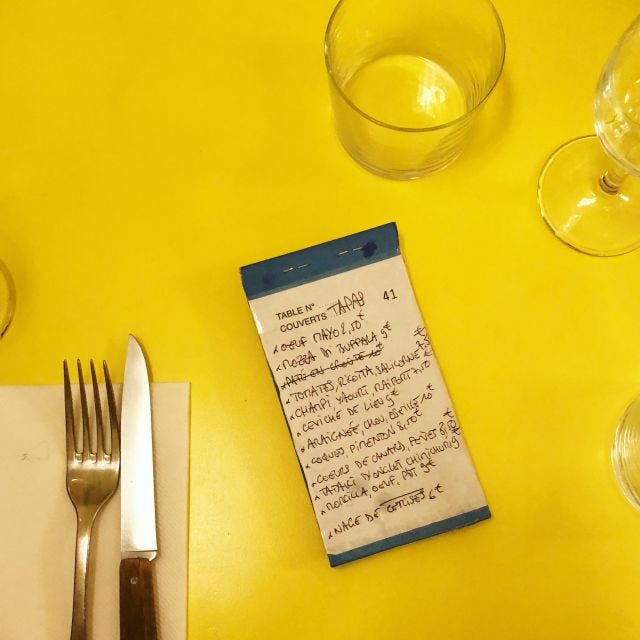 Aux Deux Amis
The warmest of glows engulfs you as you step inside Aux Deux Amis, thanks to a mix of zig-zaggy tube lights protruding from the ceiling and brightly colored tabletops. Your server's first question will be, "would you like something to drink?" to which you'll say yes, and then specify red, white, or otherwise. The weekend before last I had a splendid, mineral-rich white from Progetto Calcarius called "BiancoPuglia" with some manchego and chorizo. Come before dinner—when it's less crowded—and whet your appetite with a few orders of tapas.

Vivant
I was in a jetlag blur when we pulled up to this tiny restaurant comprised of an elegant bar and a single back table. From the personalized attention granted by our server—who brilliantly paired each dish with a different glass of something off their list—to a clever and delectable preparation of duck two ways (as confit clinging to fresh salad laced with fried capers and a perfectly cooked breast over a spoonful of compote), our meal renders as a dream. The Vivant experience rivals those of fine dining destinations for a fraction of the price, and with an added cool factor. Afterward, head next door to Déviant, their rowdy, ultramodern bar that serves as a gathering place for well-dressed, wine-loving locals.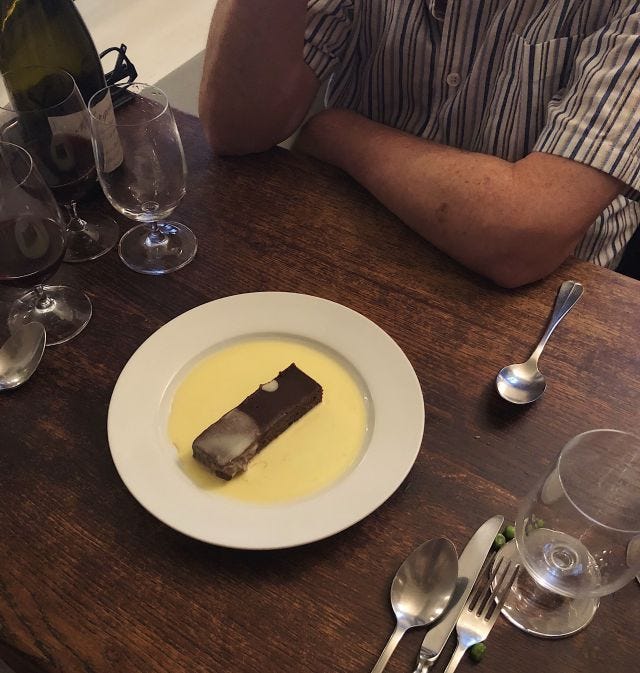 Le Baratin
Le Baratin is a favorite of chefs worldwide for a reason. Generous slices of raw fish are supercharged with acid and presented as tartare; a set of meaty veal ribs gets plated atop springy, slightly roasted potatoes and a savory jus; and a luscious slice of chocolate fondant comes in a pool of crème anglaise. Chef Raquel Carena complements her husband's pioneering natural wine list with simple and homey fare that's just short of rich. Many of today's trends can be attributed to this bare-bones Belleville haunt, which opened in 1987.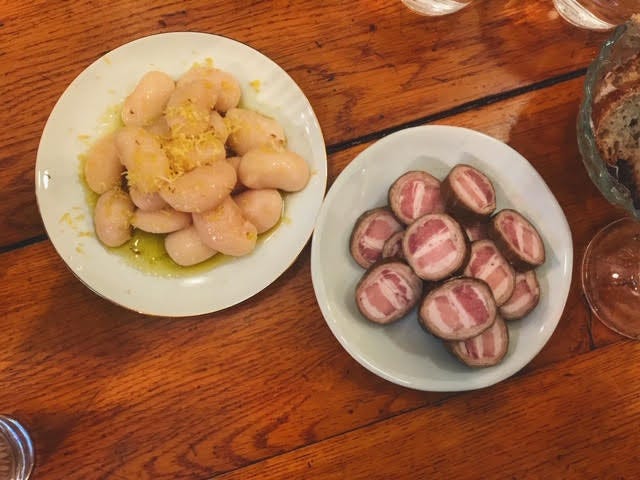 La Buvette
You're likely to find as many, if not more, people speaking English than French at this bona fide hot spot. Parisians, expats, and tourists alike flock here for the impeccable, of-the-moment selection of natural wine plus snacks such as smoked burrata and just-sliced saucisson. The rule is that you must eat something if you're planning to hang. Being a stickler, I surmise, has allowed owner Camille Fourmont to create a space for people to consume thoughtfully and respectfully. Whatever the reason, we're better off for it, because her marinated white beans with bergamot and lemon zest are the best beans I've ever tasted.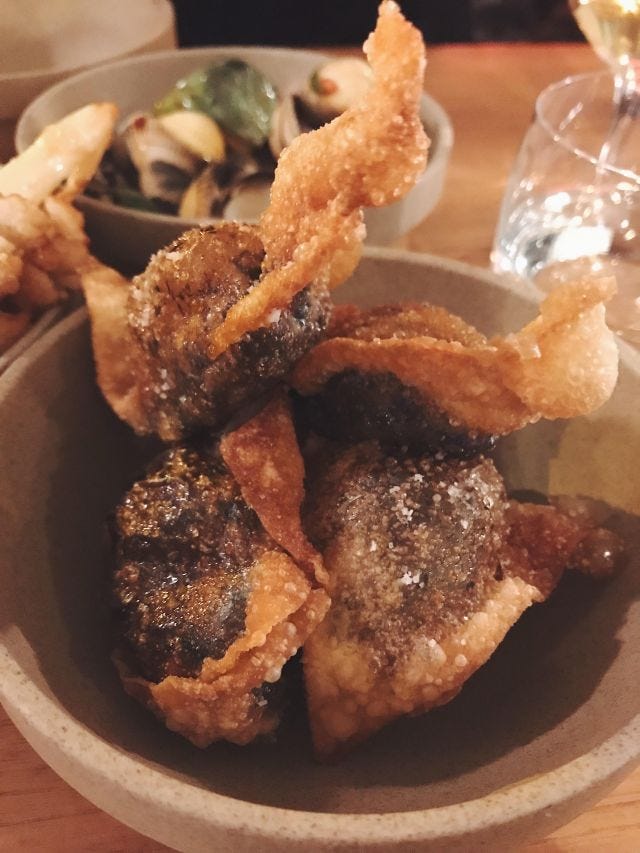 Le Servan
Le Servan is a revelation. A bright, modern bistro with a feminine touch, it's no wonder a pair of sisters is behind it. The chef, Tatiana Levha, is responsible for the cuisine, which boasts a seasonal sensibility, exquisite French technique, Asian flavors, and a kick of heat. Think sautéed cockles laced with fish sauce, bird peppers, and basil; boudin noir wontons served with sweet chili sauce; and crispy suckling pig with roasted carrots and a peanut sauce. Katia, on the other hand, oversees a charming front of house team.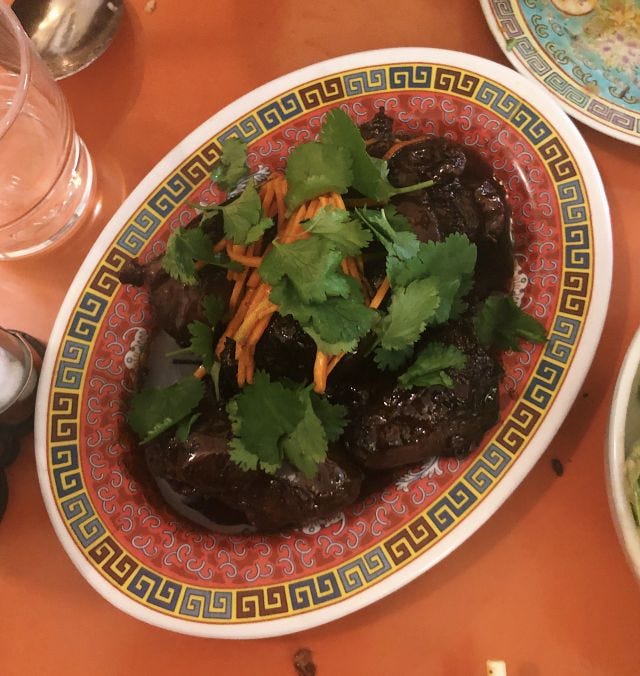 Double Dragon
"It's like the Paris version of Mission Chinese," Saarim said. "It's like Mission Chinese meets Le Servan," I validated. We were playing that game people play when they find themselves in a different city than their own and can't help but cast things in a familiar light. That's not to take away from the originality of Double Dragon, which immediately came through as plates landed down on our table. Every dish was phenomenal, including expertly fried, verdant-green broccoli dipped in kimchi-vinegar mayo; dandan noodles slick with tahini and topped with extra crispy pork bits and frizzled onion; and caramelized pork cheeks bearing a sweet, shellacked exterior that gave way to the most tender meat. While it wasn't nearly as spicy as I expected it to be, dinner here was a mind-blowing thrill. Not to mention the space itself: sleek and pulsing with neon accents and shots of color.

Chez La Vieille
Foie gras and lentils, veal blanquette, crème caramel. Chez La Vieille is where hitmaker chef Daniel Rose showcases his mastery over French classics, and each bite is over-the-top delicious. Know that the food is quite rich and while you can book a table upstairs, dining at the downstairs bar is more relaxed. Plus, the latter lends itself to striking up a conversation with the bartender, who will steer you in the right direction on the wine list.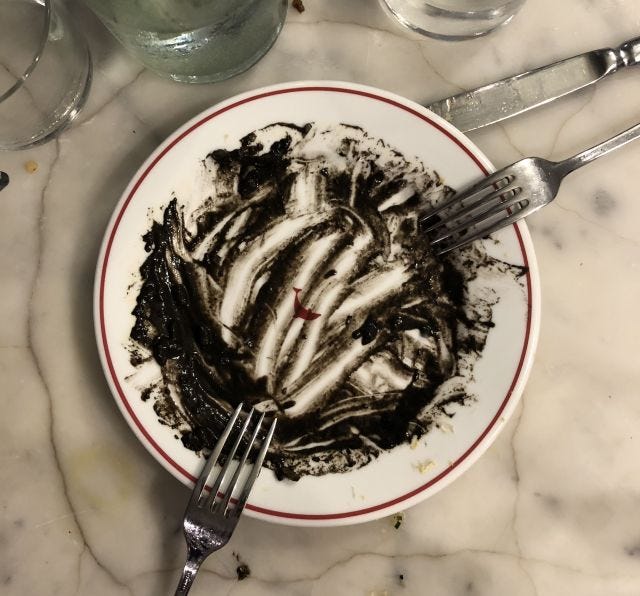 Le Dauphin
The casual, marble-clad counterpart to darling tasting menu joint Le Chateaubriand is plenty satisfactory in and of itself. Start with olives (magnificently marinated Castelvetranos) then move on to an array of delightful, ever-changing small plates. There will always be squid-ink risotto, and you should always order it. Anything seafood-based is a surefire hit. And, if there's a dish called pork ribs with Chongqing, it's your lucky day.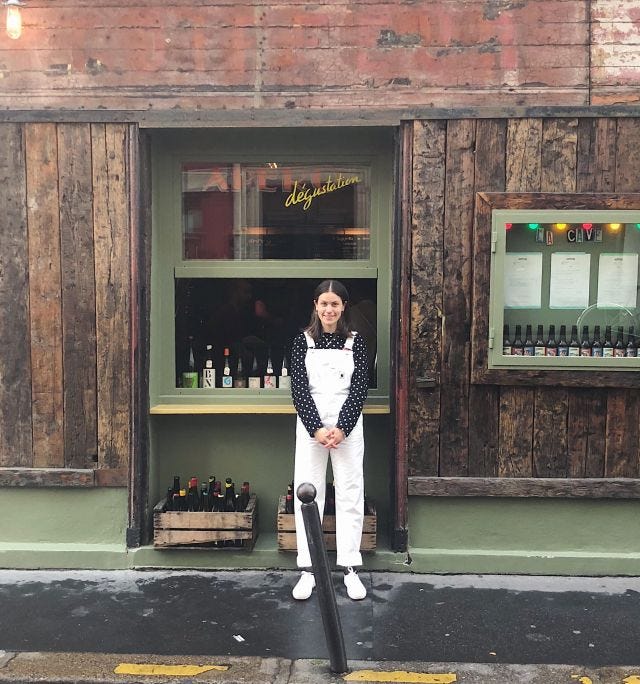 Septime La Cave
Sue me, but I found both Septime and Clamato to be overrated. The wine bar of the bunch, just across the way, is a different story. Decked in multiple shades of wood from the inside out, Septime La Cave is intoxicatingly handsome (and a converted shoe repair shop at that). Start with some wine and keep your eyes peeled for open seats. Excellent cured meats and French cheese will tide you over until your next meal.

The only problem? I don't speak French.

🍷🥖😎💋

Recommended reading:
New to Some Things Considered? Read my archives here.