Discover more from Some Meals
Writing on — and recs for — food and restaurants. Mostly in LA & NYC, sometimes elsewhere.
Over 1,000 subscribers
Copenhagen is killing it
I studied abroad in Copenhagen, so it holds a special place in my heart. The truth is that everyone loves the Danish capital, especially chasers of epic food and wine. Two weekends ago, we took a little jaunt in celebration of my birthday. I hadn't been back in four years but was dying to return given how the restaurant/bakery/bar scene has completely exploded. As many know, it's due to René Redzepi and Noma and all of the wonderful, talented people who have come out of his program, stayed in Copenhagen and opened their own spots. My boyfriend, Saarim, has taken to jokingly describing everyone as a "Noma alum," including our flight attendant on the way home and even now that we're back in New York. Here were the highlights of our recent, three-day (too short) trip:

Juno the bakery
I cannot recommend starting your trip here enough. It's a tiny bakery off the beaten path in the gorgeous neighborhood of Østerbro churning out divine croissants; toasted sesame rolls slathered with butter and topped with nutty cheese sliced to order (a breakfast I ate often); and delightfully soft, sugary cardamom knots (kardemommesnurrer)—one of the world's best pastries. Juno is so worth the (short) trek from the city center.
Juno's
kardemommesnurrer
Bæst
Bæst comes from Christian Puglisi, the man behind its next-door neighbor and bakery Mirabelle, plus popular restaurants Relæ and Manfreds. The draw is pizza, but the main attraction is house-made charcuterie and cheese; doughy delights are made all the better with prosciutto, salami, and 'nduja crafted just upstairs. Come for lunch as we did and opt for the family-style menu, which grants you a selection of everything you came for.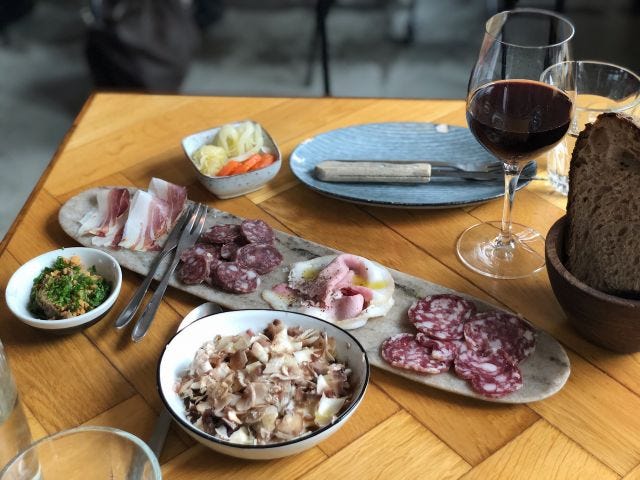 Charcuterie and stracciatella with shaved porcini at Baest
The Corner @ 108
Attached to fancy restaurant 108 is their wine bar by night, coffee bar by day. We kicked off our first evening here, and I opted for a glass of "Pignoletto Frizzante Sui Lieviti" from Bologna producer Federico Orsi, which I've had more than once before at restaurants in New York and love. The Corner has a nice selection by the glass. We also ended up here the next morning for breakfast. While the pastries are a bit experimental for my taste (albeit structurally impressive), I recommend the porridge with homemade hazelnut milk and berry compote to anyone who's a sucker for oatmeal, like myself. One thing to note is that the service here can be quite slow; they've adopted a level of fine dining care that is admirable but doesn't translate all that well in a casual environment.

Den Vandrette
This exceptionally hygge underground wine bar is a natural wine lover's heaven. Order from the glass list or pop into their cellar and choose a bottle to enjoy amongst fur-covered benches and candlelight. Pretty much every last cult-favorite producer is represented inside, so best of luck selecting just one.

Punk Royale
More theater than restaurant, Punk Royale is a wild ride. By that, I mean endless Champagne, lots of foie, caviar served on your own palm and chased with ice-cold shots of vodka poured out of a former gasoline tank, and shaved truffles galore. Bite after bite, glass after glass, everything becomes hazy, in part because literal steam from a fog machine infuses the dive bar-like space. The original Punk Royale is in Stockholm and this Copenhagen outpost opened recently. We went with a group of seven, which was crazy and fun, although I don't know if I'd recommend it for a party of two.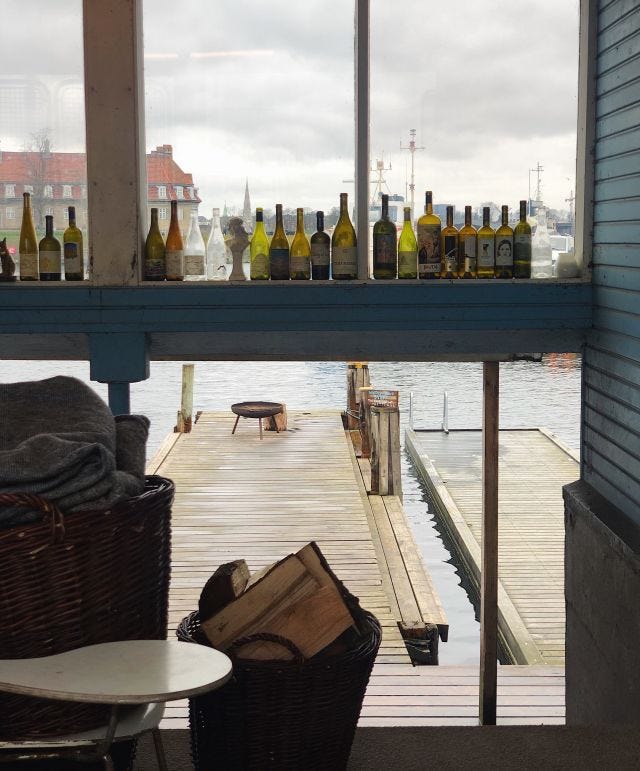 La Banchina
La Banchina
I didn't eat or drink anything here, as you can only fit so many snacks and meals into three days but I'm plugging it in because you can, and what's on offer is supposedly delicious. We indulged only in the on-site outdoor sauna, which we had all to ourselves at 10 am on a Friday. As I sweat out my Punk Royale hangover, looking out on the Øresund strait, I was tempted to move back to Denmark. The tiny café/restaurant sits atop a dock, and in the summertime locals hang around in the bathing suits, swimming while noshing on fresh bread and sipping on wine. What a life.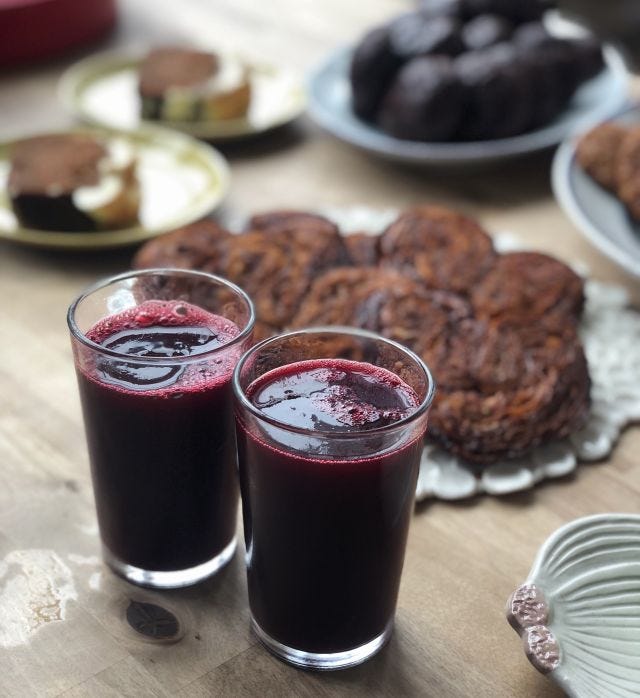 Hibiscus iced tea at Lille Bakery
Lille Bakery
After the sauna, we stopped at Lille for a refreshing glass of hibiscus tea. Sweet, thick, and cold, I could've downed an entire pitcher of the stuff. We weren't hungry but they were setting out lunch, which looked fantastic. Giant bowls filled with salads such as chickpea-and-fennel besides deep-dish quiche and pastries lingering from the morning, including the scene stealer: Berliners (doughnuts), stuffed with jam or custard and rolled in bright-pink raspberry sugar. I'll be back!

Hija de Sanchez
My pilgrimage here has been inevitable for years now, as Rosio Sanchez opened her now globally-famous taqueria not long after I left. The glass market location was closed for the season, so we went to the Vesterbro spot, which was tinier than I expected and as good as I hoped. Her al pastor is surely the prized offering: salty and juicy, cut with a hit of acidic-sweet pineapple, and cradled in a freshly made corn tortilla. The vibrant vegan taco comprised of roasted cabbage, mixed vegetables, and salsa macha (an addictive spicy peanut sauce) was the other winner.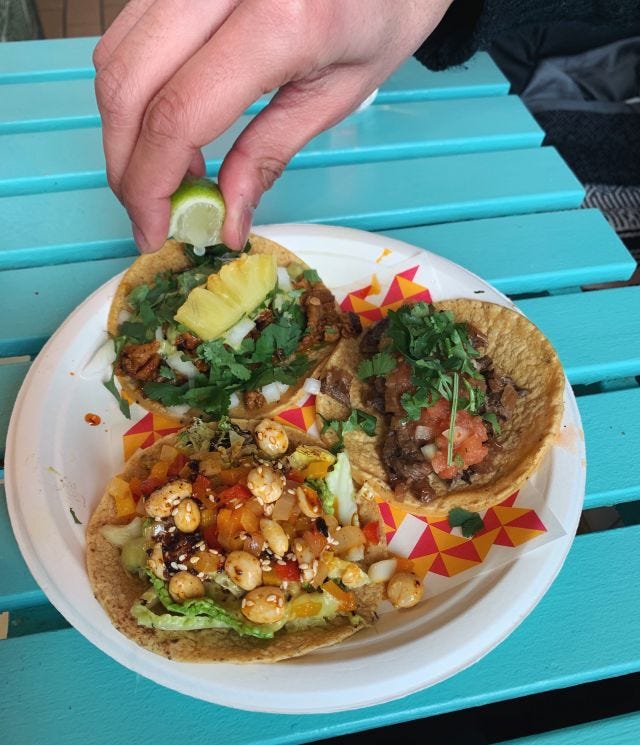 Hija de Sanchez taco combo
Ved Stranden 10
Equal parts elegant and cool, this bar hits all the right notes for me. They only pour product into Zaltos; the best wine glass money can buy. The staff is friendly and passionate. I didn't ever want to leave, and I also need whoever designed it to design my apartment.

Relæ
I hemmed and hawed over where to go for my birthday dinner of all of the amazing options and decided on Relae with the thinking that it would be less fussy and more low-key. I chose right because it was fantastic; hearty without being heavy-handed and refined without being too precious. We opted for the four-course meal which started with a steamy hunk of heavenly Mirabelle bread. The best thing we ate was hands down the celeriac "croissant"—layers and layers of crispy, caramelized root vegetable infused with savory herbs and, if I remember correctly, a briny olive paste. A vegetarian dish that would satisfy any carnivore. The other highlight was duck from Gothenburg that was perfectly cooked, sliced thin, and served in an umami-rich broth of its own juices alongside a bowl of earthy quinoa flavored with duck liver. Phenomenal.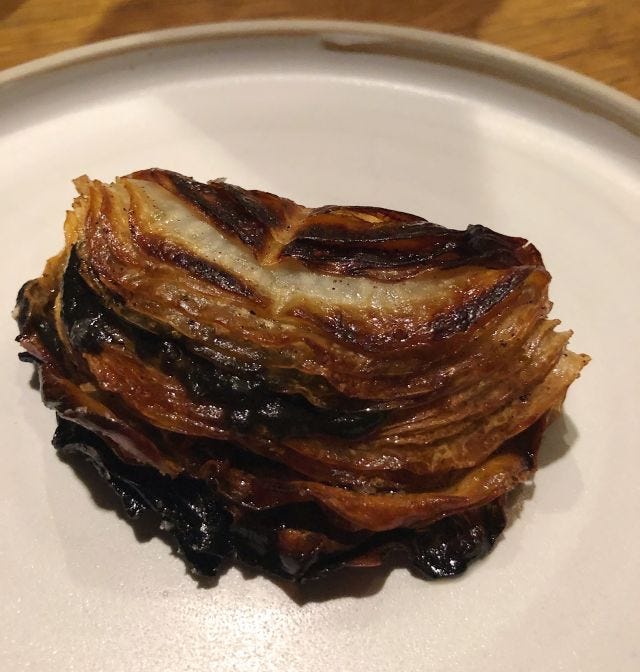 Relae's celeriac "croissant"
Hart Bageri
This bakery opened last summer to plenty of fanfare since René Redzepi is involved and says owner Richard Hart makes the best bread he's ever tasted. Hart was running the program at San Francisco's Tartine before relocating to Copenhagen to open his solo shop, where he's now inventing versions of traditional Danish breads and pastries with glorious success. His kardemommebolle (cardamom bun) boasts a shellacked, chunky top—think croissant-meets-monkey bread—and a caramelly bottom covered in sugar and spice. It is a masterpiece in the art of pastry, easily the most satisfying sweet treat I've ever laid my eyes on, and worthy of a trip to Copenhagen in and of itself. Spandeuer (custard-filled Danish) and the sausage roll were delectable, too, as was the loaf of miso rugbrød I took home to Brooklyn. (Side question: where's the best Danish rye bread in New York? I love it so!) Follow Hart on Instagram for the best gluten-and-sugar porn/ASMR you'll find. Sadly, these mortadella sandwiches, which use product from Massimo Bottura, were not on the menu during our trip.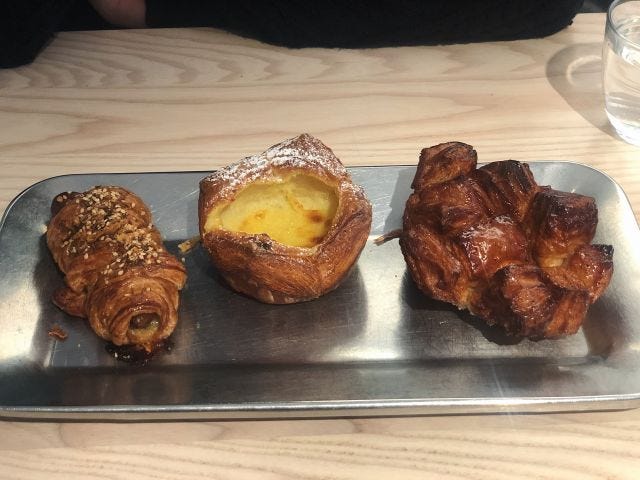 Sausage roll,
spandeuer, kardemommebolle
at Hart Bageri
Restaurant Schønnemann
Check out the rolling footage on Schønnemann's website, and you get a pretty good idea of what this place is all about. They've been slinging smørrebrød—Danish open-faced sandwiches towered with seafood, meat, and in many cases, too much mayo—since 1877. Wash it down with aquavit of your choosing, a pint of beer, and revel in the history. The rugbrød (dense, sour Danish rye bread) is basically fried in butter, and there's nothing wrong with that.

Broaden & Build
The team behind fine dining eatery Amass opened a brewery in their home camp of Refshaleoen, an up-and-coming area that is home to La Banchina, Lille Bakery, and Noma 2.0. It's giant and there are plenty of yummy beers to try. I had a glass of "Prolific," an IPA made with sea buckthorn that was light, fruity, and tart.

Mikkeller Baghaven
Then, we hopped on our bikes over to Mikkeller Baghaven. Mikkeller is just the coolest and I'm in awe of how they have expanded within the city and way beyond. We also stopped by their general store in Vesterbro, where they make scrumptious chocolate (highly recommend this bar, finished with crunchy bits of malt). At Baghaven they craft "rustic farmhouse" and "wild" ales in oak aging vessels. Most of what they make here is exclusive to the tasting room, so head over to try a range of fun, sour stuff in a homey setting.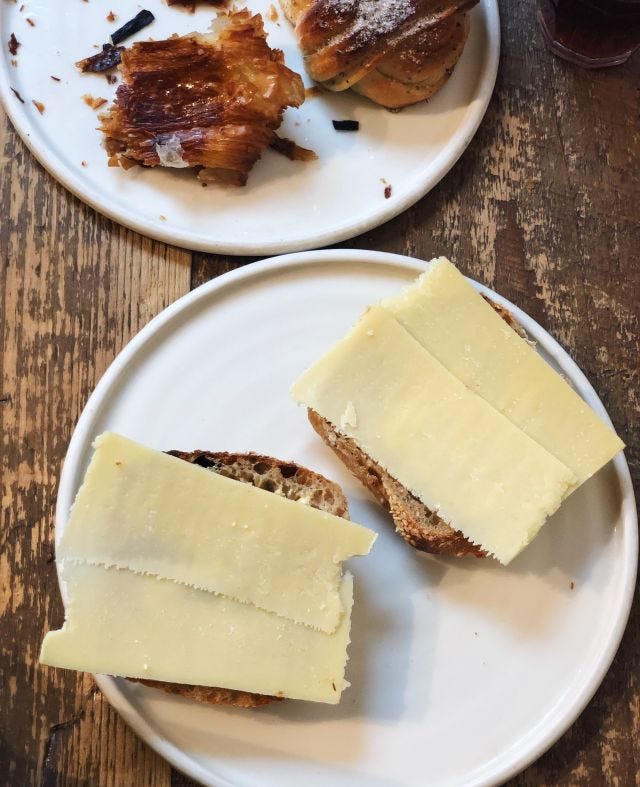 Sesame roll with butter and cheese at Juno
Restaurant Barr
If Schønneman is where you go to eat old-school Danish fare, Barr is where you go for an elevated, modern-day take on the national cuisine. It's another Noma alum project, housed in the space that was formerly Noma, and there are grilled Belgian waffles with lumpfish roe and sour cream, meatballs (frikadeller) made of pork and lard and accompanied with lingonberry compote, schnitzel with horseradish and anchovies, and crisp-fried and fatty flatfish served on the bone. It's all quite good. Beer is the thing here, but you won't go wrong with wine.

🇩🇰🥰

Recommended food reads:
New to Some Things Considered? Read my archives here.