Discover more from Some Meals
Writing on — and recs for — food and restaurants. Mostly in LA & NYC, sometimes elsewhere.
Over 1,000 subscribers
"If you see a line, get on it" is something my mom used to tell me. It was a rule of life to be followed especially while traveling, and you'd be rewarded with delicious memories.
Unfortunately, the rule hasn't quite stood the test of time. Lines outside bakeries and restaurants are no longer simple indicators of a great product made inside, they're also a sign that influencers and influencer-followers have co-opted the establishment. And in some cases, that was always the point. Raw cookie dough parlors and shops slinging rainbow-colored bagels are built with the intention of achieving instant Instagram fame. So it goes without saying that joining a queue of devoted locals in the Jewish Ghetto of Rome, all eager to get their hands on a warm and dense sweet bread layered with pine nuts and pieces of candied fruit, is decidedly not the same as spending hours amongst other tourists as they prepare to snap a million iPhone photos of whatever over-the-top creation lies ahead.
I have another rule to live by, one that applies mainly to bakeries, as was the case with my mom's. Here you go: if there's only one of something left, snag it.
Think of a glass case filled with almond croissants, chocolate chip cookies, sticky buns, slabs of lemon pound cake, fluffy blueberry scones. There's at least twelve and as little as four of each, save for a single kouign-amann. What do you get? The kougin-amann, of course. You feel lucky to have snagged the last one and now they're sold out, for a reason.
On Friday, I was at Seitan Rising, a two-month-old vegan deli and bakery in Bushwick, picking up lunch. We ordered a Chickie Caesar Wrap (very good) and an Infernal Club (not as good) and then glanced at the pastry case. Everything inside looked so good, we had to try something, and that's when I saw it: a chocolate cookie peeking out amongst stacks of focaccia slices, cinnamon rolls, oat bars, and more. Saarim noticed it, too. "What's that?" he whispered into my ear, pointing shyly to the solitary item, prompting me to get us an answer.
The woman behind the counter told us it was a chocolate cookie with a peanut butter filling and I said we'll take it.
It was the size of my palm, coated in a thin layer of powdery icing, with a cracked surface that revealed a river of peanut butter. We agreed we should save it for after we ate our sandwiches, but then five minutes passed by, we were still waiting for the rest of our take-out order, and I was hungry. I broke off a bite.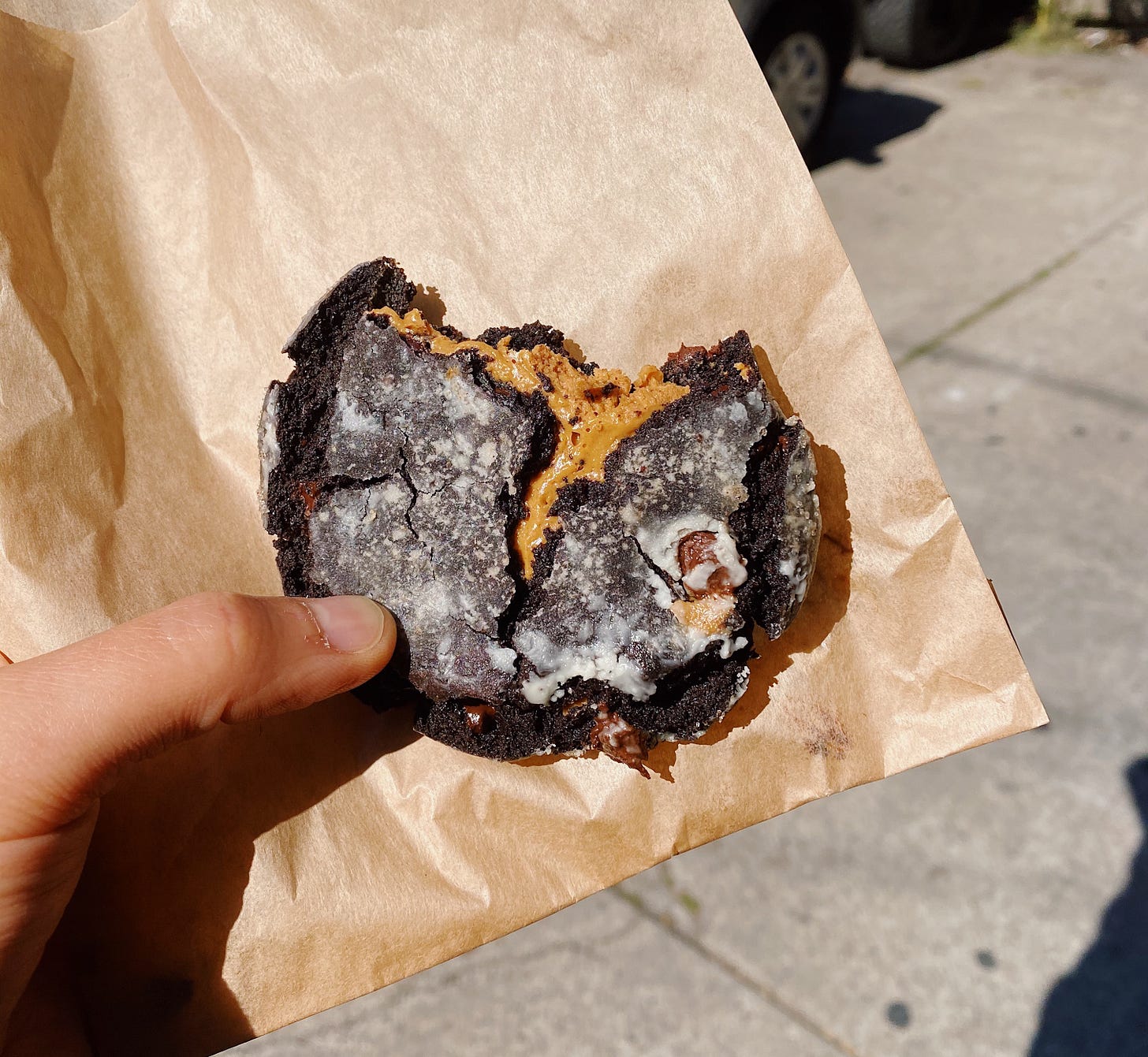 The rich, chocolatey batter combined with the smooth and nutty peanut butter and a hit of straight sugar from the glaze washed over my taste buds and before I could swallow I covered my mouth and blurted out "Parent Trap."
In the 1998 movie, unknown twins Hallie and Annie realize they both like to eat Oreos with peanut butter, the first of many similarities that occur to them over the course of this iconic scene:
The pairing was apparently made up by Nancy Meyers who wrote and directed the remake. She claims to have never tried it, only concocted it as a quirky thing young girls might enjoy and could have in common. And yet it's an invention that spurred so many kids across the country to pause the movie and rummage in their pantries so they could try it, or ask a parent to drive them to the grocery store once the film was finished. The first time I tried the indulgent treat, my mouth almost overflowed with the creamy, crumbly, ultra-sweet sensation, and I was hooked. It's not a snack my mom would allow me often, but I felt I was in on a secret having tasted it.
Seitan Rising rotates their pastry types and flavors daily depending on mood and seasonality, so I can't promise that the Parent Trap cookie will be there if you go. What I can suggest, however, is to look for a lone pastry amidst the sea of baked goods in the case, or pick whichever item is running low. Once they sell out of each pastry, that's it for the day. Make your selection with this in mind, and carry the rule with you to every bakery that you go.

Seitan Rising
2 Morgan Ave, Brooklyn, NY 11237
(929) 298-0160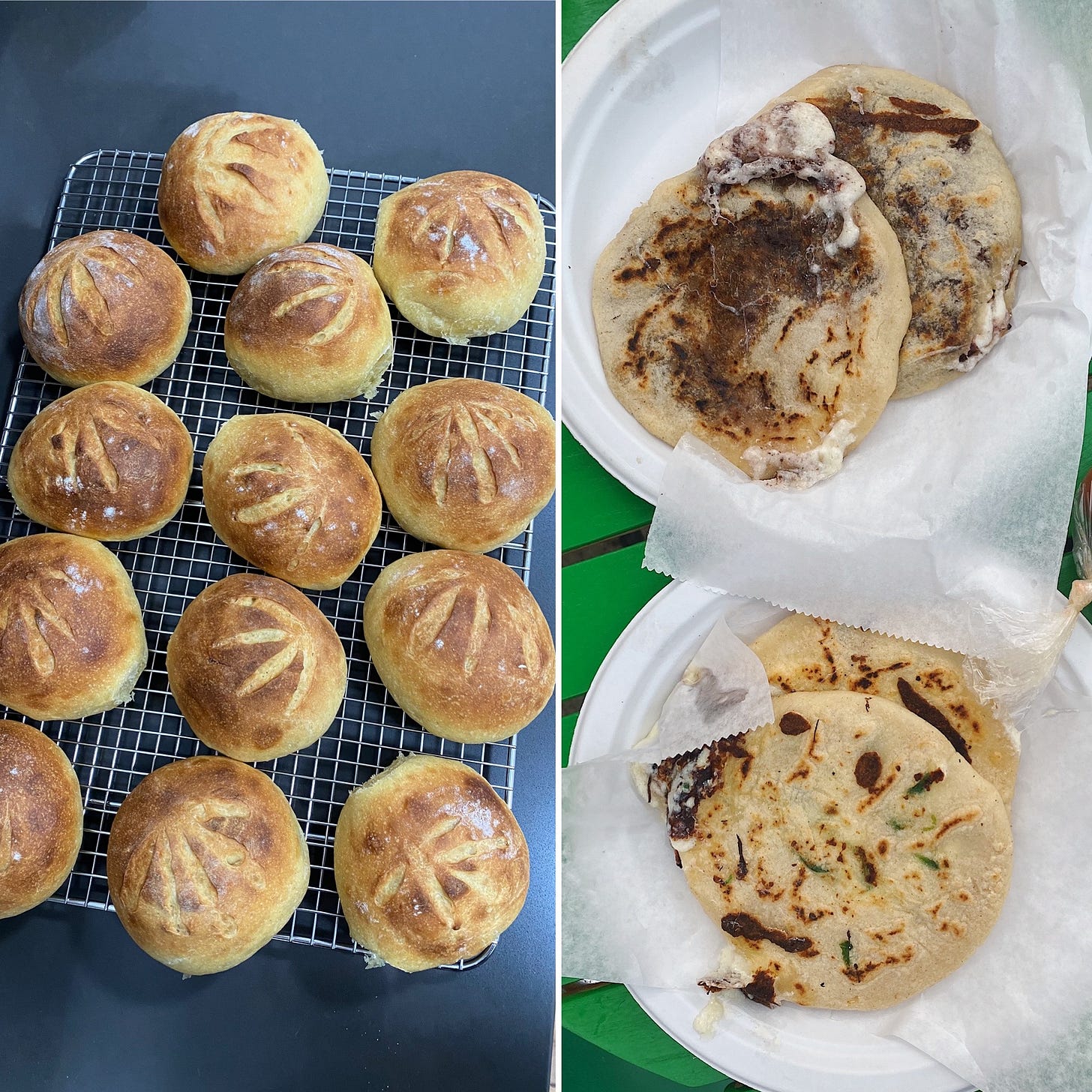 TRY THIS
Mirna's pupusas: bean and cheese, jalapeño and cheese (Right)

Dandelion's "Wampu" chocolate bar

Saffron buns from Sarah Owen's Sourdough (Left)
READ THAT
SMC, MAPPED
Follow the Some Meals Considered list 🌎