Discover more from Some Meals
Writing on — and recs for — food and restaurants. Mostly in LA & NYC, sometimes elsewhere.
Over 1,000 subscribers
A meal to warm the heart and soul
It was raining on Friday night when we left the movie theater, and Josh wanted Middle Eastern food. "Meat and bread," my brother said, "maybe some rice. The weather sucks, so I'm in the mood something a bit hearty."

We headed towards Atlantic Avenue in Brooklyn Heights, across from legendary grocery store Sahadi's and pita haven Damascus Bakery, and climbed up to a second-floor Yemeni canteen that's been doling out puffy clay oven bread, redolent stews, and slow-roasted meats since 1986.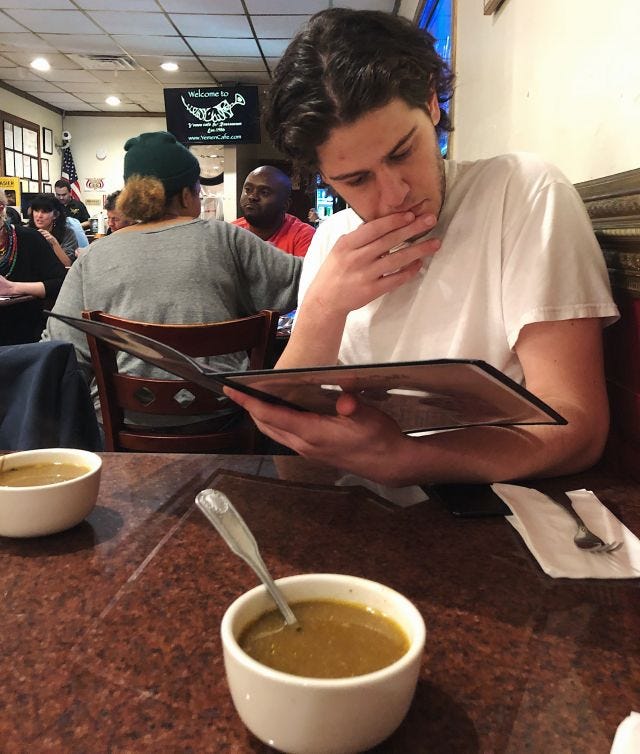 The dining room was long, stark, and full of personalities. At 9:30 pm, more seats were occupied than empty, as a diverse set of New Yorkers filled their stomachs and relaxed into the weekend. Towards the back, a TV projected landscapes of Yemen. Little fish swam around the giant rectangular fish bowl positioned inside a wall. A few tables over, a waiter approached a group of three women with a Baskin Robbins ice cream cake in hand. It was decorated with lit candles that were not exactly glowing in the bright room, unlike the look on the birthday girl's face when she noticed it coming her way.

Before we could order, two bowls of "lamb soup" landed on our table, accompanied by a small serving of spicy salsa and two ripe wedges of lemon. It was green-brown and laced with little bubbles and a circumference of yellow oil. We blew on our first few spoonfuls ever so slightly before inhaling the silky, unmistakably meaty broth. Soon came a round silver plate, it's surface area almost entirely covered in a single portion of holey flatbread. It was doughy on the outside and cracker-like in the center, and we ripped off a few pieces to dip into our soup, saving the rest for the hummos we planned to order.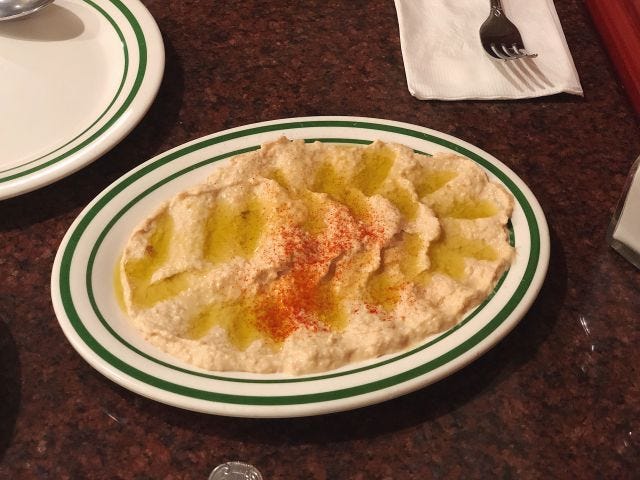 That arrived smooth and scalloped, with little pools of fresh olive oil and a dusting of paprika. As the first dollop fell on my tongue, a zing! shot through my throat. It was exceptionally tangy, and not just from garlic. After some consideration, our theory is verjus. We cleared our palettes with cold sips of New York's finest tap from those stainless steel cups that make water even more refreshing.

At some point, the final complementary component of our meal showed up: a house salad with a sad bit of dressing, appreciated but unexciting. But then came the lamb, for which the craving had built second by second after the first sniffs of the welcome broth. Josh didn't want something braised, and I agreed, after all, it was a bit late to be having dinner, and that style of preparation requires more time to digest. So we got chops—little juicy pucks of pink meat, seared on the outside and served over long grain basmati rice. They came with only one serrated knife, so I happily ate mine with my hands, off the bone, the most efficient way to get into the crevices for the most delicious of bites.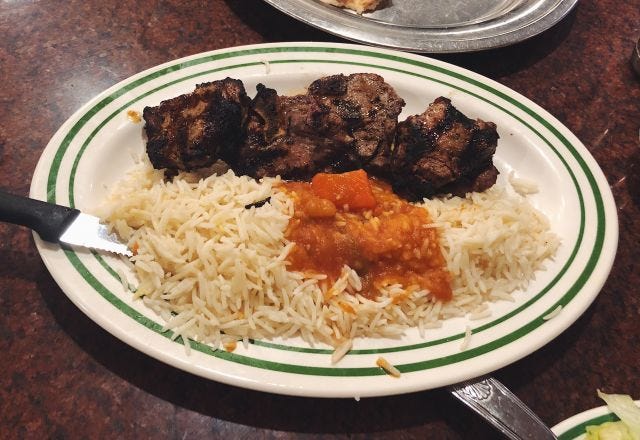 🧡🇾🇪
Yemen Café
176 Atlantic Ave, Brooklyn, NY 11201
(718) 834-9533

Recommended food reads:
New to Some Things Considered? Read my archives here.