Discover more from Some Meals
Writing on — and recs for — food and restaurants. Mostly in LA & NYC, sometimes elsewhere.
Over 1,000 subscribers
Your guide to my local haunts
On the border of Clinton Hill and Bed-Stuy
I've lived on the border of Clinton Hill and Bed-Stuy for more than four years. It's an area that's markedly hip and thoroughly gentrified, but I love it because it's not commercialized, like parts of Greenpoint or Prospect Heights. It's mostly quiet and residential. There's a smattering of coffee shops, restaurants, and bars that I'm fond of. New spots pop up here and there. But mostly, it's low-key and off the G, which means I'm never more than 20 minutes away from places to eat and drink in Carroll Gardens, Boerum Hill, Williamsburg, and Greenpoint. I like to get out and about, and I don't like to leave Brooklyn on the weekends, so my neighborhood suits my needs. 
Since I quit my job a month ago to be an independent writer and consultant, I've been spending more time close to home, and feeling grateful for it. So, I wanted to give some love to the hangouts that make my 10 block radius special.
Playground Coffee Shop
Playground is much more than a cool coffee shop with great coffee and a killer soundtrack. It's also a community space that's home to an independent radio station (Playground Radio) and an annex that sells books, zines, and clothing made by POC authors and artists. 
1114 Bedford Ave, Brooklyn, NY 11216
(718) 484-4833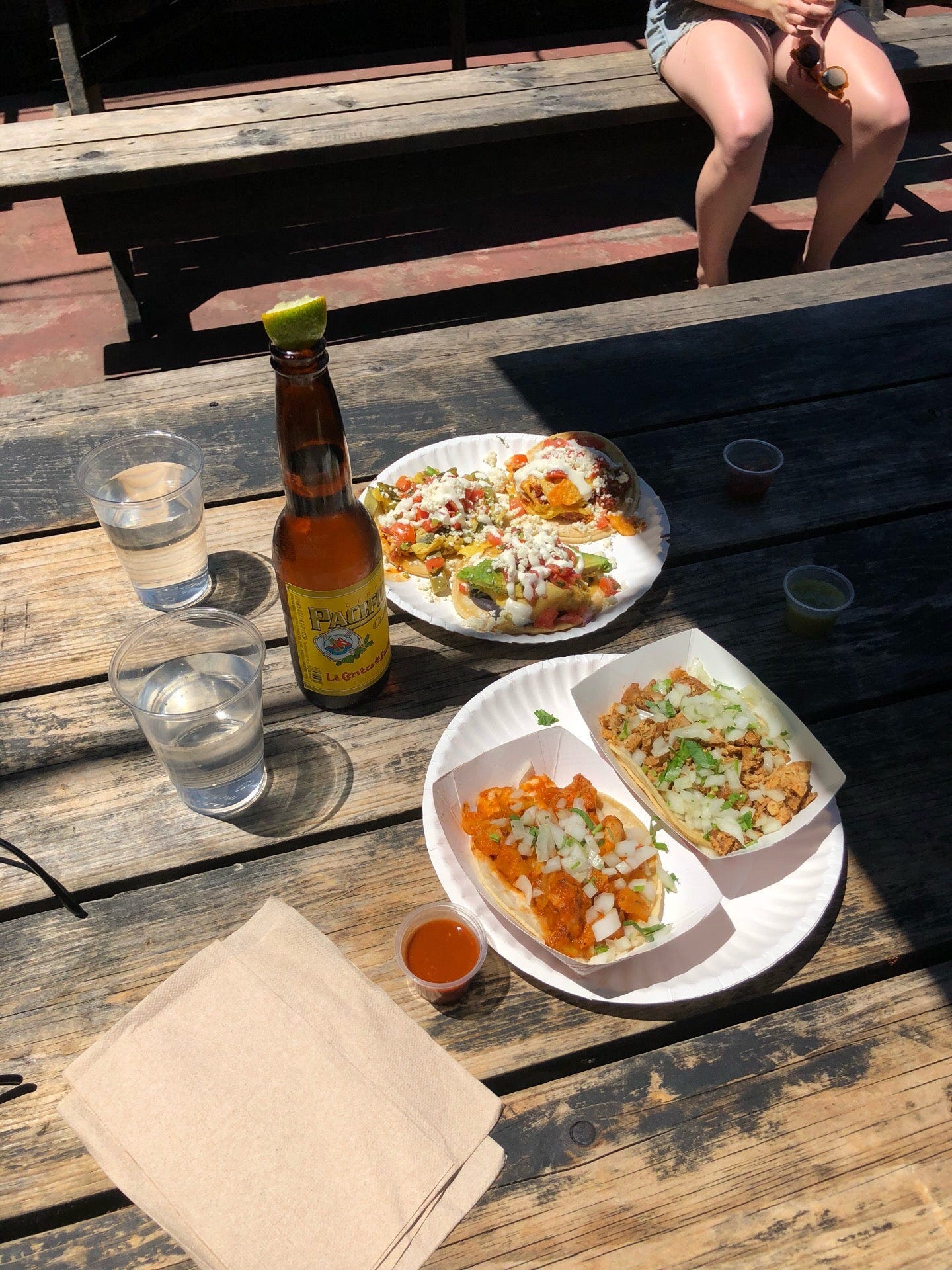 Chilo's
A random and bizarre fact about Chilo's, the bar with a covered backyard anchored by a taco truck, is that it's partially owned by Michael Cera. I wonder what his favorite tacos are. Personally, I'm a fan of the duck carnitas, the huitlacoche, and the truck's well-stocked condiment bar. Skip the margaritas (they're just ok), and pair them with a cold Pacifico, instead.
323 Franklin Ave, Brooklyn, NY 11238
(718) 676-5245
Nyammings
Our favorite delivery food is jerk chicken, thanks to our proximity to Crown Heights. Gloria's and Peppa's are only a mile away, but Bed-Stuy has some haunts as well. Six months ago, Nyammings opened around the corner from us, serving foam containers of jerk and bbq chicken, sautéed plantains, and steamed cabbage. 
355 Franklin Ave, Brooklyn, NY 11238
(718) 230-9700
Doris
Doris is ever-reliable as a bar to wait out Hart's when you didn't make a reservation and as a late-night destination, given its disco ball. Add to that a tasteful New Mexico theme and Brooklyn's best whiskey gingers—made with homemade ginger syrup, and shaken. 
1088 Fulton St, Brooklyn, NY 11238
(347) 240-3350
Stonefruit Espresso + Kitchen
Heavy on the quirky Brooklyn vibes, Stonefruit Espresso + Kitchen serves mostly vegetarian fare and makes a mean matcha latte. I come for their toasts, topped with smashed avocado and spicy dukkah or smoked whitefish and a soft-boiled egg. They use sourdough whole wheat bread from my favorite bread bakers, She Wolf.
1058 Bedford Ave, Brooklyn, NY 11205
(718) 230-4147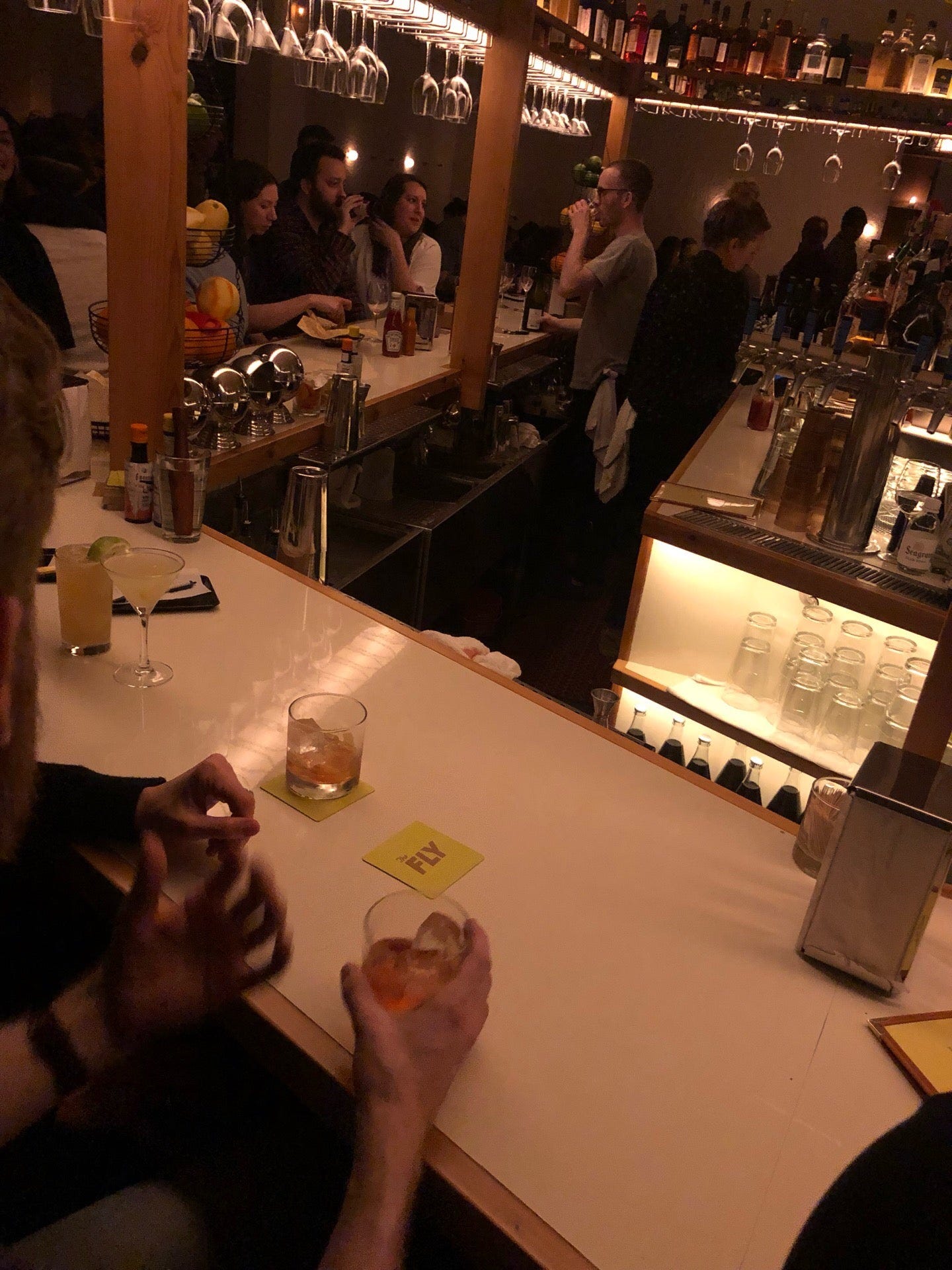 The Fly
I (along with my entire contingent, based on the opening week crowds) was extremely excited for this natural wine bar and rotisserie chicken joint to arrive on Classon and Fulton last spring. It's run by the team behind Hart's and Cervo's, two of my all-time favorites for simple yet very well-executed plates and thirst-quenching drinks. Now that the hype has calmed down a bit, The Fly is always there for us when we didn't make a Friday night reservation and as a casual spot to meet friends for drinks.
549 Classon Ave, Brooklyn, NY 11238
(347) 405-5300
Hart's
I've been to Hart's more than any other restaurant in this city. Every night the menu changes and it never disappoints, but I'm a sucker for their yogurt-dressed salads, fresh ricotta with pizza bianca and some kind of seasonal stewed veg, any kind of crudo, and the always-available lamb burger. Don't sleep on weekend brunch.
506 Franklin Ave, Brooklyn, NY 11238
(718) 636-6228
Locanda Vini e Olii
When you're at Locanda, you're in Tuscany. No New York spin, just rustic cooking, a warm wood interior, and an array of Negronis made from various aperitifs. I'm partial to the duck breast with chickpeas and fig marmalade, but Saarim loves the grilled Piedmontese steak on a pile of arugula. The restaurant is housed within a converted pharmacy, which surely adds to the charm.
129 Gates Ave, Brooklyn, NY 11238
(718) 622-9202
Dynaco
Well-priced drinks and a perennial gold hue make Dynaco the best date bar in the area, and a go-to in colder months when my body craves the comfort of their wood burner.
1112 Bedford Ave, Brooklyn, NY 11216
(No phone.)
Calaca
You never know if Calaca will be open when you want it to be, and if there's a wait, they probably won't grace you with a quote. So don't come anxious or hungry, but know that the mezcal drinks are strong and very good, and the tuna tostada and shrimp tacos are on par with versions slung in Mexico City. 
139 Putnam Ave, Brooklyn, NY 11238
(347) 705-9824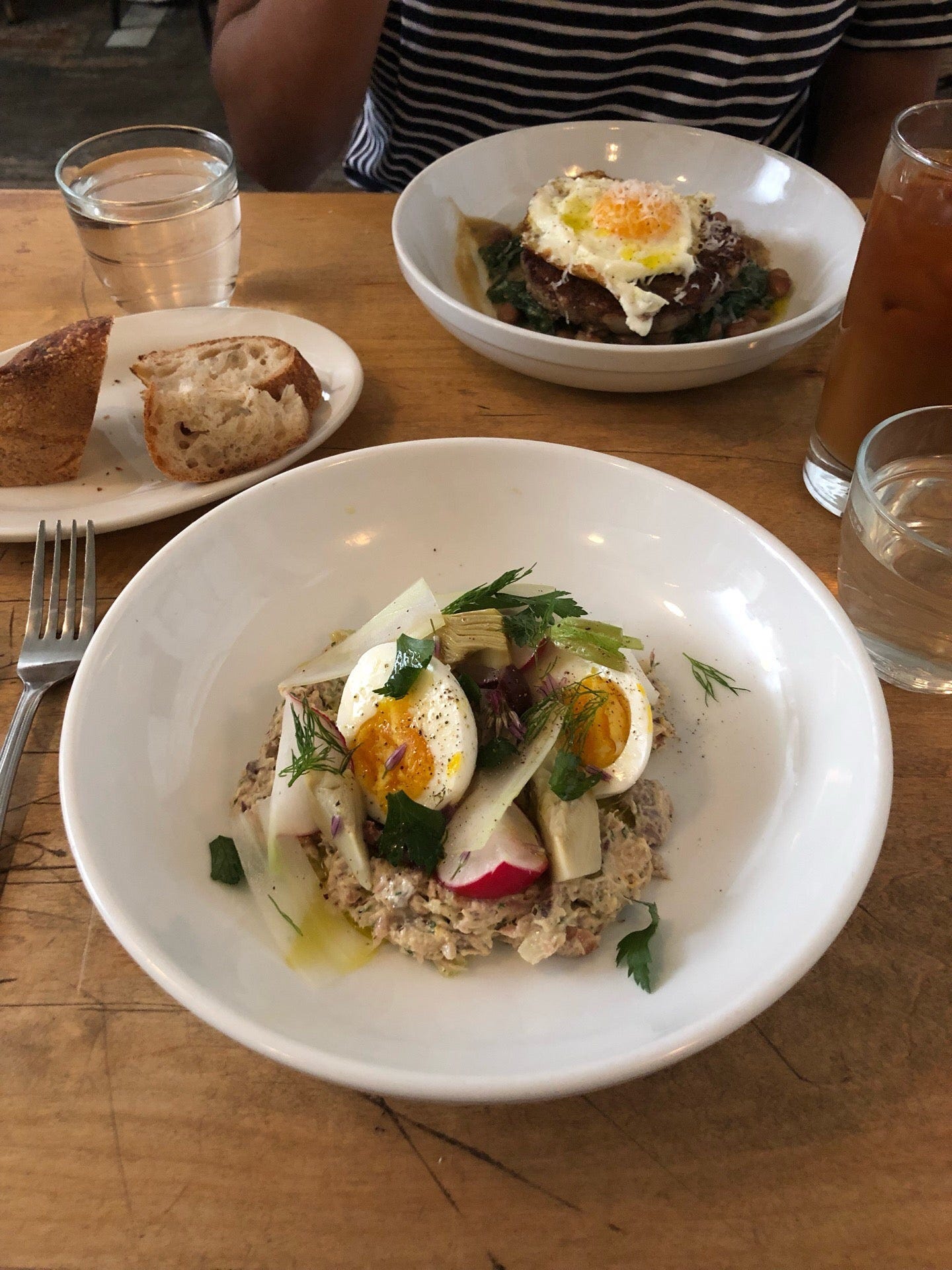 Roman's
Start with the daily sour or a Forthave spritz, share the fava bean dip if it's on the menu, and then pick a pasta or a heartier main. Roman's is cozy and sophisticated and also lovey for brunch, when there's usually a bluefish conserva dish that I think about on the reg.
243 Dekalb Ave, Brooklyn, NY 11205
(718) 622-5300
Diamond Reef
If Dynaco is my favorite winter bar, Diamond Reef is the summer move. You want a cocktail, and a frozen one (like the Spicy Canary with tequila and mango) if it's a hot day, to sip on the roomy back patio. 
1057 Atlantic Ave, Brooklyn, NY 11238
(No phone.)
🏠
---
What else is up?
---
If you're into Some Meals Considered, tweet about it to spread the word!

Find all previous posts here.

Was this email forwarded to you? Sign up for real.

**Housekeeping** If you found me in your spam folder or your Promotions tab, please mark this address as 'not spam.'
---