Discover more from Some Meals
Writing on — and recs for — food and restaurants. Mostly in LA & NYC, sometimes elsewhere.
Over 1,000 subscribers
"Worth a special journey"
A Utah road trip delivers a singular restaurant
Utah trails only California and Alaska in states with the most national parks. There are five in total, all located in the Southern part of the state: Zion, Canyonlands, Capitol Reef, Bryce, and Arches. This and that my family has a home in Park City are the reasons why we spent the last several weeks traversing The Beehive State.
We figured we'd get on board the road trip trend and spend some time in the great outdoors before winter hit. Unlike travel in the Before Times, I didn't expect to factor restaurants into the agenda. I've only recently become comfortable with outdoor dining and remain apprehensive about the reintroduction of indoor dining (more on this later). Plus, Utah isn't exactly known for its food. So the highlights would be Spiral Jetty, hiking in Heber, Zion, Lake Powell, Horseshoe Bend, and Bryce. Then I remembered Hell's Backbone Grill & Farm.
I first read about chef-owners Jen Castle and Blake Spalding in the New Yorker, where Kathryn Schulz wrote about their battle against President Trump to keep the Grand Staircase-Escalante National Monument intact. (I highly recommend reading the piece, but the tl;dr on the background is that President Clinton designated almost two million acres as protected wilderness in 1996, then Trump reduced it by half in 2017 with plans to open it up to extractive mining. Oftentimes, the National Monument appointment is a stepping stone to that of National Park.)
Hell's Backbone Grill & Farm is located in Boulder, UT, a remote town with a population of under 300. Its proximity to GSENM is everything; without the designation, the recreational tourists who come from near and far to hike, camp, and eat at what a food critic for Salt Lake City Weekly once called "Utah's Chez Panisse" would be non-existent.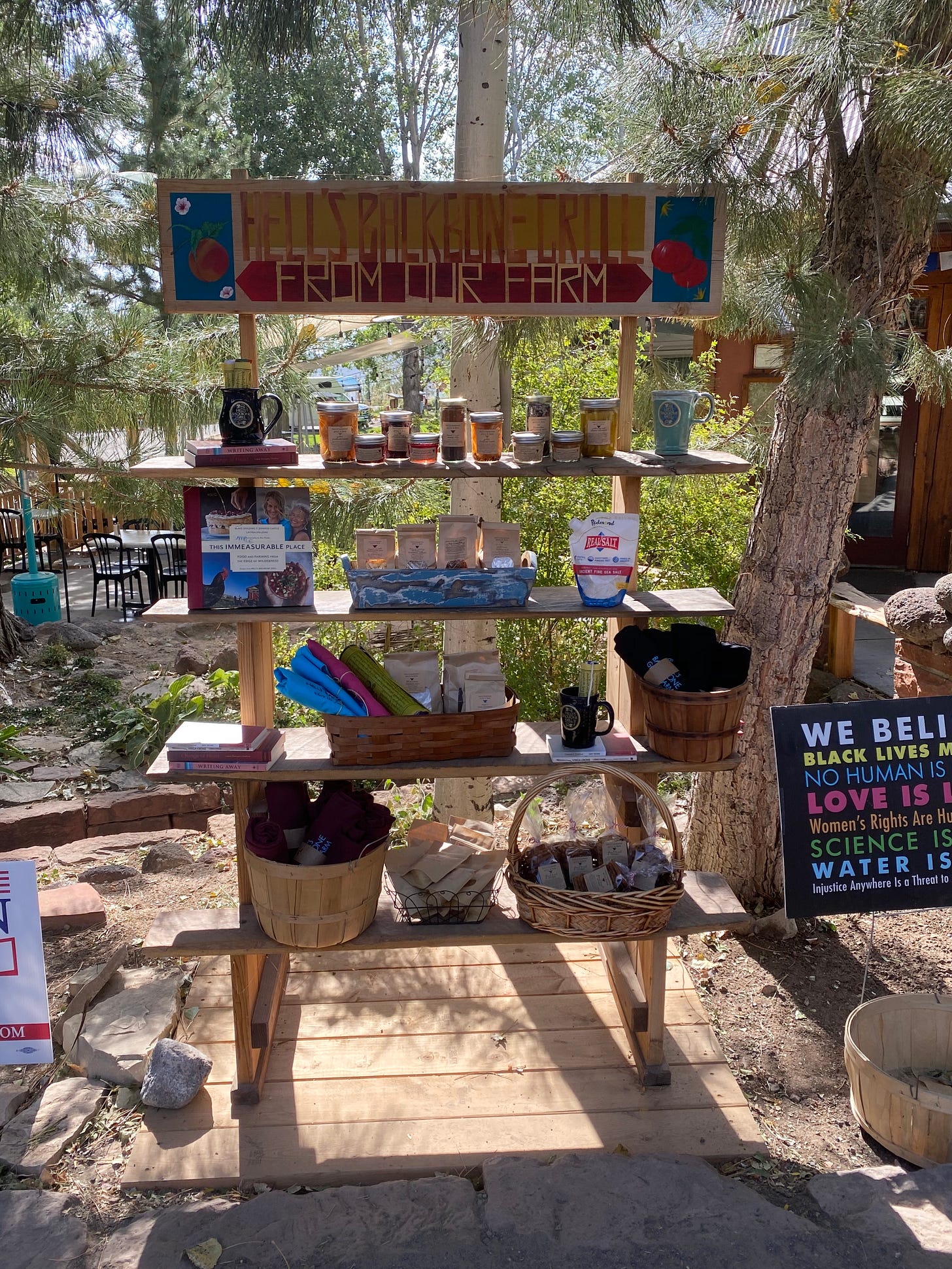 I try not to take awards into account when making dining choices (that's a topic for another day and one that's been opined on endlessly, especially recently), although it's worth mentioning that Castle and Spalding have been nominated by the James Beard Foundation many times over. And yet when I think about the miles we drove to have the meal we did, I can't help but recall the Michelin Guide's description of a three-star restaurant: "worth a special journey."
Hell's Backbone Grill & Farm is a feat. It's not easy to open any restaurant, nevertheless in a tiny, predominantly Mormon town accessible only by a winding, mountainous road, and of this caliber. As stated on their website, Castle and Spalding "operate the restaurant following Buddhist principles, with a commitment to sustainability, environmental ethics, and social and community responsibility," an effort that includes farming organic produce and cooking "regionally and seasonally appropriate cuisine."
We left Bryce by 2:00 PM in order to arrive at the restaurant before it opened at 4:00 and still a line snaked around the corner from the host stand as we pulled into the parking lot. Luckily, there was enough room on the string-lit patio for us to snag a table within the first seating.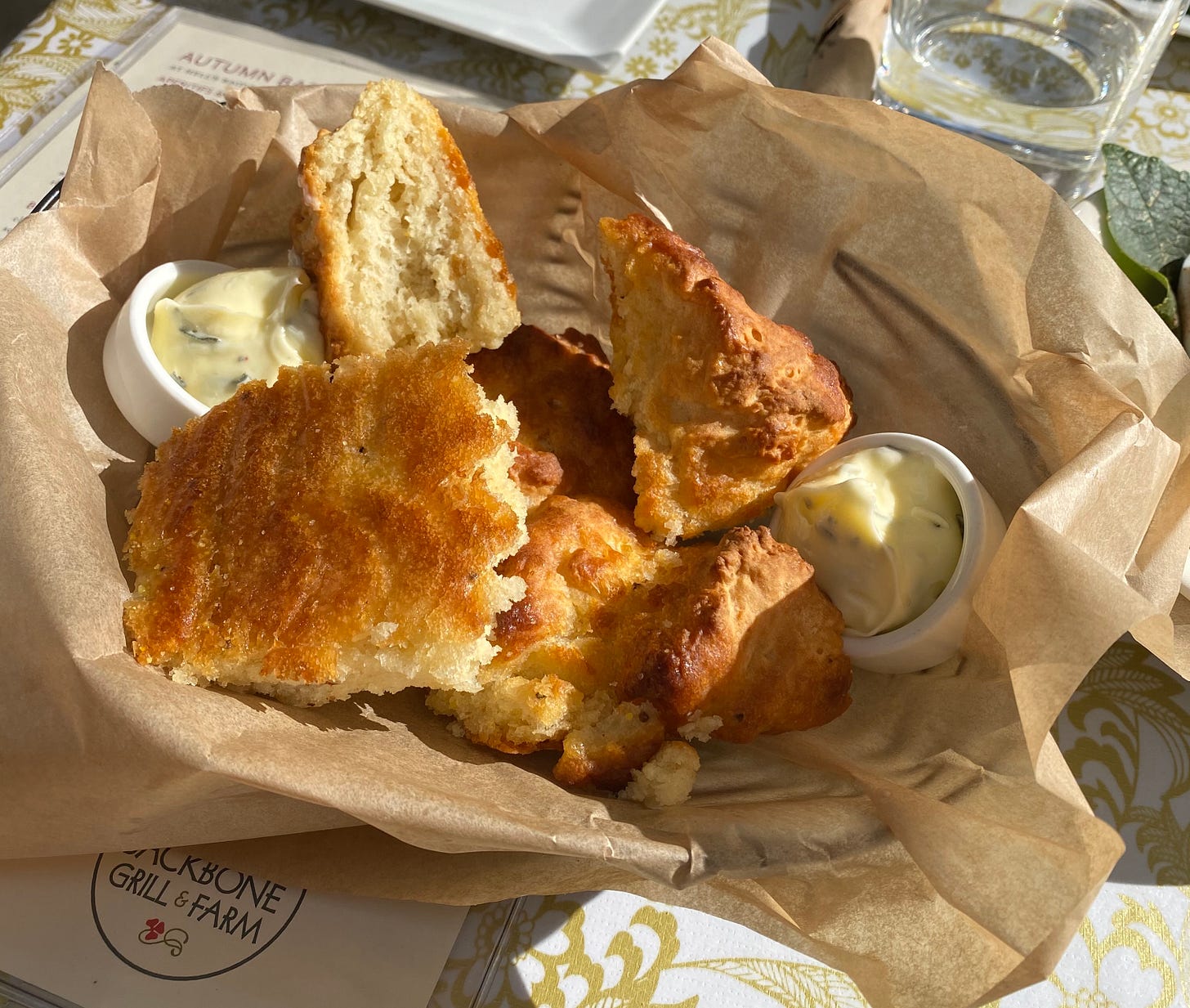 To start, we drank local beers and cocktails—a Campari and soda for me, since I was the designated driver. We smeared whipped sage butter into the fluffy insides of craggy biscuits torn into triangles. There was a salad of organic lettuce, local peaches, sweet dehydrated corn, and toasted pepitas drizzled with agave-chile vinaigrette. And each of us had a single half of a zesty deviled egg, described perfectly on the menu as "bright & spicy with a hint of lime."
There are times when you look at a menu and know immediately what you're going to order. That happened to me here with the handmade pappardelle, thick egg noodles tossed in kale-basil-sunseed pesto, each mouthful silky, nutty, and vibrant. The dish came with farm vegetables: pureed squash and small piles of sauteed cabbage, collards, and pattypans. My add-on of smoky, deep-pink local trout completed the colorful picture.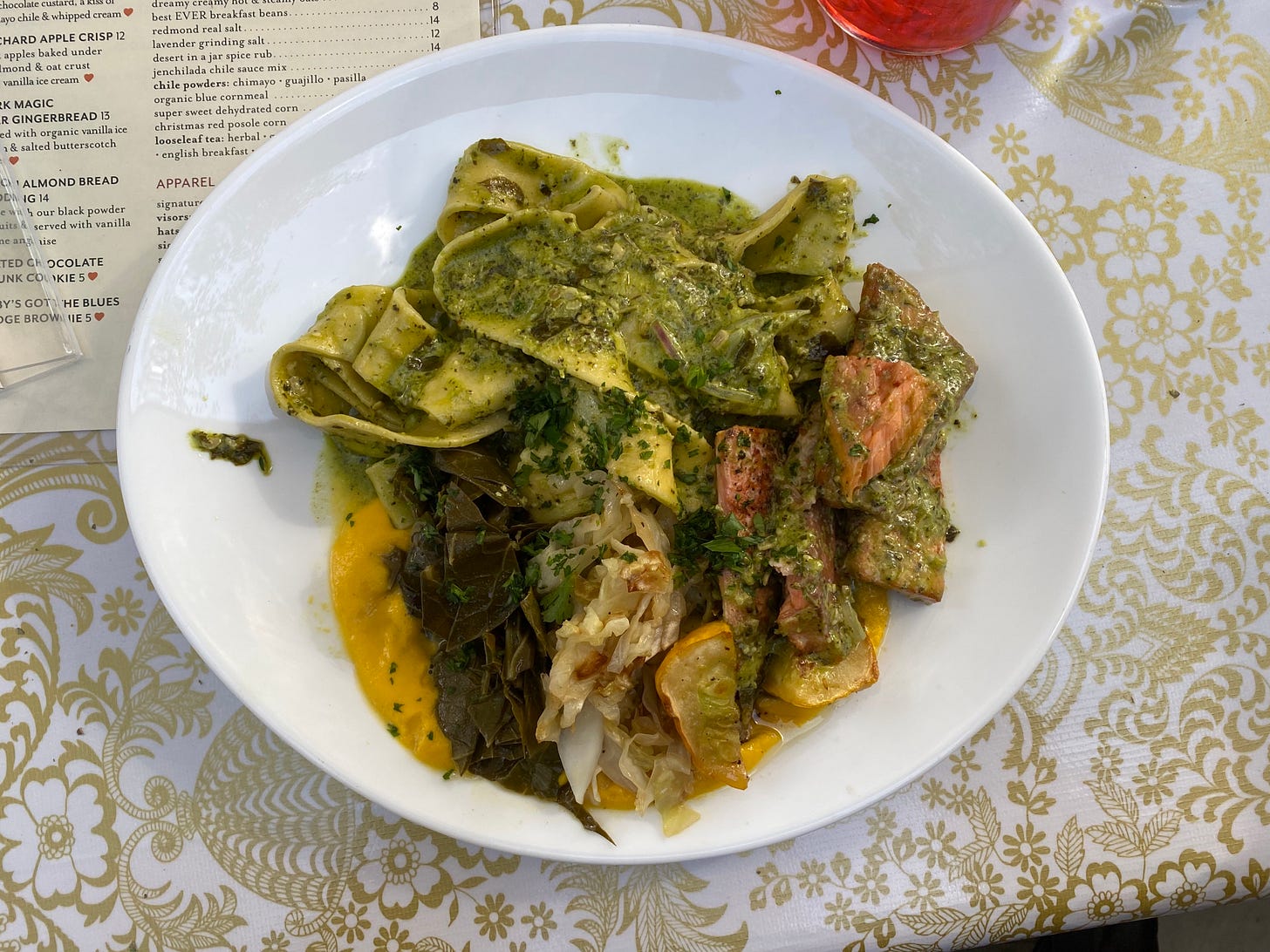 Our server didn't want to be pushy, but the desserts were phenomenal, he said, reinforcing the notion that you don't go to dinner 112 miles away from where you're sleeping that night just to deprive yourself of finishing with something sweet. He recommended the gooey pear gingerbread with salted butterscotch sauce and an apple crisp sourced from a nearby orchard, both paired with homemade vanilla ice cream and edible purple flowers. Each dessert was split into two servings so our group of four could share easily.
Castle and Spalding are proud owners of what they've built, and they should be. They've created a culinary oasis amidst a breathtakingly beautiful landscape in the middle middle of nowhere, maintain a business that employs 20% of Boulder residents, and fight every day for their right to thrive. People refer to Noma as a "destination restaurant," but it's in a city (Copenhagen) that people love to visit whether or not they can get in or afford to go. Hell's Backbone Grill & Farm is a destination in and of itself.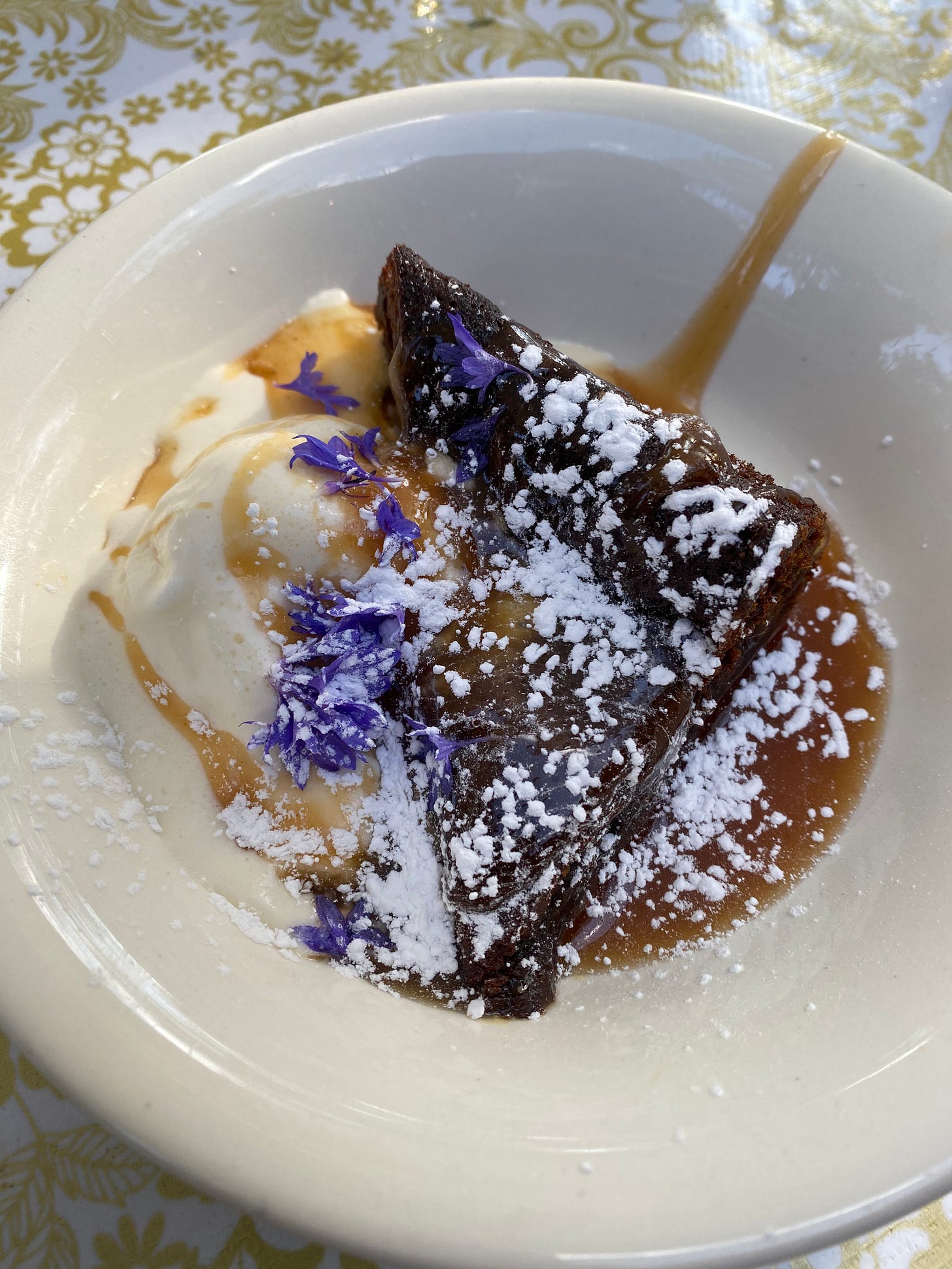 I posted about the restaurant on Instagram yesterday, referring to it as a "hippie haven," a characterization I meant admirably in regard to their farming principles. But hippie is a political identity; they are peace-loving and philosophically utopian, a mentality in which Spalding and Castle do not conform. Spalding reached out to correct me. "We are fierce as fuck political activists and feminists," she said. "But we did start our own farm in 2005 because we wanted to pay people to farm excellent food so there's that?" Hell's Backbone Grill & Farm is the only woman-owned, chef-owned farm-to-table restaurant in the Rocky Mountain Southwest. These designations, not unlike that of the protected land that has empowered them to prosper, are important. "I don't mean to be picky but Jen and I have been in business for 20 years and battle to not have our contributions to the food world to be erased or minimized," she added.
She's right. Language matters. And there's no point in trying to cutely sum up a place as singular, multi-pronged, and spectacular as Hell's Backbone—you risk inadequacy at best and falsity at worst. Here's a newsletter instead, where I tell you to make it a point to get to Hell's Backbone Grill & Farm, even if it means going out of your way. You don't want to miss it.

Hell's Backbone Grill & Farm
20 UT-12, Boulder, UT 84716
(435) 335-7464
---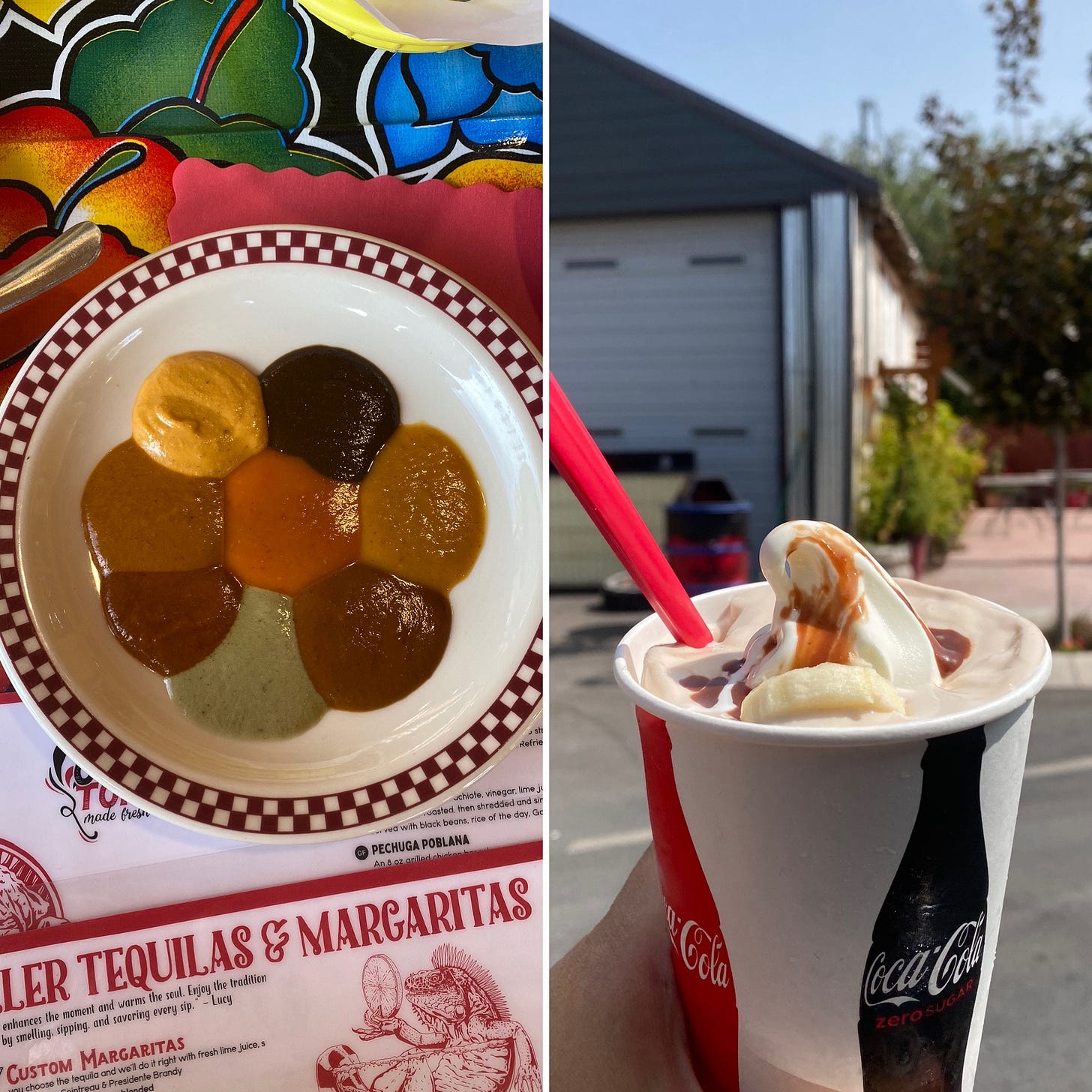 Try This
If you find yourself road tripping in Utah, here are two other spots to star on your map.
Cluff's Carhop Cafe in Fillmore — a 1950s drive-in with great burgers, onion rings (they come half sweet, half red), and soft-serve milkshakes (get the banana-hot fudge). (Right)

Salt Lake City's Red Iguana — mole is the specialty of this popular spot with two locations (#2 has a roomy patio), so ask for a sampler before settling on one of almost ten varieties. (Left)
Read That
Some Meals Considered, Mapped
Follow the updated SMC list here. 🌎