Discover more from Some Meals
Writing on — and recs for — food and restaurants. Mostly in LA & NYC, sometimes elsewhere.
Over 1,000 subscribers
Where do diners come in?
A transformed restaurant industry requires buy-in from customers
In thinking and writing about the pandemic's impact on restaurants and the ways in which the industry should change, I keep coming back to the role of the guest. I've been paying attention to how customers have supported and engaged with existing restaurants and newly sprouted concepts since COVID hit and yet I believe that diners are mostly being left out of the larger conversation—about survival and transformation—that's taking place amongst media, industry insiders, and government players. This is why my friend Lisa and I built Love Letters; to give guests a platform to express their feelings and attachments. After many conversations with her and others, here's where I stand today:
Diners can't fix the restaurant industry's woes, nor should they be shamed into subsidizing its shortcomings. However, there is a power to be harnessed from guests, one that shouldn't stand isolated from the change that everyone who loves restaurants can demand.
Restaurants are failing, how do we solve this? This is a question that's been painstakingly opined on over the course of the last several months. An untapped resource might be guests—the massive group of consumers who support restaurants by patronizing them, ordering take-out, donating to staff funds, and the like—and yet looking to patrons to reach into their pocketbooks and practice best pandemic-aware behavior when dining al fresco isn't in itself a meaningful fix. Really, we should be rethinking what the relationships between the groups involved in maintaining the industry look like.
Like everything in life these days, dining out has changed. Follow these rules to be every restaurant's favorite guest and it goes without saying: if you're feeling sick, stay home!
The government is responsible for creating a safety net. Management is responsible for ensuring a viable business. Within your typical restaurant model, employees don't have a whole lot of agency, and neither do guests—beyond following the rules, like wearing a mask (click on the IG post above for a handy guide on how to be everyone restaurant's favorite guest). While Karens have no excuse for dining out maskless, it's not fair nor sensible to put the onus on diners, many of whom are trying their best to support a broken system. And yet the media is guilty of that as of late.
For example, in an article written for Grub Street at the beginning of last month, Chris Crowley suggests that guests who are choosing to dine out right now should be tipping at least 50%. Not only does this dictate an extraordinarily limited view of restaurant-goers (that they are an elite bunch), it also infantilizes and silences the group as a whole. A glance in the comment section of Crowley's article reveals the dangers of shaming guests and dividing them in the process.
What would be fair? Giving voice to this group, involving their perspective in the reimagination of the future of restaurants, and making way for a more balanced conversation. In fact, our best chance for a restaurant industry that's more sustainable and equitable is a people united, advocating for real solutions.
Some, myself included, have been vouching for cooperative-style restaurant models, or more generally, an industry driven by community over profits. These are hopeful ideas that require buy-in from customers, because a restaurant landscape that challenges the exploitative business model of today still must be economically feasible. Diners have to be willing to participate. They have to be excited and supportive. 
Just as there are restaurant workers calling for major change, there are educated diners who are open to new experiences and want more for those that take care of them. Our best chance at achieving a more egalitarian tomorrow is to establish a shared struggle—where community is what unites us, and consumerism is not what divides us. In order to do so, we need to start placing more focus on the good guest, in turn empowering them to become comrades in the fight for a better system for everyone.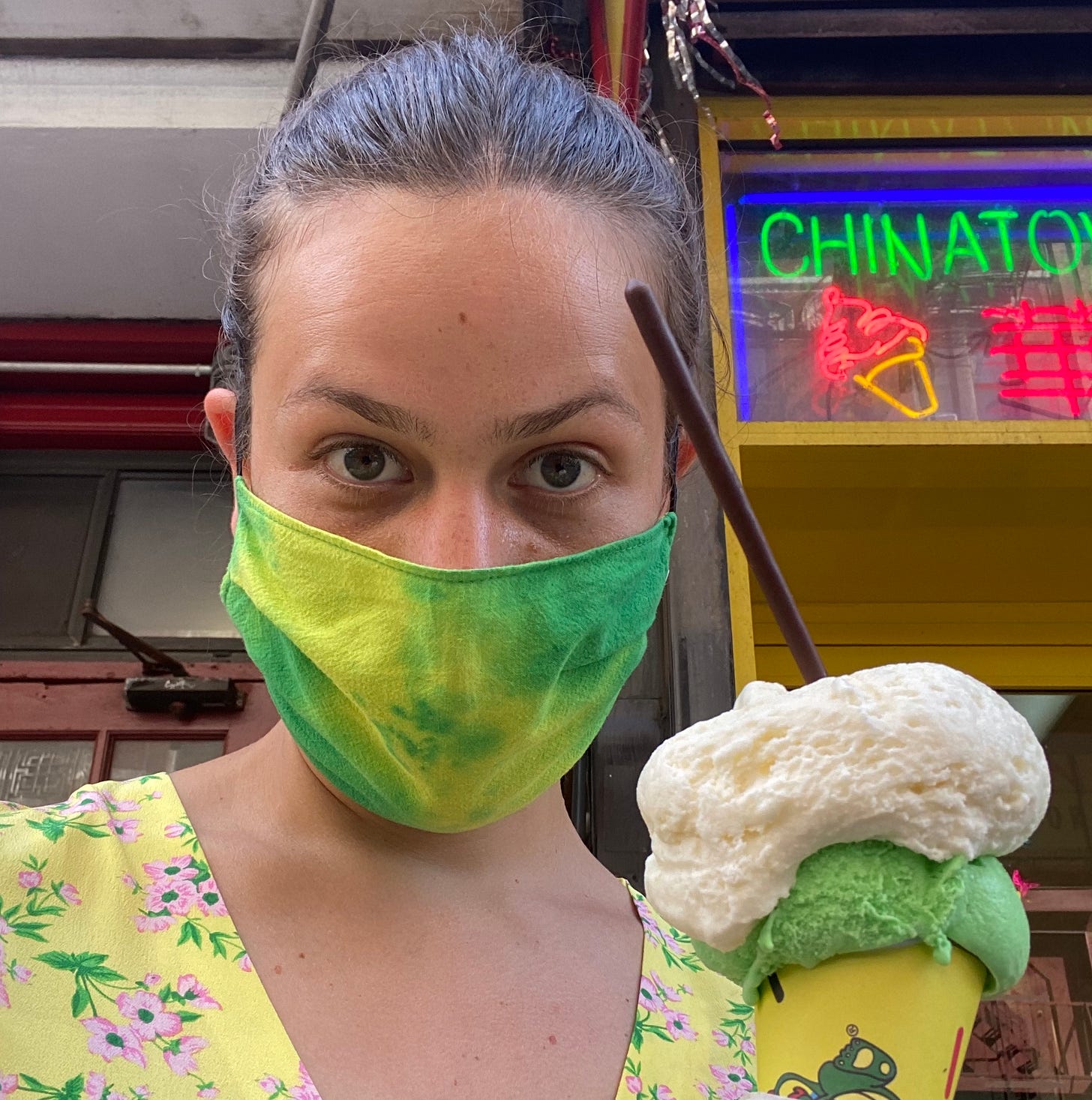 Me in my mask, about to eat some ice cream.
---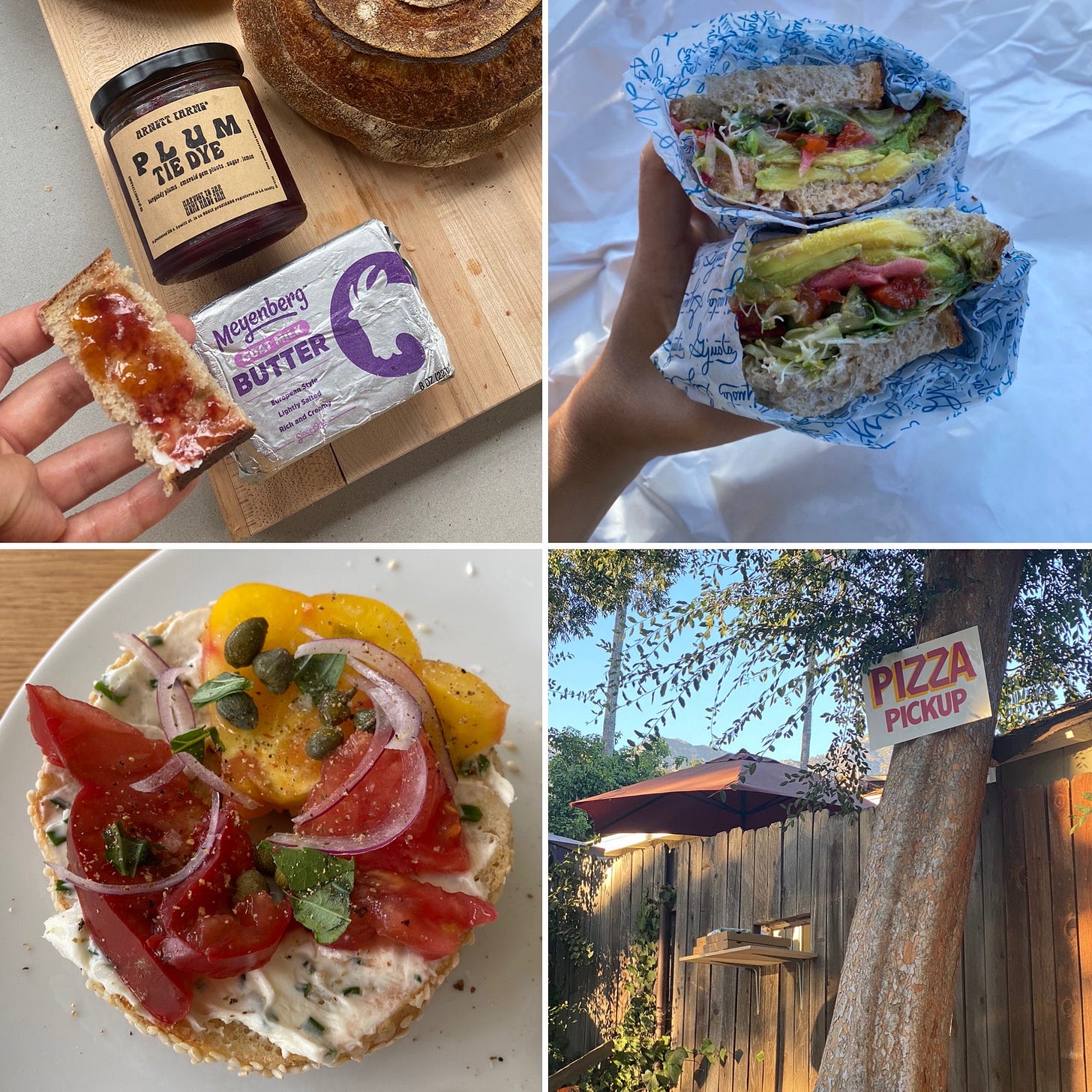 Try This*
*I was in Los Angeles for the last few weeks.
Arnett Farms' jams (they ship nationally!) (Top left)

Within my perpetual hunt for the best veggie sandwich, Gjusta's reigns supreme. Anyone have recs in NYC? (Top right)

It's officially tomato season (Bottom left)

Side Pie is making dope pizza (and donating 1-4-1 to Violence Intervention Program) plus slab pie and t-shirts in a backyard in Altadena (pre-order for the weekend, as they're starting to catch on and sell out fast) (Bottom right)
Read That