Discover more from Some Meals
Writing on — and recs for — food and restaurants. Mostly in LA & NYC, sometimes elsewhere.
Over 1,000 subscribers
What a time to be alive!
We are living in a pizza paradise.
Frankies 457 Spuntino, a longstanding neighborhood staple for cavatelli and eggplant marinara, became an Italian compound when it was joined, late last year, by Franks Wine Bar. Suddenly, regulars and visitors alike could pop in for a glass of something natural and snacks before, after, or in place of a meal at the sit-down spot. The two destinations are tied together by a kitchen and complimented with a picturesque backyard, the latter of which is now shared by a handsome pizzeria called F&F. Its recent arrival marks the establishment of a full-fledged culinary campus in Carroll Gardens, courtesy of chef-owners Frank Castronovo and Frank Facinelli.
The decor varies from room to room, each bearing a distinct personality, with warmth, elegance, and timelessness pervading throughout. A trace of Italy (the Naples yellow walls of F&F) here, a touch of Brooklyn (floor-to-ceiling exposed brick, in the spuntino) there. Friendly faces behind counters, bars, and at your table—taking orders, clearing plates. Old folks from the neighborhood, toddlers in pigtails, babies in björns, 30-somethings on their third date or 1,000th. It's a sight to see, a fun place to hang, and that's all without mentioning the pizza.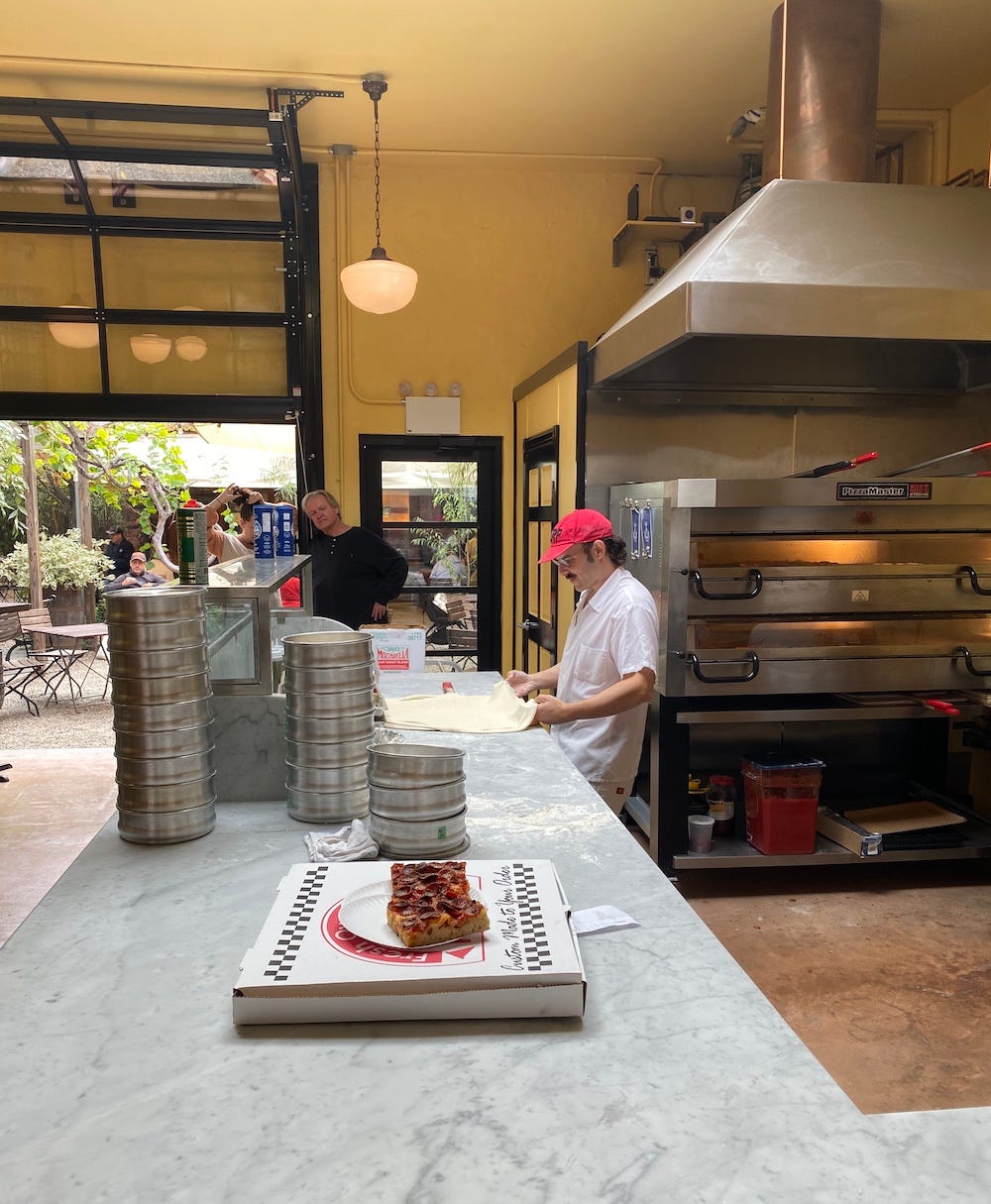 On a Friday afternoon, it's cool and cloudy, the kind of fall day where you're completely comfortable in just a sweater. The garage doors of F&F are open in the back and the front. Crisp air weaves through guests in line to order, awaiting their slices, and sprawled out across bar tables and garden seats, eating. There are three choices: marinara, plain, and Sicilian pepperoni. (Apparently, now, there are more.)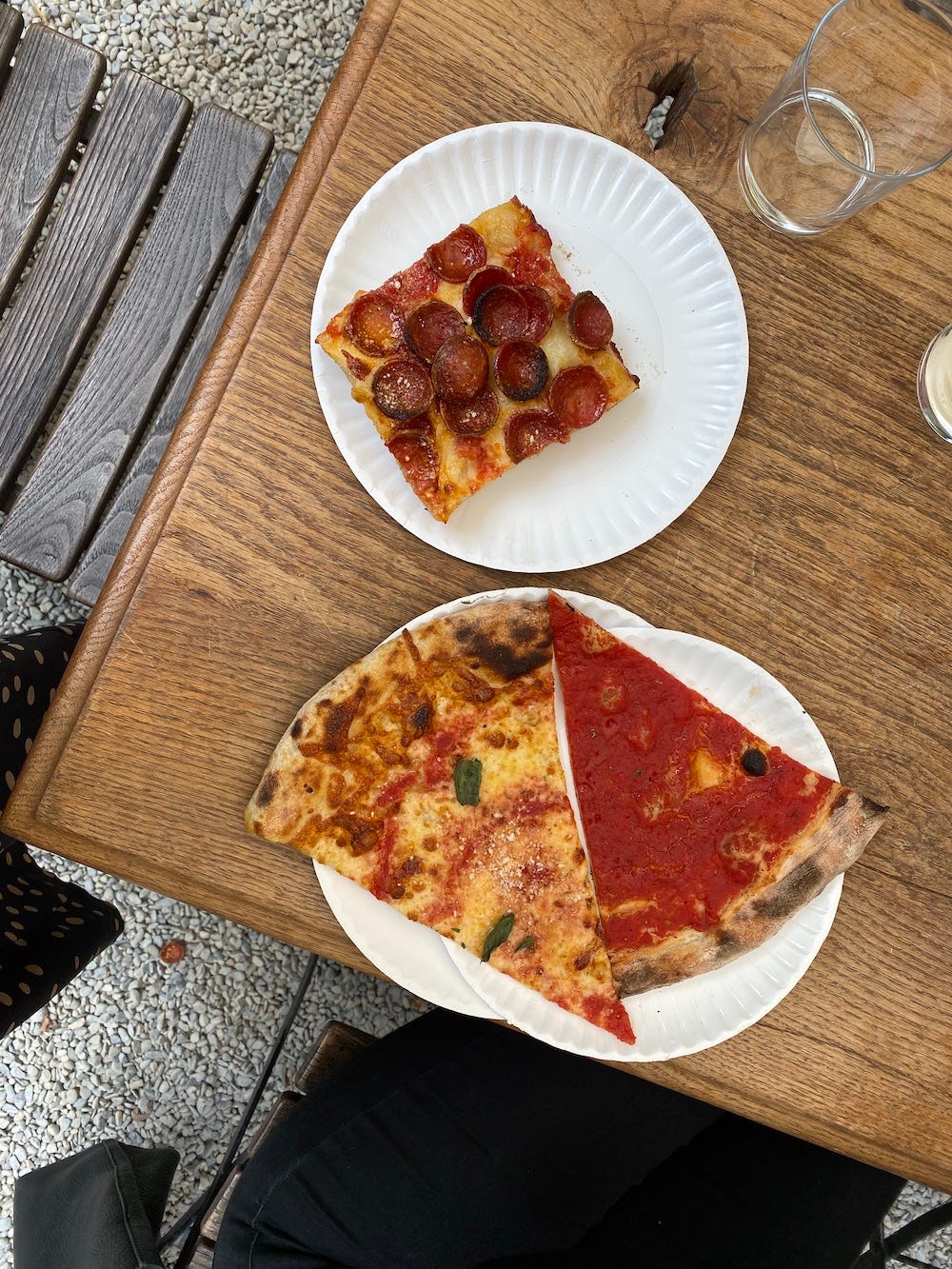 You put in an order for one of each slice. As reggae fills the space, balls of dough get stretched into round crusts, steam rises from the surface of crimson-colored sauce just out of the oven, fresh pies get sliced and slung. Ten minutes go by, maybe more—it's hard to say because you're in good company—and then your name is called. You ask a guy with a pizza wheel to slice all three in half, then walk them outside to the friend that you're sharing with and whose manning your table.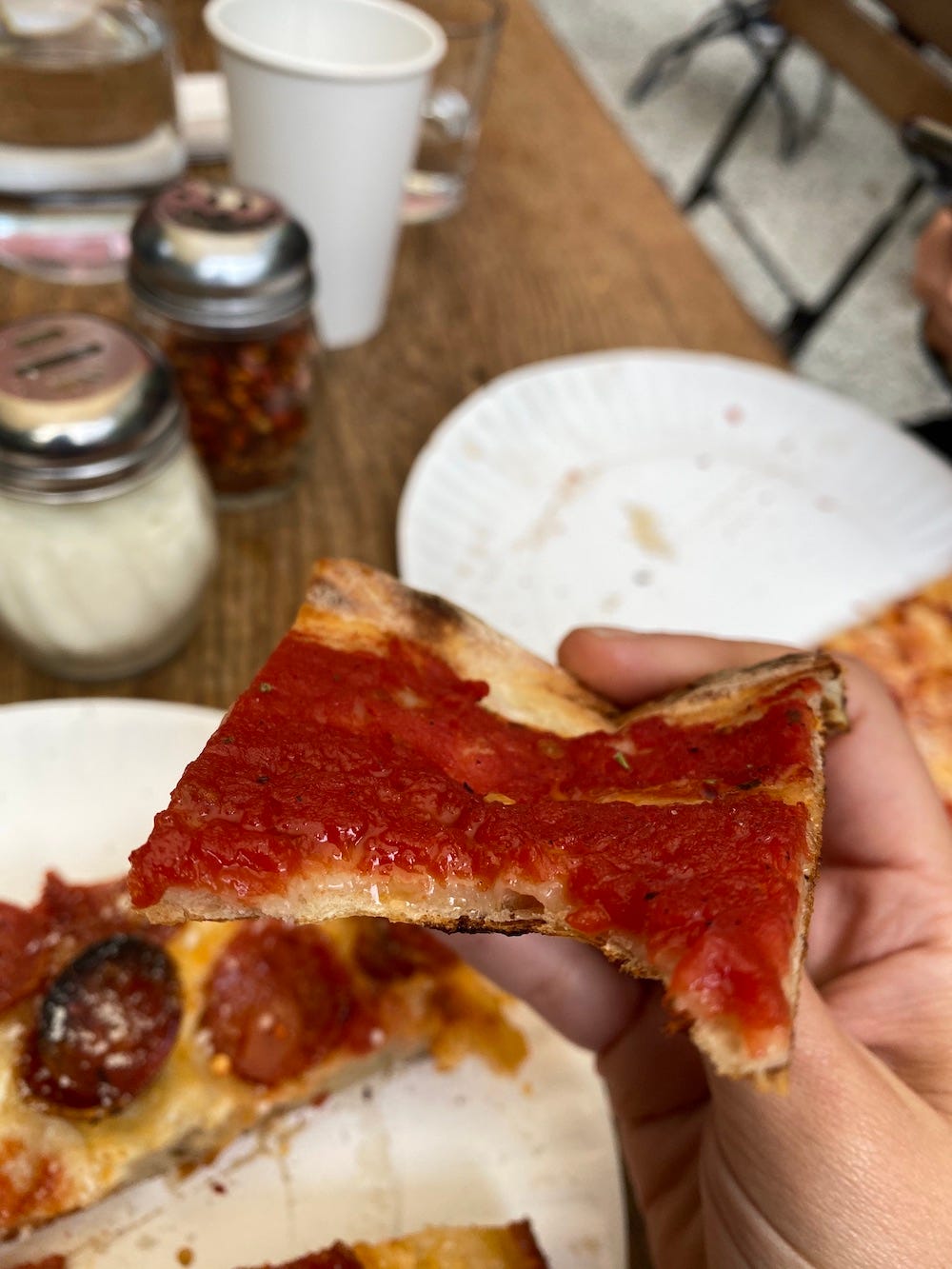 The first bite tells all. The crust is ultra-thin and delicately crispy, with the tiniest inner layer of gooey gluten. The amount of cheese is just right; the ratio of mozzarella to provolone to pecorino, perfection. There are no sneaky seasonings to detect, like garlic powder or oregano. Instead, just a single basil leaf ripped in half plus a sprinkling of chili flakes and parm, which you shake to your liking. Next is the moist and doughy Sicilian seared with meaty roni cups. Your teeth pop a charred cheese blister on its surface, then rip through the open crumb to find a spectacularly pillowy inside. Finally, you find nirvana in the marinara: the sauce, laden with natural sugars and rich in umami, makes your lips pucker in satisfaction.
And it's no wonder. The dough recipe comes from Chad Robertson of Tartine Bakery fame. The tomatoes are Bianco DiNapoli, largely considered to be the best you can get, grown and processed in California and overseen by the legendary pizzaiolo, Chris Bianco. And the olive oil? That'd be Frankies organic EVOO, of course.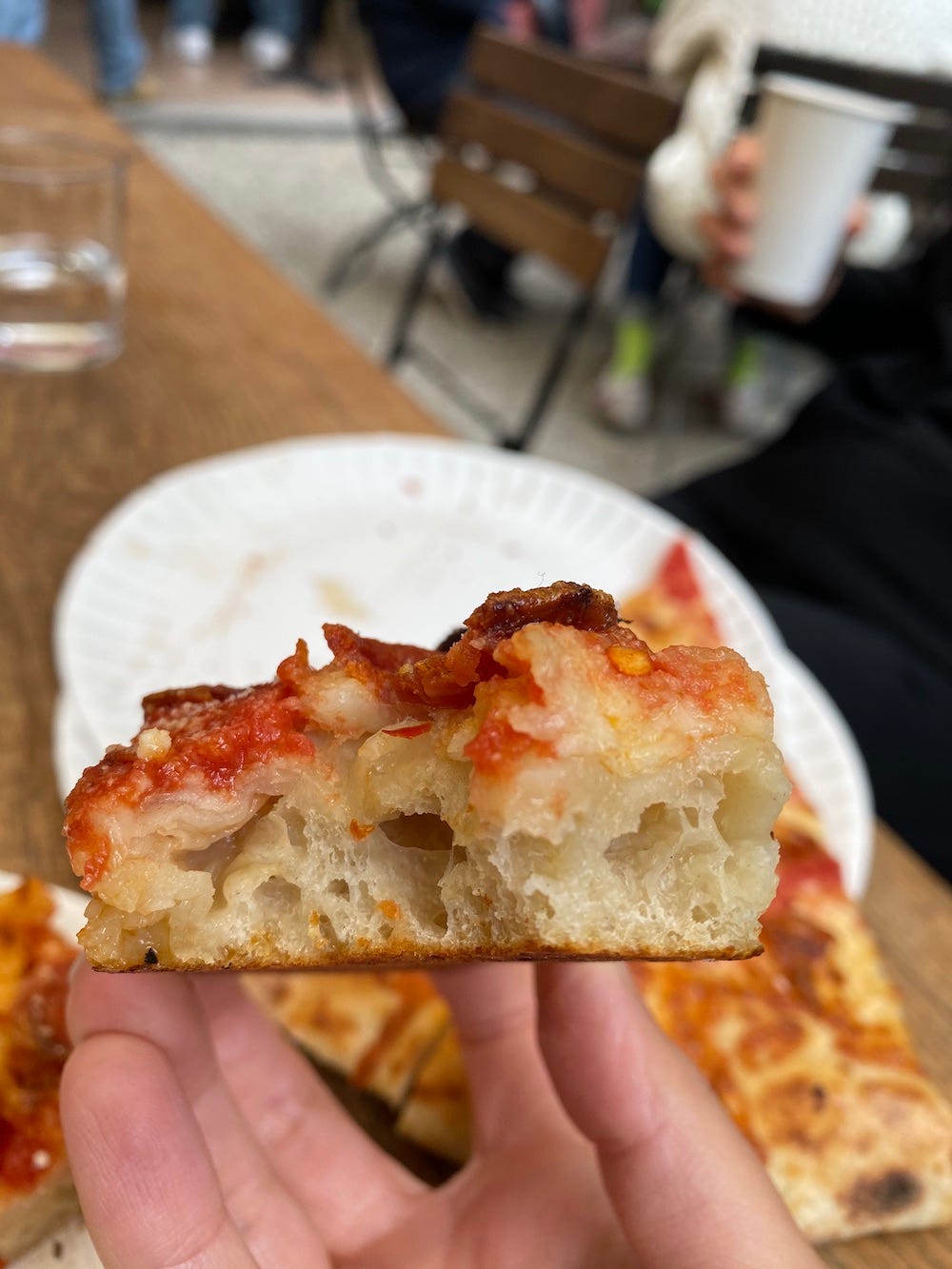 I'm not one to shy away from convictions: this is the best pizza in NYC. And I've had most of the pies worth having. But not all! (To be fair.) It lives up to Beddia, and remember what I said about that?
—
Fast forward to Thursday evening, across two rivers and one state line. You're in Jersey City, more specifically, an off-the-beaten-path neighborhood called The Heights, just east of Hoboken. You're here for square slices of oval-shaped, Roman-style pies, fresh out the oven, crafted by another fabled baker named Rick Easton. He's the guy behind Bread and Salt, a laidback eatery that first existed in Pittsburgh (where it garnered serious acclaim). Here, he's set up shop in a clean café outfitted with—just like F&F—a glass-paneled garage door. His commitment to his cause is not unlike Brooks Headley's, with whom Easton worked with on Superiority Burger's Focaccia Friday program, and who is here tonight, working the early shift before heading back to the East Village where his veggie burger haven resides. You've brought your own wine, because that's the rule. There are babies in high chairs and firemen in uniform, because pizza is for the people.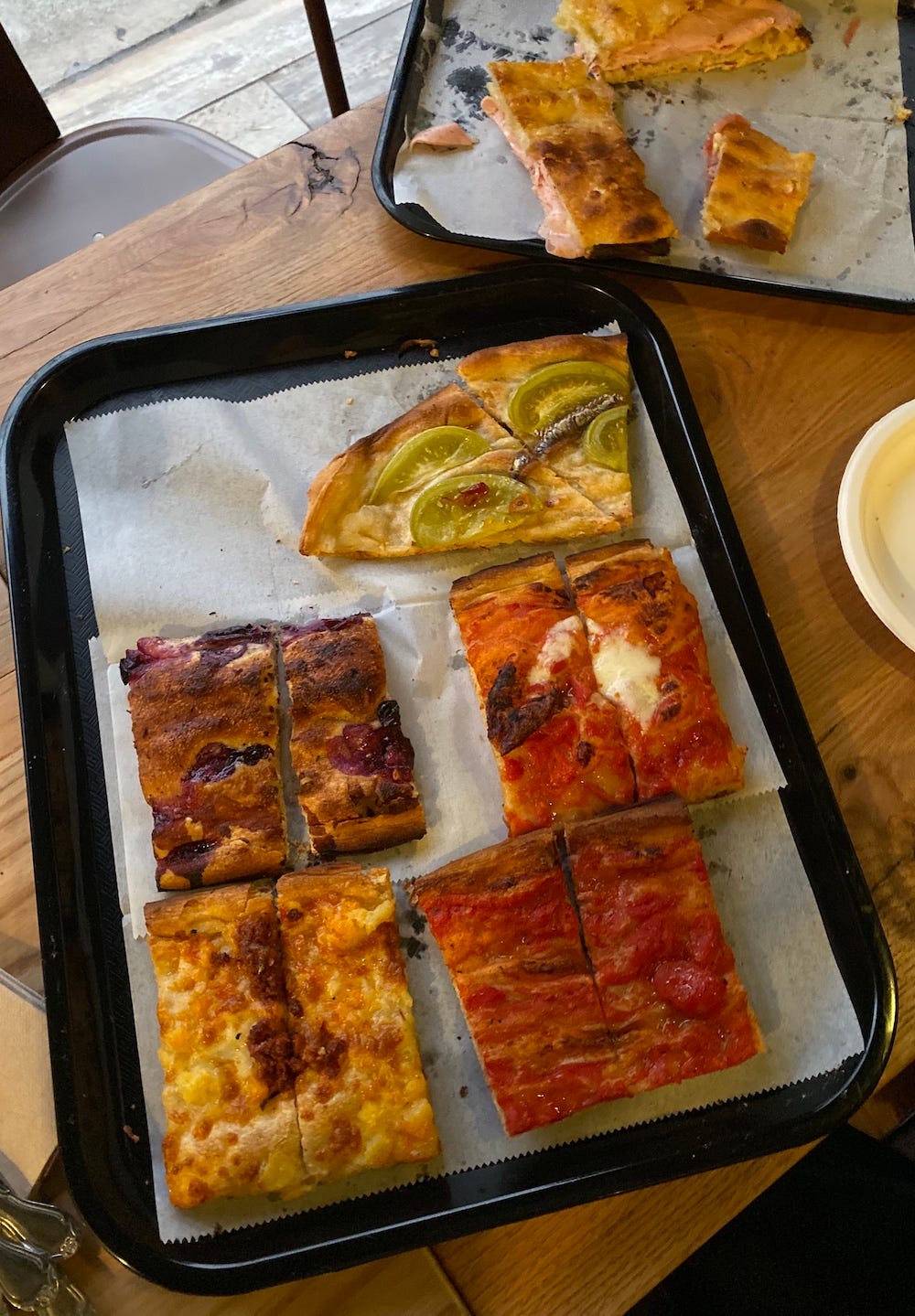 Your eyes glue to a giant sandwich in the making behind the short glass wall that separates the pizza and its makers from hungry guests. Rosy-pink slices of prosciutto get piled over silky strands of stracciatella atop crackly pizza bread. The other half of the loaf, long and thin and holey, is positioned on top. Then a serrated knife gets to work, producing a dozen specimens ready to order. You'll have one of those, plus the other one that's made with no cheese and just mortadella, whose butteriness pairs perfectly with Easton's salty, crunchy bread, needing nothing else. You'll have slices of the cheese-less rossa, fresh mozzarella, spicy 'nduja with chunks of potato, wedges of green tomato and anchovy, plus the Concord grape-dotted, rosemary-scented beauty.
Rosemary, at least for now, is a favorite flavor for Easton. It announces itself proudly in a luscious, soupy pile of beans served with excellent bread. Then again, for dessert, in gelato paired with a whole poached pear. It's fall, after all.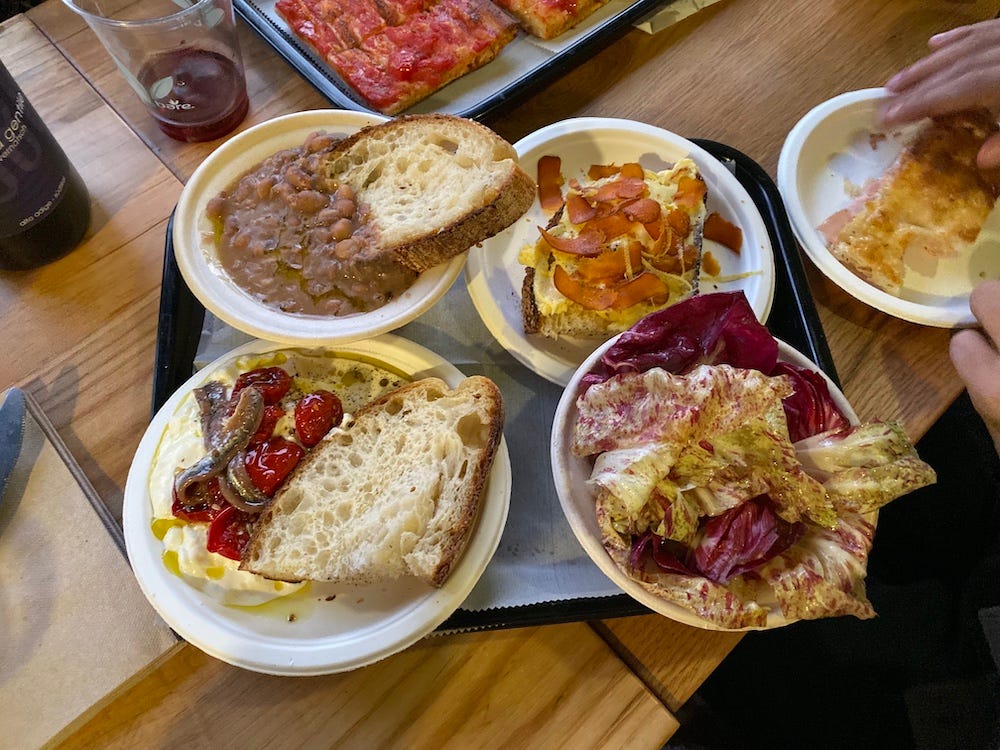 The red sauce slice wins again. Like at F&F, you can truly taste the elemental flavors, savor the brilliant texture. Here, that's saltiness to a tee, bright and fruity olive oil, a hint of smoke from a light char. A lot of crackle with a touch of sponginess, not much chew, airy pockets, no gooey bits, utter flakiness. Your favorite dish of all is a "not pizza special": more of that silky stracciatella, that excellent bread, those anchovies, and a handful of confit cherry tomatoes. Soft, creamy, salty, sharp, and sweet. Another winner is a hunk of bread smeared with a massive mop of tangy butter and topped with thick shavings of bottarga. Of this wildly indulgent, genius dish, you can only manage one bite.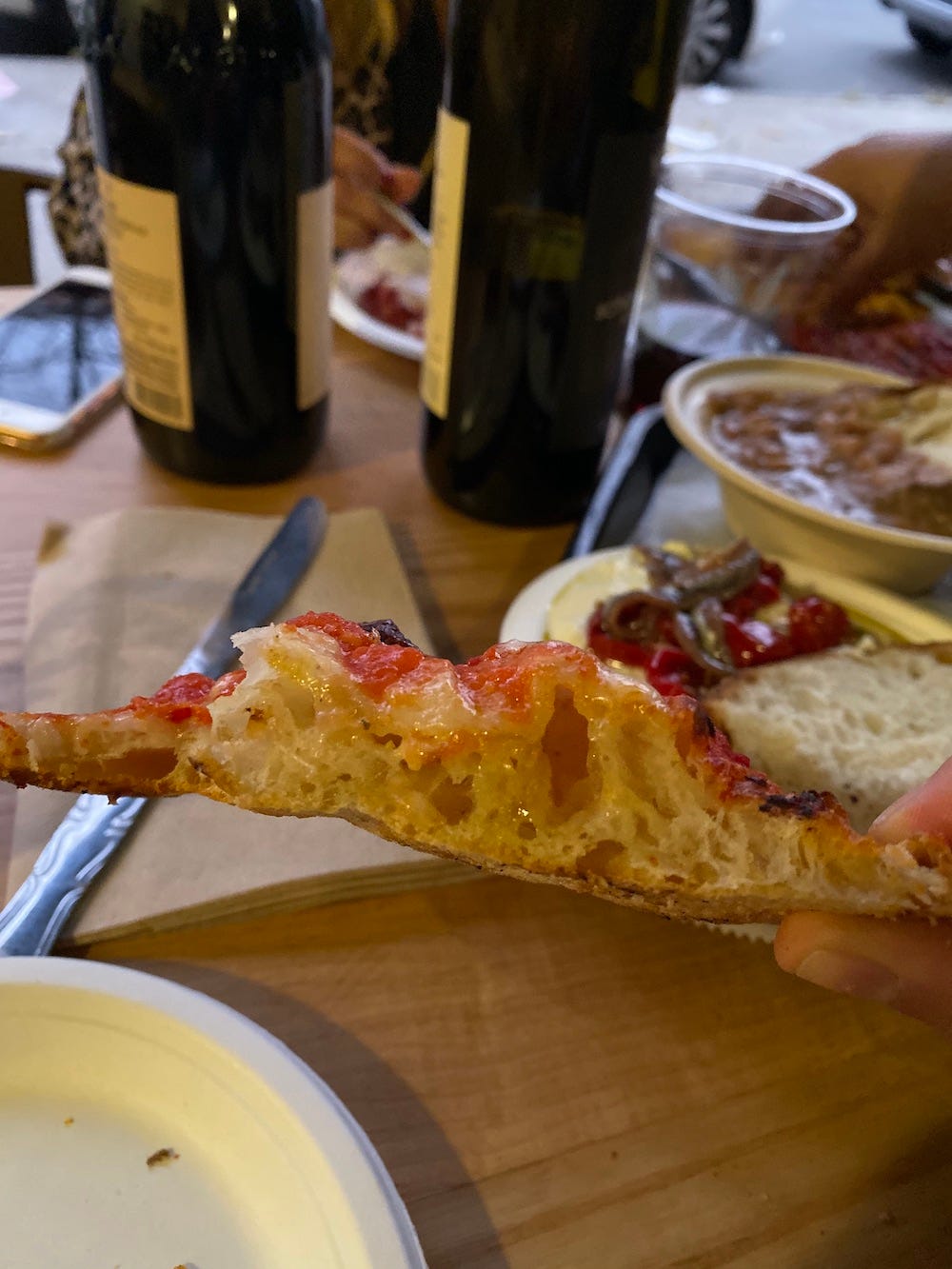 You eat and you drink and you linger amongst friends, periodically getting up to check the pizza case, to see what new combinations are coming out of the oven, and if they're worth budging for another slice. The menu here changes not just every day, but throughout the night. You take it all in, this pure whimsical mayhem. You stay as long as you feel, letting your clothes absorb molecules upon molecules of flour and crust. You make it count because Jersey ain't so close to Brooklyn.

👼
F&F Pizzeria
459 Court Street, Brooklyn, NY 11231
🥖
Bread and Salt
435 Palisade Ave, Jersey City, NJ 07307
---
This week's reads
---
If you're into Some Meals Considered, tweet about it to spread the word!

Find all previous posts here.

Was this email forwarded to you? Sign up for real.

**Housekeeping** If you found me in your spam folder or your Promotions tab, please mark this address as 'not spam.'