Discover more from Some Meals
Writing on — and recs for — food and restaurants. Mostly in LA & NYC, sometimes elsewhere.
Over 1,000 subscribers
We need to think bigger
There is no "back to normal" for the restaurant industry—or this country.
I'm beginning to lose steam. Over the past five weeks, I've been reading up, writing a lot, buying purposefully and donating to causes, and lending skills towards advocacy and recovery projects around a restaurant industry that's truly and simply fucked. I'm not going to stop doing any of it, any time soon. There's plenty more to lose, and what else is there to do?
But still. As my friends continue to get laid off, as writers elucidate the heartbreak and the incompetency and the overwhelming uncertainty, as the rich and powerful play the thought leadership game on saving industries they know nothing about, as hospitality leaders demand more from a government led by an administration that fundamentally believes in hands-off governance… it's hard to feel hopeful.
This country is completely twisted, and our president is not the only one to blame. We go ballistic when we hear that Ruth's Chris and Potbelly got large sums of PPP money while the majority of small businesses got none (and we hand Shake Shack a pat on the back when they give theirs back). We're enraged when it's announced that Trump's panel to save restaurants includes only famous white male chefs and fast-food executives. But are we even remotely surprised? I'm not.
I believe in the power of optimism and activism, and I get frustrated with the opposite mentality, but if I let myself face the facts I know that America is stricken with an income equality gap that debilitates many of its citizens, deeply rooted systemic bigotry, and a health crisis monstrously exacerbated by a global pandemic because we do not have Medicare For All. Our country is sustained by newly deemed "essential" service workers that have had to bear the brunt of these realities, who are now either out of work or putting their lives on the line to keep the rest of us safe and fed.
We should pursue meaningful government action and stopgap measures in the near term to save the restaurant industry and support its workforce. But most restaurants will still close and their employees will struggle to find new work. Things will never be the same.
We need a revolution. We've needed one for a while, but we especially need one now.


HALFTIME HACK
We had leftover dough from making chocolate chip cookies this weekend. We also had a half-pint of Van Leeuwen vanilla ice cream in the freezer. Saarim's idea? Combine them. I think he's a genius. Also, label makers are the best underrated household accessory there is. The laminators of kitchen supplies, really.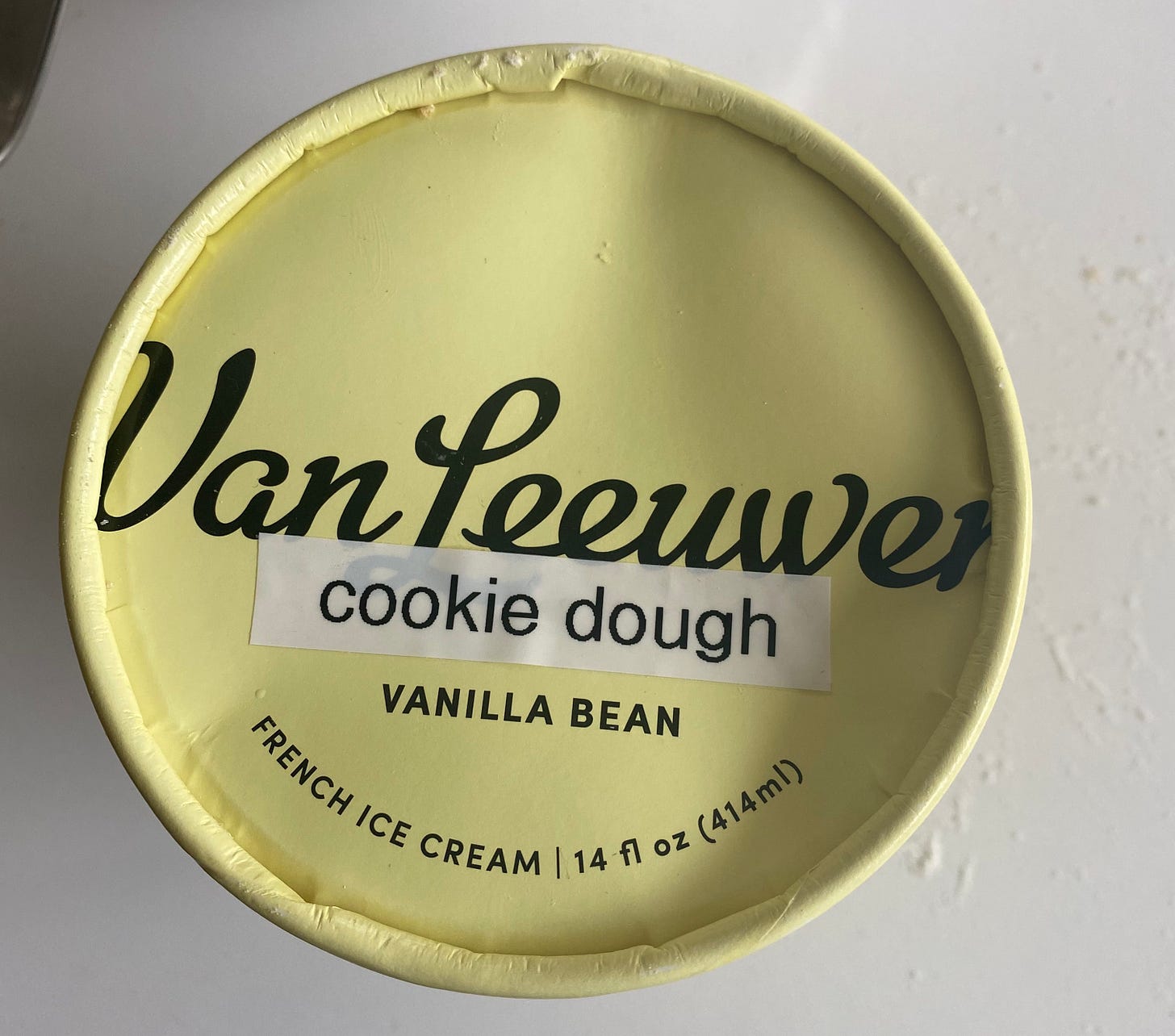 These essays hit.
It's Time for the Hospitality Industry to Listen to Black Women [Angela Burke for Eater]
The Trump Administration Is Writing a Death Sentence for America's Most Important Restaurants [Jeff Gordinier for Esquire]
The Coronavirus Is Showing Us Which Entrepreneurs Matter [David Sax for NYTimes]
I just want to share a moment with all small restaurant owners and all people who love small neighborhood restaurants to say if this US government does not bail us out or lend a hand to us (it seems that only large restaurants and restaurant chains were bailed out last week by the CARES act) - then let's all come together to help each other get small restaurants re-opened when the time comes. Small Neighborhood restaurants will Not be erased across the country. If the government will not help us then we will help each other. Creating community and neighborhoods; connecting people over wholesome and delicious food; supporting local farmers, and artisans, supporting the Craft of cooks and bakers, wine makers, importers wood workers builders and makers; celebrating births, and mourning losses in the company of friends, loved ones, family and strangers - this is what all of us working and supporting this industry strive for every day. No corrupt, and soulless government can take this from us. Thank you
@ethancornellart
for capturing the strength and the fragility of our first days
@dinernyc.
If you'd like to read an article about what happened last week with the bail out read
@thegordinier
article out in
@esquire.
Thank you for telling this story.
---
If you're into Some Meals Considered, tweet about it to spread the word!

Find all previous posts here.

Was this email forwarded to you? Sign up for real.

**Housekeeping** If you found me in your spam folder or your Promotions tab, please mark this address as 'not spam.'