Discover more from Some Meals
Writing on — and recs for — food and restaurants. Mostly in LA & NYC, sometimes elsewhere.
Over 1,000 subscribers
Uplifting tales (we need them)
+ donation advice, what to say to your reps, & petitions to sign
The sad stories keep piling up, so I'm kicking off tonight's newsletter with some uplifting tales. Immediate action and long-term organizing are still crucial, but I'm needing some feel-good energy right now and I'm thinking you all might, too.


Good Vibes
An Oral History of Jojo Hershkowitz's Zoom Bar Mitzvah [Grub Street]
During my reading, I couldn't see that many people because of the way the app works. Maybe five or six. But after the rabbi spoke, all my friends took themselves off mute and shouted "mazel tov." It was great.
Jews who've been bar or bat mitzvahed understand that you get one Torah portion (which you memorize and study for months on end), and it must be read on its intended date. Props to Jojo for rolling with the punches!

From Sam Sifton's NYT Cooking newsletter today (one of my favorites, just as much for his prose as for the recipe inspo):
I'm here just to say, quietly, that deliciousness is possible against the backdrop of a national emergency, and that it matters to discover that's the case, for deliciousness improves moods, and inspires hope. Deliciousness sends a message. Someone cares.
If you don't have the NYT Cooking app, you should! Especially now. It's a brilliant product that requires a subscription but makes my life better by tenfold.

A Second Look at the Tuna Sandwich's All-American History [TASTE]
As it turns out, the origin story of the tuna fish sandwich, like much in American life, is one shaped by natural resources, entrepreneurial brilliance, and immigrant influence.
I've always loved a good tuna salad sandwich and those who agree know the fondness of making your own quick version for lunch. I'd bet lots of you have a solid stash of canned tuna right now and along with a historical perspective, this piece packs some good salad-making tips.

Tejal Rao's 10 Essential Indian Recipes [NYTimes Cooking]
Roti and Dosa are two of my all-time favorite breads. I'm adding them to my list of quarantine cooking goals.

Ikea and Pizza Hut make a lifesize version of the little tables that come in pizza boxes [It's Nice That]
I mean… yeah, I want one.

Chefs across the globe have taken to Instagram to share recipes and answer cooking questions. Taku Sekine of Paris' Dersou and Cheval d'or (whose helper is his extremely cute toddler), Massimo Bottura of the world-famous Osteria Francescana, international pizza consultant Anthony Falco, and my long-time fave Ina Garten.

In a similar vein, Sam Koppelman launched a Cooking in Quarantine newsletter (on Substack!) where he's asking well-known chefs what to cook when you're stuck at home, including pasta from pizzaiolo Anthony Mangieri and an "Apocalypse Sundae" from Nick Morgenstern. Good stuff.

I don't have a photo for this post so I'll just drop in the mini banana crumb muffins I made this morning. Would recommend if you've got overripe bananas!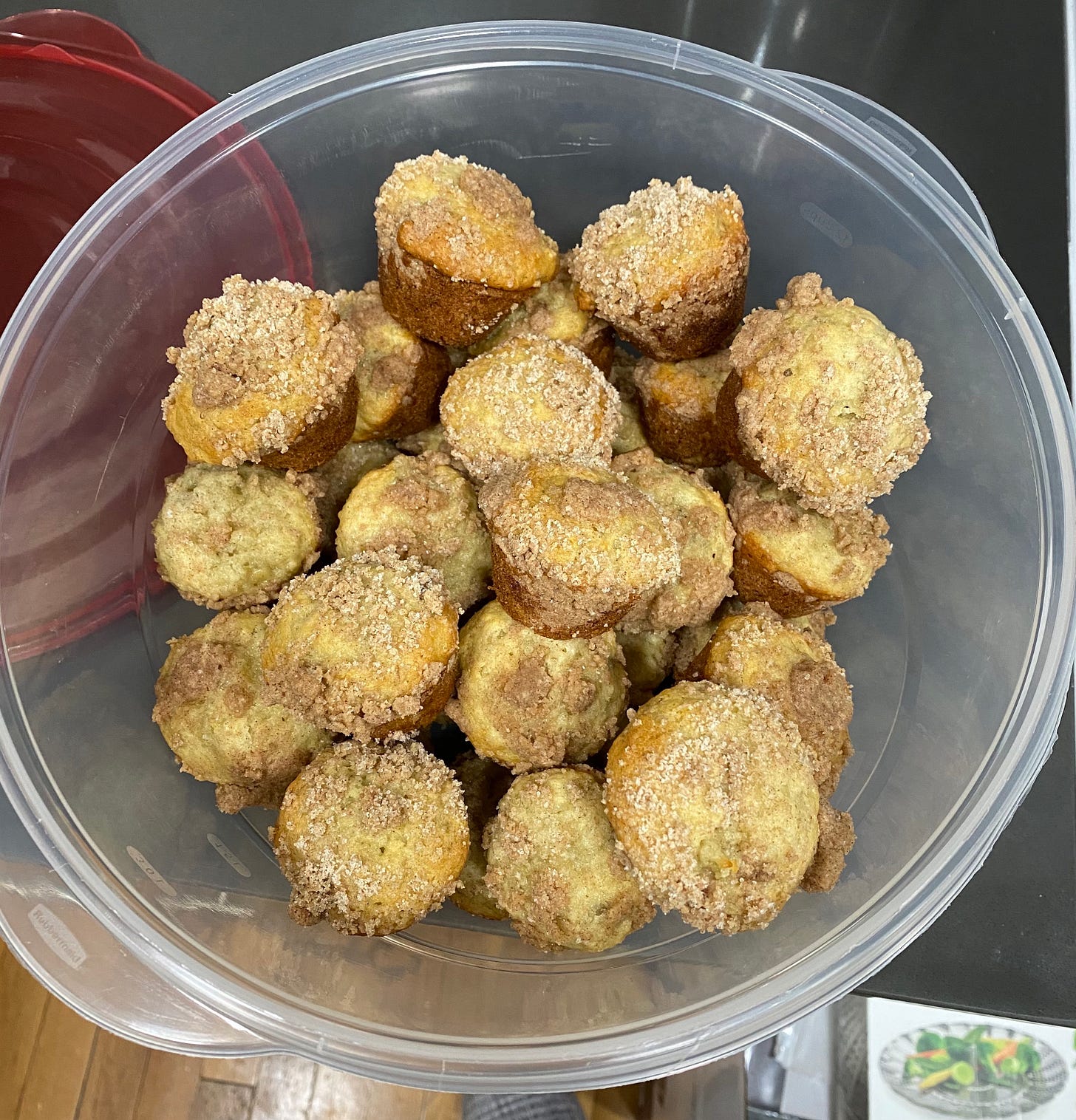 What to Ask of Your Representatives
The more personal your plea, the better, but Eater published a letter outlining what to say to your representatives when you call or write in.
And here's Dan Barber on the top three things you should tell them:
Contact your state or city government and tell them three things:⠀
1. Provide emergency employment benefits to all hourly and salaried workers who have been laid off or lost their pay for the length of this crisis⠀
2. Waive their payroll tax⠀
3. Endorse rent and loan abatement for workers⠀
⠀
You could add a fourth: basically everything worthwhile is in collapse right now.  If you don't act, all that will be left after this—whatever, exactly, this turns out to be—will be Chick-fil-A and Amazon. ⠀
⠀
@nancysilverton
@alicelouisewaters
@tomcolicchio
@paulkahan
@nyhospcoalition


Not Sure How Much or Where to Donate?
A friend (hi Julia) asked for my advice on the best way to donate her dollars to restaurants during this time. Buy large gift cards to a few restaurants? Buy smaller ones to a bunch? Give to small restaurants over bigger groups?
I figured I'd share my answer here in case it's helpful. Besides giving to a few more general relief funds, my personal strategy has been to focus on paying it back to the places that have provided me with the most warmth and comfort over the years, whether that be through buying gift cards, donating to GoFundMe campaigns, or purchasing merch. Give what you can, and distribute it emotionally.


Sign These Petitions
Both of the below petitions (the first New York-based, the second national) are asking the government for rent and loan abatement, waiving sales and payroll tax, emergency employment benefits, and more.
ROAR
From Dana Cowin:
The coronavirus has decimated the restaurant industry we love. We need relief from the government in order to have a chance to survive the pandemic. So far, independent restaurants have been ignored by lawmakers. To change that, and to make our voices heard, we have united in one group, ROAR (Relief Opportunities for All Restaurants).

ROAR has created a petition to be signed by our industry as a collective so that we have places to eat, share, and gather once this pandemic is over. We will give the petition to city, state and federal officials to drive effective structural solutions. 

Today, please sign the petition on Change.Org. With your help, we can ROAR. With your help we can be heard. With your help with can save an industry. 

with gratitude + be well

#ROAR #toosmalltofail

Note: If the link takes you to the Change.org homepage - go to the three lines on the top right, tap search, enter "ROAR (Relief Opportunities for All Restaurants" in search to come to our page.
Founding companies: Grovehouse Hospitality Group, Dig Food Group, Eataly, west~bourne, Delicious Hospitality Group, Starr Restaurants , Momofuku Group, NoHo Hospitality Group, Jean-Georges Restaurants, Happy Cooking Hospitality, Officina 1397, Crafted Hospitality, Quality Branded, FIELDTRIP, Nom Wah, The Bowery Group, The Dinex Group, Major Food Group, Kitchen Fund, Oberon Group, Greg Baxtrom and Max Katzenberg, King Restaurant, All Blue Hospitality, Sydell Group, Black Seed Bagels, Grand Army, Celestine, The Smile


Save America's Restaurants
…As chefs, bartenders, and restaurant and bar owners, we are writing to tell you that without swift action and commitment from our local and state governments, many of the restaurants that closed voluntarily—or by mandate—at this moment of crisis will not come back. That sounds like an exaggeration. It is not. We are on the brink of extinction.

Just as many individuals live from paycheck to paycheck, so too do restaurants and bars. There's no nest egg. No reserve fund. No glass to break in case of emergency. We cannot work from home, and even if we temporarily convert to delivery and carry-out, we lose most of our revenue and the tips our employees depend upon to survive. Without significant help, many if not most of us will vanish, and our communities will be deprived of their gathering places, generosity, and memories old and yet to come. Dark spaces with hand-scrawled signs in the window will be grim souvenirs of the light and laughter that once emanated from them…

Sign the petition on Change.org
Authors:
Hugh Acheson
, Empire State South (Atlanta);
Reem Assil
, Reem's California (San Francisco, Oakland, and Fruitvale, CA);
Vishwesh Bhatt
, Snackbar (Oxford, MS);
Kevin Boehm 
and
 Rob Katz
, Boka Restaurant Group (Chicago);
Justin Carlisle
, Ardent, Laughing Taco, and Red Light Ramen (Milwaukee);
Christine Cikowski
 and 
Joshua Kulp
, Honey Butter Fried Chicken and Sunday Dinner Club (Chicago);
Scott Conant
, Cellaio Steak (Monticello, NY) and Mora Italian (Phoenix);
Tim 
and
 Nancy Cushman
, O Ya (Boston and New York City);
Bruce Finkelman
, 16" on Center (Chicago);
Marc Forgione
, Restaurant Marc Forgione, American Cut, American Cut Bar & Grill, Lobster Press, and Peasant (New York City);
Alex Guarnaschelli
, Butter (New York City);
Will Guidara
, The Welcome Conference;
Michael Gulotta
, Maypop and Mopho (New Orleans);
Jason Hammel
, Lula Cafe, (Chicago);
Mason Hereford
, Turkey and the Wolf (New Orleans);
Tim Hollingsworth
, Otium (Los Angeles);
Vivian Howard
, Chef & the Farmer and Boiler Room Oyster Bar (Kinston, NC) and Benny's Big Time (Wilmington, NC);
Meherwan Irani
, Chai Pani (Asheville, NC and Decatur, GA), Botiwalla (Atlanta and Alpharetta, GA), Buxton Hall Barbecue and MG Road Lounge (Asheville, NC);
Stephanie Izard
, Girl & the Goat, Little Goat Diner, Duck Duck Goat (Chicago);
JJ Johnson
, FIELDTRIP (New York City);
Gavin Kaysen
, Soigne Hospitality Group (Minneapolis);
Bill Kim
, Urbanbelly Restaurants (Chicago);
Hooni Kim
, Danji (New York City);
David Kinch
, Manresa and The Bywater (Los Gatos, CA), Manresa Bread (Campbell, Los Gatos, and Los Altos, CA), and Mentone (Aptos, CA);
Cheetie Kumar
, Garland (Raleigh, NC);
Carlo Lamagna
, Magna (Portland, OR);
Mary Sue Milliken 
and
 Susan Feniger
, Border Grill DTLA; Border Grill Truck and Catering, Border Grill Mandalay Bay (Las Vegas), and Socalo (Santa Monica);
Preeti Mistry
, Juhu (Oakland, CA);
Patrick O'Connell
, The Inn at Little Washington (Washington, VA);
Chris Pandel
, Swift & Sons (Chicago);
Naomi Pomeroy
, Beast (Portland, OR);
Andy Ricker
, Pok Pok Restaurants (Portland);
John Ross
 and 
Phillip Walters
, B Hospitality (Chicago);
Michael Schwartz
, The Genuine Hospitality Group (Miami, FL);
Alon Shaya
, Saba (New Orleans) and Shaya (Denver);
Chris Shepherd
, Underbelly Hospitality (Houston);
Nancy Silverton
, Osteria Mozza, chi SPACCA, and Mozza2Go (Los Angeles) and Pizzeria Mozza (Los Angeles and Newport Beach, CA);
Alpana Singh
, Terra & Vine (Evanston, IL);
Curtis Stone
, Maude (Beverly Hills), Gwen (Los Angeles), and Georgie by Curtis Stone (Dallas);
Jeremy Umansky
, Larder Delicatessen and Bakery (Cleveland);
Norman Van Aken
, Chef, Author, Grandfather (Florida);
Kyle Linden Webster
 and 
Naomi Pomeroy
 Expatriate, (Portland, OR);
Alice Waters
, Chez Panisse (Berkeley, CA);
John Winterman
, Bâtard and Francie (New York City);
Lee Ann Wong
, Koko Head Cafe (Honolulu);
Geoffrey Zakarian
, The Lambs Club (New York City)

I'm taking tomorrow off, so I'll talk to you all this weekend. Keep sending stuff my way! ❤️
---
If you're into Some Meals Considered, tweet about it to spread the word!

Find all previous posts here.

Was this email forwarded to you? Sign up for real.

**Housekeeping** If you found me in your spam folder or your Promotions tab, please mark this address as 'not spam.'