Discover more from Some Meals
Writing on — and recs for — food and restaurants. Mostly in LA & NYC, sometimes elsewhere.
Over 1,000 subscribers
This porridge is just right
Channeling Goldilocks.
Khao tom is a Chinese-Thai rice porridge that's eaten for breakfast. Unlike congee, which is thick and gloopy, khao tom is watery, cloudy, and loose. The base tastes like nothing more than rice and warm water, but the toppings that come with impart plenty of flavor.
At Noods n' Chill in Williamsburg, you can choose two (out of 10) for $15 or four for $28. It's your first time—both eating this dish and dining at the eatery. In fact, Noods n' Chill just opened. It's the first day they're serving porridge to customers and you're getting a 15% "Friends & Family" discount on your meal. So you might as well spring for more.
The time is 11:30 am and you're not in the meatiest of moods, so you opt for sauteed morning glory—fresh, crunchy, and coated in a salty brown liquid accented by fish sauce—chopped up chunks of egg omelet laced with sour fermented cabbage in one iteration, and diced preserved sweet radish in another, plus sugary slices of Chinese sausage glazed in lime juice.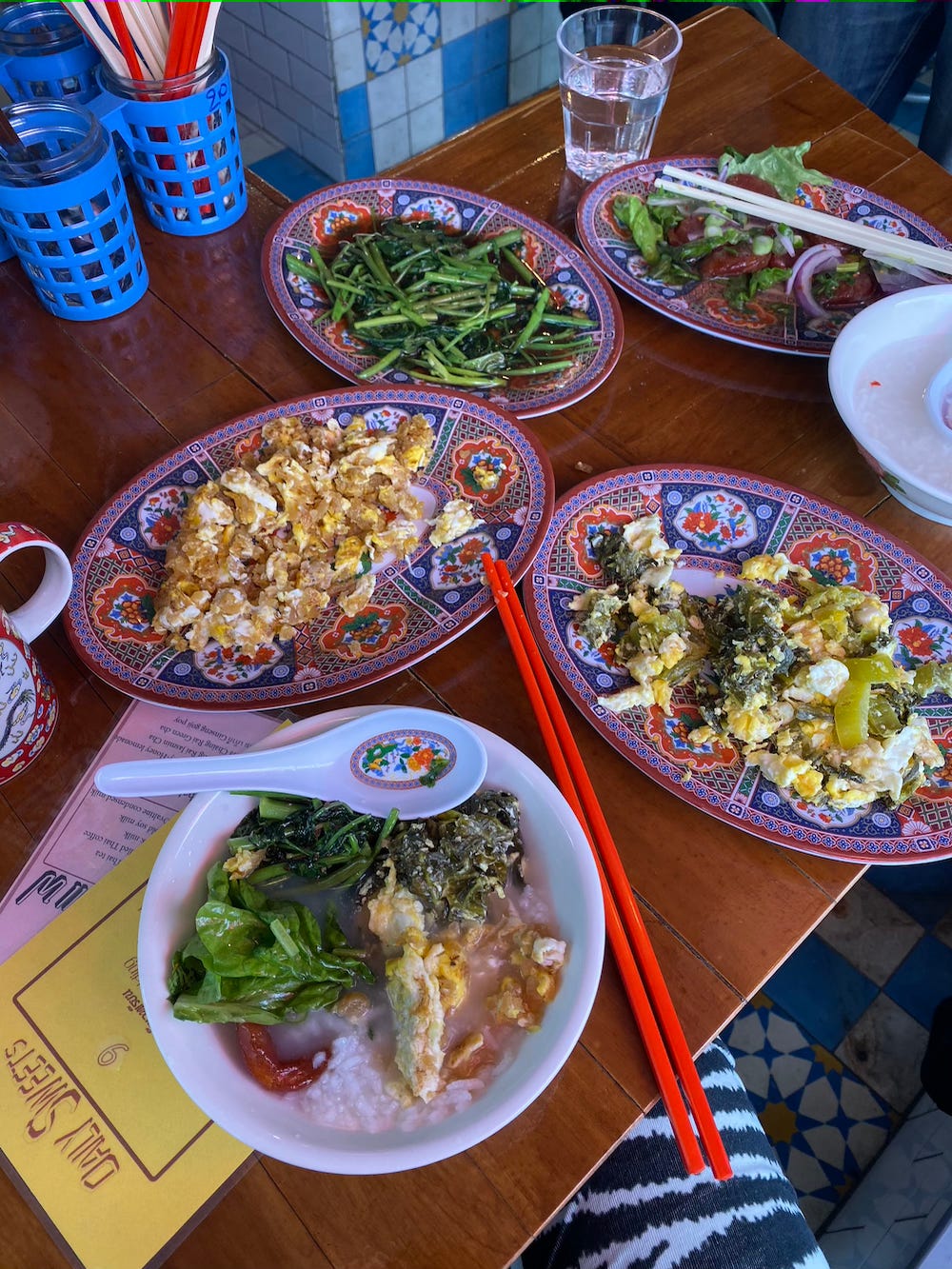 The porridge is self-serve and all-you-can-eat. You sip on a green tea from Chiang Rai that's rich, floral, and deep-emerald in color, awaiting your toppings. Soon enough, each order comes. You grab your chopsticks, situate ribbons of this and nuggets of that atop your rice soup, and begin to fill your spoon with new combinations, bite after bite. Tart, sweet, and salty hits are grounded by the mild, warming liquid dotted with al dente grains. Before you've emptied the contents of your bowl, you're already looking forward to enjoying the dish again.
And then there's dessert: pillowy pieces of steamed, Thai-style brioche dipped in a pool of kaya, the coconut egg custard that hails from Indonesia. It comes in two flavors, vanilla-y pandan and herbal Thai tea. As you swipe the bread through each and plop the jammy cushion into your mouth, you can't help but think of Oompa Loompas—The Willy Wonka factory workers with orange faces and green hair.
Noods n' Chill is a tiny little spot, more like a storefront than a proper restaurant, with a smattering of bar seats and a single table that seats no more than six. Porridge and sweet snacks are reserved for the weekend, served from 11 am to 4 pm. Otherwise, you'll find many of the dishes offered at the eatery's sister restaurants in Prospect Heights and Ditmas Park (called LOOK and Mondayoff, respectively), like fried chicken wings and crispy watercress salad, in addition to a large variety of noodles.
Given my predilection for both of those restaurants, I doubt the rest of the menu will lead you wrong. But as far as I'm concerned, the best time to come to Noods n' Chill is at brunch, when you can eat something novel, tasty, and wholly satisfying.
I'm calling this porridge the dish of this winter. Go get some, stat.
❄️
Noods n' Chill
170 S 3rd St, Brooklyn, NY 11211
(718) 388-7695
---
This week's reads
---
If you're into Some Meals Considered, tweet about it to spread the word!

Find all previous posts here.

Was this email forwarded to you? Sign up for real.

**Housekeeping** If you found me in your spam folder or your Promotions tab, please mark this address as 'not spam.'