Discover more from Some Meals
Writing on — and recs for — food and restaurants. Mostly in LA & NYC, sometimes elsewhere.
Over 1,000 subscribers
The sound of satisfaction
I know I write about pizza a lot but this is New York and what they say is true: we're living in a pizza renaissance. So, here we go again. I apologize for sounding like the prototypical downtown girl who now lives in Brooklyn, but I was uptown this past week, which is a rarity for me. And when you're in a neighborhood you don't visit often, what do you do? Figure out where you can eat; specifically, that place you've been wanting to go but was never convenient until now. That said, I was on the UES for a book event, and the spot I had in mind was Mama's TOO!—the slice shop that Pete Wells slapped one star and many praiseworthy sentences on a few weeks back. If you paid attention, you know it's not on the Upper East but across town on 106th and Broadway (just a 10-minute Lyft ride away).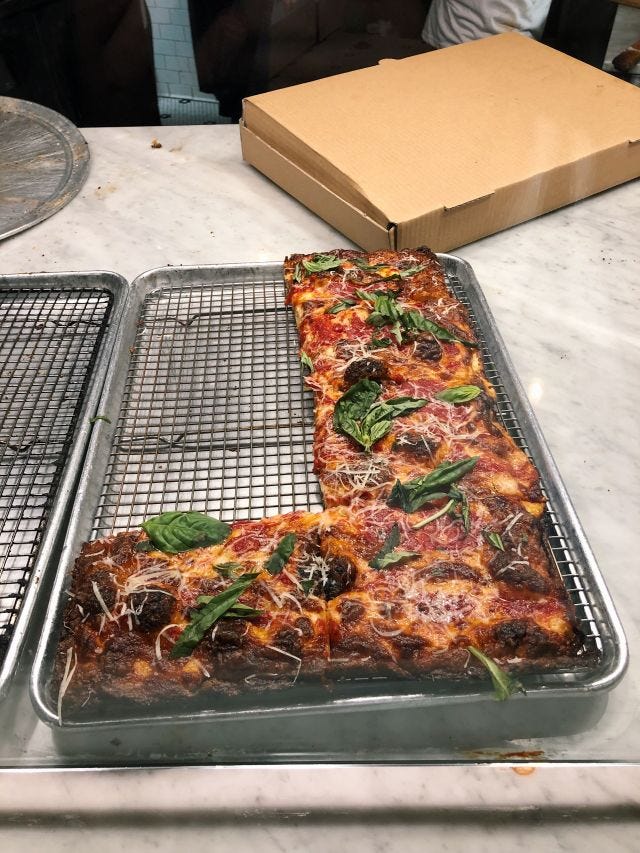 It was not the best slice I've had, nor is it my most favorite style of slice. I like mine lightweight, evenly distributed, easily folded in half, and just greasy enough (yes, that would be Joe's). Wells perceives the offering here as refreshingly original. I found it to resemble a cross between the Detroit-style pies they're slinging at Emmy Squared and the monstrous and oozy (albeit inarguably delicious) carb sponges signature to Prince Street Pizza. In full transparency, they only had squares available, so I didn't get to try the triangular version that he discusses in depth. Still, the square slice had its merits.
The magical moment came as I was ducking down for a bite, my ear positioned directly under my friend Noëmie's mouth as her teeth shattered through layers of oily fried dough. It was a sound as satisfying as that of a basketball swishing through a mic'd hoop. "Frico crust," it's called.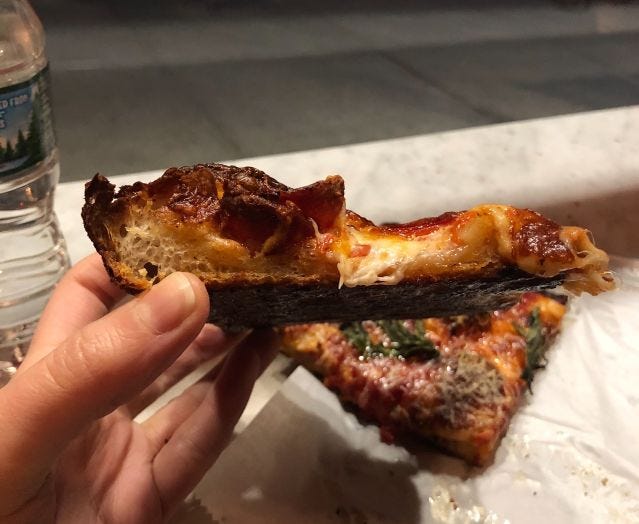 The act of eating isn't always noisy. Especially if it's with food made for a restaurant and there are other noises to drown it out. When it is, it tends to be annoying. No one wants to hear you chomp on crackers during a lecture or slurp noodles at your desk. This was not that. This was the sound of one man's art form; of a learned trade, perfected over generations with the added insight of a modern-day pizzaiolo; of a culinary craftsmanship that pulls as equally from pastry technique (that crackle!) as it does classic Italian-American flavors (easy on the garlic powder seasoning, buddy).
Mama's TOO!'s slice doesn't land on my list of greatest or go-to eats. However, it's a slice that announces itself loud and clear and by all means, commands respect.

🎼
Mama's TOO!
2750 Broadway, New York, NY 10025
(212) 510-7256

Recommended reading:
New to Some Things Considered? Read my archives here.