Discover more from Some Meals
Writing on — and recs for — food and restaurants. Mostly in LA & NYC, sometimes elsewhere.
Over 1,000 subscribers
The Provençal life
Here's a sort of secret: I was raised to abhor garlic. My mom, who's a wonderful cook, thinks it makes your body reek and swears against it. My siblings and I were lucky to eat home-cooked meals every night after school, but never did a pork chop or a heartwarming soup have a trace of the essential ingredient. When it came to dining out, we were taught to turn our noses up at Caesar salad, Spaghetti alle Vongole, and bruschetta.

I've outgrown the aversion (sorry, mom!) for the most part. While I rarely cook with the nubby alliums, preferring to sub shallots, I welcome it in restaurant dishes, even when utilized generously—as long as it's done in good taste.

This history is why, up until the week before last, I had never had escargot. I was in Provence with my friends, Ruby and Chip, who were shocked to learn this fact. Until they remembered the Wilson family garlic condition.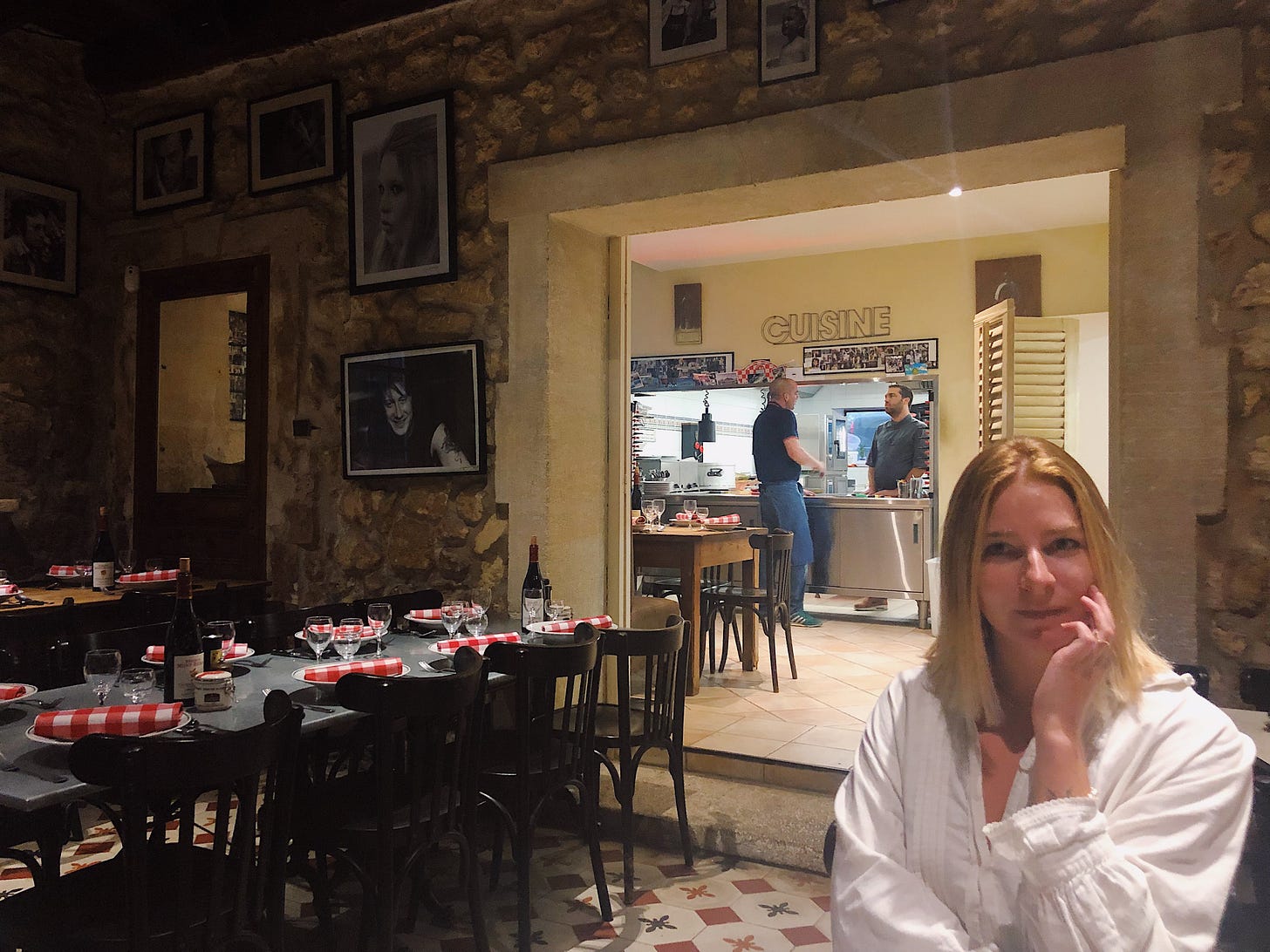 We arrived at Le Bistro du Paradou, a convivial restaurant fenced in by a dirt parking lot and a sprawling patio, at 8 pm on the dot, to a basket overflowing with baguette rolls, followed by a maître d'. The first (and seemingly only) seating of the night was getting underway. A mix of metallic, wood, and marble tabletops were set with red-and-white checkered napkins, small and large glasses (for water, and wine), tubs of olive oil, jars of mustard, and bottles of house red. A kitschy sign hung over the broad window into the kitchen, where one chef was ladling soup, and another was checking up on roasting chickens. "Cuisine," it read.

There is one menu each night. It is simple and rustic. The choices you must make are limited but necessary. Would you like an aperitif cocktail? Choose one of two appetizers—or share. Do you want something else to drink that is not the house red, perhaps a white? And finally, for dessert, take your pick: baba au rum, délice aux marrons, creme brûlée, creme caramel, panna cotta, mousse au chocolate, or the daily special— tarte au citron.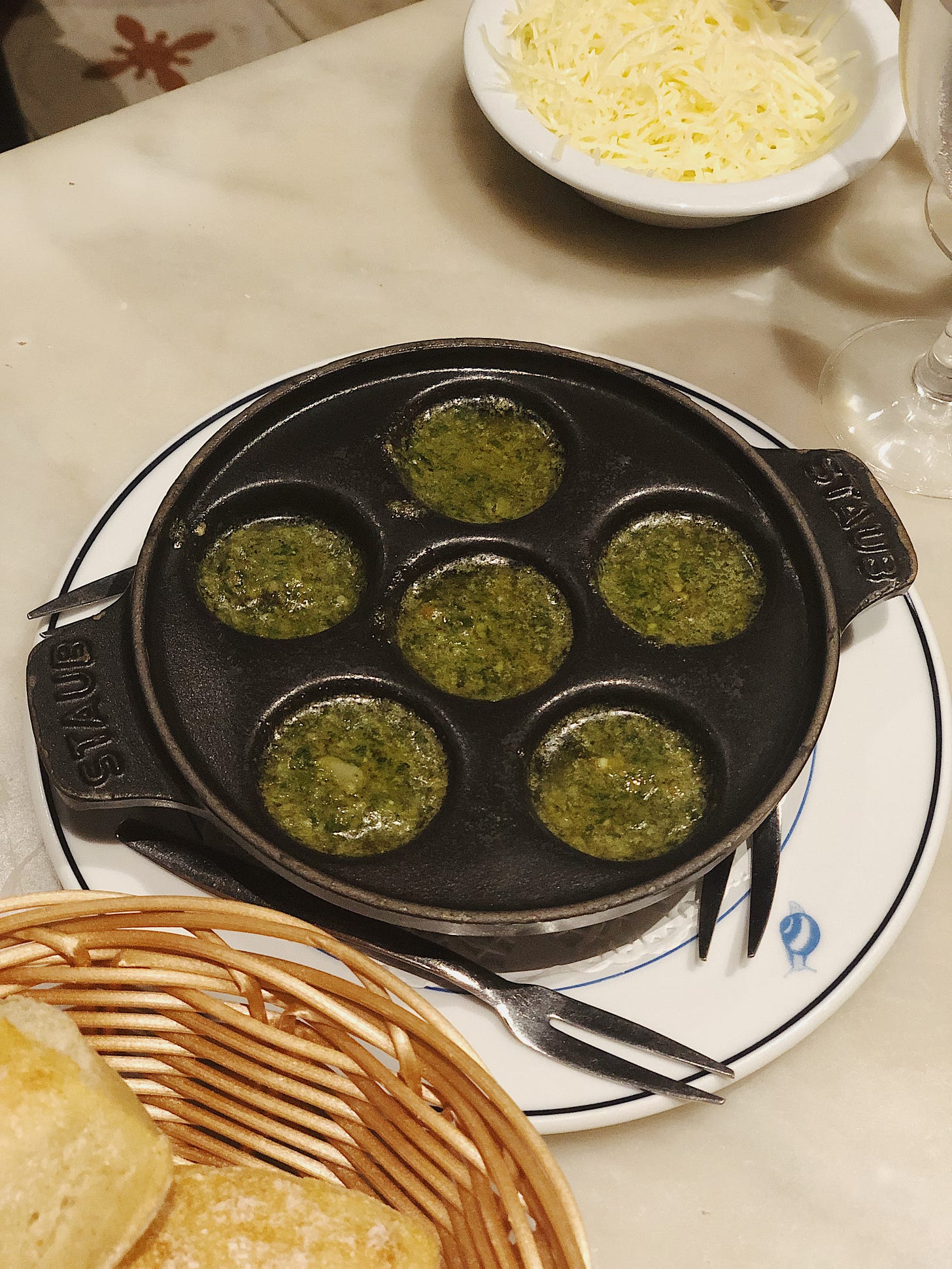 I was excited and overdue for my introductory indulgence in the French delicacy. But first, a clay bowl painted green and chipped, and brimming with fragrant pistou soup, was plopped down on our table. I served Ruby, then Chip, then myself: scoops of softened bits of potato, green bean, tomato, and zucchini flecked with chopped basil and immersed in herby, oily broth. We sprinkled our bowls with shavings of mild cheese. As I went for my first spoonful, little puddles of a similar shade of green caught my eye, and I drew back, reaching instead for my tiny fork. The prized plump snails had landed, their shells shedded. I lifted one with ease, dropping it into my mouth, and let the soft, buttery specimen melt on my tongue, a fresh parsley essence enrobing the insides of my cheeks. I grabbed a crunchy roll and ripped off a piece with effort, dunking it into the luscious remains. It was a moment worth waiting for.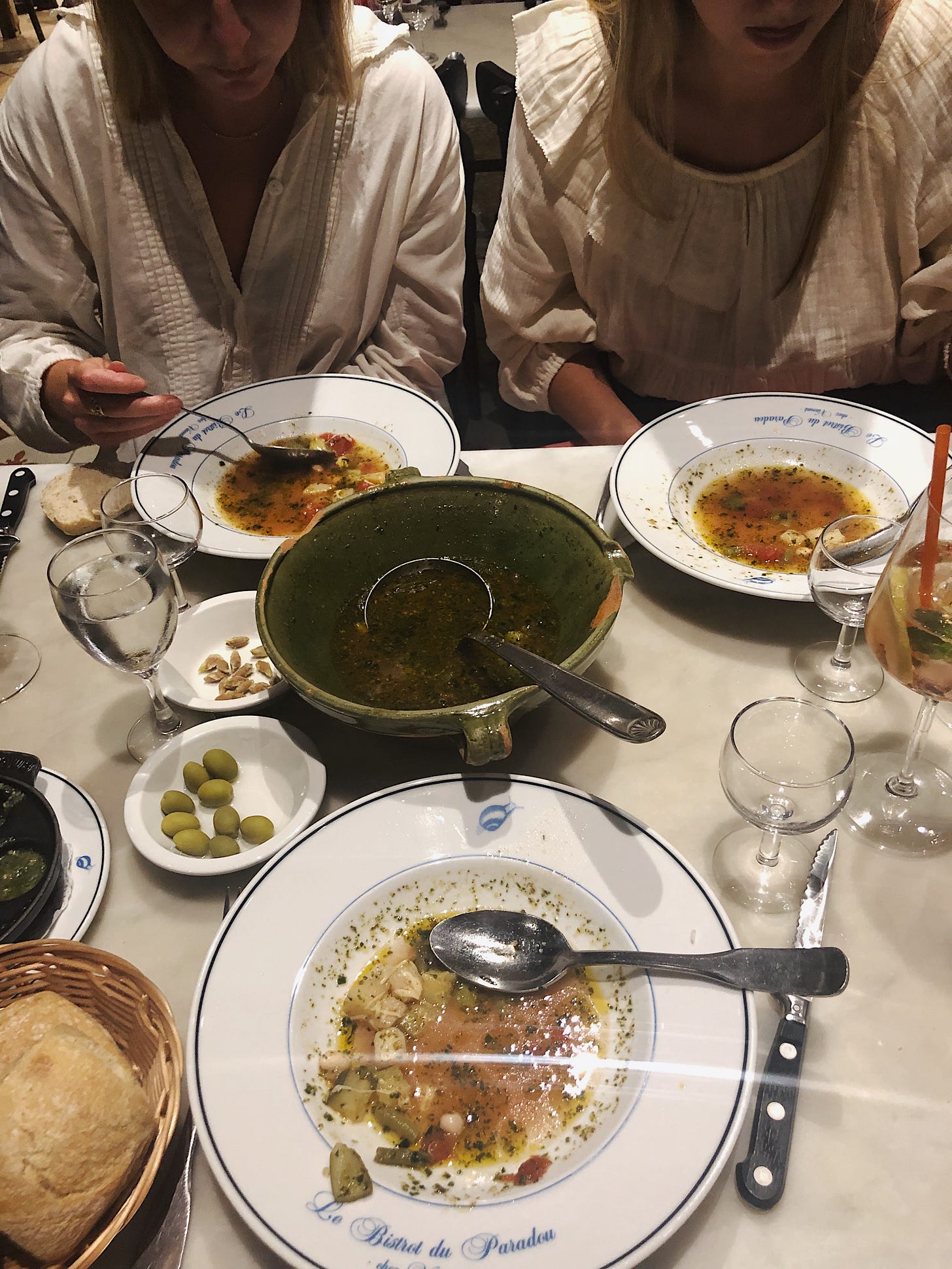 The night's plat du jour was roast chicken with mashed potatoes and ratatouille. Our table was graced with dark meat, only; thighs and legs encased in loose, salty skin and sopping in jus.

Next, a straw tray full of French cheese arrived with an expectation that we help ourselves. There were twelve varieties in total, ranging from marinated goat to fruity blue, nutty gruyere, and creamy camembert. They were paired with jams, golden raisins drunk on Sauternes, and a refill on bread.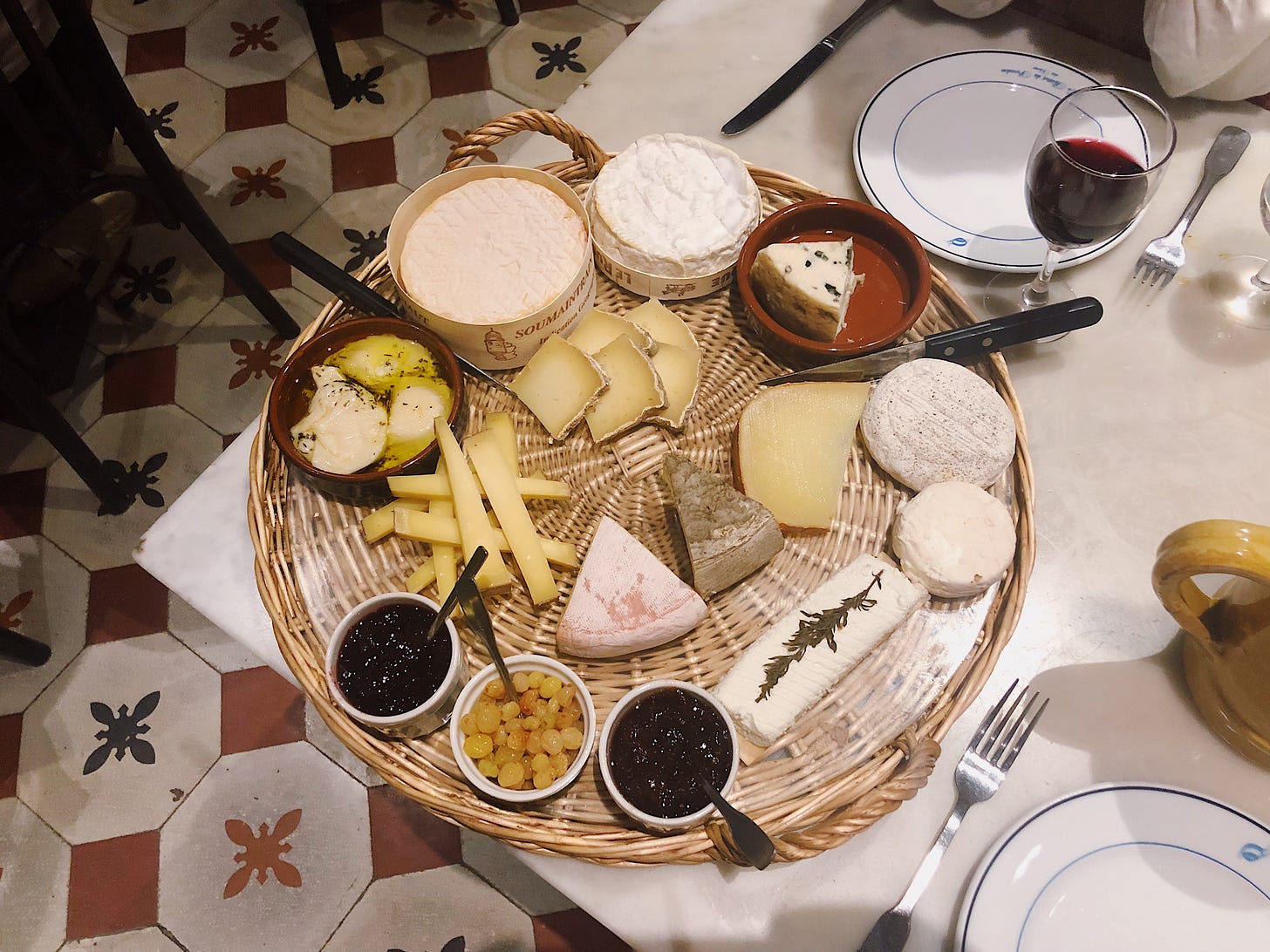 We shared a lemon tart for our finale, our lips puckering from the acid and our eyes sparkling from the sugar. The Provençal life is one too long for, indeed.

🇫🇷
Le Bistro du Paradou
57 Avenue de la Vallée des Baux, 13520 Paradou, France
+33 4 90 54 32 70

Recommended reads:
New to Some Things Considered? Read my archives here.