Discover more from Some Meals
Writing on — and recs for — food and restaurants. Mostly in LA & NYC, sometimes elsewhere.
Over 1,000 subscribers
The near future of dining out
What's the point and what's the risk?
As more cities reopen, with New York coming soon (Cuomo announced the expected date of June 8th earlier today), the questions of how and why restaurants should be hosting diners loom large. There is no vaccine on the horizon. Dining rooms might be uniquely hospitable to the virus, even if operators are taking extreme precautions. Many guests have little interest in eating out in an environment shrouded in plexiglass where everyone is masked.
More importantly, restaurant workers could feel unsafe. And yet if their employers offer them their jobs back under suitable conditions, they can't simply refuse and continue to get unemployment benefits. I'm not just talking about contracting the virus. Restaurants have always been required to maintain extremely high standards for cleanliness and food safety. But an operator can't control everything; namely, their guests. What happens when a guest chooses not to wear a mask, or, excited about seeing a favorite server for the first time in months, decides to go in for a hug? A lot is at stake in a society where safety is upheld only when each and every citizen abides by certain social contracts, especially when it's your job to provide hospitality to anyone who walks through your restaurant's doors. Forget the physical danger at risk, imagine having to juggle this reality from an emotional standpoint.
Personally, while I know that restaurants will continue to suffer financially so long as their dining rooms remain close—really, so long as their dining rooms cannot be filled to capacity—I'm more interested in engaging with them by way of take-out, delivery, and grocery shopping for now. I'll keep an open mind about the potential of expanded outdoor dining, but I'm having a hard time feeling excited about eating out amidst stringent rules, especially given the notion that it could put those required to serve me at risk.
How is everyone else feeling about dining out in the near future? I'm curious to hear your takes.
Other things on my mind… 🧠
We walked by my favorite (Tom's, on Washington Ave) diner on Monday and saw they were doing take-out and delivery.
"But there's kind of no point if you're not hungover," I said to Saarim.
"I wish they sold their beef sausage to cook at home," he replied.
"But it's truly not the same if you can't fry it on a deeply seasoned griddle."
"…yeah."
Then yesterday, Alan Sytsma took up the subject in Grub Street. "…a Giant Diner Breakfast is not a meal in the traditional sense; it is a full experience." Amen.

I've been craving Xi'an Famous Foods and now it's back. They famously discourage take out (the noodles get soggy), but their new meal kits cost less than $30, serve four, take 15 minutes to prep, and require you to pull your own noodles. If only I lived in the delivery zone.

The delivery war is real and especially messy right now, with restaurant complaints around fees at an all-time high and elected officials stepping in to cap them. It's an important conversation, especially right now, but I'm growing tired of it. Here's a brighter read on babbawalas, the 125-year old network that feeds Mumbai by bringing home-cooked meals to workers. The highlight:
And as a cooperative all dabbawalas are equal partners with supervisors called mukadams who are elected. "You don't have to say 'Salam, sir' or 'Yes, sir' to anyone," says dabbawala Anil Bhawagat.

But there are also more profound reasons for their dedication. The dabbawalas belong almost exclusively to the Vakari community, which worships the Hindu god Vithala. Vithala teaches that giving food is one of the greatest donations you can make. "The dabbawalas say we are getting a golden chance to walk the path of spirituality while earning our bread," says Sangle.

The history of Brooklyn Blackout Cake.
Sourdough isn't just rustic loaves with open crumbs. "Ethiopian injera is sourdough, Indian dosa is sourdough, Sri Lankan hoppers are sourdough, Sudanese kisra is sourdough."

Did you know you can buy fresh pandan leaves on Etsy? I recently did, then made this delicious and easy rice pudding with mango for dessert. If you're having trouble finding something eccentric, remember that Etsy is a gold mine.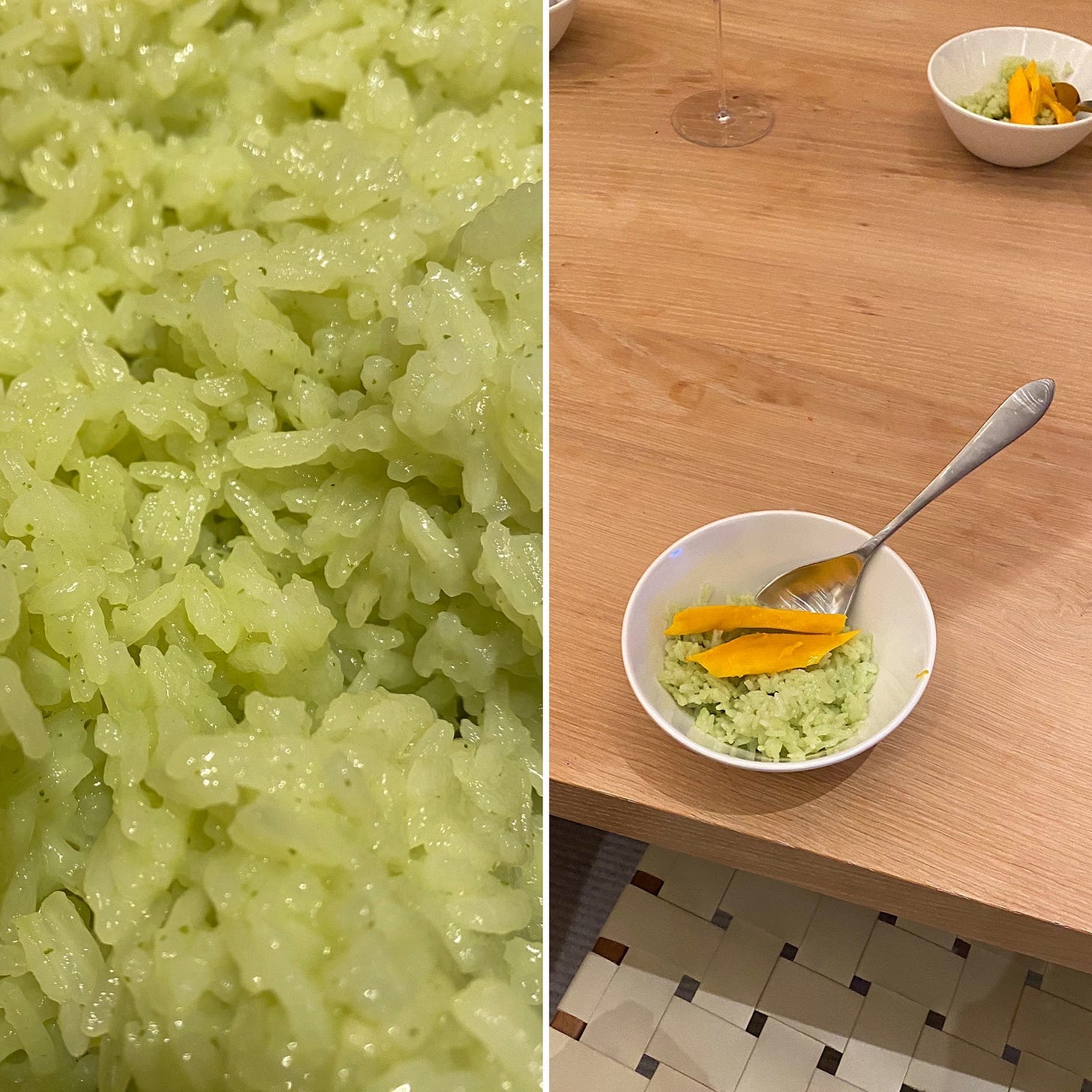 ---
If you're into Some Meals Considered, tweet about it to spread the word!

Find all previous posts here.

Was this email forwarded to you? Sign up for real.

**Housekeeping** If you found me in your spam folder or your Promotions tab, please mark this address as 'not spam.'