Discover more from Some Meals
Writing on — and recs for — food and restaurants. Mostly in LA & NYC, sometimes elsewhere.
Over 1,000 subscribers
The Hits: London & Paris Edition
Dishes to remember in two powerhouse cities
Like New York or Los Angeles or Mexico City, Paris and London always hit and rarely miss when it comes to restaurants—if you've done your research well. But that's why I'm here, writing this. I do it for you.
I hadn't been to London since the summer of 2013 when I lived in Shoreditch for two months. So when Hannah, one of my oldest and dearest friends, had a gallery opening to attend in the city and invited me along for the ride, I said yes. From east to west, north to south, the food scene has exploded over the past half-decade. I tried my best to maintain an aggressive restaurant itinerary over the course of four days. And with Paris only a few hours away by train, we tacked on another four days there, for good measure.
My findings were many, but here are the hits: the best dishes I ate across various types of eateries in two powerhouse European cities. The time is early winter, late November.
---
Kiln
I can't recommend dining solo at this frenetic Thai eatery enough. Come with one other friend if you must, but with three or four you'll be seated downstairs and miss out on the show that comes with counter seating. The Isaan-style sausage made of Tamworth pig is a must-get: juicy with Thai spices, borderline fall-apart in its tenderness, and sprinkled with slivers of multi-colored chilies.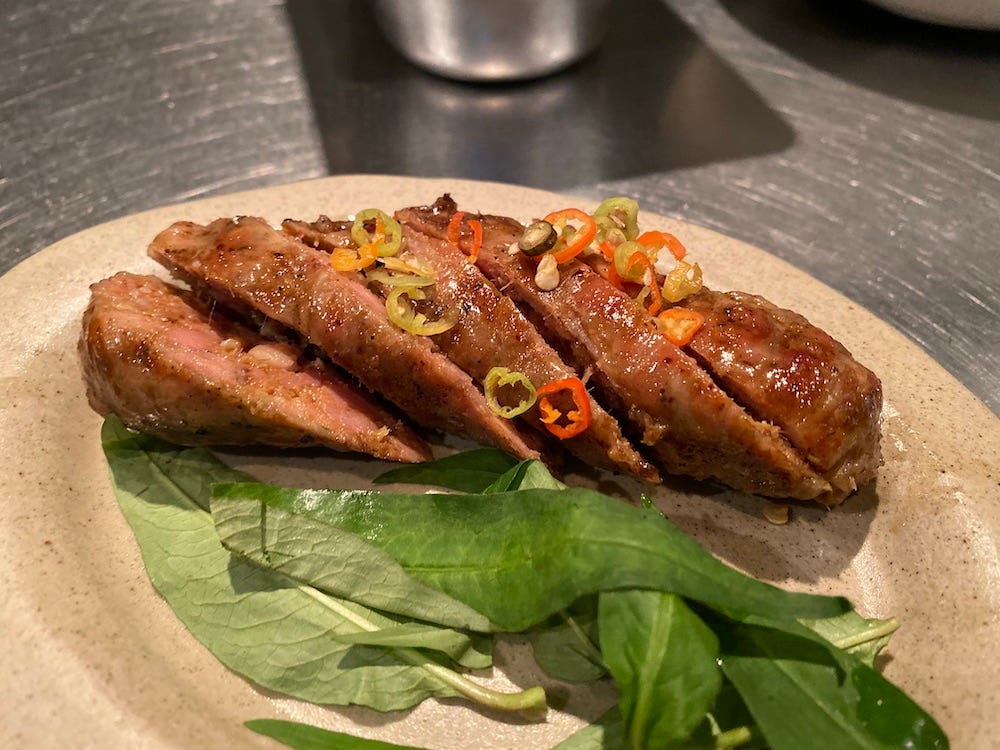 Dishoom
I can't think of a restaurant in New York with as many locations as Dishoom has in London that's as perennially popular. Waiters equipped with headsets detract from the charm, but the food hits, especially that house black daal. It's billed as "dark, rich, and deeply flavoured" which is exactly true. You'll need some naan for dipping.

Brat
I could be convinced that Modern British is my favorite cuisine. Exhibit A: Brat, where the freshest, sweet langoustine are briefly grilled over fire then split open, demanding to be spooned immediately.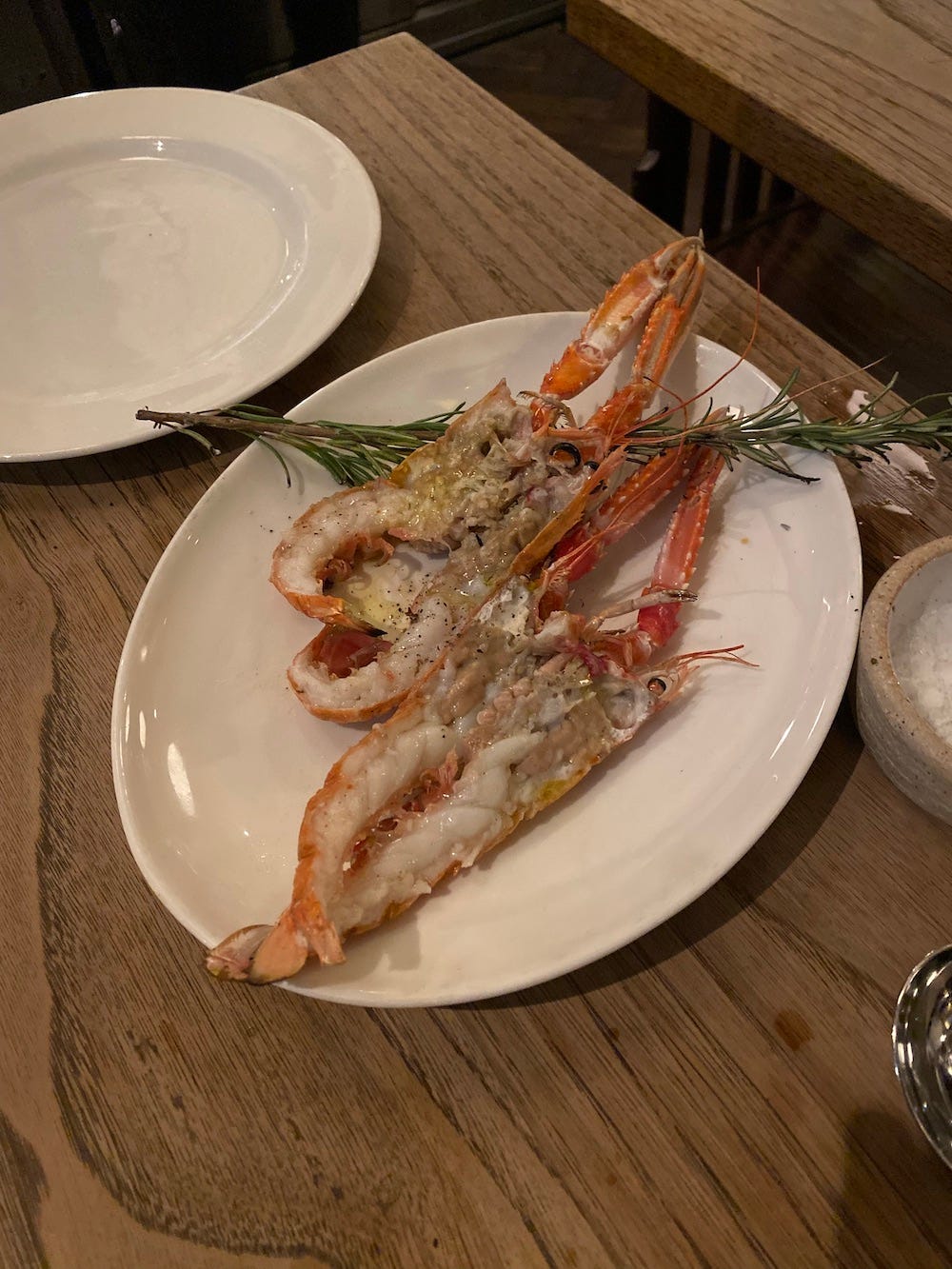 Flor
I was sad when Flor was sold out of their best pastries before our 11 am reservation. But who doesn't love blinis with trout roe and crème fraîche? The little pancakes were made of beremeal, lending a grainy, wholesome texture and a novel spin on an easy-to-win dish.

Rochelle Canteen
"It's food that's hearty but still makes you feel good," said Hannah, in between bites of roasted wedges of pumpkin served over braised red onion and simply cooked lentils with a dollop of fresh goat's curd. She's so right. I'd eat this dish every day of winter if I could.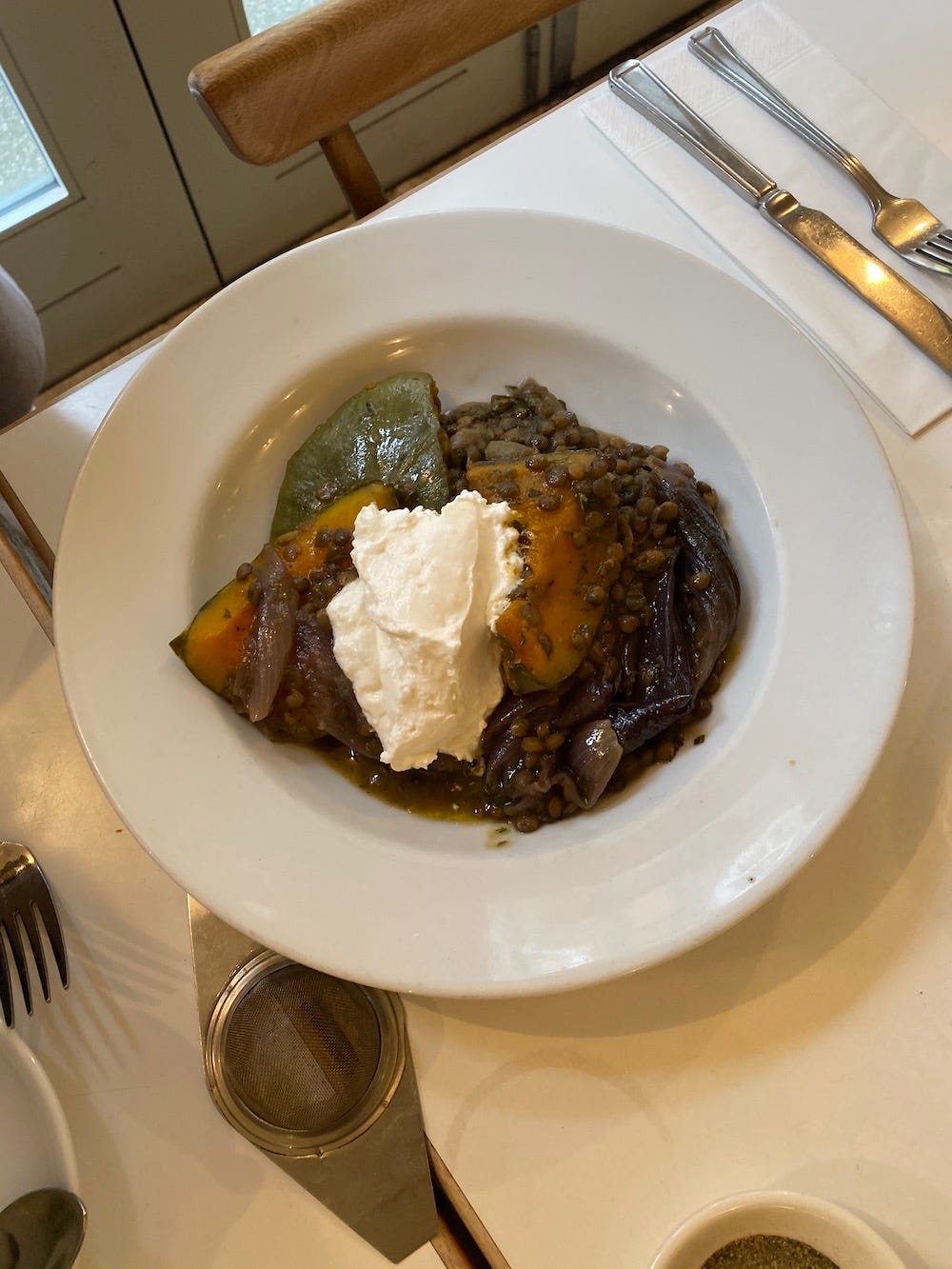 The Palomar
I find that more often than not, the first dish that hits your table is the best. Why is that? At Palomar, that was kubaneh for us: a mound of brioche-like dough, feathery, oily, slightly sweet, and served with ramekins of tangy house-made tahini and crushed, flesh-colored tomatoes that burst with umami and natural sugars. Tear off a chunk like its the shared challah at Rosh Hashanah dinner, and swipe it through each.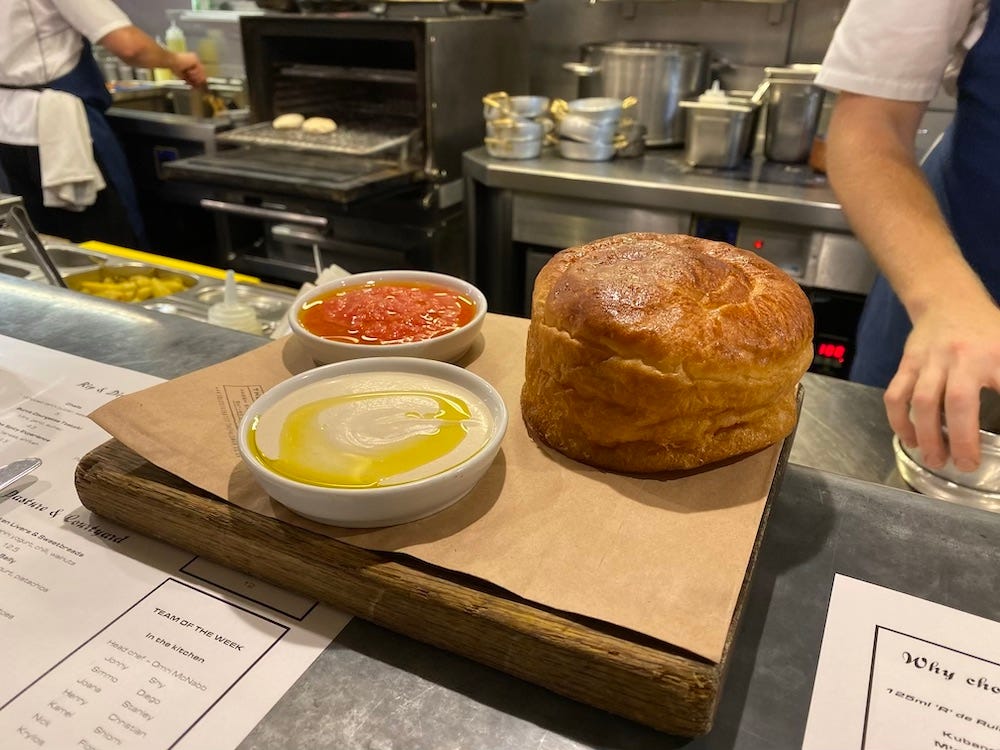 Violet
I wish I could've captured the smell coming from Violet's vents in a mason jar and brought it home. Warming spices, winter fruits drowned in sugar, fresh-baked bread. None of Claire Ptak's famous cupcakes and cakes were available for purchase the morning I was in, but a slice of her extraordinarily moist buttermilk banana bread scared off my FOMO.

Noble Rot
This beloved wine bar is the right place to ring in Beaujolais Noveau Day (the third Thursday of November). A fresh glass of Gamay, some snacks, and the latest issue of their cheeky magazine—a page-turner of snarky wine wisdom and food world know-how—to go is the perfect light dinner after one too many big meals.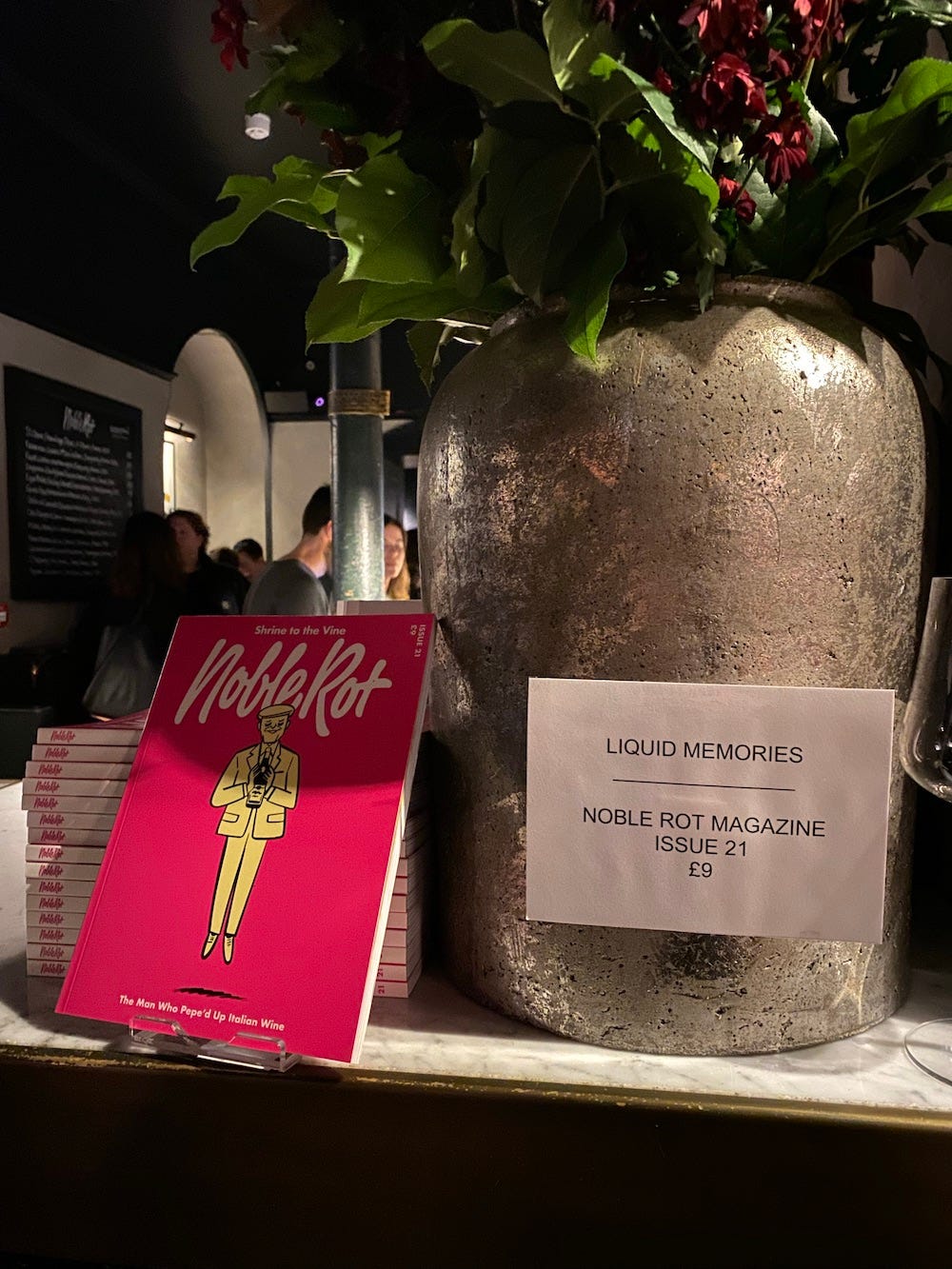 St. John Bread & Wine
You absolutely cannot go wrong at St. John, especially if you end with dense, sticky-sweet bread and butter pudding. Exhibit C in my argument for the excellence of Modern British fare (Rochelle Canteen was B). St. John is in the culinary canon for very good reason. I love this restaurant so much.
---
Boutique yam'Tcha
While I haven't had the pleasure of fine dining at yam'Tcha, we popped by Adeline Grattard's handsome boutique for some bao with tea. Focus your attention on the fluffy bun gushing with decadent stilton cheese. It's a wild invention that comes with a surprise once your teeth hit its center: a syrupy-sweet Amarena cherry.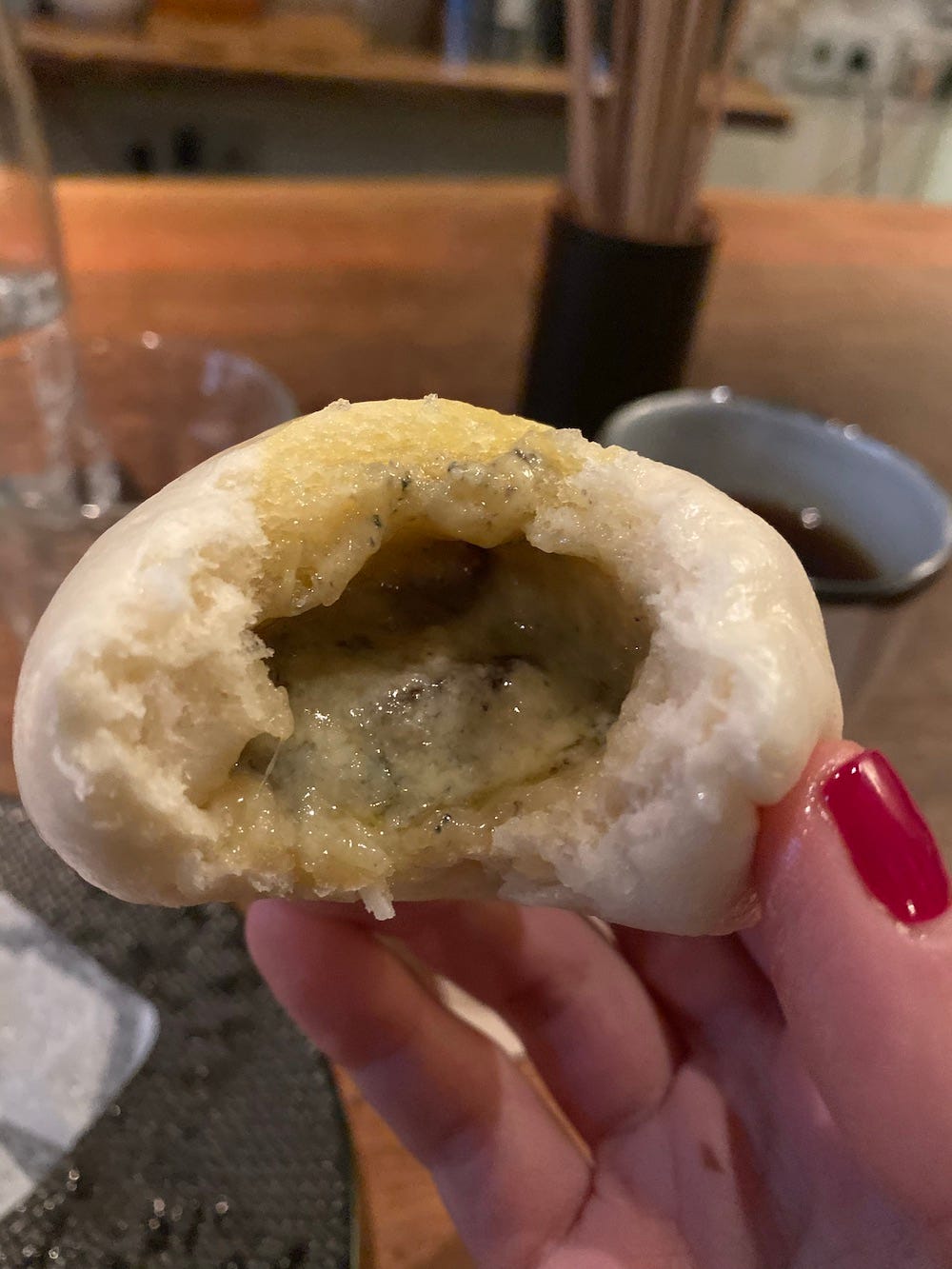 Le Rigamarole
Of the many bites that make up a whimsical meal at Le Rigamorale, my favorite was the little pasta purses stuffed with ricotta and summer garlic. They look like wrapped candies and taste like heavenly ravioli.

Cheval d'Or
Belleville is the new hip neighborhood, or so it seems. Le Baratin was here before it all, but now there's Cheval d'Or, a sleek Asian eatery with a spicy squid dish unlike anything I've ever had. The squid is cut into ribbons, like gummy noodles, then topped with silky steamed spinach and "Typhoon Shelter" breadcrumbs—a golden, Hong Kong-style coating that's often used on shrimp, crab, and chicken wings.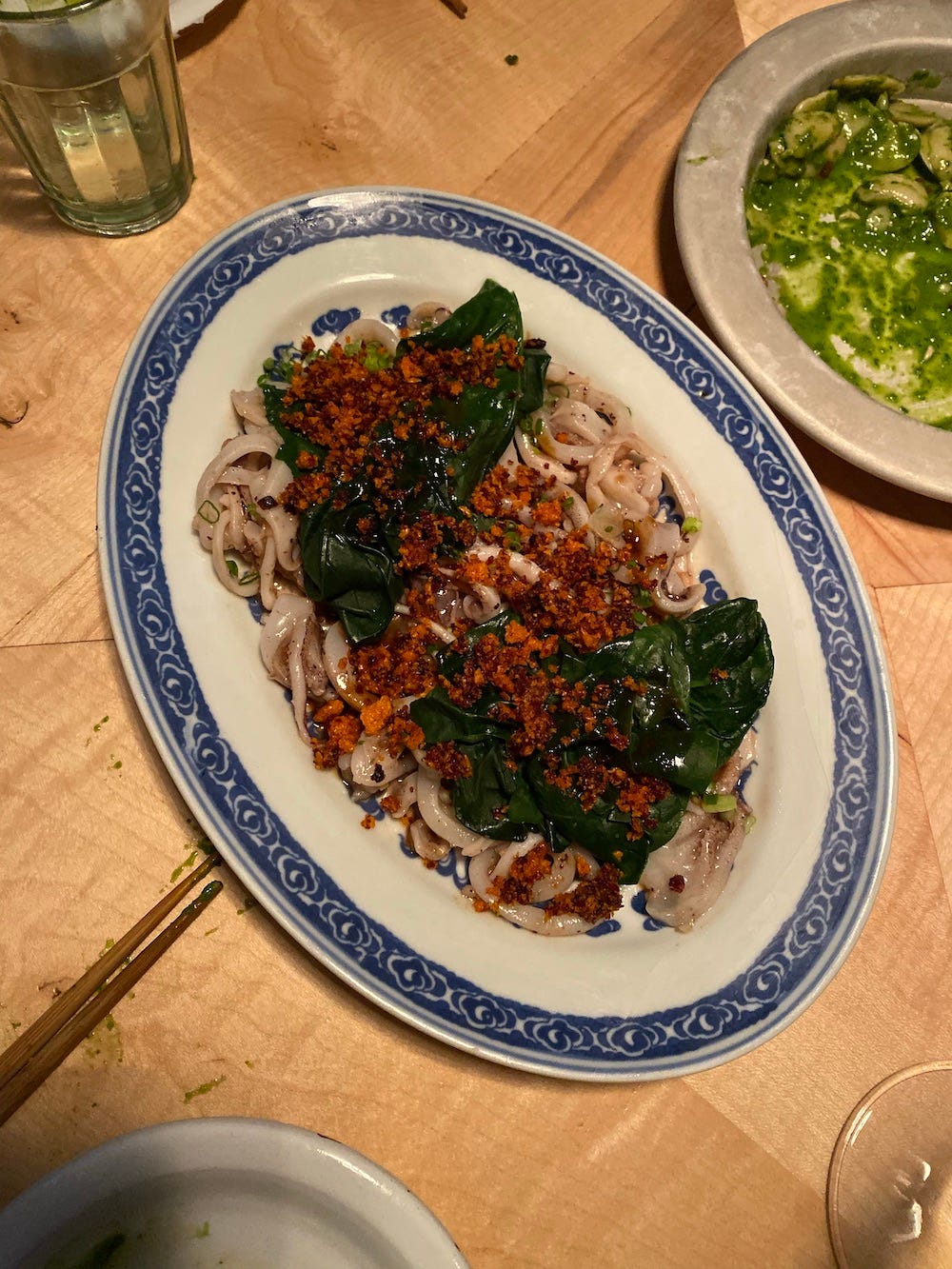 Adar
This new-ish canteen is the Israeli version of Mokonuts, where a few dishes made of farm-fresh ingredients, cheffy techniques, and carefully sourced spices are offered each day. The afternoon we went, a cauliflower velouté stole the show. A small handful of lentils swam under its surface and a sprinkling of toasted pine nuts and thinly shaved porcini mushrooms were on top.

Mokonuts
Of course Moko makes a mean English muffin. I didn't realize until I finally made it in for breakfast. While lunch is still the main draw, you can drizzle your yeasty pad of bread with butter and honey, and if you time it right, her first batch of cookies will be fresh out of the oven on your way out and available for purchase—if you ask nicely.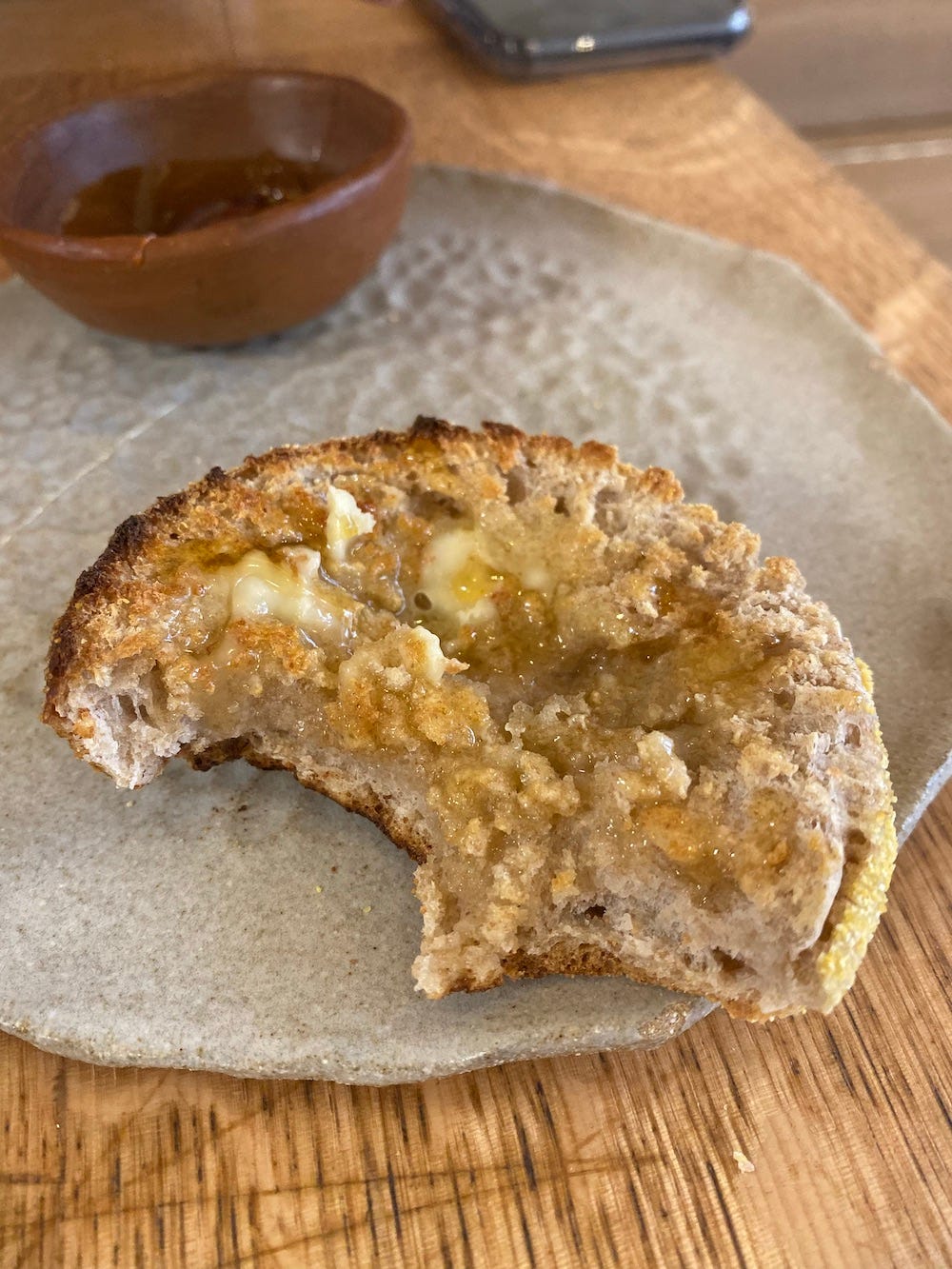 Le Baron Rouge
You'll be tempted by the freshly shucked oysters, and you might as well spring for a few, but the mixed charcuterie platter is what you want at this rowdy wine bar, packed to the brim with locals sipping wine and shooting the shit. Pâté, rillettes, saucissons, cornichons, bread.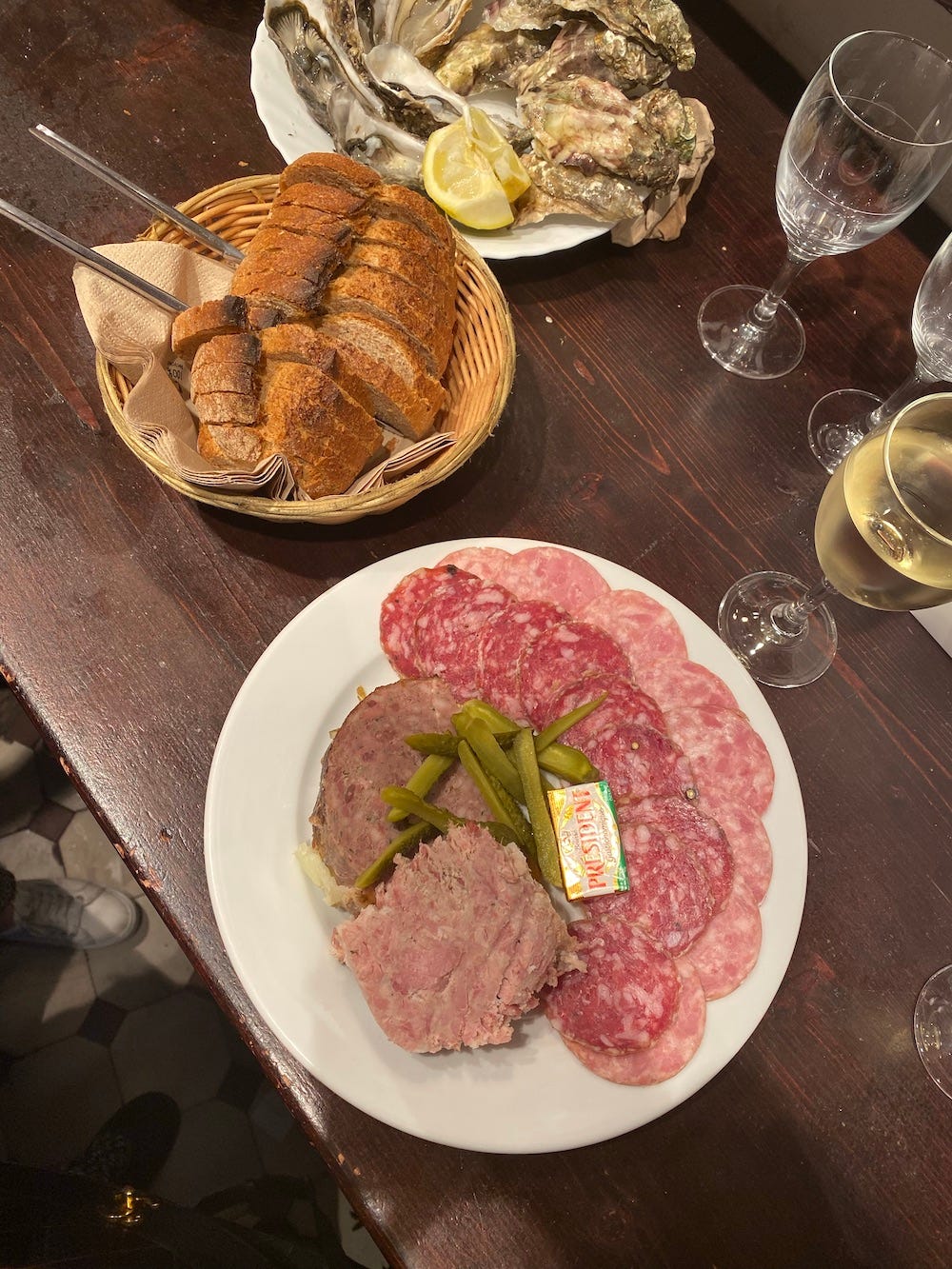 Manufacture de Chocolat Alain Ducasse
Pralines, both delicate and rich, with a pleasingly sandy mouthfeel and a luscious nutty flavor are the marker of an exceptional chocolate maker. Head to the Manufacture, where Michelin-starred chef Alain Ducasse produces chocolate for his own restaurants and beyond, and you'll know what I mean.

Le Bistrot Paul Bert
The real MVP at this cult-favorite Parisian bistro is not the buttered scallops served in their own shells, the steak frites swimming in au povire sauce, or even the Paris-Brest. It's the complimentary miniature canelé, served to each guest alongside the check. Try not to steal the basket of them on your way out. It's tempting, I know.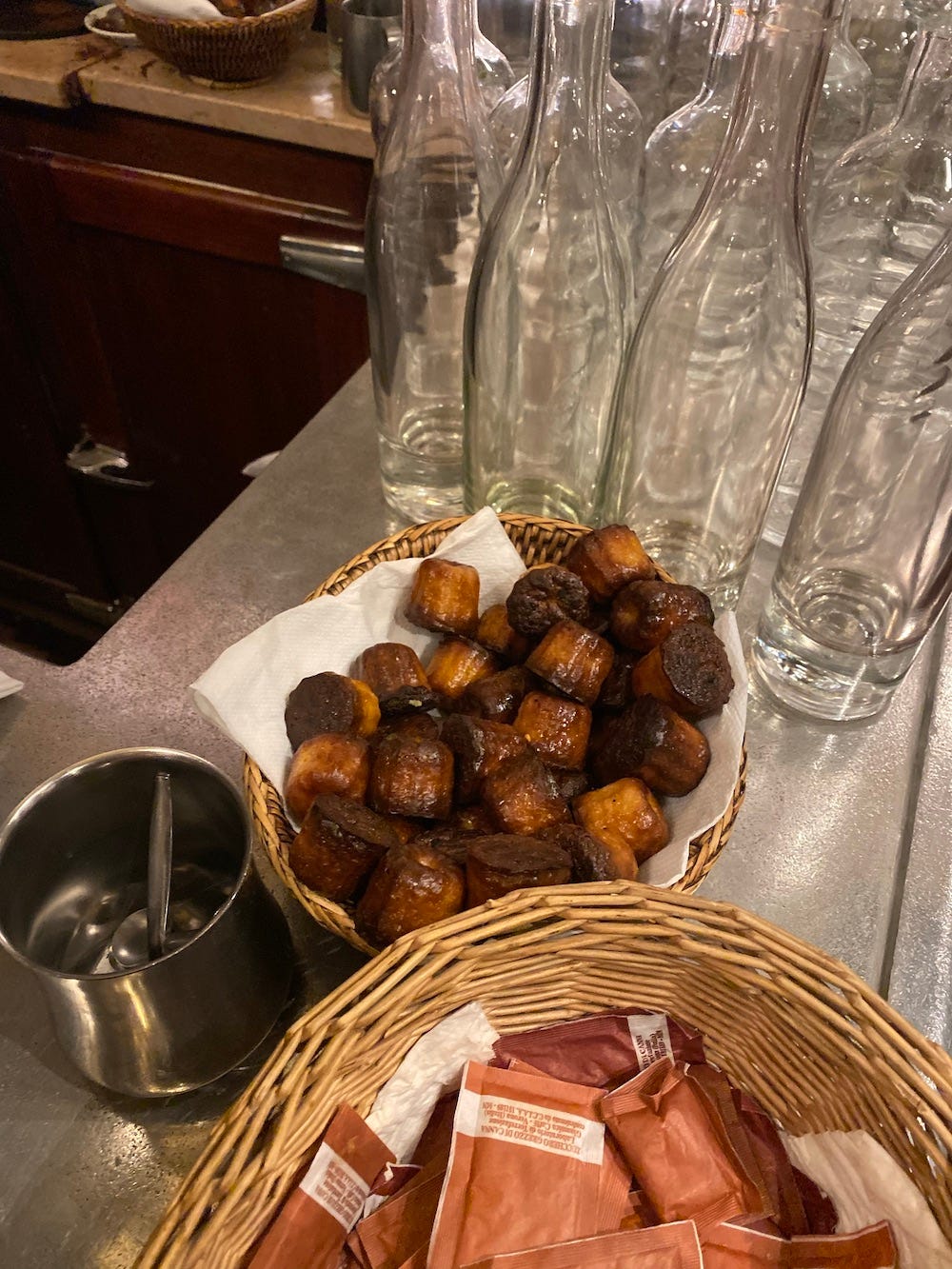 Go eat in London. Go eat in Paris. I've made my case.
💷🍽💶
---
This week's reads
---
If you're into Some Meals Considered, tweet about it to spread the word!

Find all previous posts here.

Was this email forwarded to you? Sign up for real.

**Housekeeping** If you found me in your spam folder or your Promotions tab, please mark this address as 'not spam.'