Discover more from Some Meals
Writing on — and recs for — food and restaurants. Mostly in LA & NYC, sometimes elsewhere.
Over 1,000 subscribers
Saarim texted me this article when it was published in Grub Street on Tuesday, saying, "We have to go. Before it closes." He's been wanting to try La Morada for some time now and so have I. The fact that prevented us from getting there sooner is that The Bronx is further from Bed-Stuy than Queens, our typical destination for a dinner adventure. Suddenly, it felt imperative we go at once; the story by Chris Crowley details how Marco Saavedra, the son of the family who owns the Oaxacan restaurant known for its laborious moles, is an intrepid immigration activist facing trial for his asylum case next week. His parents are older and not able to work as often as they once could, which means the survival of the restaurant depends on his fate.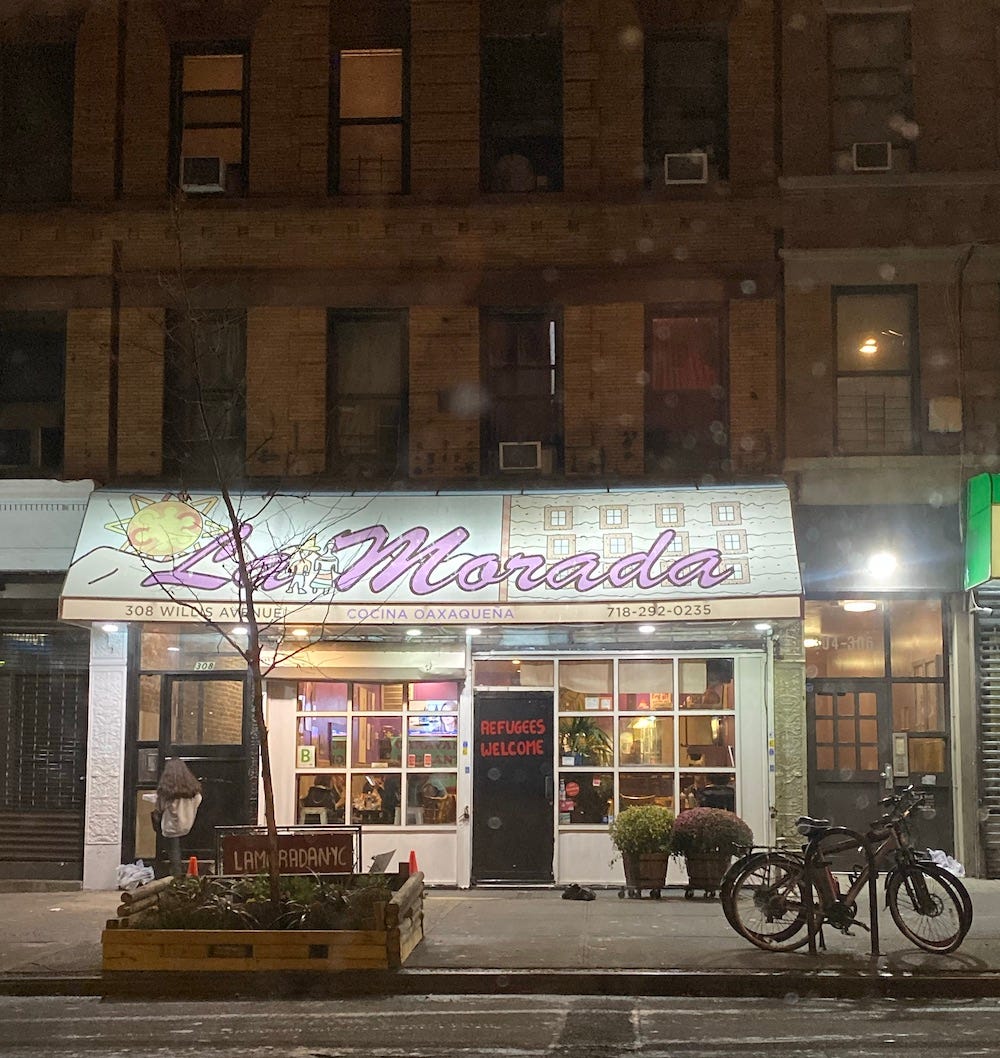 So I hopped in my car and drove to Mott Haven, scooped Saarim from the 3 Avenue-138 St 6 train stop, and parked around the corner from La Morada. We invited some friends to join us, who were coming from the nearby Upper East Side. A light blue awning reads "La Morada" in purple script besides childlike illustrations of a yellow sun and a pair of Oaxacan folks. The front door is painted black with the words "REFUGEES WELCOME" in red. You can't miss it. Inside, the all-women kitchen crew wears traditional Oaxacan embroidered dresses. Photographs of Saavedra and his comrades in protest line the walls. We were seated in between a large party of organizers and a six-top of journalists. Like any night, Saavedra was there. When he came to take our order, we asked him what we should get.
Mole is a traditional Mexican sauce made of chilies, spices, nuts, seeds, dried fruits, tomatoes or tomatillos, and sometimes chocolate. There are endless combinations of ingredients, which are roasted and ground into a powder or paste, mixed with water or broth, and cooked to become a thick and oftentimes chunky sauce that gets spooned over proteins or vegetables. It's an acquired taste. I didn't love it until I tried it in Mexico City, where I discovered that not all moles are made with chocolate, as in mole poblano, the most popular version you'll find stateside. And yet mole is something to be respected. Recipes have been passed down from generation to generation, from verde to negro to pipián. Making it is an arduous process. Before the advent of electric mills, women would grind and roast their mole ingredients by hand. When made properly, with regard to heritage, mole is homestyle cuisine—a complicated sauce comprised of soul.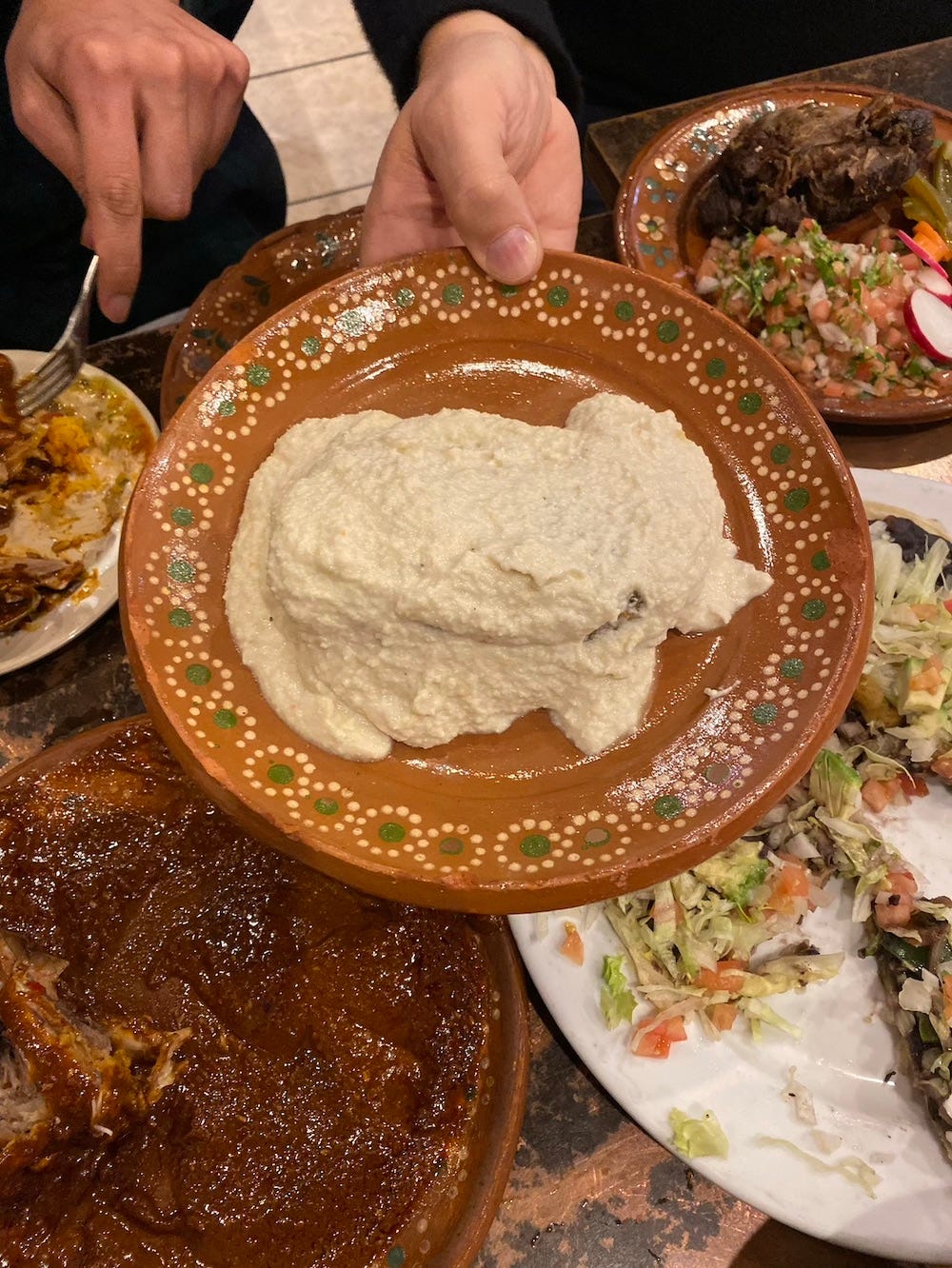 "The only thing we're out of tonight is the mole negro," Saavedra begins. "The poblano is good with chicken. You like spicy?" We nod. "The Oaxaqueño is good with pork ribs, the pipián is good with vegetables, the blanco is good with chile relleno." There was a special, too. Lamb barbacoa served with pico de gallo and escabeche. "For starters, maybe some guacamole." The vegetable tyaluda would come with small cubes of squash, mushrooms, onions, and peppers. Great. Easy. Done.
What's miraculous is how flavorful mole can be while still maintaining a stunning mildness. Like in the nutty blanco, driven by pine nuts, and comforting like mac and cheese when laden over a green chile pepper stuffed with sturdy queso fresco. Or in the earthy and slightly sweet poblano complemented by tender chicken legs, the table's favorite. We sucked the mahogany-colored sauce off the bones and wiped fresh tortillas through the remaining pool of it. A sharp, dry heat hits your throat after a nibble of pork rib drenched in mole Oaxaqueño, but even the iteration deemed "VERY spicy" is more nuanced than it is intense.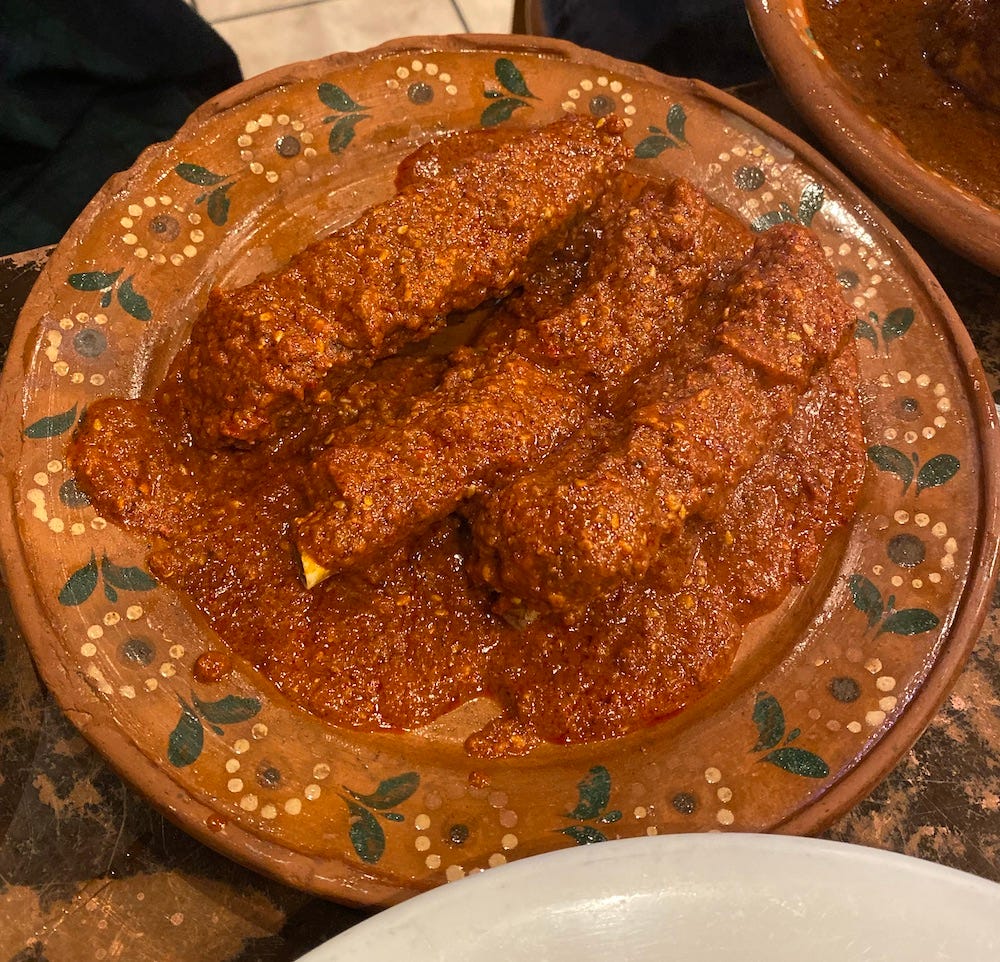 When we were finished, I felt perfectly satiated. We ordered just right, perhaps. Each dish was complex and homey. But maybe, also, the feeling was thanks to the energy of the restaurant and the nature of the cooking: passionate, thoughtful, and spirited.
I hope La Morada will live on, that Saavedra triumphs. His family has created a treasure in the cornucopia New York eateries: a vital safe haven in trying times that serves up delicious, hard-to-find food. Saavedra belongs in the city where he built such powerful roots, and La Morada deserves to shine on.
✊
La Morada
308 Willis Ave, The Bronx, NY 10454
(718) 292-0235
---
This week's reads
---
If you're into Some Meals Considered, tweet about it to spread the word!

Find all previous posts here.

Was this email forwarded to you? Sign up for real.

**Housekeeping** If you found me in your spam folder or your Promotions tab, please mark this address as 'not spam.'