Discover more from Some Meals
Writing on — and recs for — food and restaurants. Mostly in LA & NYC, sometimes elsewhere.
Over 1,000 subscribers
The best things I ate in Southeast Asia
Before I go back to writing about New York (and trying my best to stay on a Sunday send schedule), I wanted to give a recap of the best dishes I had in Thailand, Vietnam, and Singapore, because in many ways this was a trip focused around eating well. We rarely dined at fancy restaurants (only once in Bangkok, which was a fail, and another time in Hanoi at a restaurant called Home, which was lovely and delicious and I recommend it). Mostly, we ate at quick and straightforward operations, many of them open-air. These were the hits.

**For the first time in Some Things Considered's history, I'm sharing photos. Please let me know if you're into it, or not.**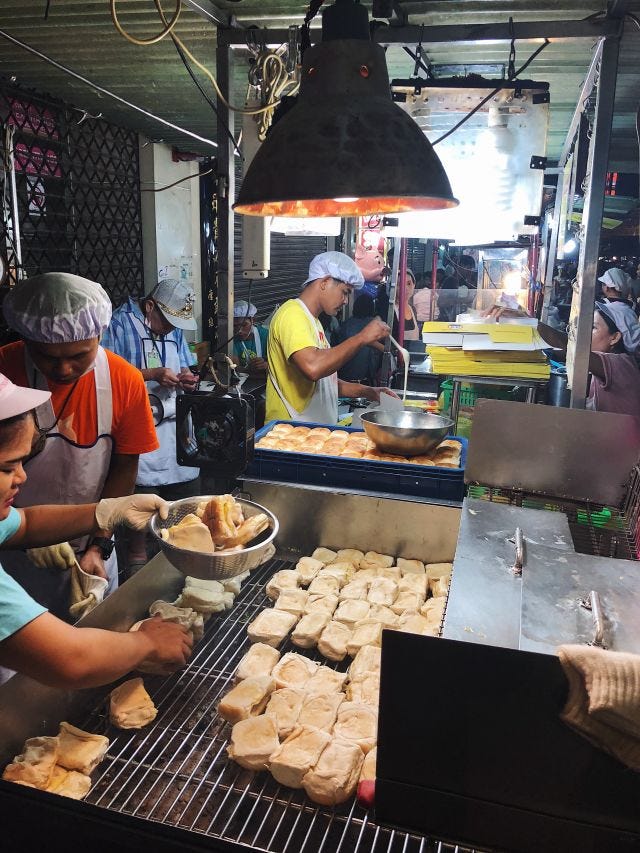 Toasted buns on Bangkok's Yaowarat Street in Chinatown. These were soft, squishy, and creamy in flavor; similar to Martin's potato buns, but with a little more heft; toasted over charcoal with plenty of butter for a crisp exterior; and stuffed with a substantial drizzle of your choice of filling—chocolate, egg custard, (condensed) milk, marmalade, strawberry, sugar, etc. I went with milk. We took ours to go, hopped in a tuk-tuk, and enjoyed them with a drink at a bar called Smalls.
Yaowarat Rd, Khwaeng Samphanthawong,
Khet Samphanthawong, Krung Thep Maha Nakhon 10100, Thailand
+66 2 224 0677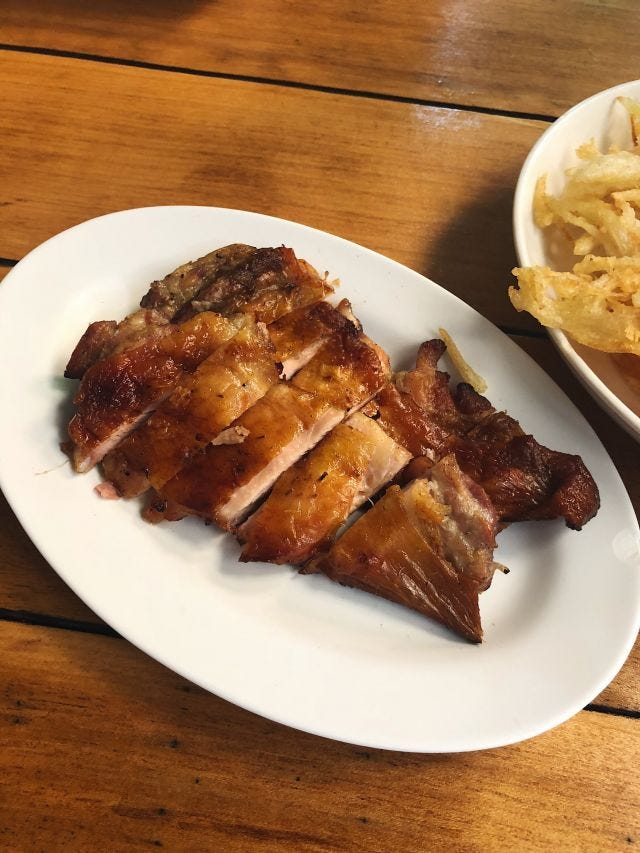 The skin on the birds cooked at Chiang Mai's Cherng Doi Roast Chicken is brittle like a thin sheet of candied sugar. Each breast is flattened so as to condense (read: intensify) its juiciness. Dunk a strip of the savory specimen in the restaurant's sweet chili sauce, and you'll recognize why this place was on everyone's list.
Soi Sukasem (Between Nimman Soi 2&4)
Chiang Mai, Chiang Mai 50200, Thailand +66 81 881 1407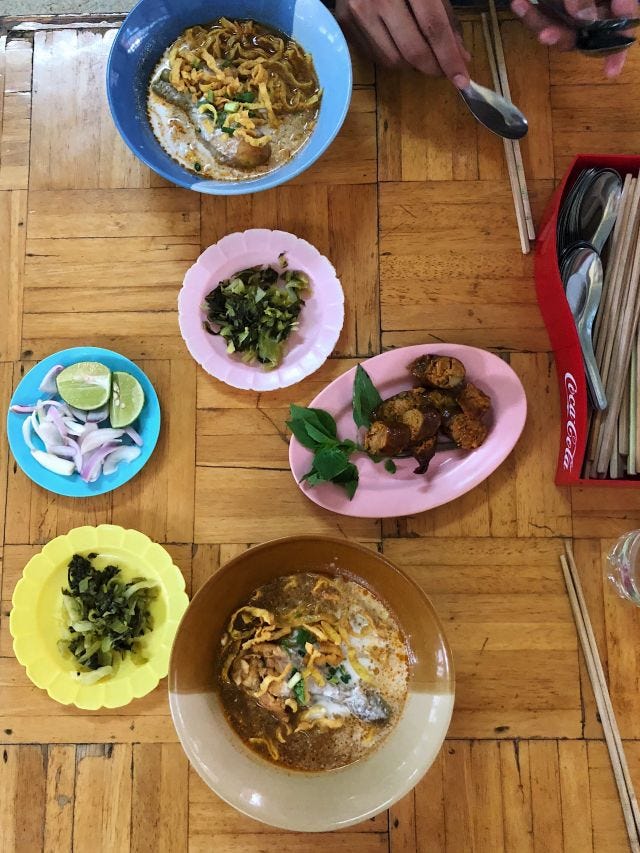 The khao soi at Khao Soi Lam Duan Fa Ham (Chiang Mai) is chicken soup for the soul. A thoroughly chicken-y broth dominates over the flavors—of coconut, curry, and spice—that I've always recognized first in other renditions of the dish. With the addition of tangy pickled mustard greens, roughly chopped shallots, and a generous squeeze of lime, it was a revelation. The homemade sai ua (Northern Thai pork sausage made with herbs, spices, and curry paste) was excellent as well. Different from the sour, fermented pork sausage often found on Issan menus stateside, it was fresh, herbaceous, soft, and feathery.

352/22 Charoen Rat Road, Chang Phueak,
Chiang Mai 50000, Thailand
+66 53 243 519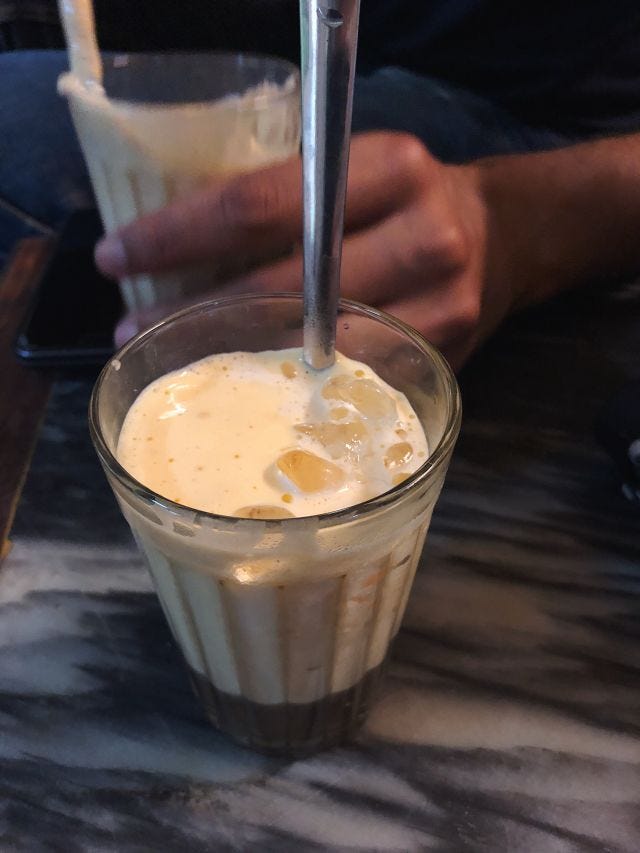 What's not to like about Vietnamese egg coffee? Prepared with egg yolks, sugar, and condensed milk, it's your afternoon coffee as a treat. When it's 90 degrees and humid in Hanoi, the best way to take this frothy, ultra-sweet beverage is over crushed ice, like this one at Giảng Cafe. Stir it up well, then suck it down.

39 Nguyễn Hữu Huân, Hàng Bạc,
Hoàn Kiếm, Hà Nội, Vietnam
+84 98 989 22 98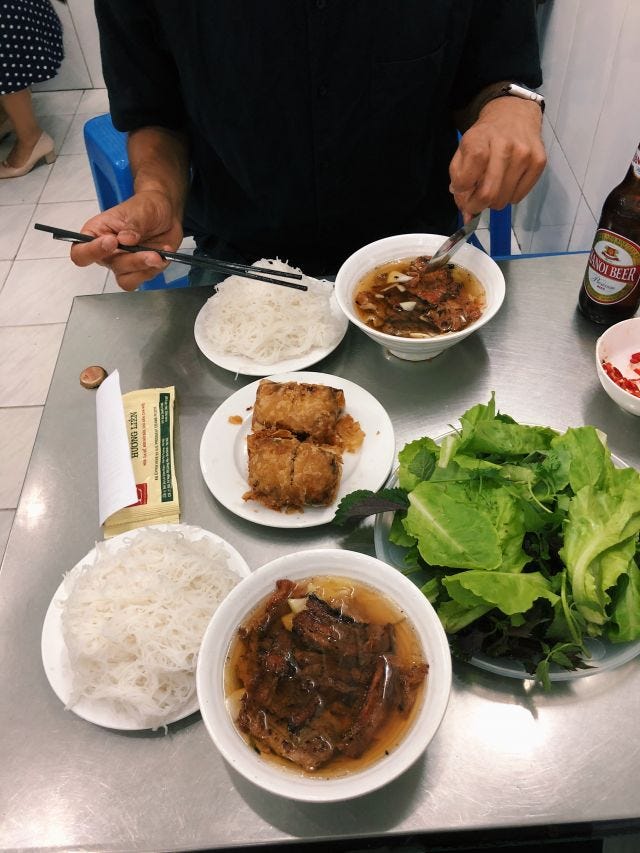 Bún chả Hương Liên, where Anthony Bourdain took President Obama back in 2016, is indeed very good. There will be no mistaking that you've arrived at the right place, given the blown-up photos of Obama hanging on the walls and the branded post-meal wet wipes advertising: "AS EATEN HERE BY U.S. PRESIDENT OBAMA IN 2016." The place is three stories high, like many food and drink establishments in Hanoi, and packed with tourists and locals alike. The dipping soup (essentially fish sauce diluted with sugar, stock, and vinegar) is addictively sweet, acidic, and fatty with caramelly grilled pork and delicious flat meatballs. Combined with a perfectly cooked mop of vermicelli noodles, seafood spring rolls plump on the inside and flaky on the outside, a pile of fresh herbs and lettuce, and a cold beer, it's an involved meal that's immensely satisfying.
24 Lê Văn Hưu, Phan Chu Trinh,
Hai Bà Trưng, Hà Nội, Vietnam
+84 24 39 43 41 06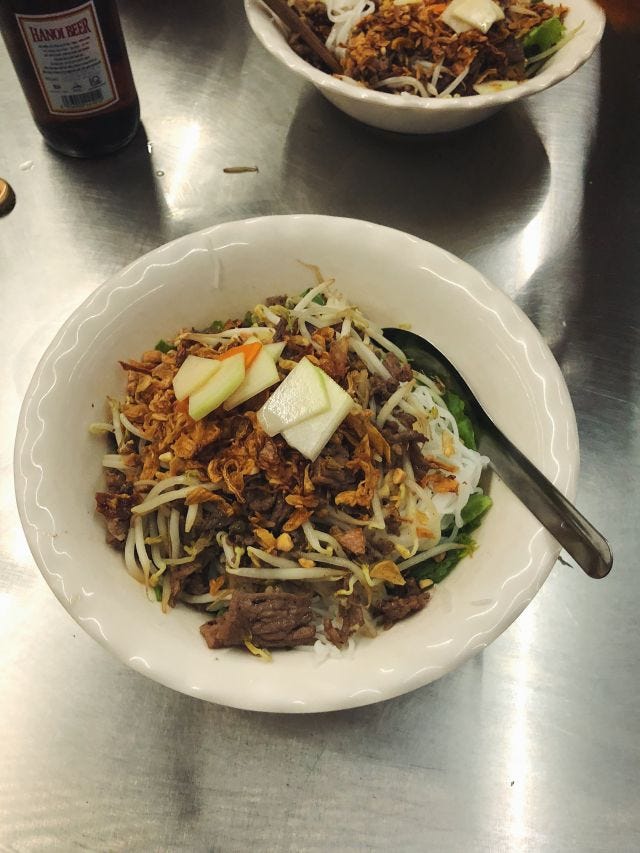 After eating a bowl of the refreshingly mild and lovingly layered beef noodles at Bún Bò Nam Bộ, I couldn't help but think that noodle salad is a food group that New York lacks. If there were a spot that served vermicelli tossed in fresh herbs, crisp bean sprouts, crunchy fried shallots, crushed peanuts, and a bright dressing of fish sauce, lemon, vinegar, and chili, I'd partake frequently. It could work well as a fast-casual concept. Just saying.
67 Hàng Điếu, Cửa Đông, Hoàn Kiếm, Hà Nội, Vietnam
+84 39 23 07 01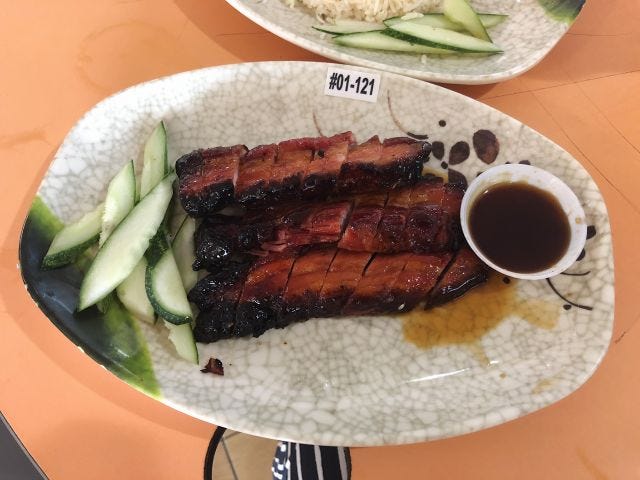 Located in Singapore's Old Airport Road Hawker Centre, Roast Paradise specializes in delectable char siu (caramelized, barbequed pork). Glistening, sticky, sweet, and shellacked on the outside, and extraordinarily tender on the inside, it's absolutely delicious.
51 Old Airport Road, #01-121 Old Airport Road Food Centre,
Singapore 390051
+65 97 86 73 96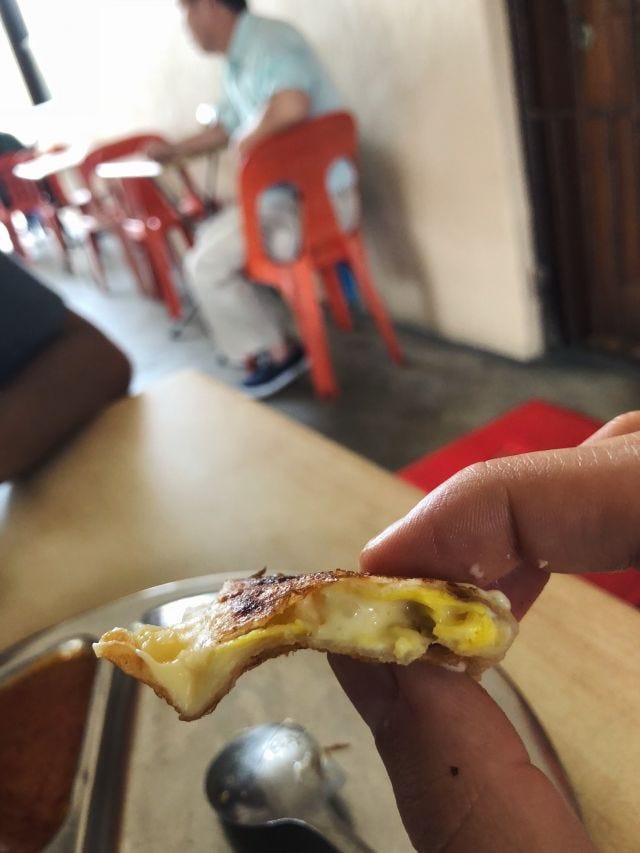 One of the best breakfast sandwiches I've ever had was this egg and cheese stuffed roti prata at Mr. and Mrs. Mohgan's Super Crispy Roti Prata, also in Singapore. Roti prata is an Indian-Muslim flatbread that reminds me a lot of Moroccan m'smen. Watching the family whip the dough into shape, fill, and fry up each square on the plancha is mesmerizing, and the result is equal parts fluffy, super crispy (naturally), and buttery throughout. The plain version was excellent, but each bite of the egg-and-cheese was salty, oozy and exactly what I wanted at 9 am, after a night of drinking beers.
7 Crane Rd, Singapore 429356 +65 9794 3124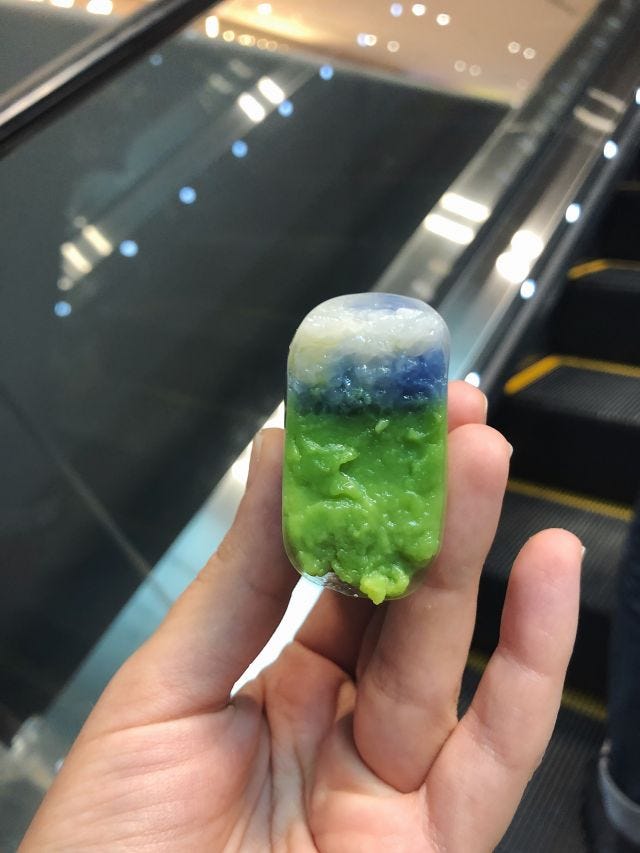 I found this kueh salat in Changi Airport—the only airport I've ever been to that I'd happily waste time in—at a wonderful Singaporean dessert chain called Bengawan Solo. Kueh are bite-sized sweets originating in Malaysia, and kueh salat is glutinous sticky rice topped with kaya custard. The blue tint is from pea flower, and the green comes from pandan, which has a sweet, aromatic flavor that resembles vanilla but tastes fresher. I had never had kueh salat before, but I hope to have it again soon, as it's up there with my all-time favorite sweets. Does anyone know where I can find it in New York?

I wrote about these last two last week, so I'll keep it short. Above, the meaty grilled chicken wings from Som Tam Jay So. Below, the tinier but equally delicious—and fried—lemongrass wings from Sri Trat.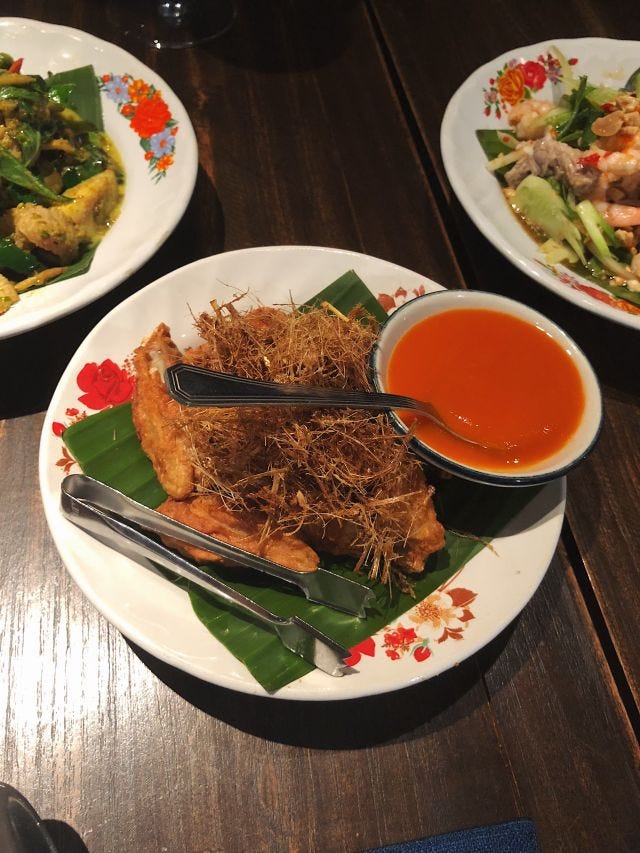 And that's a wrap.
Things I read and liked:

New to Some Things Considered? Read my archives here.