Discover more from Some Meals
Writing on — and recs for — food and restaurants. Mostly in LA & NYC, sometimes elsewhere.
Over 1,000 subscribers
The art of sandwiches
Here's a hot take
Barbecue fanatics, Italian sub savants, and turkey club lovers listen up because I've got a hot take: true sandwich artistry lies in a masterful vegetarian creation.
Hear me out. If you're a legendary pitmaster that crafts a mean pulled pork and serves it inside a pillowy bun, that's going to taste great. The same goes for a heaping pile of silky-salty smoked meat on slices of soft rye slathered with yellow mustard, which you can enjoy at Schwartz's in Montreal. In both of these cases, extraordinary meat drives the experience.
Even the most notable of heromakers use subpar hoagie rolls as a base, but source their prosciutto and provolone from Italy's finest. This works because the blandness of the bread allows for the flavor to be concentrated within a sub's filling, and the stiffness holds up to the stacked layers of meat and vinegar-based dressing.
And don't underestimate the satisfaction of a tried-and-true tuna melt, pressed on a well-seasoned griddle and stuffed with housemade tuna salad and your choice of sliced cheese, like they do at Eisenberg's.
It's easy to make a delicious turkey sandwich at home, so long as you have fresh meat, high-quality cheese, ripe tomatoes, satisfactory lettuce, Dijon and mayo, and a tasty loaf of bread.
None of these examples would be special if their meat parts weren't so. Most importantly, they lack in texture what they make up for in flavor.
To get a vegetarian sandwich right—and I'm not talking about a simple Caprese or grilled cheese—texture is everything. You have to simultaneously nail the mouthfeel and the smack through careful layering. That takes skill.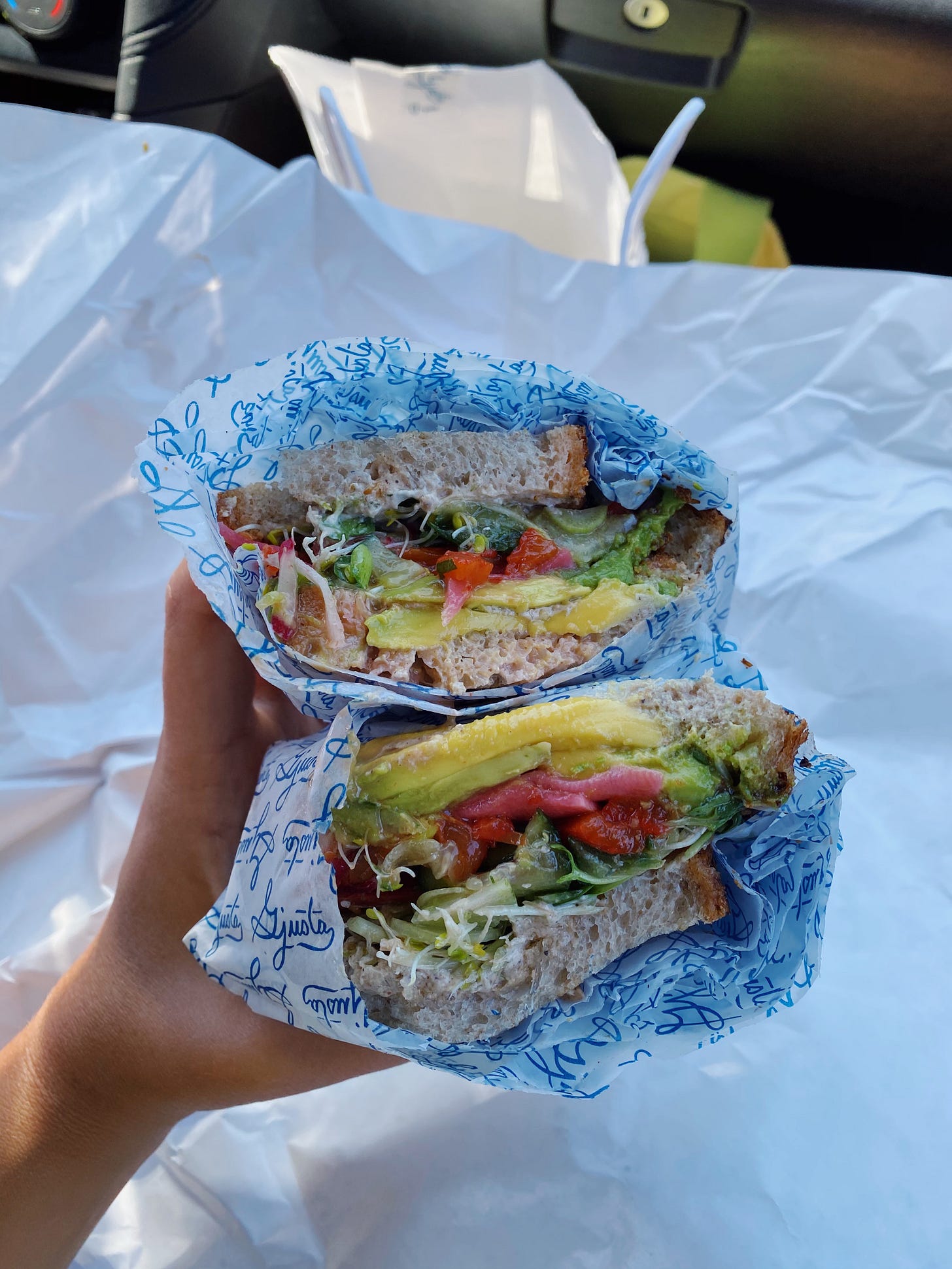 Take Gjusta's veggie sandwich for example. Avocado (creamy and buttery), roasted peppers (silky and piquant), raw fennel (crunchy and aromatic), pickled radish and cucumbers (crispy and acidic), sprouts (shattery and grassy), and tahini (nutty and smooth) on two slices of house whole-wheat sesame bread that bind the ingredients together with a subtle whole-grain flavor. It's a beautiful sandwich, too, so colorful and bright.
Or Matthew Tilden (of Scratchbread fame)'s vegan bahn mi, which he's serving at Bushwick's High Low along with a selection of pastries. The smoked mushroom pate drives it home, hitting your tongue with that umami, complemented by cold slices of earthy-sweet beets and crisp cucumbers, a scoop of pickled papaya slaw, discs of jalapeño for heat, roasted pepper cashew cream aioli, plus cilantro and fried shallots on a typical baguette.
Veggies! Told ya we had something delicious for you too.
Roasted beets, smoked mushroom pate, roasted pepper cashew cream "aioli," pickled papaya slaw, cucumbers, jalapeno, cilantro, and crispy shallots, And yes, it's completely vegan!
🌱 🥕 🌶 🍄
Sandwiches are one of the world's greatest inventions, and a food group America particularly excels in. With an end to the pandemic still out of sight, while shared meals are discouraged, picnic season remains in play, and road trips are the safest way to travel, you can find me in search of stellar vegetarian creations. Any recs?
---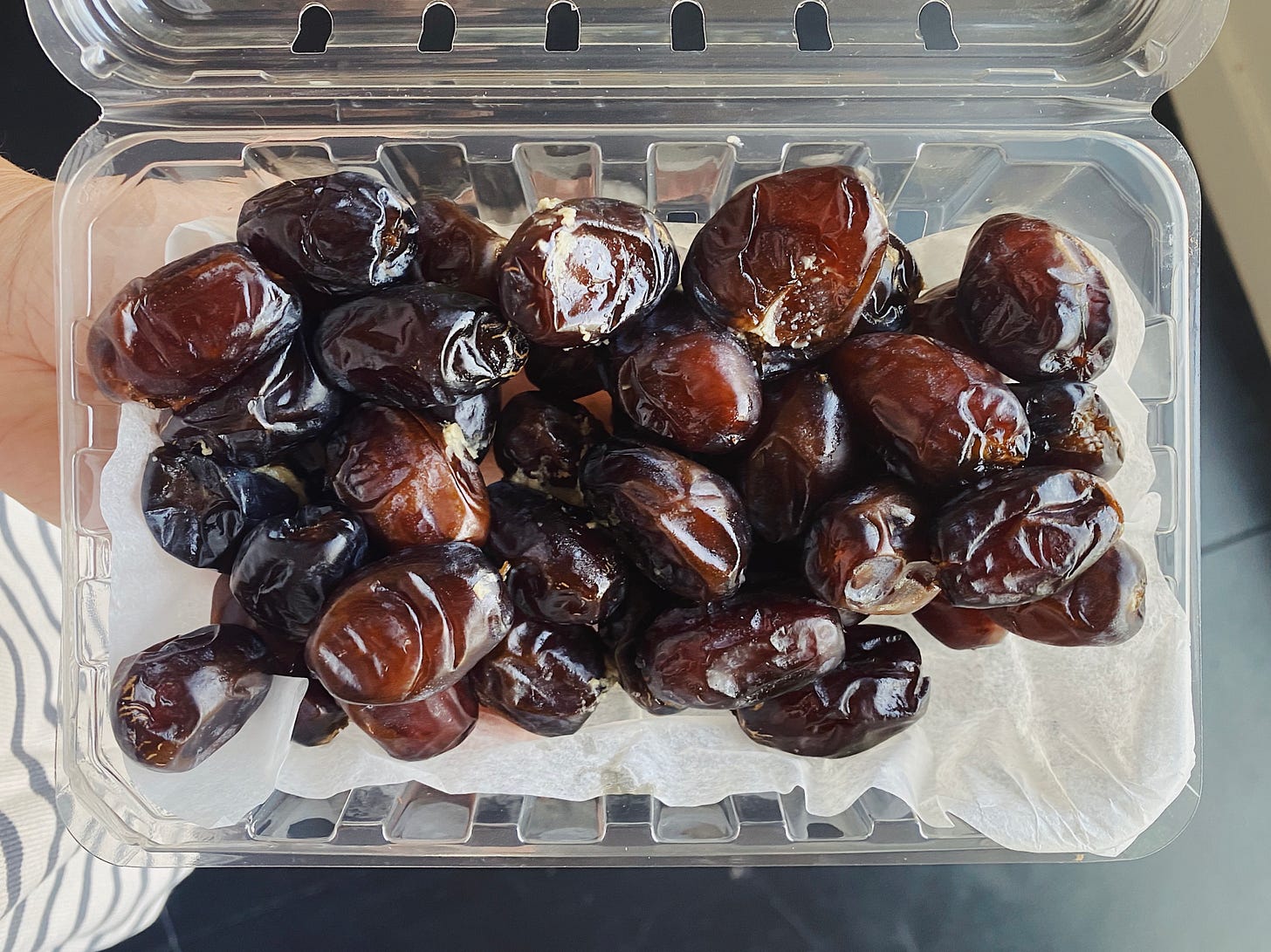 Try This
Read That