Discover more from Some Meals
Writing on — and recs for — food and restaurants. Mostly in LA & NYC, sometimes elsewhere.
Over 1,000 subscribers
Take-out > Outdoor dining
I come bearing recs.
Outdoor dining kicked off this week in New York City and… it's kinda weird! But people miss restaurants, restaurateurs need the added income, and the city says it's okay. I haven't done it myself. I'm not sure that I'm ready yet.
My hesitation to jump back into eating at restaurants is partially about my own health and safety, but mostly revolves around the uncomfortable tensions at play. The pandemic has laid bare the divisions between the various groups that make up the business of restaurants, and they simply can't—nor should—be ignored. Let me break it down.
1.) The owners who have rent to pay and a business to keep alive, many of whom have a deeply personal connection to the place(s) they run.
2.) Restaurant workers—cooks, bartenders, servers, busboys, barbacks, hosts, etc—who are employed by the owners and make an income, but who do not share in the profits. As we know, the majority of the industry's workers have been furloughed or laid off since the onset of COVID. Some of them have been receiving unemployment benefits, while others (like undocumented immigrants) can't. For certain restaurant workers—and you see this a lot in New York—hospitality is a lifelong career; they love it, even if they think the industry is broken, riddled with inequality, and needs to change (all true). These are the folks who often dream of opening up their own spots someday. Others wait tables to support themselves as artists. To many it's just a job—a job's a job, life is life, and we all need money to survive.
3.) Producers & Distributors, which are two separate entities that together handle creating and selling all kinds of products, from fresh produce to silverware to wine, but I'll group them together because my main point is that there is a huge number of folks that rely on a thriving restaurant industry to make ends meet.
4.) Guests who fill the tables, order take-out, and hopefully tip well. There are no restaurants without guests, but who is to say that guests will be on their best behavior today, tomorrow, and in the coming weeks as we move towards opening dining rooms at 50% capacity (de Blasio says July 6th)? As I've written here before, this worries me.
I want to support the restaurants I love, as well as the farmers and winemakers and butchers and ceramicists who do incredible work to provide them with the goods they need to do what they do best. I also want to support the people whose talent and service (in the kitchen and on the floor) I've benefitted from time and time again, but that's not to say they're thrilled about returning to work in such hairy conditions, or weren't making more on unemployment. As a guest, I find that tension super awkward! So I'm taking my time and instead, getting take-out and writing Love Letters and having a lot of fun with the to-go drinks scene. Brooklyn feels like New Orleans these days, and it's really quite nice!
Here are some pictures I snapped while out and about over the past several evenings: the outdoor dining situation at I Sodi, Kiki's and Locanda Vini & Olii.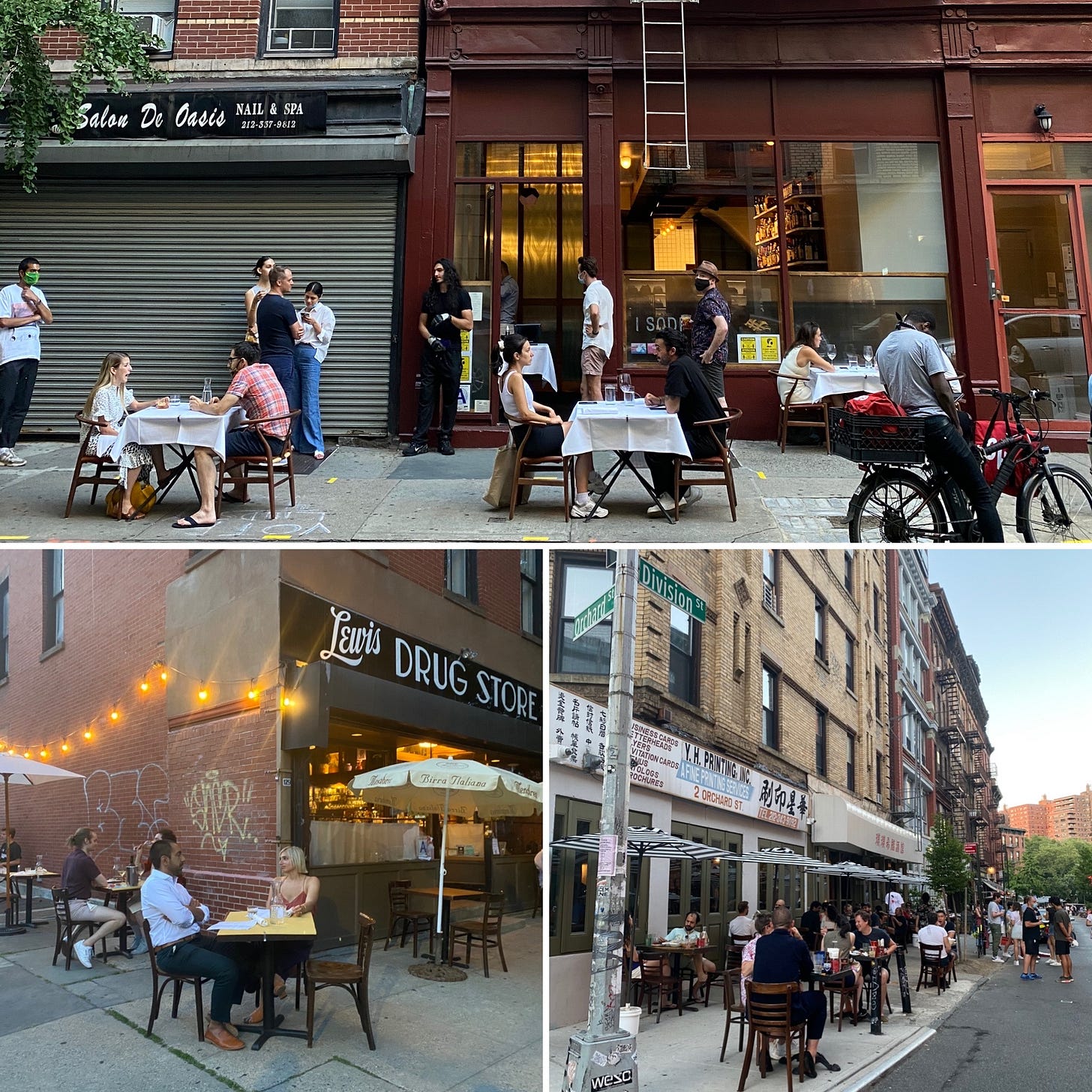 While I'm holding back on making reservations, here's a little guide to where and what to take out if you're in NYC—the best things I've had the pleasure of eating and drinking over the past month.
The Take-Out Moves
Gloria's
Any of the "dinner" meals that come with rice and peas & a few sides. I haven't been eating much meat lately, so I go full vegetarian—lentils, string beans, red beans, and mixed veggies—but the jerk chicken here slays. Always order extra tamarind sauce.

Weather Up (Prospect Heights)
A Mai Tai to go on a hot Saturday afternoon hits.

Taste of Persia
Ash Reshteh if he's got it. The menu changes weekly, follow Saeed on Instagram for the latest.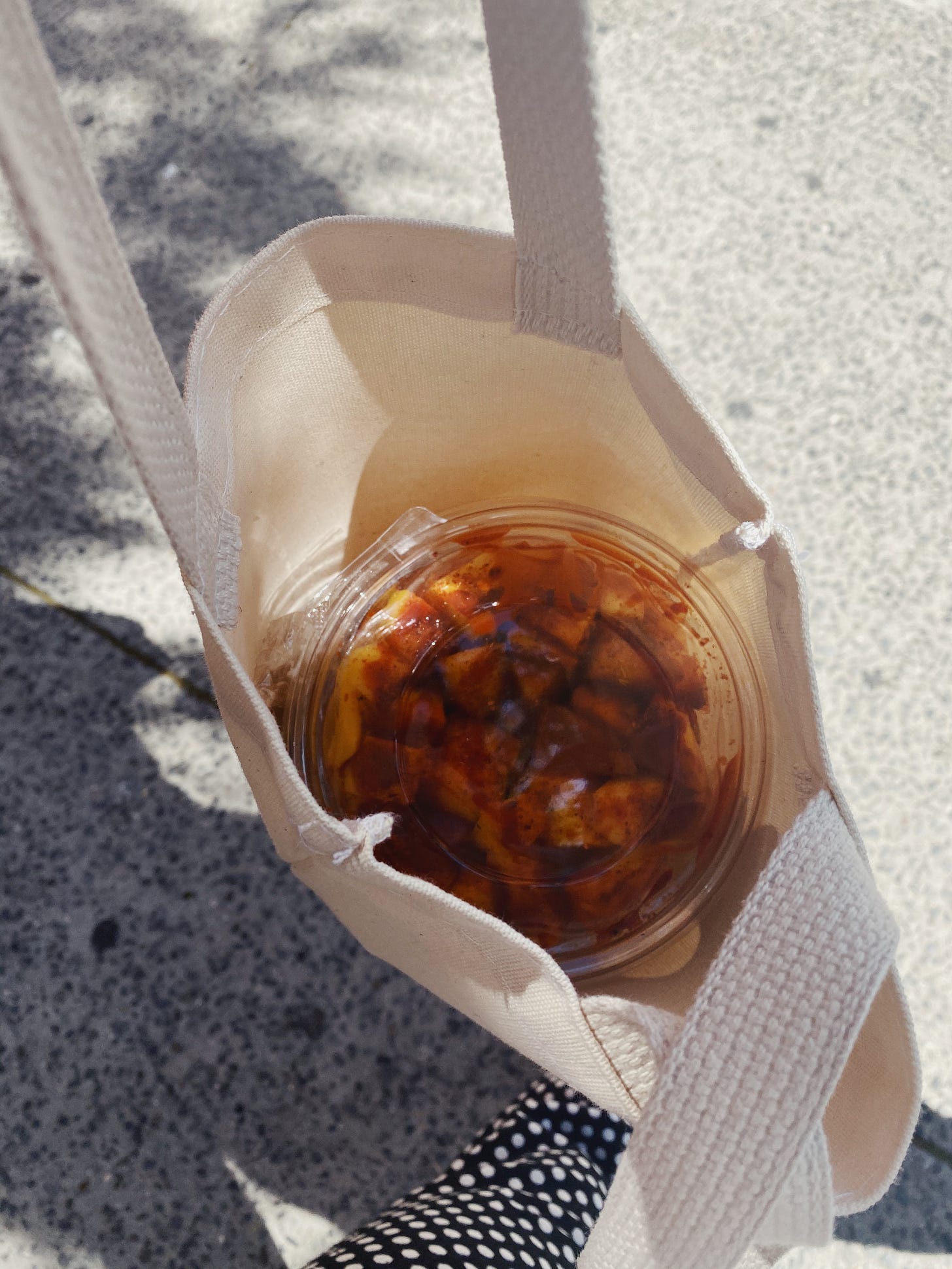 Any Mexican fruit stand
If you spot a stand, either attached to a deli or standalone, where someone is serving sliced fresh fruit topped with Tajin, chamoy, and hot sauce, get some. This is the best summertime snack. Mango or pineapple is the way to go.

Make Bistro
A friend told me about this guy Derek Lucci, who cooks awesome Thai food from home and delivers it around. He also makes these insanely good tom yam peanuts with sugar and chili powder and fresh makrut lime leaves, which he'll ship anywhere in the U.S. And it looks like he just made a fresh batch! Highly recommend.

Joloff
Mafe (a thick peanut stew) legumes with joloff rice. My new favorite neighborhood spot.

Miss Ada
There's a huge difference between a mediocre dip and an incredible one, and the muhammara, babaganoush, and hummus from Miss Ada qualify as the latter.

Fanelli's
Fanelli Cafe 2020 T-shirt, enough said.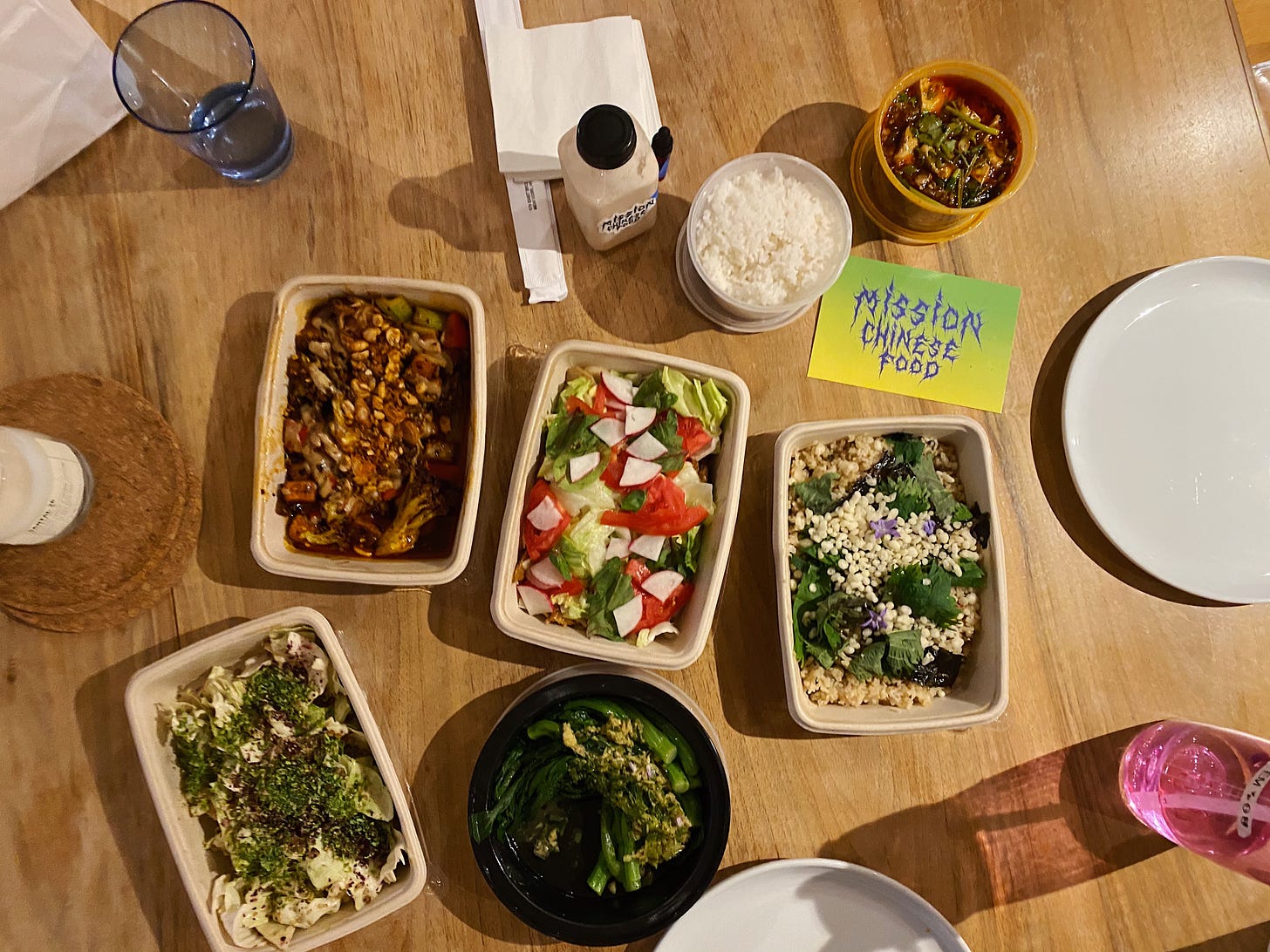 Mission Chinese Food
Veg MCF Classics Combo—comes with a crunchy cabbage salad laced with seaweed, buckwheat, and a tehina yuzu vinaigrette; vegan mapo tofu; kung pao cauliflower; shisho fried rice; matcha market greens; and BLT rice cakes with smoked tofu skin, sliced lettuce and tomato, and kewpie mayo, which sounds weird but is probably the best restaurant dish I've had since I've eaten in a physical restaurant—says it serves two, but it really serves four (or two people for two meals).

F&F / Frankies Pantry & Bottle Shop
Literally any pie from F&F and freshly made cavatelli from the shop.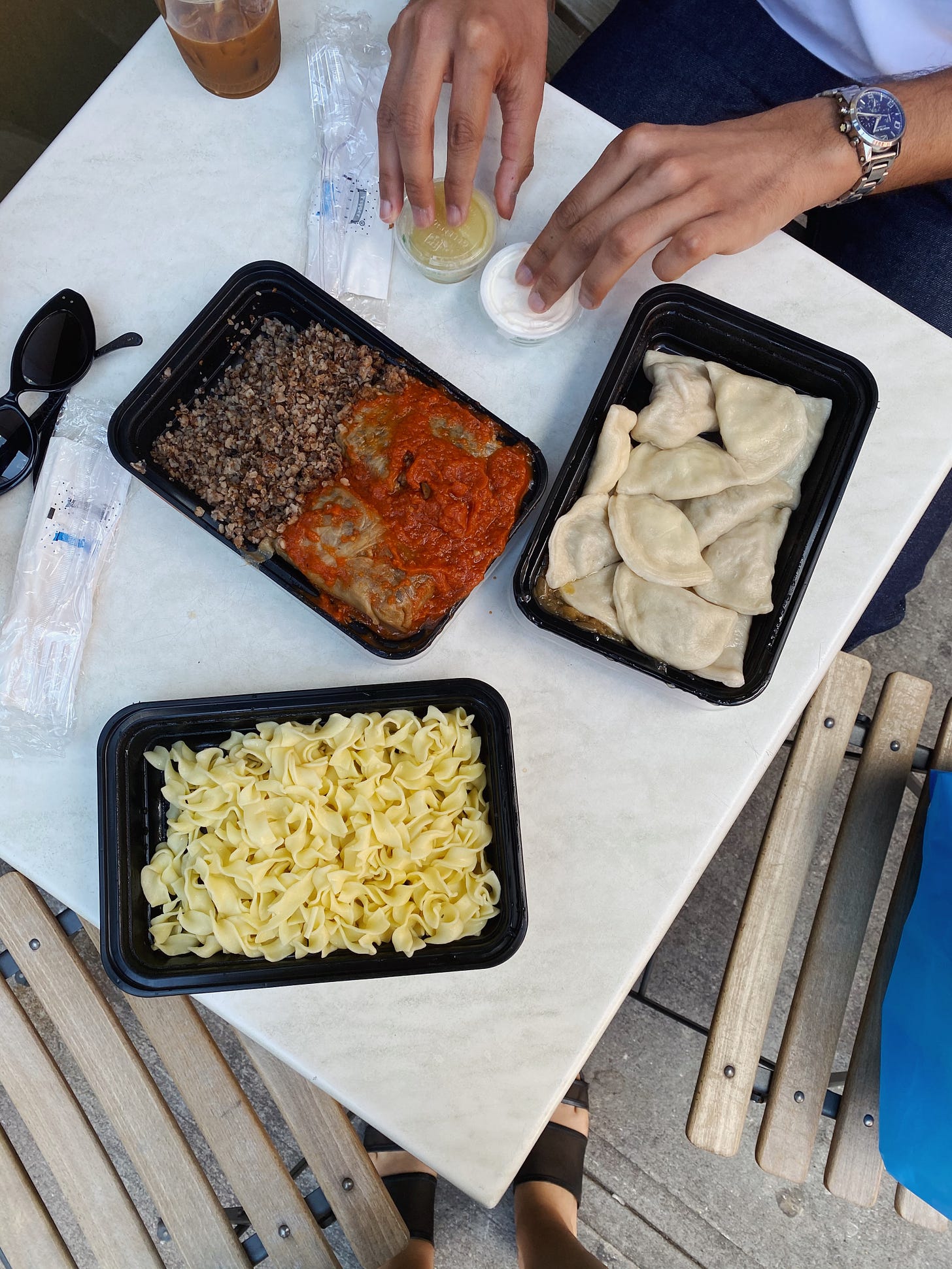 Veselka
Boiled arugula-goat cheese pierogies + meatless stuffed cabbage with tomato sauce and a side of kasha.

Kathmandu Fusion Kitchen
This place rocks! Get the vegetable thali: fried pickled bitter melon; coriander-flecked dal; soft curried squash; a fiery, fermented, and bright-orange vegetable stir-fry; and lots of rice.

I Sodi
Classic Negroni then a left on Christopher Street and a leisurely walk down Hudson.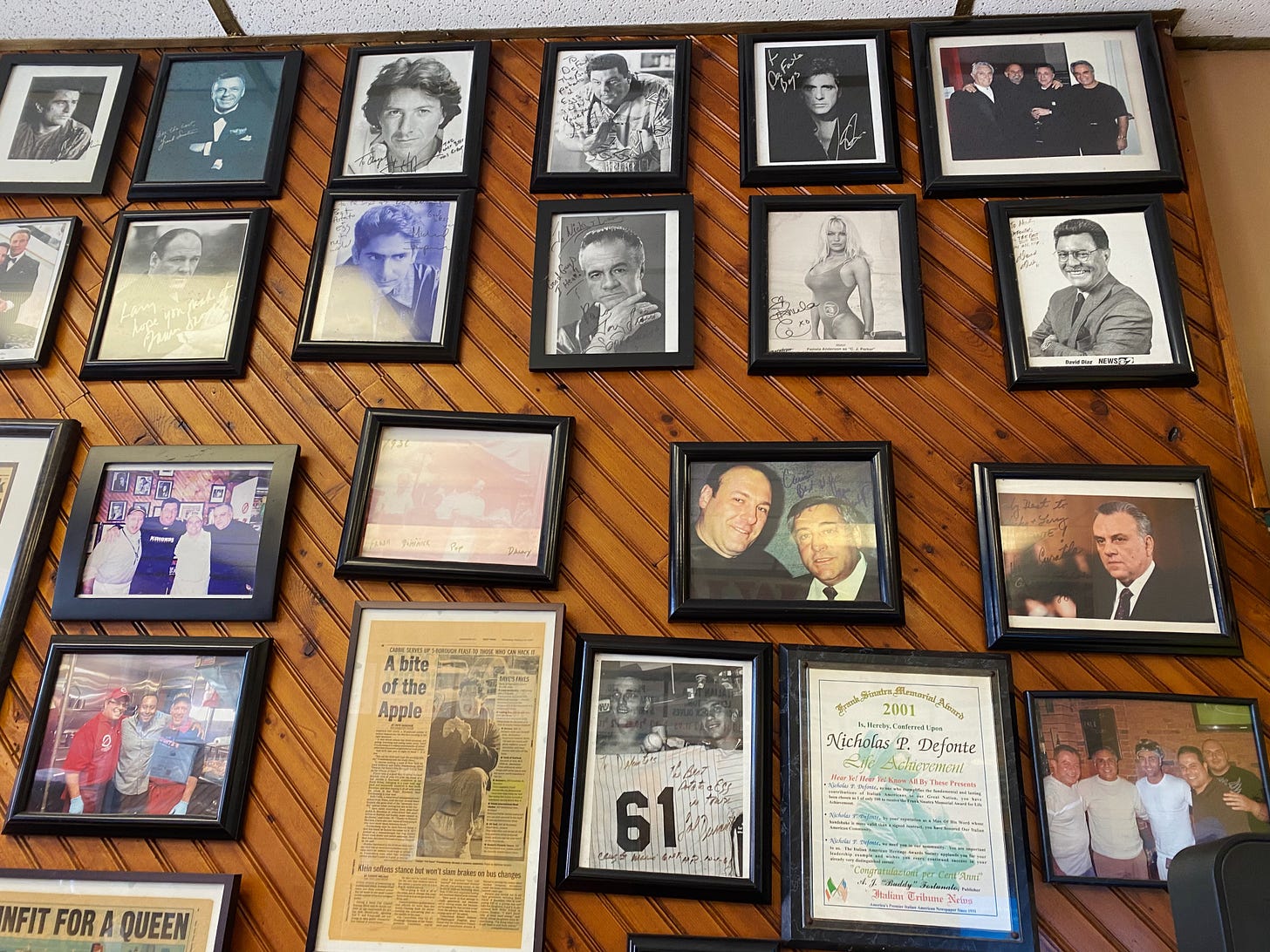 Defonte's
Any sandwich that tickles your fancy, eaten on a bench by the water.

Ras Planted Based
This new vegan Ethiopian spot opened in Crown Heights at the beginning of quarantine, and given the quality of their injera platter, I have a very good feeling they'll make it through.



Read these:
HELLO BAKERS!
We wanted to update you to let you know that so far we have collectively raised 1.3 MILLION US DOLLARS. (The donation tracker is currently live so the amount keeps rising!) We've raised over 15k in T-shirt sales (not noted in the tracker yet)
And we're working on a list of countries and states!
We'll update you all at the end of the week.
You should all be proud, we were able to raise over a million dollars that went directly to organizations supporting Black Lives.
Keep fighting the power!
Paola, Willa & Rob * gif by
@robrubba
*
#bakersagainstracism
#blacklivesmatter
---
If you're into Some Meals Considered, tweet about it to spread the word!

Find all previous posts here.

Was this email forwarded to you? Sign up for real.

**Housekeeping** If you found me in your spam folder or your Promotions tab, please mark this address as 'not spam.'