Discover more from Some Meals
Writing on — and recs for — food and restaurants. Mostly in LA & NYC, sometimes elsewhere.
Over 1,000 subscribers
Take a weekend trip to Motor City
Detroit is rich with things to eat and places to discover.
"Why were you in Detroit?" is the question I was asked many times this week. All last weekend I was sharing generously on Instagram: sparkly disco balls, farmers market mushrooms, late-night hot dogs. My answer was "Why not?" which is essentially the truth. My mom visited a few years ago and was taken with the city's food scene and culture. She thought I'd like it, too, so there we were—she was back, I was a first-timer, and we took Saarim and my dad along for the ride.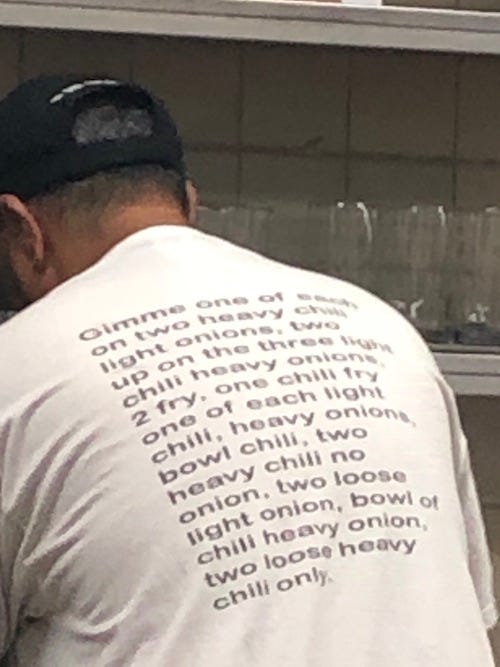 The hot dogs Saarim and I ate at 1:30 AM after a vibey Moodymann show are officially called "coneys." They come encased in a steamed bun and dressed with chili sauce, diced white onions, and yellow mustard. You can find the Detroit staple at a number of longstanding restaurants (known as "Coney Islands") all over the city. It's a funny bit of American history: many of the European immigrants who came through Ellis Island in the early 1900s ended up in Michigan, but one of the first places they visited upon arriving in the U.S. was Coney Island. After settling down in the Midwest, some of them set up shops slinging the hot dogs they ate in Brooklyn's iconic beachside neighborhood. I'd heard that Lafayette Coney Island was the best, so that's where we went. The place was slammed. My eyes turned bloodshot adjusting to the fluorescent diner lighting. I fixated on the back of an employee's shirt, trying to read every last word. Within seconds, I was biting through a soft bun then sharp mustard, crumbly chili, and bouncy raw onions at once, and finally, a springy hot dog. The experience was perfect. It wasn't the best hot dog I've ever had, but it tasted like America. I'd eat it again, but probably not while sober.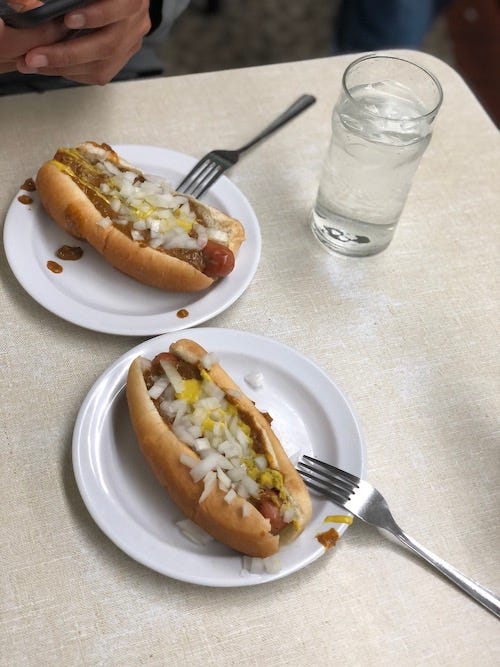 Earlier that night, we had dinner at Flowers of Vietnam. I love chicken wings, and the caramel Korean fried specimens here are top-notch: lacquered, sticky-sweet, and showered with chopped Thai basil. The sleeper hit is bò nướng lá lốt, barbecued betel leaves stuffed with ground pork and beef flavored with lemongrass. You dunk your skewer of two carefully into nuoc mam, then slide its contents into your mouth, which melt on your tongue. Delicious. And finally, don't miss the green papaya salad, which is pungent, refreshing, and best enjoyed with silky slices of grilled pork. Whoever put together the wine list writes, "pro-tip: Vietnamese food is best accompanied by aromatic white wine, particularly Riesling," and they're not wrong. Domaine Schoenheitz's 2017 Vin d'Alsace did us well.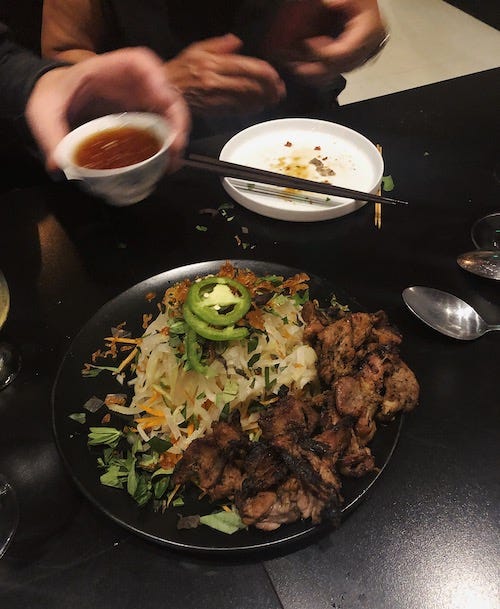 More wine came next. David Armin-Parcells and Melissa Armin-Parcells opened Motor City Wine because there was nowhere in town to buy the wines they liked to drink. Ten years later, the shop has evolved into a bar with a bustling patio, regular live music, and shelves of bottles that can be purchased and enjoyed on-site (if you so please). We pre-gamed for Moodymann as The Miseducation of Lauryn Hill hummed from the outdoor speakers and a jazz band performed inside. Many of my favorite natural producers were in stock.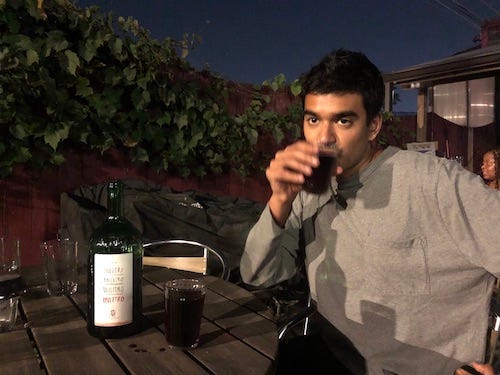 Sleep is the best cure for a hangover, but giant cabbages and squash flowers, rows of chrysanthemums, and parchment bags full of cherry chip and sour cream doughnuts serve as a welcome distraction. Detroit's Eastern Market is a sight to see, with stalls upon stalls upon stalls stacked with Michigan-grown produce and locally-made goods. Saturday morning is the time to go. Follow that with a jaunt through Gratiot Central Meat Market and marvel at the mighty selection, ranging from raw corned beef to smoked turkey parts. Then cool down at the super chill Peoples Records, just across the way. Music is alive and well in Motor City.
10 miles west is Dearborn, a suburb that's home to the largest Muslim population (read: the best Middle Eastern food) in the country. Al Ameer was all it's cracked up to be. The atmosphere alone—a Lebanese canteen disguised as a gigantic suburban diner—is something to behold. Thin pita pockets arrive hot out the oven, tasting of fresh-ground flour. You must eat one immediately before they go cold. Reach for another when the hummus arrives, greyish in color, thick with tahini, and smoother than butter. And a third to complement the famed stuffed lamb. I'm not sure what the lamb is stuffed with as it cooks, but it arrives at your table in hunks that are stringy and soft, under slivered almonds and over cinnamon-scented long-grain rice. Tear a hole into the top of your palm-sized bread, fill it with a bit of everything, and add a dollop of tangy yogurt, which comes on the side. Also, try the raw kebbie with hashwi, a flavorful tartare laced with mild spices and topped with pan-fried ground beef and onions. You'll be tempted to order more, but it's worth saving room for the next stop.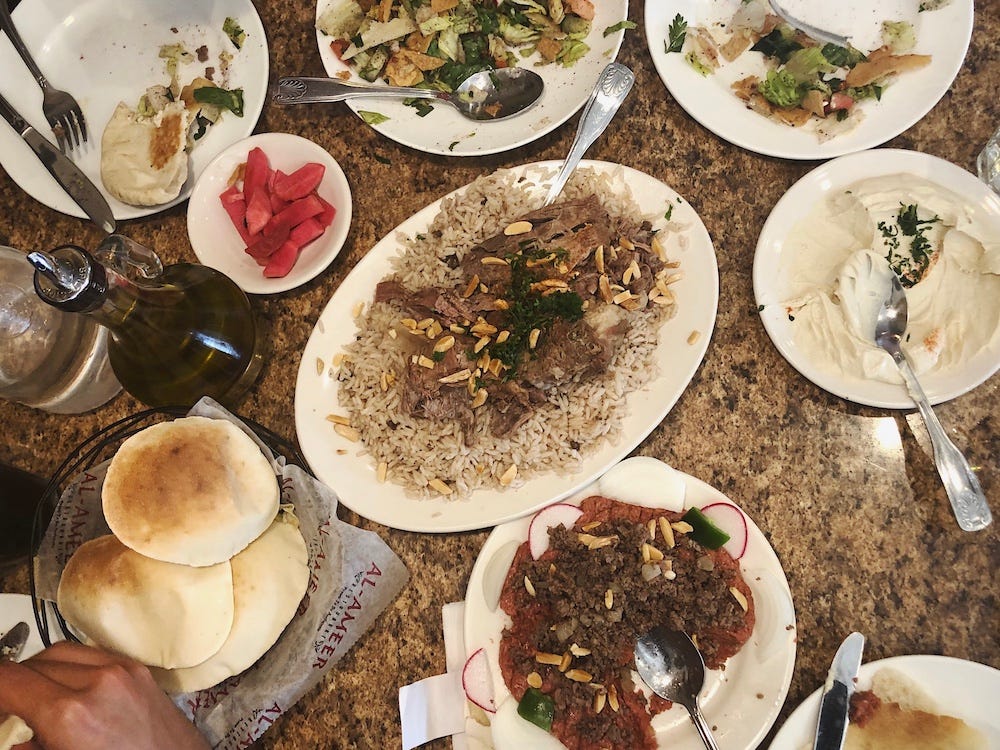 Dearborn Meat Market is another Lebanese eatery, this one fashioned as a grill. The tiny storefront looks like nothing more than a place to buy halal meat. But peek into the back and you'll see men twisting skewers of makanek sausage, cubes of juicy ribeye, chicken tawook, and beef kafta (the highlight) over charcoal. Blistered tomatoes, onions, and peppers come with, and a tray of hummus is recommended. DMM's dip leans heavy on chickpea flavor compared to the stuff served at Al Ameer. Make yourself a wrap from your table's giant complimentary pack of pita if you still have room for bread. (I did not.)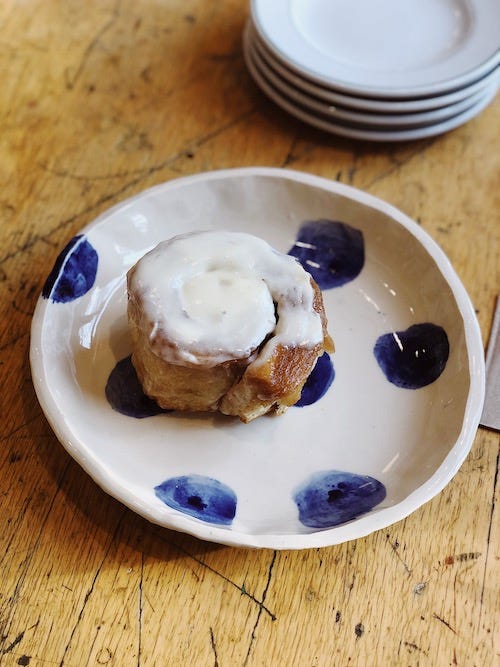 Epic pastry counters are my weakness, particularly when I'm traveling. I need to try as many things as I can. No other reasoning makes sense. After all, Ochre Bakery was just named #4 on Bon Appétit's Hot 10 list. It was Sunday morning and I'd be back in Brooklyn that night. So, cinnamon roll with creme fraiche (duh), lemon pistachio cake (yes), danish with lemon curd and berries (have to have), chocolate hazelnut muffin (sure), savory ricotta danish (it has tomatoes, and the season is almost over). Might as well try the yogurt and granola with peach compote, plus the fluffy scrambled eggs alongside fresh-baked sourdough. This is breakfast for four, not one, and it's back to basics tomorrow. As for the croissant, the chocolate-almond Bostock, the peach-thyme upside-down cake, espresso shortbread, stuffed pesto-and-feta baguette, and on… you can only try to have it all. The revelatory cinnamon roll tasted like a giant pillow, with luxuriously enriched dough, warming spices, and a slight tang from the creme fraiche icing. I'd come back to Detroit just for this, and I'd eat it only while sober, to savor every last bite.
🚘🏙
Other tips:
---
This week's reads
---
If you're into Some Meals Considered, tweet about it to spread the word!

Find all previous posts here.

Was this email forwarded to you? Sign up for real.

**Housekeeping** If you found me in your spam folder or your Promotions tab, please mark this address as 'not spam.'