Discover more from Some Meals
Writing on — and recs for — food and restaurants. Mostly in LA & NYC, sometimes elsewhere.
Over 1,000 subscribers
Shameless devotion
My fast casual love affair
I'm bringing you a special Monday issue of SMC because I'm obsessed with a new salad. (Also, I couldn't get it out this weekend. This topic is more appropriate for a weekday, anyway!)
It's the Tingly Sweet Potato + Kelp Bowl by David Chang and you can order it right now at any Sweetgreen location nationwide. You may have already heard about it—or tried it even. But for those who haven't, let me explain. The two main ingredients are baked chunks of Japanese sweet potato rolled in Momofuku's newly branded tingly salt (read: contains Sichuan peppercorns) and strands of kelp, since only David Chang has the outsized influence to get mainstream lunch-goers to try slimy seaweed in their salads. The base is kale and wild rice; the classic mix-ins are shredded cabbage, halved cherry tomatoes, and roasted chicken (although here's where I tell you to sub tofu, which is even better); and the dressing is a custom-built combo of cashew lime and furikake powder, the latter of which brilliantly incorporates the chain's signature parm crisps. Not only does this bowl pack more texture than any Sweetgreen salad to date (I say this confidently, as a brand expert), it's also layered with umami (kelp, tingly salt, parm crisps) and acid (tomatoes, lime), all of which makes for a hyper-satisfying creation. The Tingly Sweet Potato + Kelp Bowl is a special edition offering, meaning its time on this world is limited. Get it in your regular rotation before it's gone.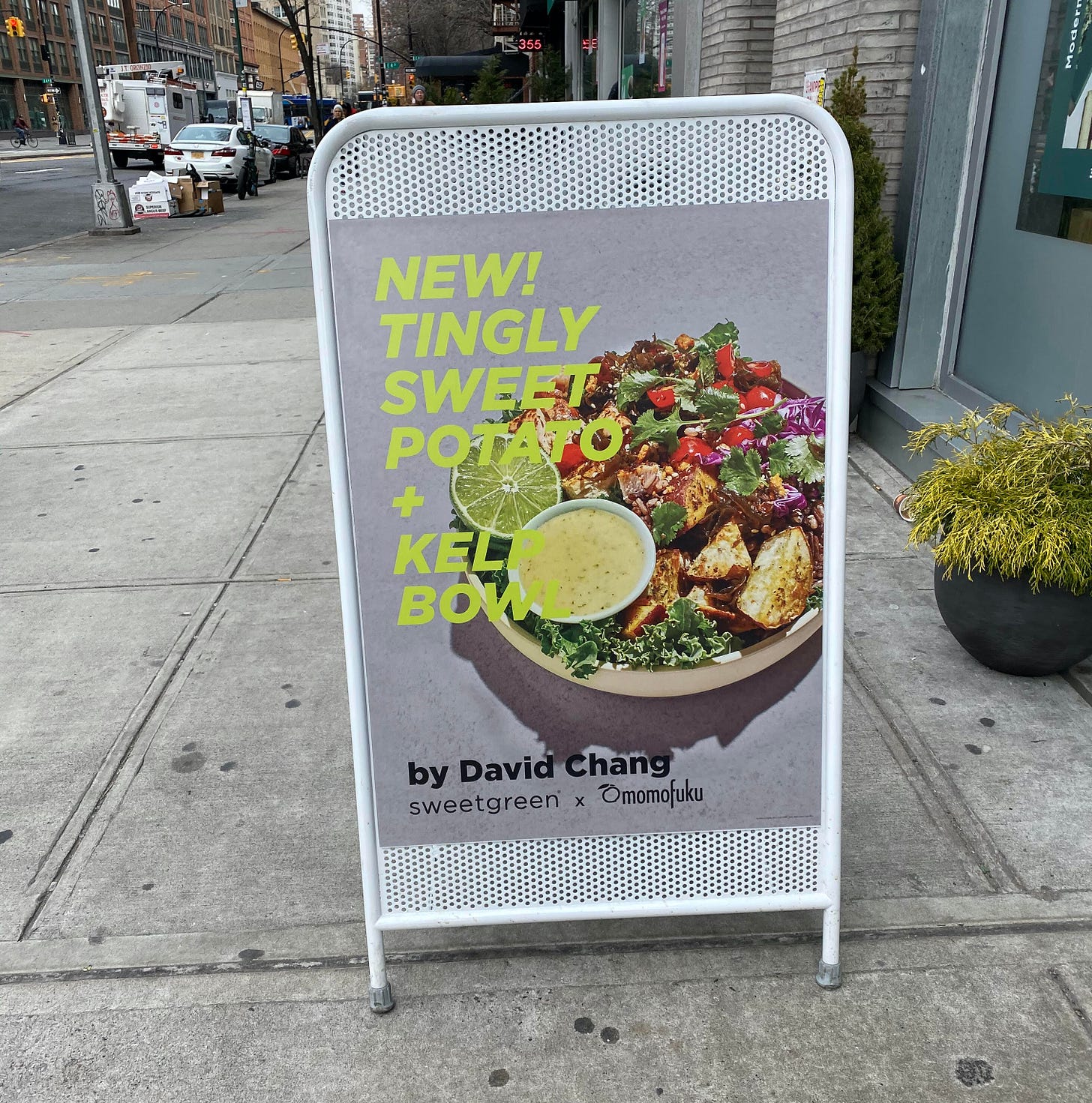 Full transparency, I am shamelessly devoted to Sweetgreen. For a while I was addicted to Kale Caesar. Add spicy broccoli, sometimes. Light-to-medium dressing (don't @ me). After I stopped eating chicken every day, I'd swap it for sweet potatoes, brussels sprouts, or both.
Prior to that it was Guacamole Greens.
I also really like the combination of kale and romaine, corn kernels and watermelon cubes, shredded carrots and cabbage, blackened chicken thighs, a squeeze of lime, and Green Goddess dressing. That's called Summer BBQ and it runs in warmer months.
There was a period of time where Nancy Silverton's Chopped Salad was available, with its distinct ingredients of salami strips, pickled celery, and her signature Italian vinaigrette. I ordered that often.
RIP to Rad Thai, a lightweight OG which enrobed arugula, sprouts, spicy sunflower seeds, citrus shrimp, cucumber, and other crunchy veggies in spicy cashew dressing.
When I first fell for Sweetgreen, I would make my own. I called it the Emily #1 thinking that I'd come up with #2 and #3 and maybe even #4. The base was two-fold—wild rice and mesclun—and then came basil, chickpeas, tomatoes, shaved parm, roasted almonds, and balsamic vinaigrette. That was before I realized that Sweetgreen's kitchen crew had a better knack for creating winning combinations than I did.
Most New Yorkers with desk jobs (which is not me, anymore!) have their preferred fast-casual spot and a favorite order, the ingredients they sub out, the extras they add. There's ebb and flow; influence from coworkers, diet changes, new contenders on the market. For me it's Sweetgreen and this is my ode. Try the cheffy special and let me know what you think.



Blind Item
Bonus points for anyone that can guess who said this.
"After eleven cookbooks, sometimes even I can't remember where the Parmesan Chicken is – and I wrote the books!!"



This week's reads



Some Meals Considered, Mapped
Follow the SMC Google list & use it as your dining guide. 🌎
---
If you're into Some Meals Considered, tweet about it to spread the word!

Find all previous posts here.

Was this email forwarded to you? Sign up for real.

**Housekeeping** If you found me in your spam folder or your Promotions tab, please mark this address as 'not spam.'