Discover more from Some Meals
Writing on — and recs for — food and restaurants. Mostly in LA & NYC, sometimes elsewhere.
Over 1,000 subscribers
Restaurants vs. COVID-19, a quick hits edition
What you can do, buy, and read today.
This morning, after my friend Chip tipped me off to Otway's makeshift market, I went to grab some chicories, arugula, cilantro, lemons, limes, and three bottles of wine (the other two were in my pocket; I stupidly forgot a tote).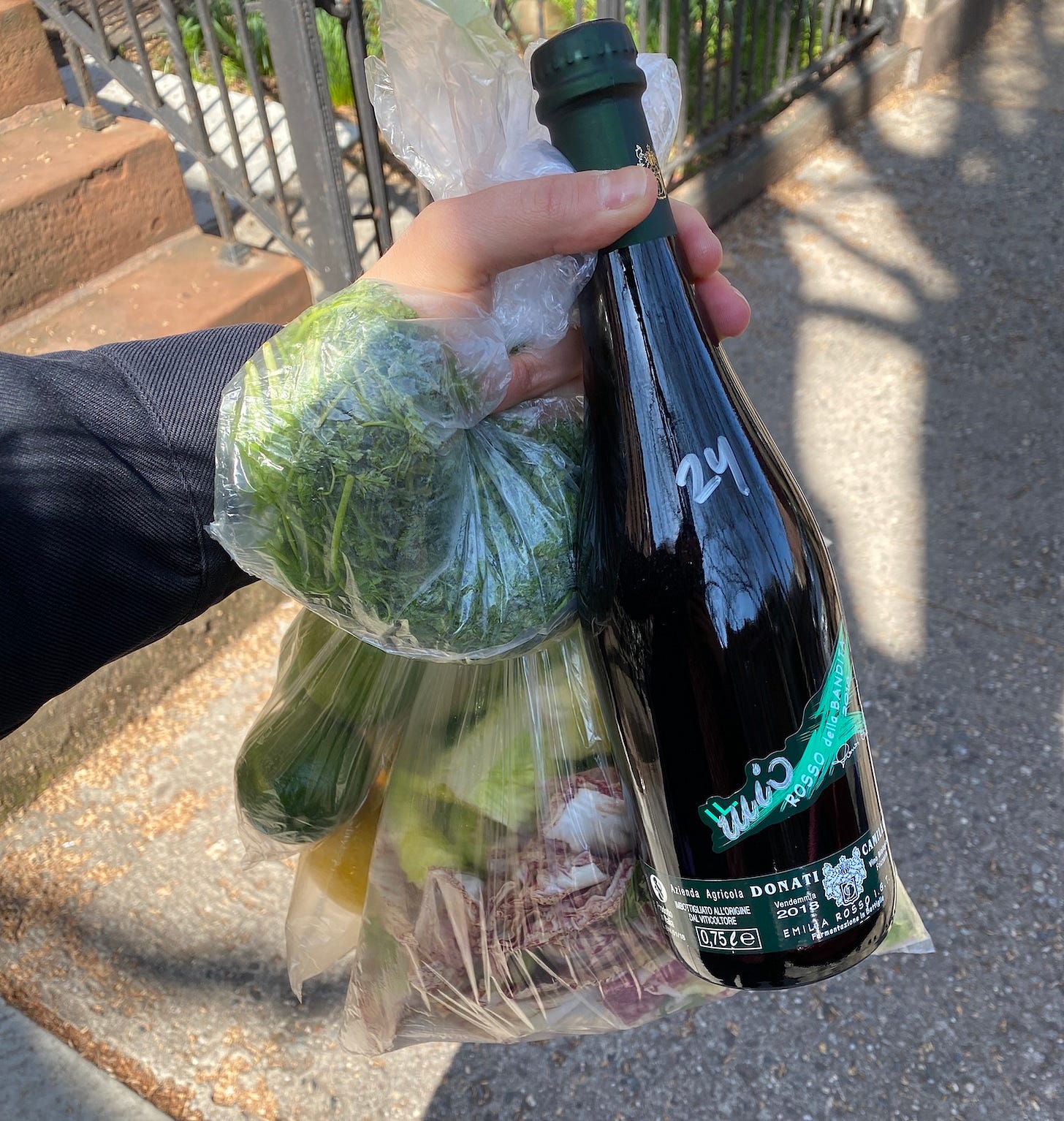 Just now, I got an email from Le Crocodile, who is officially offering carryout (call 718-460-8004) and delivery meals for two, plus pre-made cocktails, beer, and wine. Chefs Jake & Aidan will update the menu daily and add breakfast and lunch options as the week progresses, all based on what's in their pantry and the goods they can get from their suppliers and farm partners. Upside Pizza has expanded delivery zones all the way south to 14th Street, and delivery is free when you order on the website. I can only highlight so many examples in this newsletter, so again, stay tuned (maybe even phone in?) to what your local spots are doing to keep the lights on while providing us with delicious sustenance. Here are several more employee relief funds, if you're able to give: Hart's, Cervo's & The Fly, Chez Ma Tante, King, and Union Square Hospitality Group (in the form of gift cards).
Also: my Chef Collective haul arrived! If the option is accessible to you, I encourage buying from smaller grocers (like Marlow & Daughters) or produce-driven bodegas, such as Clinton Hill's Mr. Melon. You'll be supporting small businesses while skipping the long (and too-close-for-comfort) lines at Whole Foods and Trader Joe's.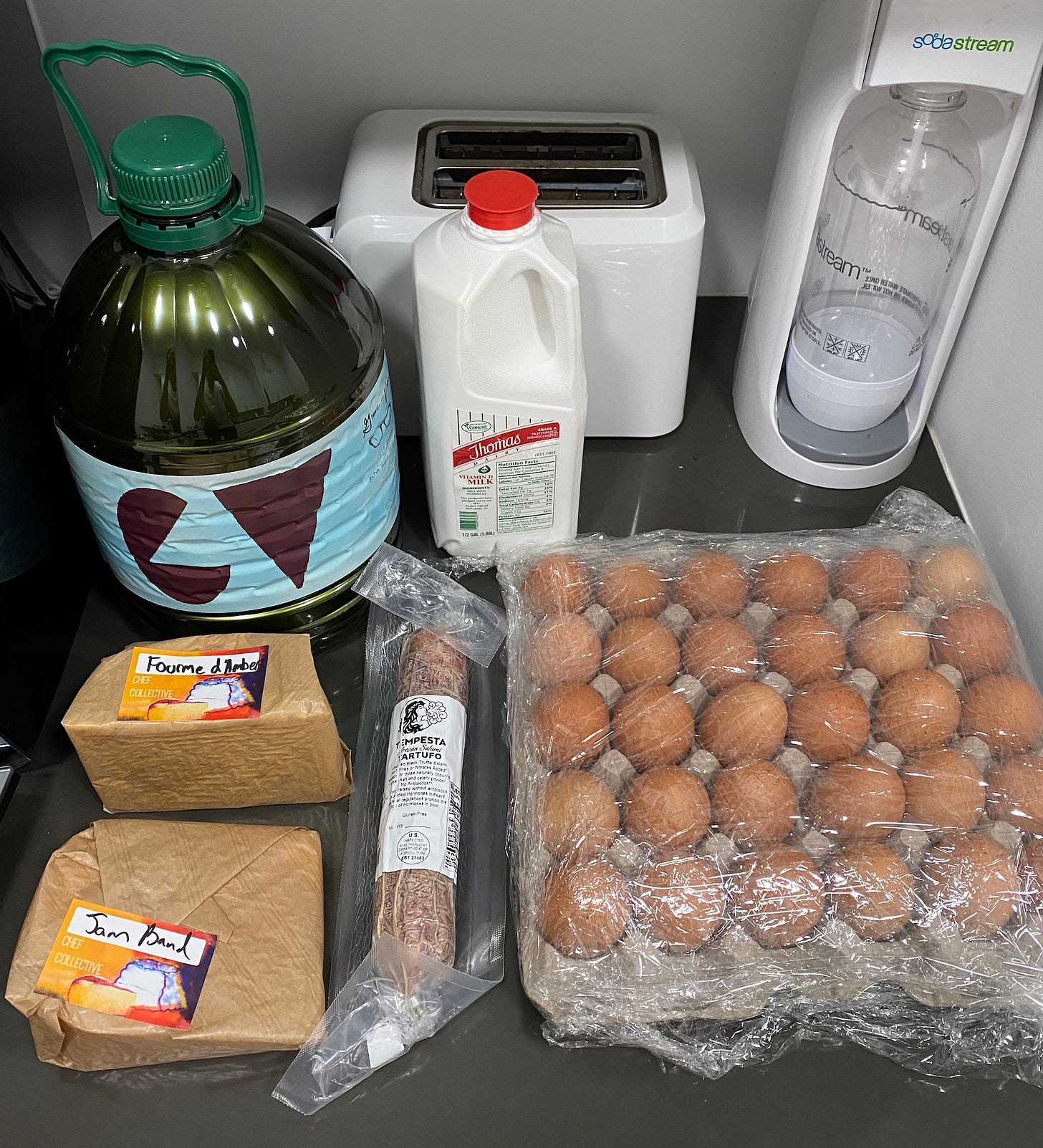 Keep that six-feet distance from others while you're out and about, wear gloves if you have them, then wash your hands and disinfect your phone once you're home safely. Don't go out if you're sick!
In lieu of a longer piece, here are some quick hits from today.
Mass lay-offs are well underway. Restaurant workers are struggling to register for unemployment. [NYTimes, Eater]
Call your representatives and urge them to include independent restaurants in the federal stimulus plan. You can be connected to the capitol switchboard at 202-224-3121. Spread the message by using the hashtag #toosmalltofail.
Win Son & other restaurants are setting up a fund for undocumented workers who won't be able to claim unemployment benefits. Venmo @win-son to contribute.
Baldor Specialty Foods, a big-time beloved supplier for chefs and stores across the northeast, is conducting home deliveries and they've got the goods: produce, meat & poultry, dairy, specialty & grocery, bakery & pastry, you name it.
With the updated liquor law, bars are getting creative with delivery cocktails. [Eater]
The NYC Office of Nightlife is gathering information regarding the impacts of COVID-19 on the lives of workers, performers, independent contractors, and business owners in New York City, including bars, live music venues, nightclubs, lounges, restaurants, and other social and cultural spaces. Fill out the survey here. (Thanks, Thea!)
Helen Rosner is highlighting some of the best restaurant merch out there in her stories, daily. Buy yourself some cool tees.
Sweetgreen is delivering free salads to hospital workers in the cities they serve. If you or someone you know needs an outpost at your facility, fill out this form.
José Andres has turned his shuttered D.C. restaurants into community kitchens operated by his World Central Kitchen organization. [WaPo]
Julia Turshen is sharing daily food writing prompts and conducting classes via IG Live.
San Franciscans: Rebecca Kaden tipped me off to the SF Clinicians Meal Support program, which provides business to local restaurants and high-quality meals to hospital clinicians. Sponsor the initiative here. Has anyone heard of any similar programs in New York?
The editorial director of Project at Hearst Magazines is encouraging newly unemployed restaurant workers to pitch story ideas for any of the conglomerate's publications. Pay a bill with dollars earned from an assignment? (h/t Adam)
Across the Atlantic in Paris, bistros are breaking down. [NYTimes]
Check out MAD's daily hospitality dispatches of the creative solutions hospitality businesses are implementing across the world.
These are the people who deliver New York's food [Grub Street]
Lastly, I made a major error in my newsletter yesterday (although it's fixed now in the static post): 250,000 is the number of restaurant workers in New York City; nationwide the number surpasses 15.5 million. That's how many livelihoods are at risk.
---
If you're into Some Meals Considered, tweet about it to spread the word!

Find all previous posts here.

Was this email forwarded to you? Sign up for real.

**Housekeeping** If you found me in your spam folder or your Promotions tab, please mark this address as 'not spam.'