Discover more from Some Meals
Writing on — and recs for — food and restaurants. Mostly in LA & NYC, sometimes elsewhere.
Over 1,000 subscribers
ANNOUNCEMENT: Everything changed over the last few weeks and Some Meals Considered has gone along for the scary, exacting, attempting-to-be-hopeful ride. In an effort to keep things regimented while sticking to my new "restaurants when there are no restaurants" beat, you can now expect this newsletter in your inbox twice a week, on Tuesday and Friday evenings. Who knows what the future holds, but that will be the new normal here, for now. Kapeesh? Kaposh.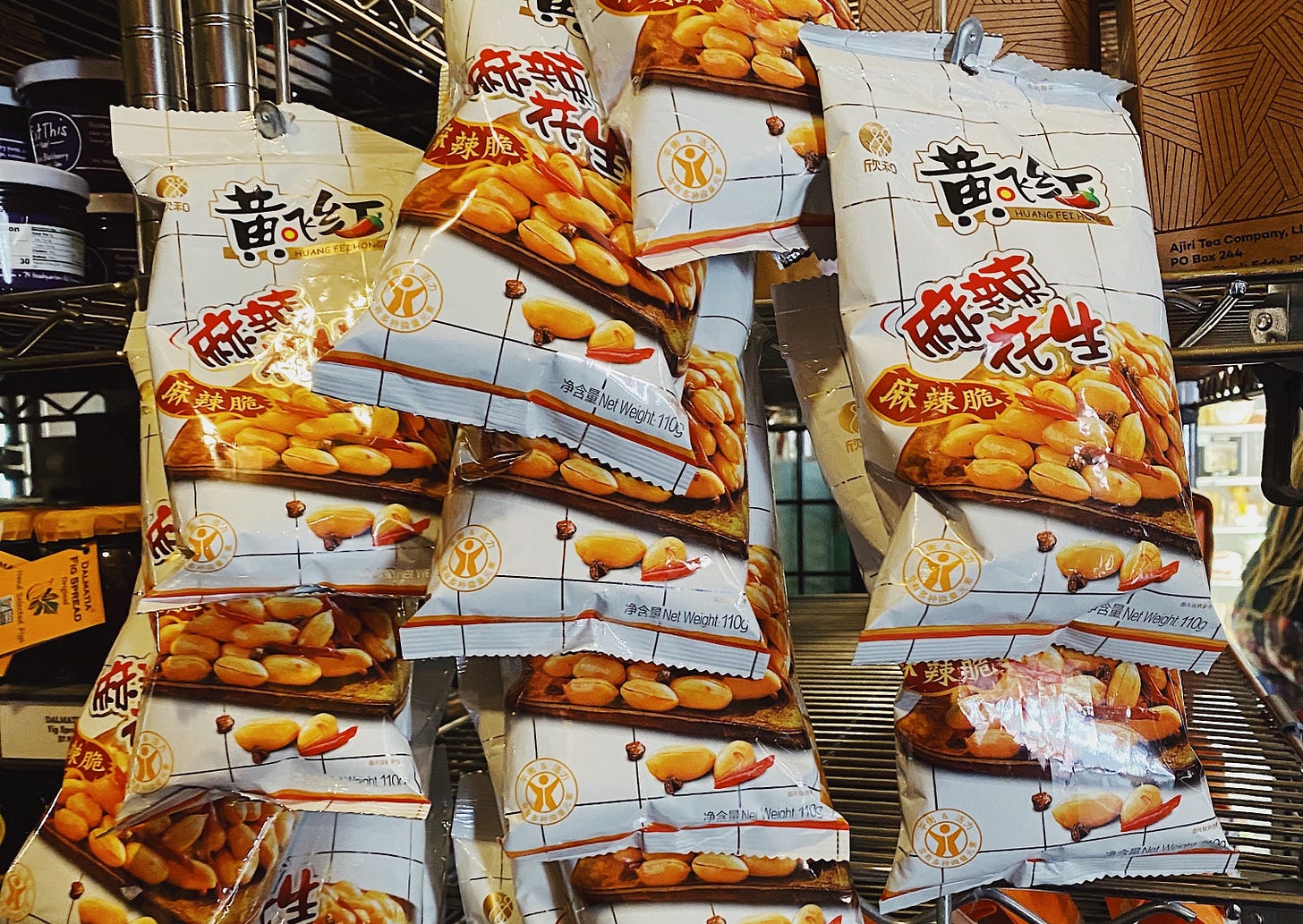 One nice yet dangerous part of being home all the time is you're in close reach to your chosen snacks. Here are some of my recent favorites. What are yours?
If you haven't seen the below thread, you're missing out.


What's Going On?
While the CARES Act provides notable relief to struggling restaurants and their workers, it surely isn't perfect. As it stands today, the stimulus plan will still leave operators in an economically tenuous position to re-open, and there is a lack of clarity around whether undocumented workers (who make up a sizable portion of the industry's workers) will be left out. Read Ryan Sutton on what the bill does and doesn't include, in Eater.

Andy Ricker's poignant post (below) is an important development in industry sentiment, and one that I agree with. Click through to read the entire note.
Friends in Portland, New York, Los Angeles, Chiang Mai, Bangkok, Hong Kong, Singapore, Australia, everywhere. We need to stay at home, all of us. We can keep on working to save our industry but we should not be exposing our workers to the dangers of this virus. RIP
@floydcardoz
🙏🙏🙏

This is super messed up. [Axios]

Lucas Kawn Peterson for the LATimes: We cannot let giant chains take over the restaurant space
But while small restaurants nationwide are forced into mass layoffs, or to shut down entirely, chains are eager for even more market share: Pizza Hut is hiring 30,000 new workers to keep up with demand. Papa John's is hiring 20,000. 7-Eleven, with 70,000 locations worldwide, announced on Friday that it's hiring as many as 20,000 new employees. Domino's, whose stock price has declined by about 12% over the last month as of this writing — modest, relative to the rest of the market — is hiring 10,000 new workers.

I love this celebration of New York's great restaurants from the Grub Street team: 101 Things We Hope to Eat Again Soon. My own list would include Wu's Wonton's wonton soup, Devil in Ganache cake from Mah-Ze-Dahr, Yemen Cafe's lamb soup, Lilia's mafaldini, and a cold martini paired with hot, crispy fries at Fanelli's.

American Chefs, a national group whose petition (Save America's Restaurants) I highlighted last week, has banded together with the Independent Restaurant Coalition, which is quickly becoming the industry's dominant lobbying force:
The IRC is founded on the simple belief that there is power to affect legislative change if we unite our voice. This national movement is quickly growing and EVERYONE is welcome to join. As small businesses across this country, we represent up to 4% of the nation's GDP.

For stories beyond New York, dig into Culinary Backstreets' "Coronavirus Diaries"—dispatches from around the world on how the virus has changed daily life. I particularly enjoyed Paul Rimple's account from Tbilisi, Georgia. Then read these first-hand accounts on Vox from servers, baristas, and bartenders across the country.

What's it like to lose your sense of taste and smell? In short: it sucks. [Eater]

Yep, I'm a cliché! Everyone is baking bread.
Bread for many in America is civilization, and when civilization seems to be breaking down, it's reassuring to mix, knead, proof, shape, and bake a little miniature relic of it at home — every day, until the hazy, unknown point when this is over.
Meanwhile, the French have been buying baguettes for the week and freezing them—"a gastronomic no-no in normal times" but essential to keeping safe and taking comfort in knowing that they have a supply. [Eater, LATimes]

Pete Wells puts on his reporter hat for a look at the collateral damage restaurant closures are having on suppliers' businesses, from fishermen to florists. Plug: Chef Collective and Baldor have expanded their home delivery ranges beyond New York City for anyone camping out at the beach or in the country.

Resy has added badges to its restaurant pages that link out to delivery and fundraising efforts.

Happy Cooking Hospitality (Joseph Leonard, Jeffrey's Grocery, Fedora, Fairfax, Bar Sardine, Simon & The Whale, The Jones) is taking an interesting approach to raising funds for staff. Instead of funneling cash, they're supplying groceries to their team, so as to allow them to put food on their tables. More from restaurateur Gabe Stulman below. Donate via GoFundMe here.
We can sustainably take care of more people for more time if we focus our resources on providing our colleagues with groceries rather than dollars.  We can leverage our ability to purchase food at wholesale pricing, on net 30 day terms, lean on the goodwill generosity of our closest vendors, and use whatever limited capital we have to buy groceries for our teammates.  We can volunteer our time and utilize our skill set to make meals for each other.  We are now setting up the Happy Cooking Grocery which will effectively function as a Food Bank for our teammates and their families.  We will provide our colleagues each week with fruits, vegetables, proteins, dairy and grains, raw and prepared foods as well as essential home needs.  We will do this all at no cost to them.  If we take this approach we will need a fraction of the amount of money we would need to otherwise provide everyone with cash.  

Founders Market, a startup that bills itself as "the new home for today's most exciting food brands and the founders behind them"—think Grady's cold brew, Pilot kombucha, and Hu Kitchen chocolate—has pivoted to focus on #FoundersGive, an initiative that supports healthcare workers on the frontline by providing them with healthy, high-quality snacks so they don't have to subsist on the vending machine. If you're involved with a CPG brand and want to get involved, you can do so here.

Merch4Relief is creating cool merch in partnership with great restaurants and selling, printing, and shipping it all for free. All proceeds go towards supporting the industry. Buy some on their site and keep up with new drops here.

Alright, it's time for the weekend—whatever that might mean. See you on Tuesday. 🧇
---
If you're into Some Meals Considered, tweet about it to spread the word!

Find all previous posts here.

Was this email forwarded to you? Sign up for real.

**Housekeeping** If you found me in your spam folder or your Promotions tab, please mark this address as 'not spam.'