Discover more from Some Meals
Writing on — and recs for — food and restaurants. Mostly in LA & NYC, sometimes elsewhere.
Over 1,000 subscribers
Provisions, provisions
Hunting for Thai ingredients in Chinatown
Saarim was making Thai food for dinner. A larb, a pot of fresh rice, and his favorite: pak boong fai deng, or stir-fried morning glory. A staple in Thailand, the side dish is salty, spicy, and super satisfyingly crisp and crunchy, thanks to the Southeast Asian plant's juicy stems. It's made with oyster sauce, fish sauce, and yellow soybean paste, plus Thai chilies, garlic, and a dash of sugar. Saarim didn't have time to shop for ingredients and so I happily volunteered. Bangkok Center Grocery is where you have to go, he said.
Located down a block-long Chinatown alleyway called Mosco Street, Bangkok Center Grocery is more bodega than supermarket. But like the cuisine it supplies, the store packs a punch. Shelves are stacked with salty snacks and liquid seasonings, buckets are stuffed neatly with dried noodles and boxed soups. In the fridge, plastic-wrapped turmeric root and baggies of kaffir lime leaves sit alongside packs of Thai sausage and dried shrimp while dumplings and frozen desserts fill the freezer. There's a selection of mortar and pestles, a necessary kitchen tool for anyone who cooks Thai food.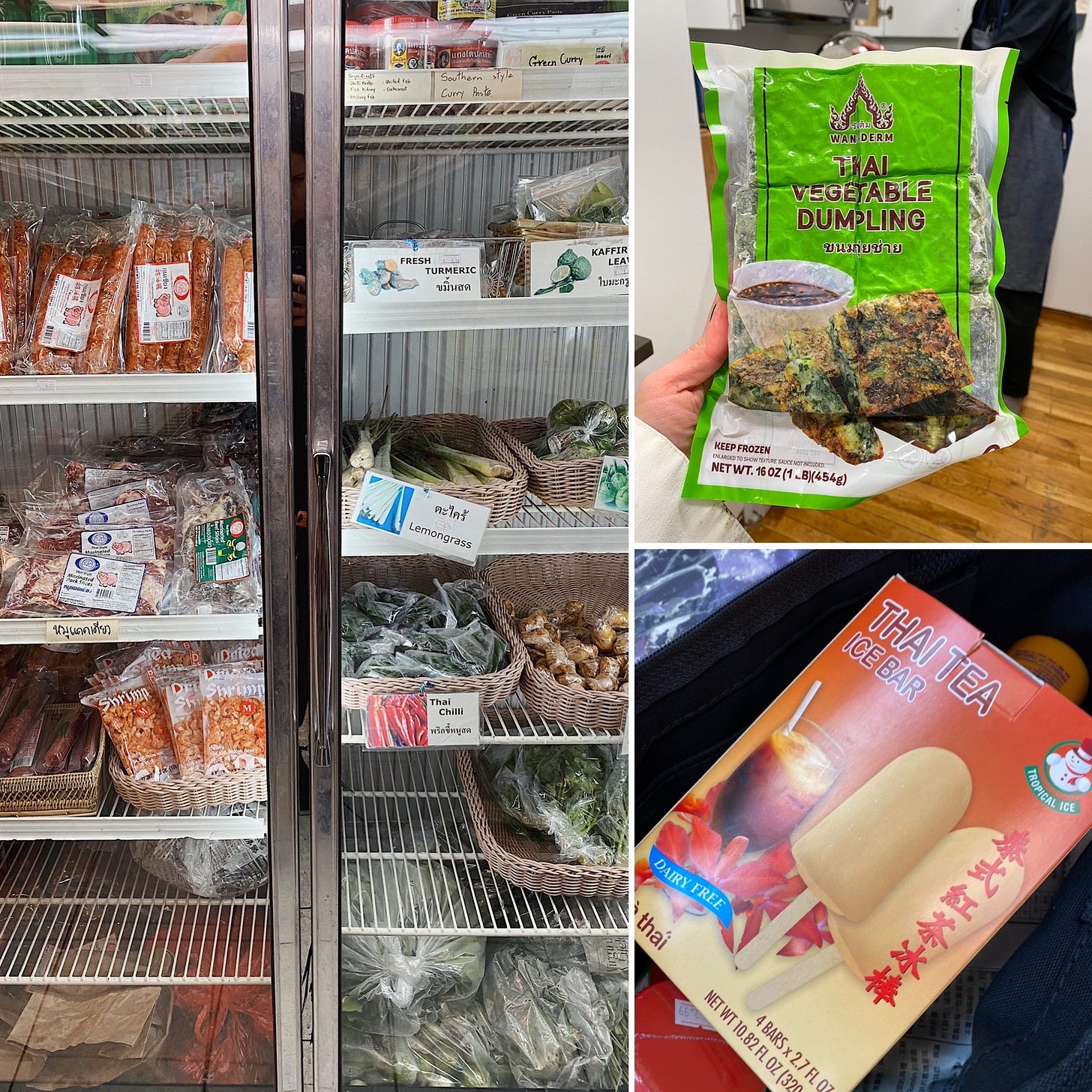 I grabbed what we needed—Healthy Boy soy bean paste, Squid Brand fish sauce, jasmine rice, Bird's eye chilies, cilantro—plus Thai tea ice pops, Wholesome black sesame bars, and glutinous square-shaped dumplings loaded with chives. "For dipping sauce: soy sauce, rice vinegar, and a little bit of chili powder," the proprietor told me as he scanned the dumplings during checkout. I thanked him.
"We're making pak boong fai deng," I mentioned. His eyes glazed over my selection of ingredients as he nodded in approval.
"You have oyster sauce?" At home, I assured him.
"Where can I find morning glory?" I asked, and he directed me towards East Broadway between Catherine and Market streets, to look for a produce shop about halfway down the block and slightly underground. I found it at #51.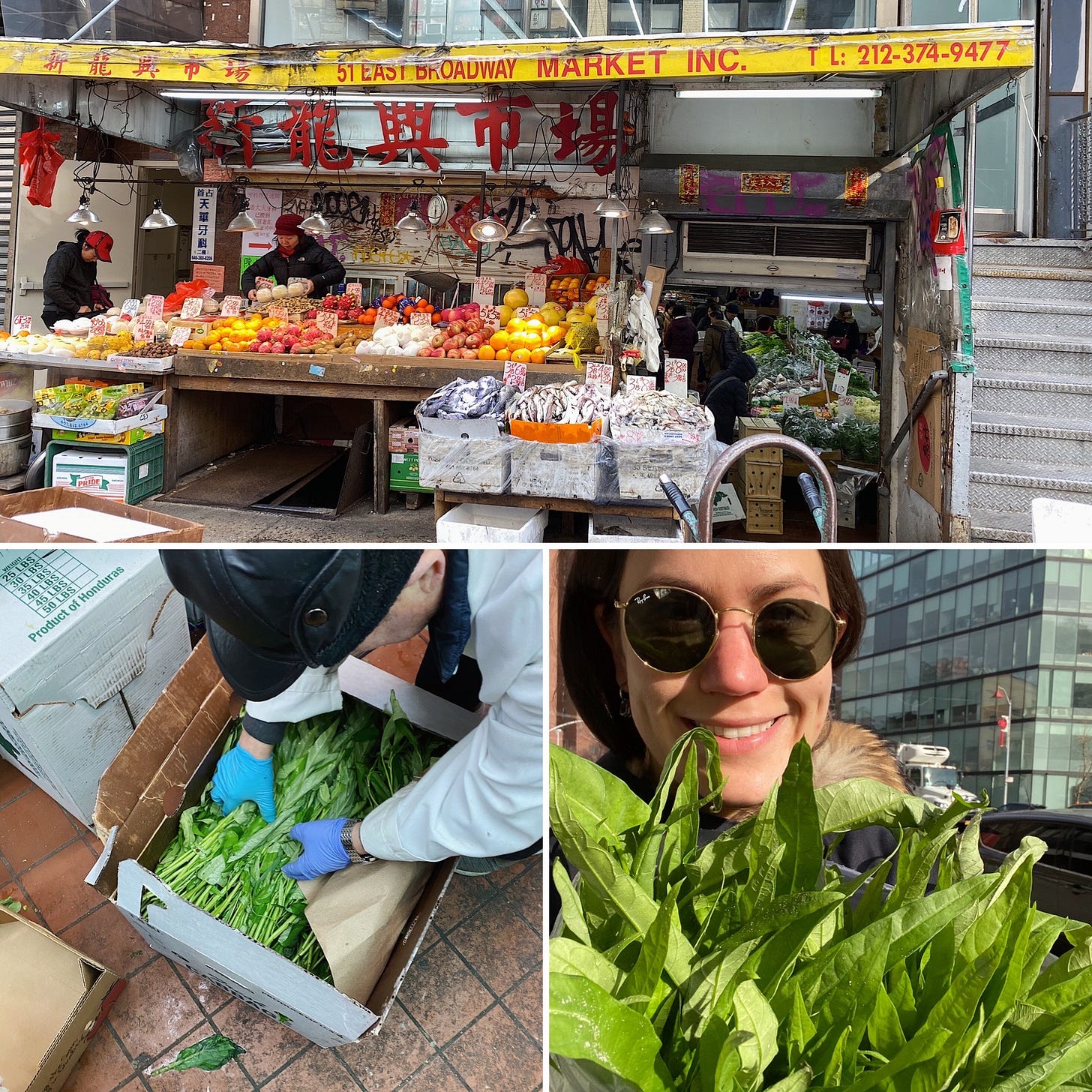 However, it turns out that morning glory is not so easy to get your hands on. The market employee I spoke to didn't understand what I was asking for so I pulled up a picture on my phone. "Ohhh," she said. "No more. Come back tomorrow morning." It was 2 pm in the afternoon and the dinner was tonight. So I went next door to the competing produce market, which might be known as New Lou Cheng Market Inc, although I can't be sure. I forgot to glance at its awning (or notice if it even had one). I approached a man in the midst of restocking greens, and showed him the same Google images photo. "We have," he said, "but expensive." I nodded. He pulled out a cardboard box from underneath the greens display, opened it, and there they were: beautiful bushels of water spinach. A few giant handfuls cost me $8. I walked out into the sunny winter day holding the tender stems, the long bright leaves tickling my chin as if it were a bouquet.
Kudos to Saarim, who cooked a delicious meal and served it with homemade prik nam pla, a signature fiery condiment comprised of Thai chilies, fish sauce, lime juice, and sugar. Readers, please send me tips on how to maintain a wok without going insane. We also need a new one — does anyone have a favorite brand?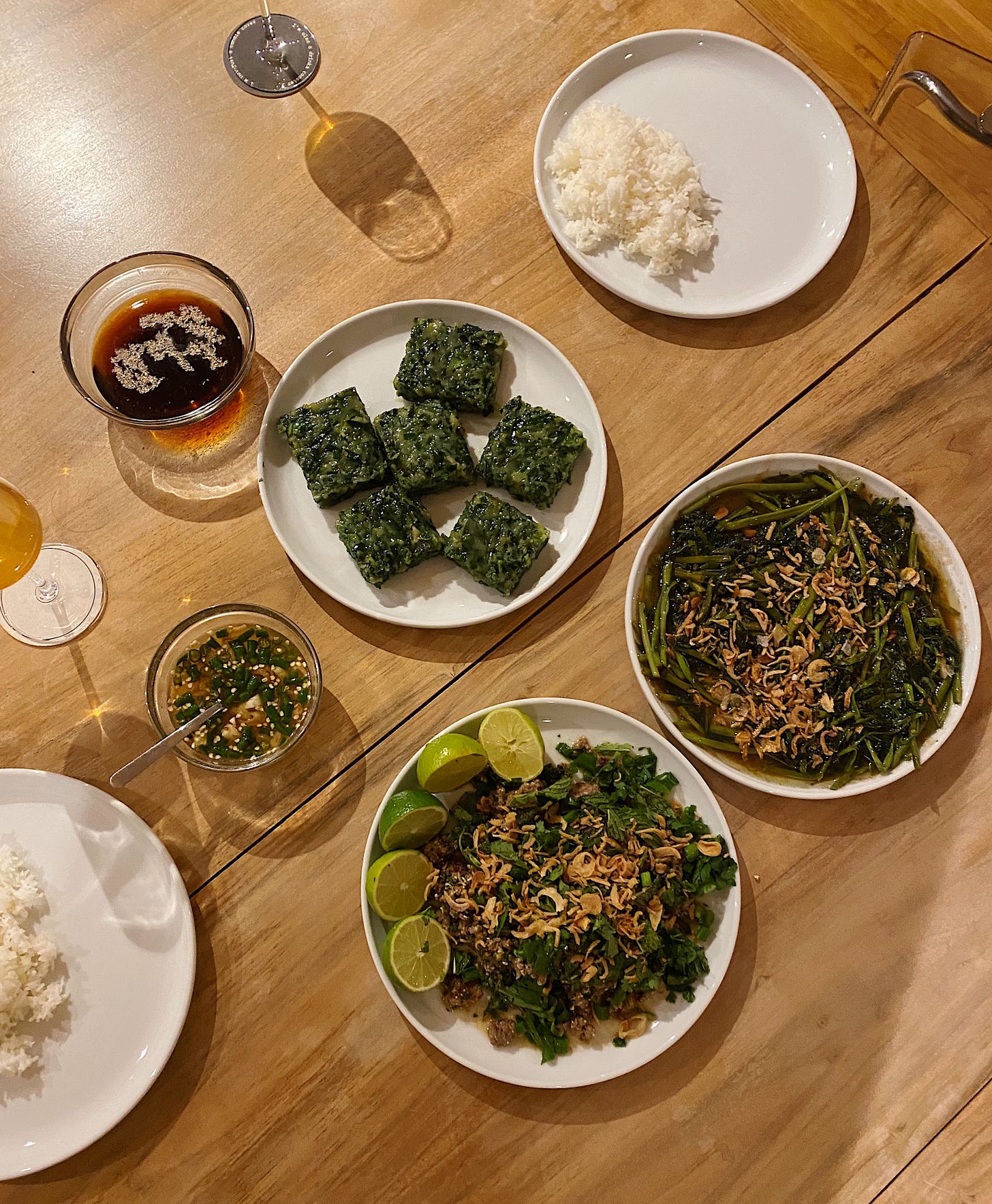 🌿
Bangkok Center Grocery
104 Mosco St, New York, NY 10013
(212) 732-8916


Blind Item
New section! I'll be surfacing quotes from friends and overheard, a mix of tips and funny takes. H/t John N. for giving me the idea.
"Recently I've been ordering mocktails, add vodka. They're more creative."



This week's reads



Some Meals Considered, Mapped
Follow the SMC Google list & use it as your dining guide. 🌎
---
If you're into Some Meals Considered, tweet about it to spread the word!

Find all previous posts here.

Was this email forwarded to you? Sign up for real.

**Housekeeping** If you found me in your spam folder or your Promotions tab, please mark this address as 'not spam.'