Discover more from Some Meals
Writing on — and recs for — food and restaurants. Mostly in LA & NYC, sometimes elsewhere.
Over 1,000 subscribers
New year, new diet
A fresh lens for eating out
I recently watched a documentary called The Game Changers and it inspired me to change my diet for the first time in my adult life. I now eat mostly plant-based; preferably vegan, oftentimes vegetarian, with the occasional indulgence of meat. I love meat and I will never give it up. I won't deny myself prosciutto, chicken liver toast, brisket for Rosh Hashanah. But there's no longer chicken in my Sweetgreen salad every day, pepperoni on my pizza, ground pork in my homemade larb. I'm not here to preach. But I will say that the journey has been peppered with new discoveries and go-to's. It's led me to experience eating in this city in a whole new way.
At Langkawi, a Malaysian restaurant in Sunset Park, the tofu is homemade. The sizzling preparation can be made vegetarian. And when you lift a piece off the bubbling savory liquid and bite through the spongey curd, the inside is pure custard. A true delight. Also spectacular is achat, spicy pickled vegetables with chopped peanuts and sesame seeds, and a rich curry vegetable casserole brimming with soft eggplant, taut string beans, satiny mushrooms, carrots, cauliflower, cabbage, broccoli, onion, and okra.
There's a new bougie diner in our neighborhood called Rosalu from the folks who run the popular coffee shop Bittersweet on Fort Greene Park. They serve pancakes, eggs, sandwiches, shakes, and two kinds of burgers—your classic cheeseburger and a vegan version made with Impossible meat. Drinks include espresso drinks (thanks to a fancy machine), matcha lattes, and kombucha. It's my cup of tea. The fries are good, the ketchup is Heinz, the oat milk is Oatly.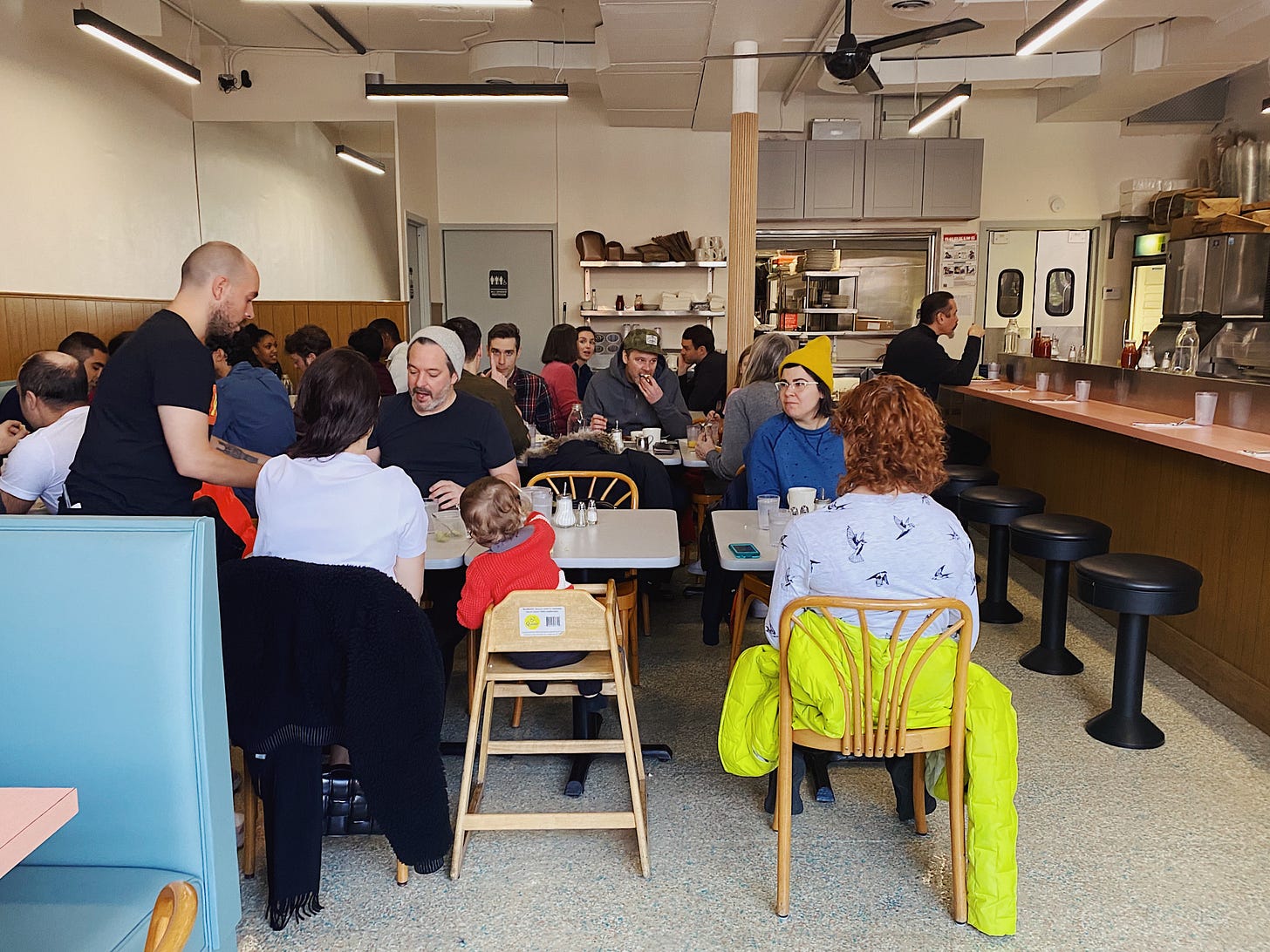 Inside Rosalu.

Greenberg's, the bagel shop the neighborhood so desperately needed, is another new addition. Since the true test of a bagel shop is whether they excel at your order, I had to go toasted sesame with scallion cream cheese on my first visit. The bagels are very good, the cream cheese is solid, and they even sell individual-sized cartons of Tropicana's best juice: orange-strawberry-banana. I am extremely pleased. Also on the menu are several varieties of BEC, including a vegan rendition.
If I find myself in South Williamsburg I'll always stop by the wholesome Turkish cafe Abracadabra for an Inca Warrior Power Cookie. Made of coconut syrup, coconut oil, maca powder, oats, chocolate chips, sunflower, chia and flax seeds, it's delicious and happens to be vegan and gluten-free. I also had lunch there last week: za'atar-marinated tofu with chickpeas and wild rice, roasted vegetables, cabbage salad, and a spoonful of zippy green hummus.
Did you know that Mission Chinese Food can do most of its menu vegan? And it's no less delicious: green tea noodles in a ginger-scallion sauce, forbidden mushroom rice comprised of chewy black grains and sawtooth herb, Taiwanese purple cabbage with toasted garlic, crunchy lotus rings and rice cakes glazed in sweet-sticky-sour-Sichuan sauce, chili-roasted peanut butter noodles, and the best—mouth-numbing mapo tofu made with yuba and dried mushrooms in place of fried pork.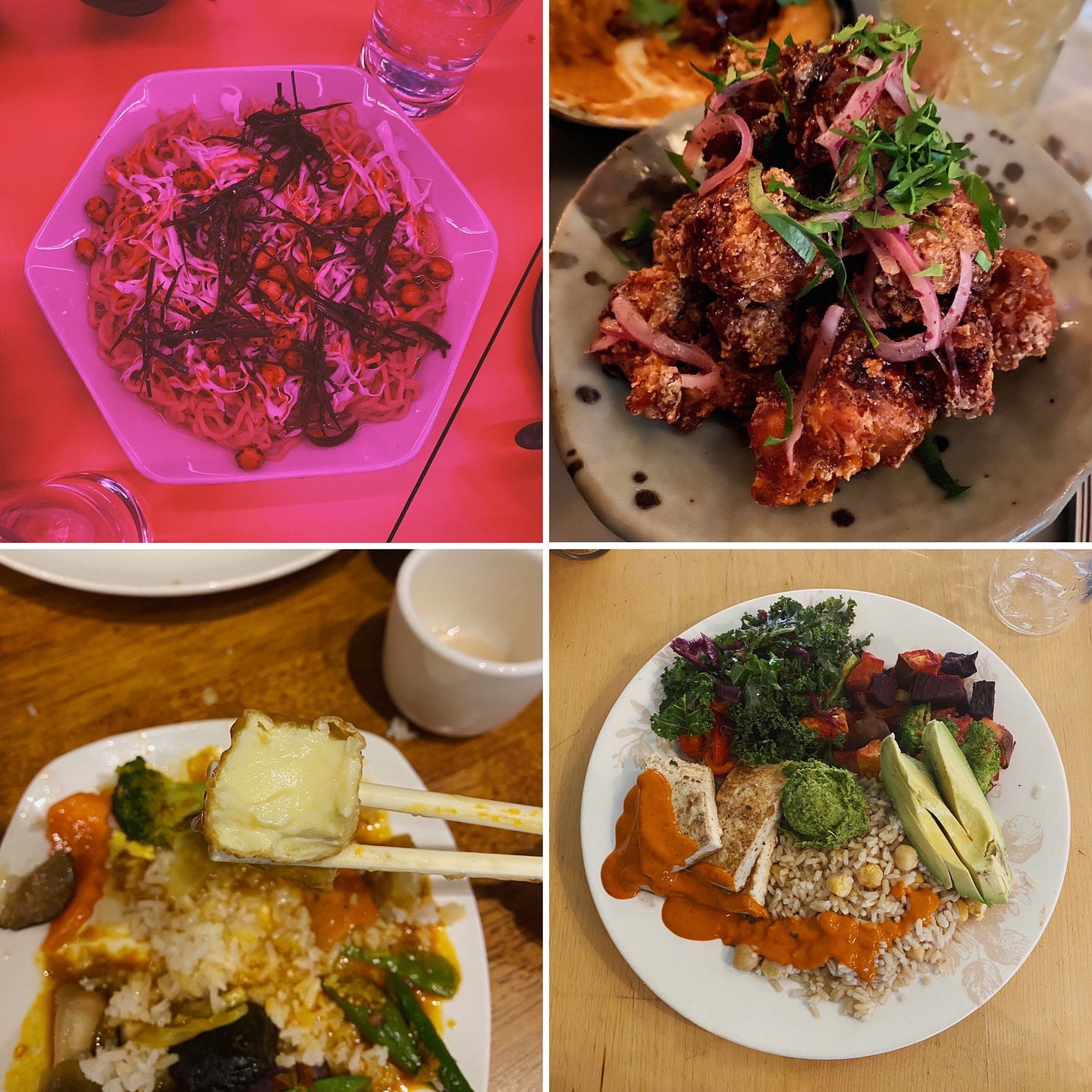 From top left to bottom right: Mission Chinese Food's peanut noodles, cauliflower shawarma at Miss Ada, Abracadabra tofu plate, tofu at Langkawi.

At Miss Ada, we ordered muhammara, the highly underrated roasted red pepper and walnut dip, and curry-scented hummus masabaha with lima beans and spinach. Crispy cauliflower shawarma came flavored with silan (date syrup), parsley, and aleppo and falafel were improved with feta cheese, Taggiasca olives, and green tahini. They also make the best bourbon hot toddy in town. It'll knock an incoming cold right out of your system.
When I happened to be in Carroll Gardens to visit my new baby cousin, I couldn't resist stopping by F&F for a slice of their glorious tomato pie—tangy, sweet, with a sensationally crispy bottom. I crave it almost every day.
abcV makes what's probably the most expensive dosa you'll ever pay for, but it's so worth it. It's thicker than your typical Indian crepe—pillowy, almost—and the batter is brilliantly fermented. Get it straight-up, served with sides of sliced avocado and fresh yogurt dashed with grassy olive oil. Sometimes, I'll add a fried egg. That's my favorite Manhattan lunch.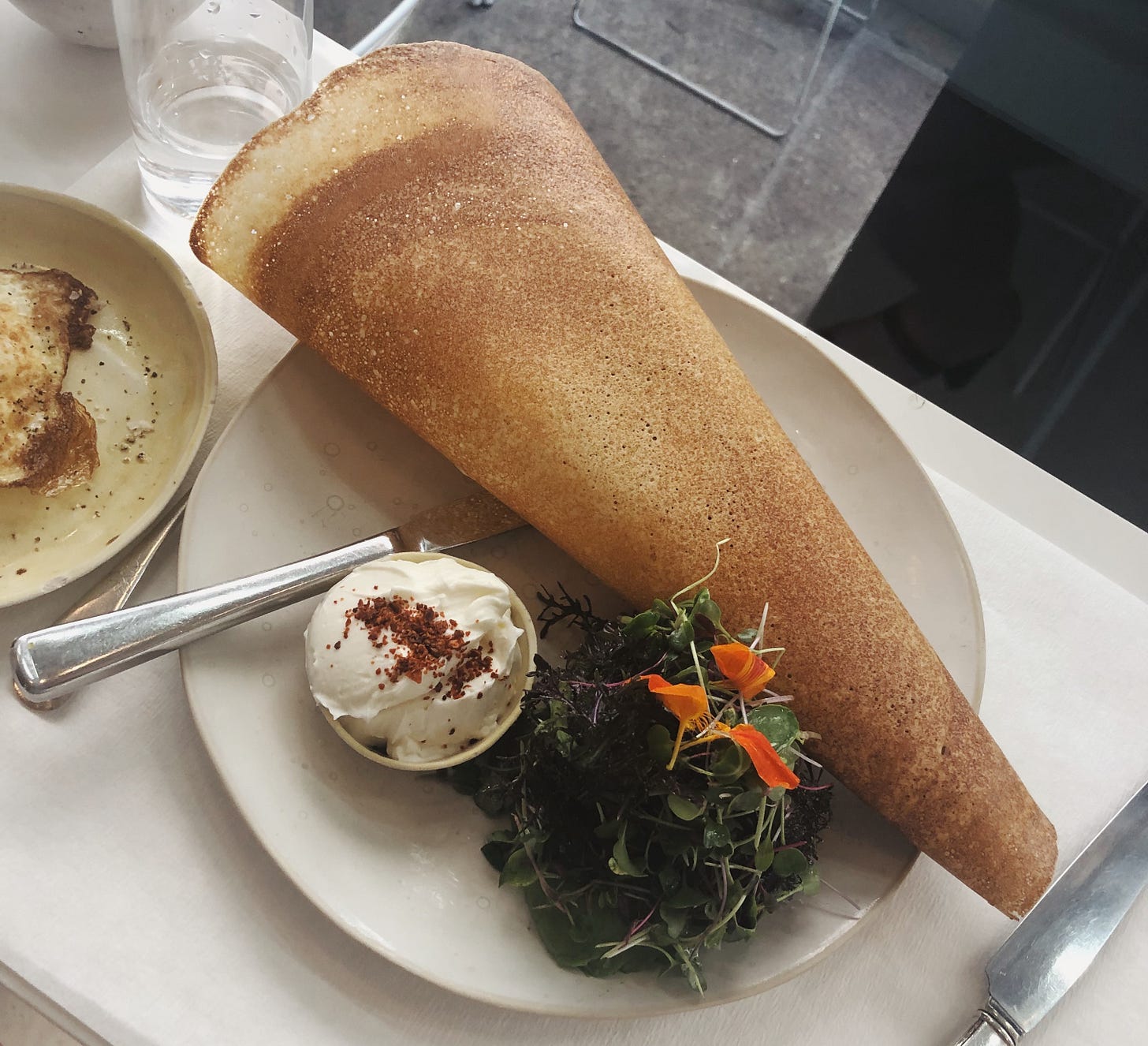 The dosa at abcV.

This is all to show how it's easier than ever to eat plant-based in this city, and I imagine it's the same for other major metropolises. Our options will only continue to expand and improve. But more so, it's a letter of recommendation to challenge yourself to think more about how you eat and what you're ordering, no matter the diet you choose to pursue. Do it because it's better for your health, perhaps, but mostly because it's refreshing. It opens up your palate and your mind.

🥦🍠🥒🥕🥬🍆
---
This week's reads
---
Some Meals Considered, Mapped
Follow the SMC Google list & use it as your dining guide. 🌎
---
If you're into Some Meals Considered, tweet about it to spread the word!

Find all previous posts here.

Was this email forwarded to you? Sign up for real.

**Housekeeping** If you found me in your spam folder or your Promotions tab, please mark this address as 'not spam.'