New Orleans, a Playbook
Four first-timers conquer the boozy, food-crazed city.
I'm happy to report that I've finally filled what was formerly a gaping gap in my resume with a trip to New Orleans. Last weekend, I headed south with a crew of first-timers: Saarim, Allison, and Ian. We sourced some stellar tips from NOLA obsessives and former residents (h/t Scott, Julia, and Ana Clare) and followed them with great success. Now, I'm sharing our playbook with you. Here goes.
Arrive in NOLA on Friday mid-morning.
First, stop: Turkey & The Wolf
This zany sandwich shop is very popular. Try to avoid weekend lines, and show up as close to opening (11 am) as possible. The wedge salad is great; the sweet potato sandwich—with morita romesco, whipped feta, basil, red onion, and red peppers on whole wheat—is a sleeper hit; and the kitschy, nostalgic decor (think vintage McDonald's plateware) rounds it out.
Up next: Willa Jean
It's a 35-minute walk to Willa Jean from Turkey & The Wolf—just enough time to work up an appetite for one of the bakery's famous chocolate chip cookies. You might find yourself skeptical upon first look, as they lack those coveted browned and caramelized edges. One bite proves you wrong. The cookies resemble Alison Roman's celebrated salted butter and chocolate chunk shortbread: brown-buttery in flavor with a moist yet sturdy texture and loaded with thin disks of three types of chocolate.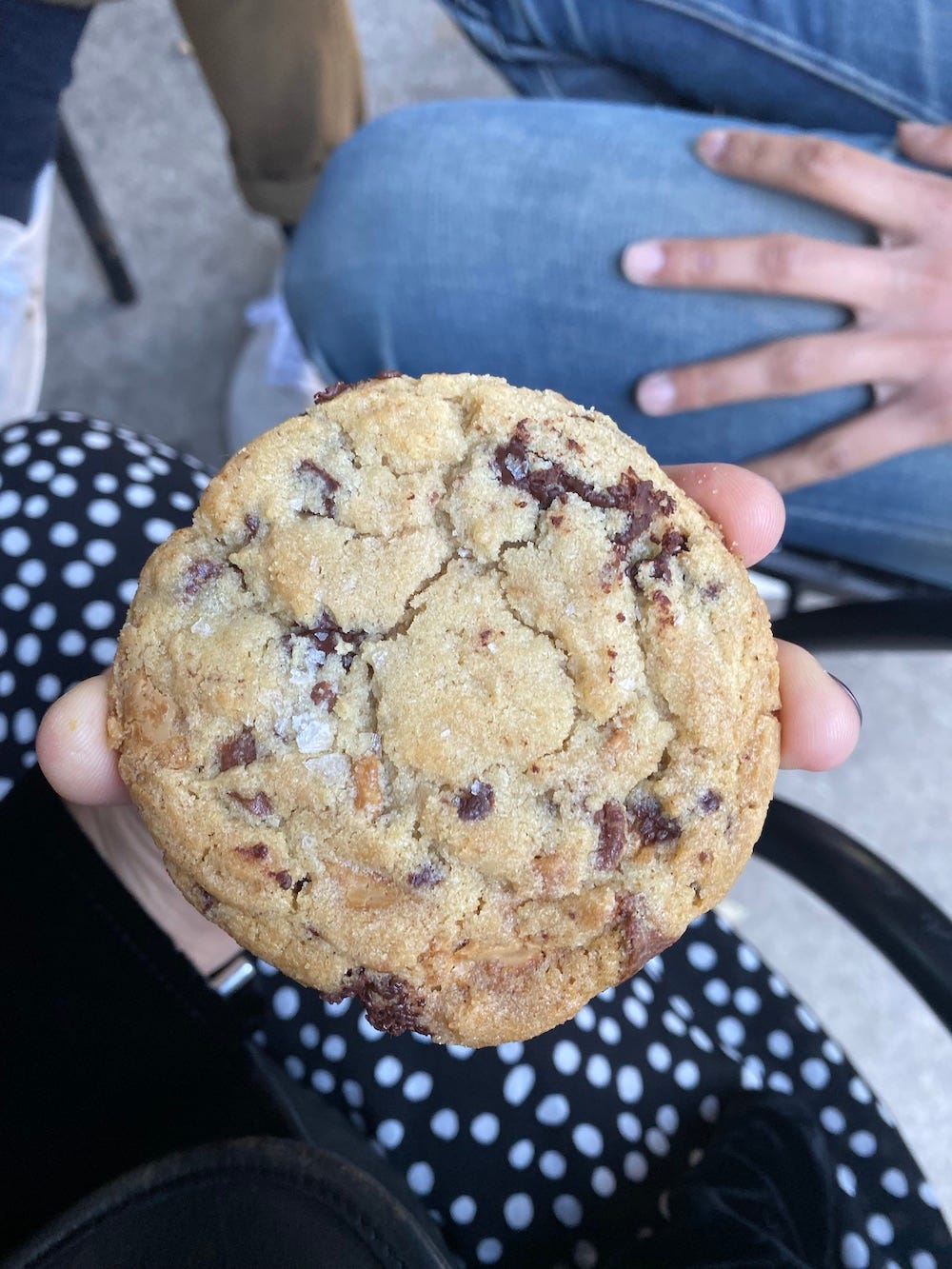 Head towards Marigny (where you are hopefully staying), meandering through St. Louis Cemetery #2 on the way.
Take a pitstop at Port of Call for a giant tiki drink to go. It's time to start imbibing. Keep walking east.
Fourth destination: Bacchanal Wine
This is everyone's favorite place, according to the many responses I received on my Instagram story. I get why. It's similar to Detroit's Motor City Wine, but cooler and more operationally sound. You enter through a wine shop and select a bottle and some cheese. Then, you have your wine opened and your cheese made into a board at check out, head back to the garden, grab some clean glasses, make yourself an ice bucket, find a table, and settle in. If live music isn't on already, it'll be coming soon. If only a place like this could exist in New York, everyone says, knowing it simply never will.
Dinner comes next, for which your options are many. We did Cochon, which I didn't personally love, so I'm skipping forward to day two.
First meal of the day: Willie Mae's Scotch House
Get to this institution as early as possible. It opens at 10 am, and as the morning rolls into the afternoon, the line ropes around and around. Don't worry about the bouncer's gun, he's friendly, and you're here for fried chicken, after all! Many say it's the best in the country and while I haven't had fried chicken all over the country, I'd be surprised to find anything better than what's served here. Toe carefully as you make your way to your table; the floors are slick with grease. And once you're seated, be patient; the food comes out slowly, but is well worth the wait. When the chicken arrives, use your hands to keep the shatteringly crisp, battered skin attached to the glistening and tender meat underneath. Tear off a piece of a breast or grab a leg, dunk it into Crystal hot sauce (and, if you're like me, ketchup), and let the salty, crunchy sensation melt in your mouth. You want corn muffins for the table, butter beans as your side, and an Arnold Palmer to drink.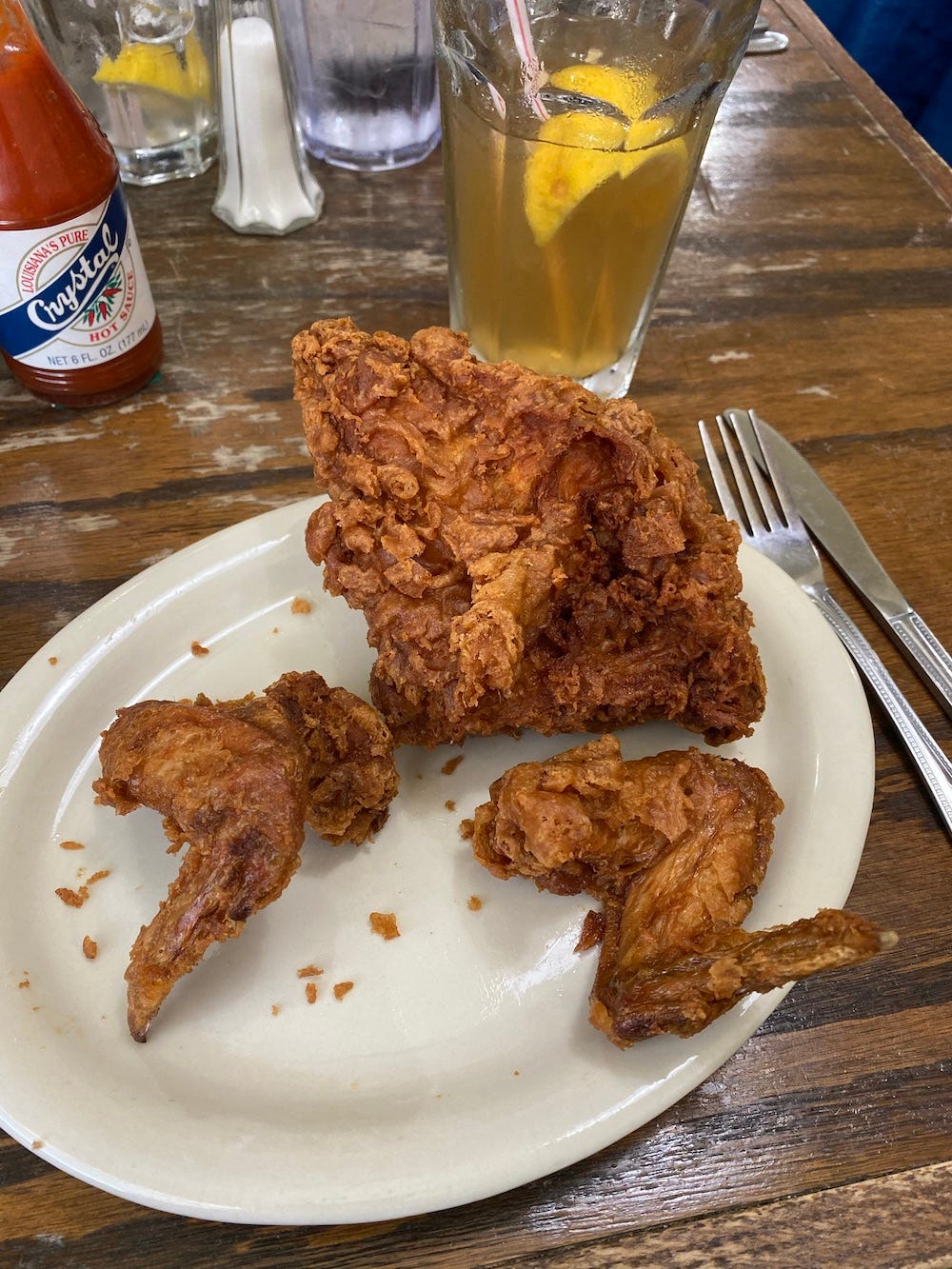 Follow up with: Pagoda Café
You might need a coffee to carry you through the rest of the day, and Pagoda is a local oasis only 10 blocks away. Order your preferred drink, take a seat at one of the teal-blue picnic tables, and wait for your name to be called.
Call a car to take you west towards Audubon Park. Try to climb the Tree of Life. Look out for giraffes over the fence. Then hop on the St. Charles Streetcar and head back in the other direction, ogling at all of the historic mansions as you ride. Get off in the Central Business District and find yourself back at Willa Jean for another cookie.
Aperitvo Hour at: The Elysian Bar
Peter and Paul is a beautifully renovated boutique hotel that was formerly a church and schoolhouse. In it sits this stylish spot for pre-dinner drinks. There's a dedicated section of the menu for spritzes, which is a good place to start because this is the beginning of a big night on the town. Enjoy them in the back garden, with stained glass windows as your backdrop.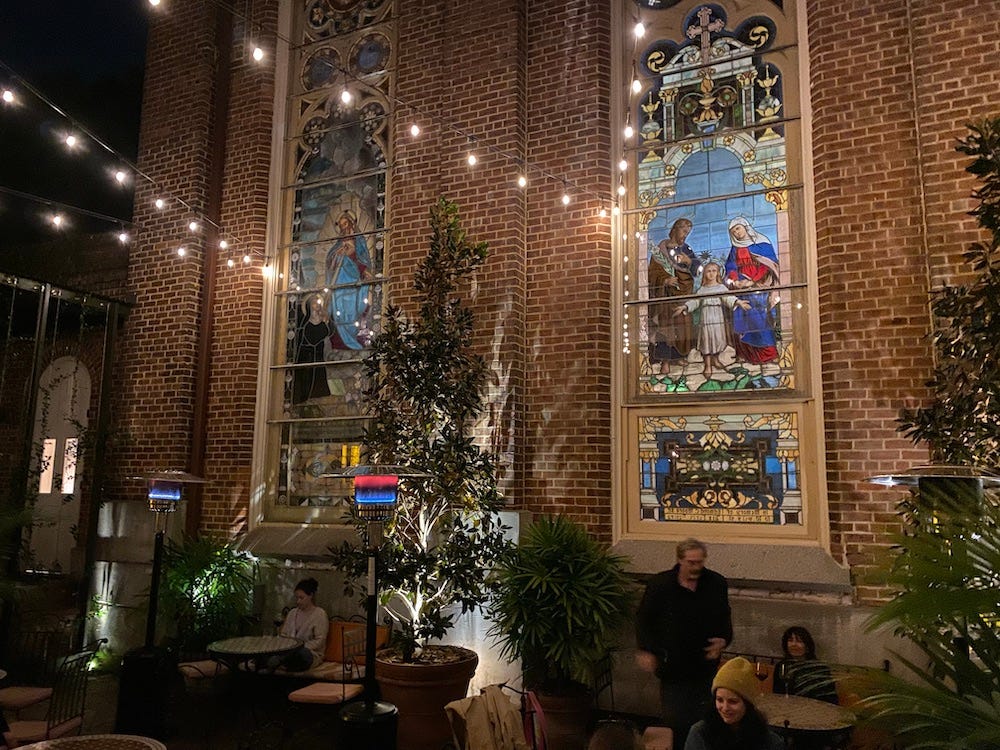 Maybe you still have time for another drink, before dinner? Mimi's is a staple Marigny dive bar, with cocktails, wine, and plenty of beers.
Dinner time: N7
N7 was strongly recommended to us by several people, none of whom were wrong. The restaurant is mostly outdoors, with heat lamps, colorful mismatched chairs, hanging lights, and lots of plants. In addition to the sophisticated Bohemian aesthetic, French-leaning share plates get a Japanese touch and natural wine flows. That mushroom tarte flambée!
Bar-hopping in the French Quarter: Start at Cane & Table for excellent cocktails and a cool vibe, then swing by R Bar and Chart Room, which are divey and fun.
1 am must: Café du Monde
The beignets are as good as everyone says. Creamy insides, crunchy exteriors, oozing with oil but covered in a carton's worth of powdered sugar to shroud it. Open 24 hours. Don't miss it.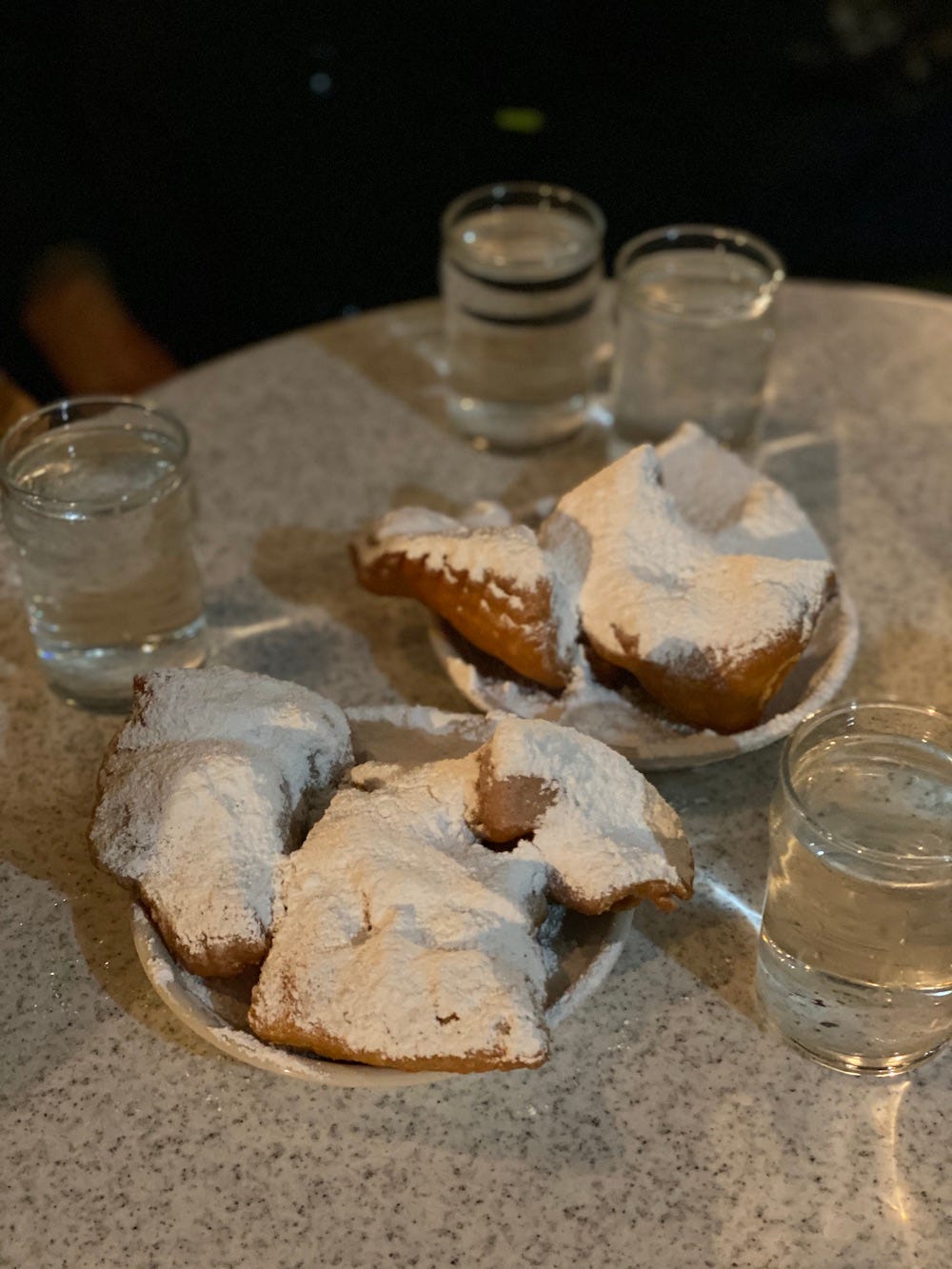 Finish the night at: Kajun's Pub
Now you're ready for karaoke. Put in your song immediately upon arrival. The queue is real.
Sunday brunch: Galatoire's
Fun game: try to guess which tables are regular reservations. Look for folks with grey hair updos and tweed blazers. The super Southern fare is somewhat forgettable, although I'd eat the praline banana bread pudding again, along with café brûlot made tableside with the appropriate amount of pomp and circumstance.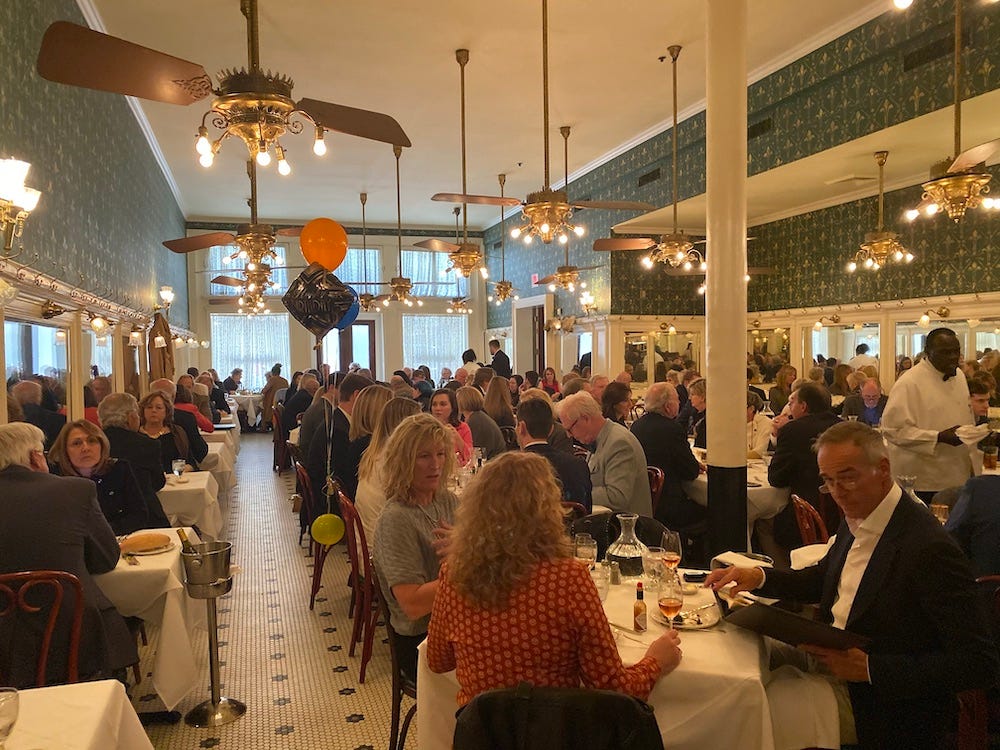 Shop around or hit a museum—Blue Dream Vintage, Contemporary Arts Center, and the Ogden Museum of Southern Art are a few ideas.
Back to Bacchanal, because it's the best.
The final dinner: Bywater American Bistro
The latest restaurant from James Beard Award-winning chef Nina Compton is a lovely locale with a wide-ranging modern menu rooted in New Orleans flavors. Super friendly service and local art on the walls add to the appeal. We loved the spaghetti pomodoro and the jerk chicken rice.
Catch a show (if you have any energy left): On Sundays, the Hot 8 Brass Band plays at the Howlin' Wolf Den. Buy tickets online or at the door, it's a good time.
Last but not least: Domilise's Po-Boys
You can't leave NOLA without eating a po-boy, so make it your last stop before heading to the airport. Domilise's is a female-owned and run spot, and the ladies who take your money and make your sandwiches are stewards of hospitality. Opt for the roast beef or the shrimp with swiss and gravy over oyster. Get your Zapp's voodoo chips at the bar.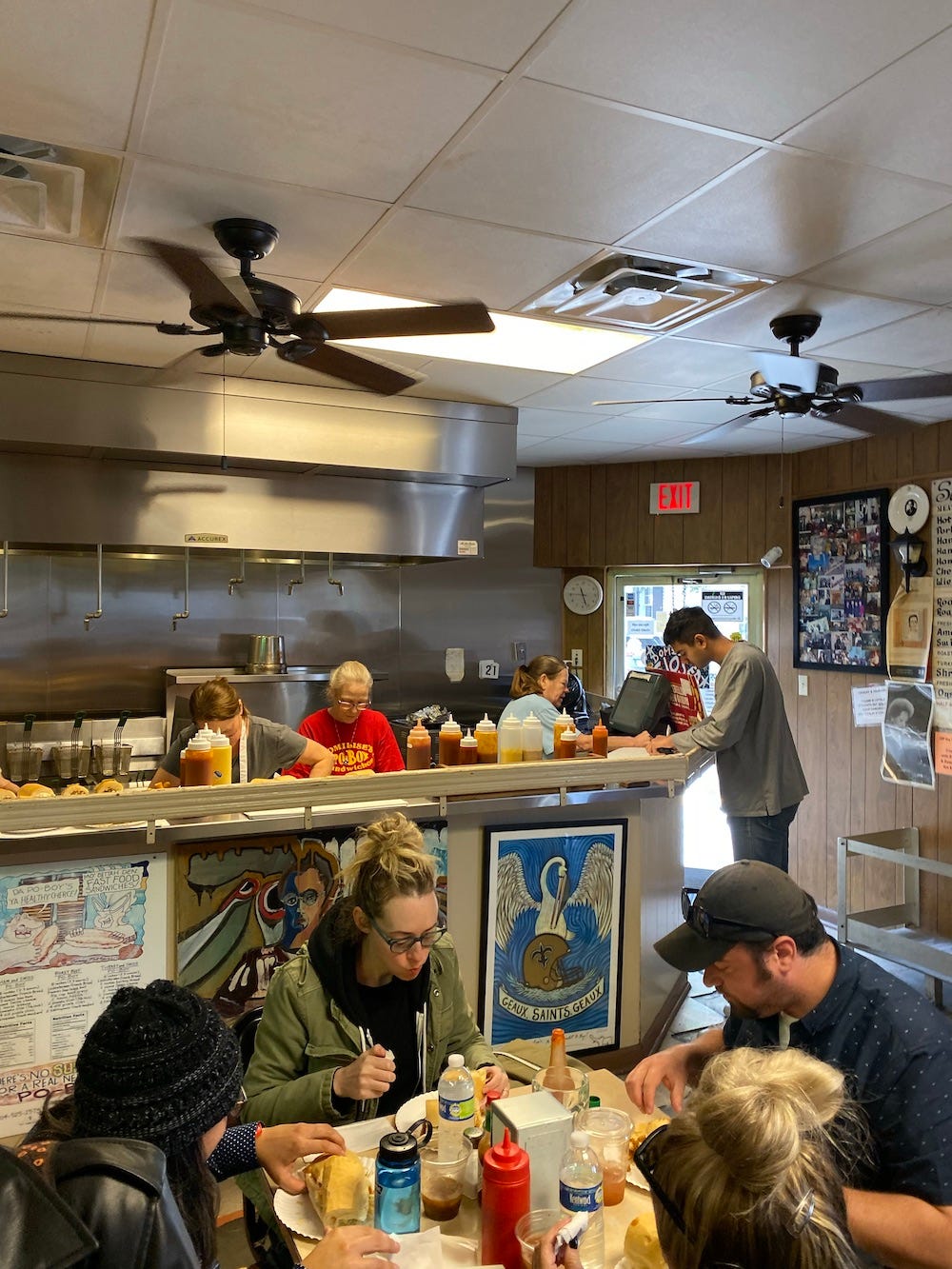 Voilà.
🤪🍹
---
This week's reads
---
If you're into Some Meals Considered, tweet about it to spread the word!

Find all previous posts here.

Was this email forwarded to you? Sign up for real.

**Housekeeping** If you found me in your spam folder or your Promotions tab, please mark this address as 'not spam.'