Discover more from Some Meals
Writing on — and recs for — food and restaurants. Mostly in LA & NYC, sometimes elsewhere.
Over 1,000 subscribers
My kind of meal kit
Five stars for the Ko burger at home
I mentioned Momofuku Ko's burger kit in the Try This section of last week's newsletter, but I figured I'd devote more words to it this week, as I keep thinking about how perfect of an experience it was to enjoy.
I'm not now nor have I ever been one for meal kits. I like to go to the grocery store, or at least shop for my own ingredients online. I also like the freedom of choosing what I'm in the mood to eat each night, whether I'm cooking or not. If I do plan to be in my kitchen, I'd rather utilize the NYT Cooking app or page through one of the many recipes I've saved or cookbooks I own, as there are so many brilliant cooks who I'm interested to learn from. A meal kit service promises convenience, but it also locks you into many dinners crafted by a specific chef or team of chefs.
A meal kit created by a certain restaurant whose food I already adore is more interesting to me. I like the idea of being able to make a dish I love at home if I can't enjoy it at the restaurant, but if it's available via take-out or delivery, I'd rather just order it fully made. The exception to this is when a dish doesn't travel well—such as a burger.
Momofuku Ko is an excellent restaurant that I've written about before. After going dark for many months, the team recently launched delivery and pick-up via Caviar from Thursday through Saturday, 4 – 8 PM, so that diners can enjoy their classics (cold fried chicken, duck pie) along with some new, playful dishes like black pepper & parm doughnuts and spicy tomato pizza. All of that comes ready to eat. The burger kit, however, requires a bit of work from home.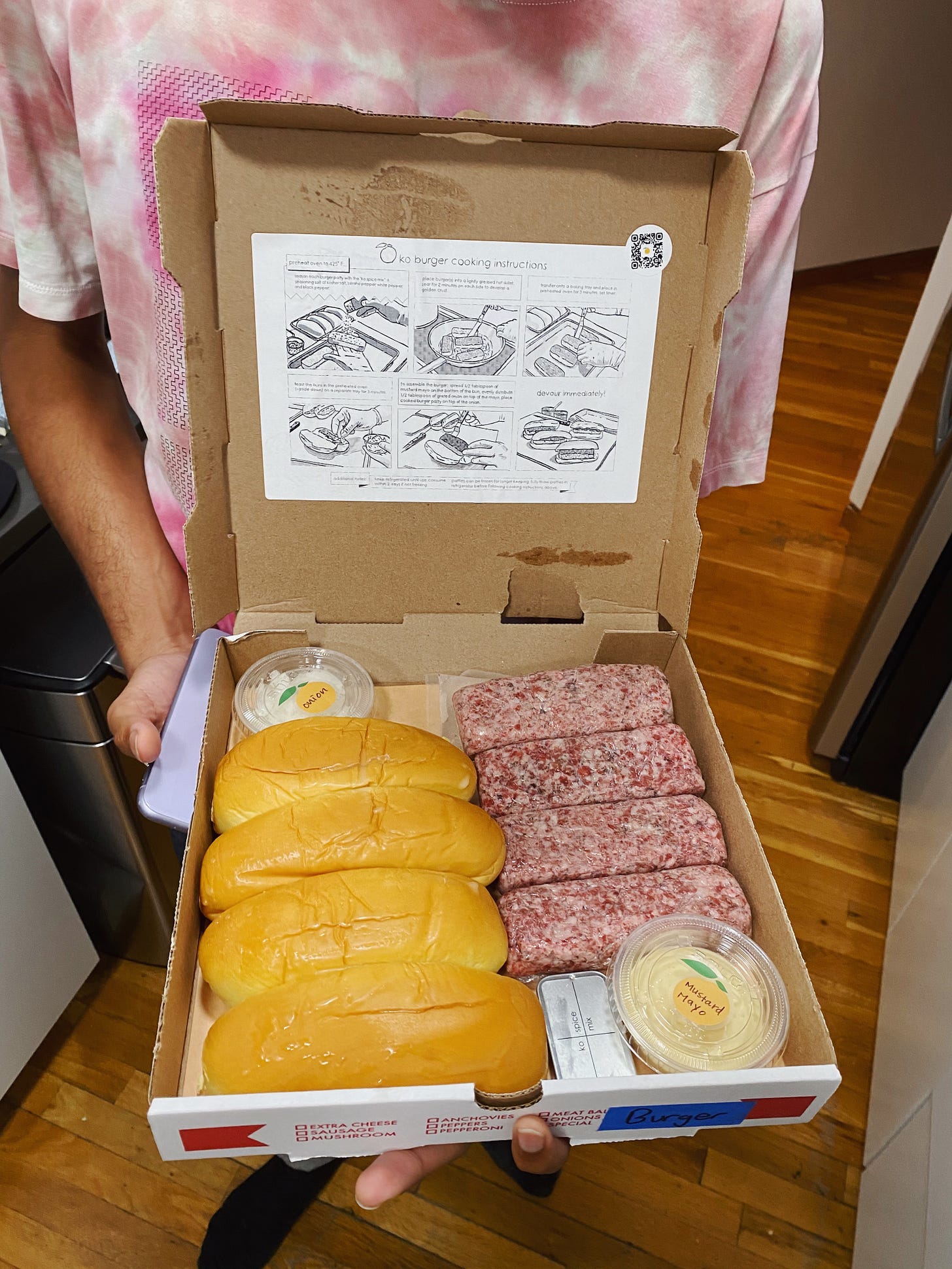 In a pizza box, you get four long-shaped, dry-aged patties; a little tin box of "Ko spice mix" (kosher salt, sansho pepper, white pepper, black pepper); four Martin's potato rolls; and portioned out condiments—mustard-mayo and grated white onion. Pasted underneath the top of the box are illustrated instructions to preheat your oven to 375 degrees, season the patties, add the burgers to a lightly oiled pan and sear each side for two minutes, transfer them to a baking tray and slip in the oven for three minutes alongside the buns (to warm), then spread mustard-mayo and sprinkle onions on the bottoms of each bun before dropping the patties on top and devouring the sandwiches immediately.
The whole ordeal takes less than ten minutes and the result is a burger—which is fantastic, I'm talking best in the city contender—that tastes just as it should if it were served to you in a restaurant.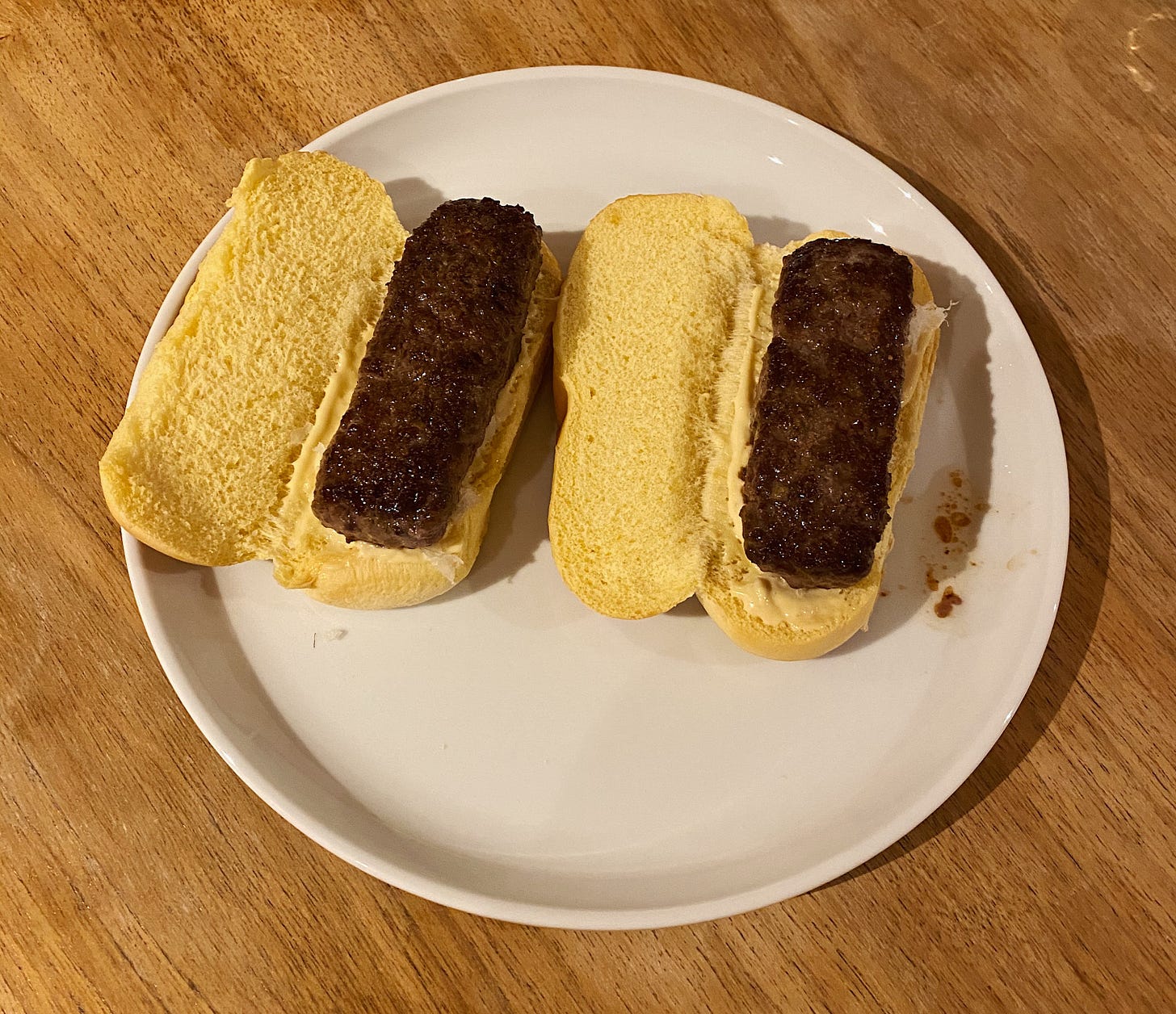 The pandemic rages on with no vaccine in sight, but I still want to eat great food from great chefs. I don't want to cook from scratch every night. You know how I feel about outdoor dining. Yet with take-out or delivery, we miss out on (or submit to shitty versions of) dishes that need to be consumed immediately for the utmost pleasure. While you won't sell me on any full-blown meal kits, this here is a fun, easy, and delicious solution I can get behind.
---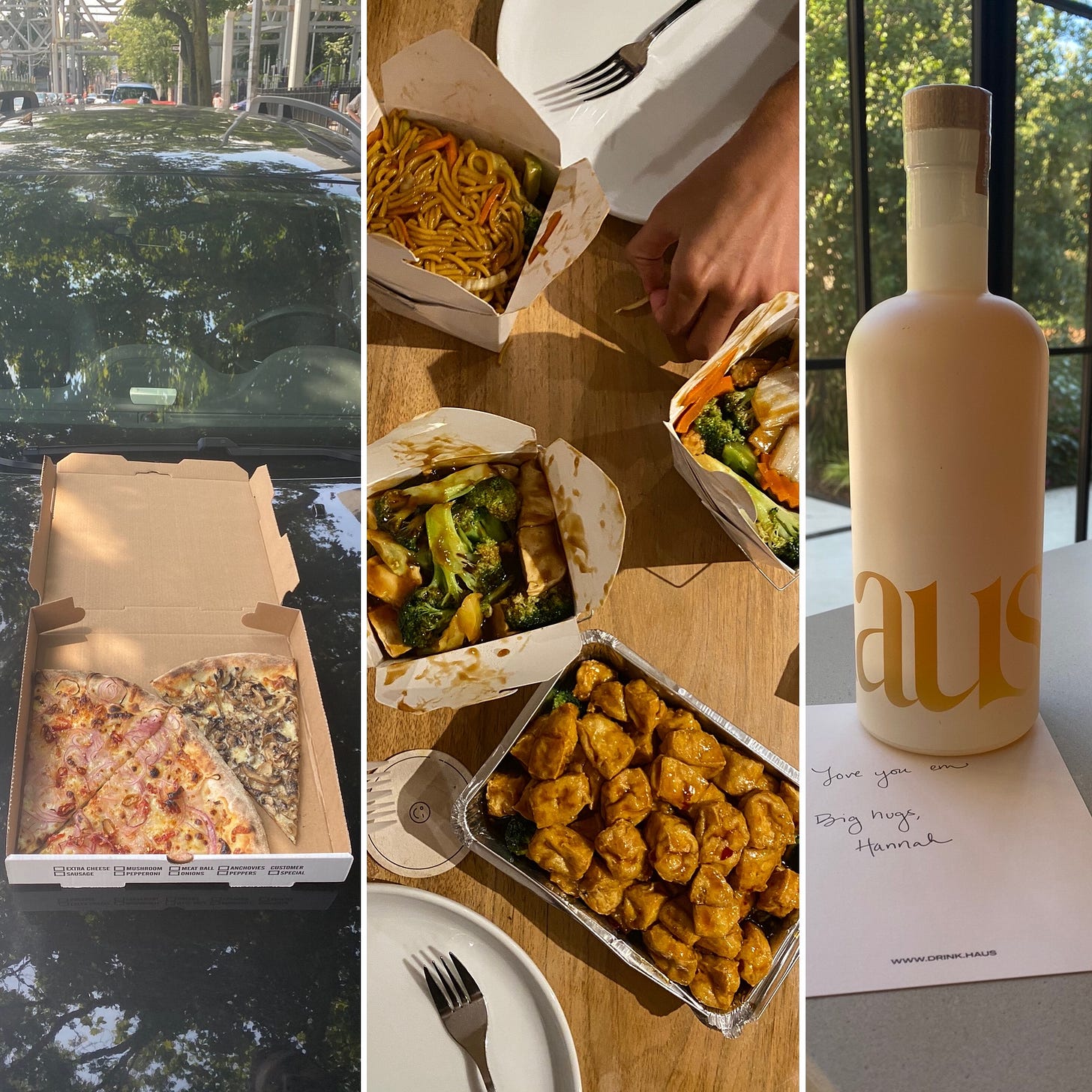 Try This
Ordering from your local Chinese take-out spot (I had never even tried New Peking on Classon & Lafayette until Carla recommended it, but I can assure you I'll be getting tofu with broccoli and black bean sauce again and again) (Center)

Eating fresh, hot pizza slices off the hood of a car (Left, courtesy of F&F)

Haus Ginger Yuzu with a shot of vodka or gin on ice (h/t Hannah for gifting me a bottle) (Right)

Cocojune's vanilla-chamomile flavored yogurt
Read That