Discover more from Some Meals
Writing on — and recs for — food and restaurants. Mostly in LA & NYC, sometimes elsewhere.
Over 1,000 subscribers
More than a loaf of bread
A conversation with Carla Finley of Apt2Bread
For the first time in SMC history, I'm publishing an interview today! "Interview" is a bit of a formal way to describe the conversation I had on Thursday morning with Carla Finley, the baker behind Apt2Bread (pronounced "Apartment 2 Bread") and a member of my local community. I first heard about Apt2Bread on Instagram, eagerly ordered a freshly baked sourdough boule, and then realized that the operation was housed in a home kitchen just five blocks away, which was where I'd be going to pick it up in a couple of days. The loaf was fantastic. I envied the height of its rise—something I haven't quite mastered in my own home baking practice—and I was obsessed with her elegant, s-shaped scoring. Carla is a professional, after all.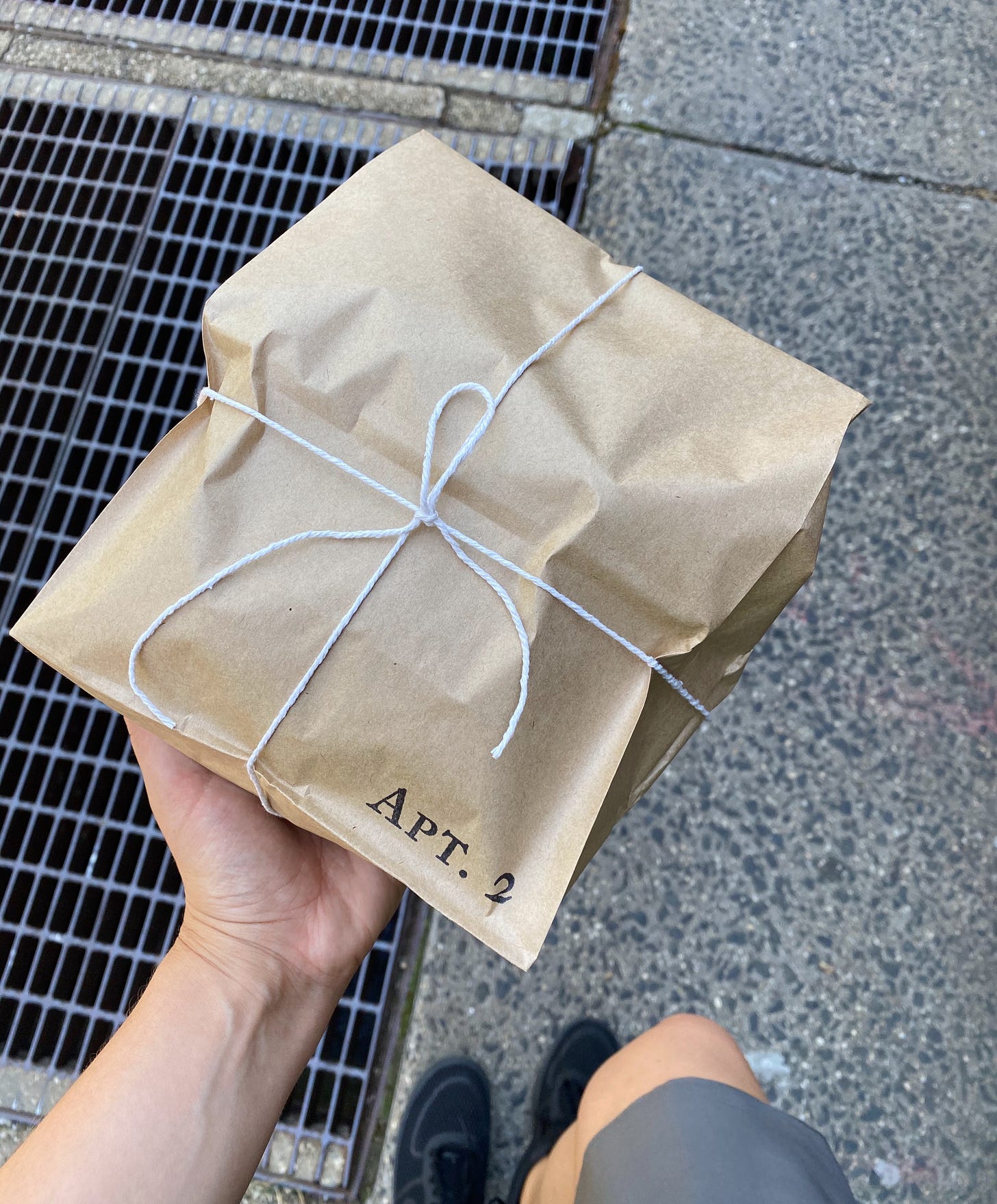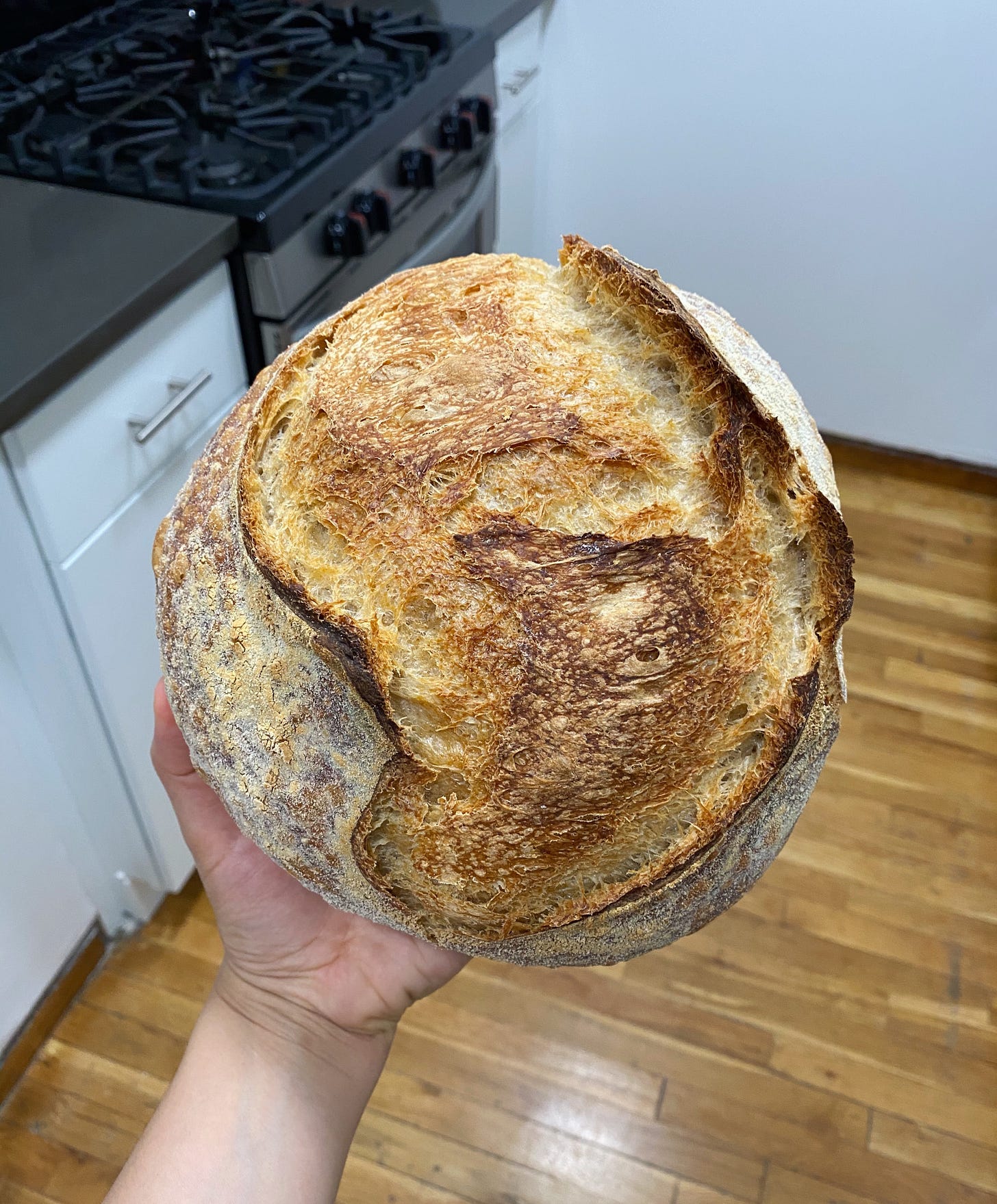 A week or so later, she DM'd me to purchase one of the stickers I was selling on Instagram to benefit Critical Resistance. The morning after I swung by her place to drop it in her mailbox, I woke up to this post:
Something clicked for me at that moment. The shifts I've been noticing and the ideas I've been talking to like-minded friends and colleagues about—the invigorated sense of community sparked by the pandemic, and the potential it carries to drive the future of not just food and beverage, but business, political engagement, and everyday life—this was it.
I asked Carla if she'd be up to take a walk around the neighborhood and chat about baking bread, feeding the neighborhood, and what comes next for the food world. She instantly said yes.
Here's our conversation, edited for conciseness and clarity.
---
Emily: I'm curious, as a professional baker, how did you react to home baking taking off in a big way at the beginning of the pandemic?
Carla: I hate to be that person, but there was a sigh that came out of me. I mean, I guess it's a great thing. The one thing I worry about is that it can become really trendy and it has, and arguably, maybe that's why I got into it a year ago. But I feel like it can just blow up into a thing that kind of takes away from the art of it and the enjoyment of it. That was my only concern.
I think for someone like myself, who's very meticulous and detail-oriented, it was a rewarding project, especially since we had all this time. It was fun, but I definitely hit a point of fatigue. Also, in the beginning, I was with my whole family so there were more people to eat my bread. When I got back to the city, I quickly recognized that there's much better bread being made by amazing bakers that I could so easily get. 
In that vein… what's your background, prior to Apt2Bread?
So my background's kind of unique because I was a professional baker in my early twenties, actually high school is when I started baking, on an apple orchard in Texas. I'm from Texas. I went through college baking at a small, bakeshop in Austin, and then I baked for about a year after that. When I moved to New York in 2013 I did some trails here and there for pastry, but then I decided I wanted to get into restaurant operations and learn the business side of things. I worked at a small [hospitality management and consulting] group called Public House Collective. Specifically, I took on their events program at the properties and I loved that. I went from there into private event planning with Andrew Carmellini's group. And I did that for three years. I was a private dining manager and salesperson between the clients and all the chefs. But then I really missed the kitchen, because I was always in the kitchen, working with the chefs and planning menus and stuff like that. And specifically, sourdough was something that I had always thought about and researched. In January of last year, I realized that it might be my dream and that it was time to actually give it a go. 
Had you made sourdough previously?
Yeah, I had tried at home a couple of times. I knew it was this crazy process, but I wasn't sure if I should go to school. I started applying for jobs to see if I could get my foot in somewhere and just learn. Last year I got accepted to a program at San Francisco Baking Institute but then at the same time, I got a job at She Wolf. I figured it made more sense to just go work for the best sourdough people ever. So I was there for like nine months. But back during that time I was looking for jobs, I also trailed with Il Buco and had a great time with their head baker, Sheena Otto. The cool thing about Sheena is that she gives every female applicant a trail. She had already filled the role but I asked her to keep me in mind. And this past winter, when she had an opening, I moved over to Il Buco Alimentari, which is really what I wanted to do. At She Wolf I learned so much, but it's super volume-based. We're churning out bread like crazy, and at Il Buco it's very small production. I could kind of hone in a little more, I could handle the oven and the mix myself, it's a small space. So I was there when COVID hit in March. I've really only been professionally breaking bread for a little over a year.
Did you immediately jump into Apt2Bread? How did it come to be?
My first order was on April 1st and I got laid off on March 16th. That was the day it all went down in New York. A friend of mine was like, "I would buy your bread. I think you should bake. And I think you should start selling it." It just came out of a need of like, what are we going to do? What's going on? I needed to continue using my hands. That's what I did every single day. It feels really good to touch dough. I had to keep that normalcy and I knew how to do it. I realized I could totally do it at my house. At first, it felt daunting, but then it became pretty normal. And then it caught on so much that I thought, 'okay, I need to probably separate this.' Because I was selling through Instagram and Venmo transactions. I created a name and a separate account, and from there it just grew. I got my friend to do my website. Another friend of ours wanted to do a commercial for his reel.
Wahhh!
@apt2bread
has a COMMERCIAL! I am so psyched and grateful for this. My very first order was on 4/1 and now we're here. Much love to this team for capturing me in my kitchen, my favorite place in the whole wide world.
Director: Casey Sincic
Cinematographer: Justin Fischer
Producer: Brenna Haragan
Editor: Igraine Welty
Color: Steven San Miguel
Flame: Tim Farrell
Best Boy w/ Hat: Gio
Are most people buying bread a la carte or do you have a lot of weekly subscribers?
I have about 12 to 15 subscriptions. That's great because it's guaranteed income, first of all. And it keeps me locked in with these people. A lot of them have been customers from the beginning, so they're very loyal. And then I do have one-offs.
I know you do rotating specialty boules, like olive and sesame. Are there other breads that you're excited to try that you haven't yet, or are thinking about adding into the rotation?
Totally, there's a lot. I'm kind of bad about carving out time for myself to test and perfect my stuff. I'm not one of those people that tests recipes 40 times. I just don't have the time or the space. But I have a three-seed loaf that I really want to introduce—it's flax, millet, and sunflower—and I really want to go more into the whole wheat game on that, and maybe use a stiff starter as opposed to right now, I use 100% hydration white starter on everything, for production purposes. I'd love to be able to test something like a rye, open it up a little more. I'd also love to do baguettes. That's kind of my next venture because a chef that I used to work with started ordering five loaves every Saturday from me, and now he's asking if I'd make him baguettes.
Since you deliver to a lot of Brooklyn, do most customers get deliveries or do more come to pick up from your stoop?
Most people pick up because I had to raise my delivery fee from $3 to $5. It was getting to the point where I would be going really far.
I've been seeing some folks on social media talking about how now that restaurants have rehired more staff, bakers and pastry chefs are some of the last people to get called back. Have you noticed that?
I think it depends. With me specifically, I did have a conversation with Il Buco and we chose to hold off. They have an alimentari with a small grocery in the front where they sell bread and do sandwiches, so they're one of the few restaurants in the city that actually have their own in-house bread program. But Sheena didn't know what production would be like, I think it's quite small. And I'm honestly loving what I have going on. We're very close, so it was a mutual decision in that moment. I don't think me returning is ruled out, totally. But I am going into expansion [for Apt2Bread]. I'm trying to be able to produce more and get out of my space. I love my kitchen, but it's getting to the point where I need to think about work-life division. And I need better equipment. My poor oven is on for like, six hours a day.
You mentioned that you've been testing running your operation out of a neighborhood restaurant [Editor's Note: name redacted, since nothing is finalized yet]. Would you potentially make bread for them, too?
Probably a little bit of both. I'll be able to rent the space in the early morning when no one's there and no one's using it anyway. And it's a tiny, one-man kitchen, so it's kind of perfect for me. I'm still doing some testing in the oven, which is a pizza oven, so I have to create a steam source… those are the dorky, nitty-gritty details of it, but it would be really cool because I can hopefully expand my business, get other people in the neighborhood to know about it, and get out of my house a little bit.
Some of the people I talked to for an Eater article I wrote about laid-off restaurant workers starting their own businesses were saying how it would be nice to sell their product out of existing neighborhood spots, or even have a place where a bunch of local producers are selling their goods.
A collective, yeah. That's so funny you say that because I was just talking to my super, who is the person that connected me with [the neighborhood restaurant I've been testing the oven at]. He works for them. Just yesterday we were saying how the restaurant industry is going to change like, we're fed up with the exploitative system as it is, or as it was, with underpaid, overworked staff. He has his own ways of wanting to pivot and do something way more community-based that I might be able to get in on. We were just shooting ideas, but that is very much part of the conversation: we don't want to stay in this model, it is changing and it should change. A huge thing that I've learned is that people are really stepping up, everyone's super supportive, and I just feel like that's going to be the new business model. And not only in F&B, but there could be a space for community events and language classes, music… just more involvement. 
Totally. I've lived in this neighborhood for five years and I've never felt as connected to it as I do now, because I'm taking walks around every single day, I'm supporting local businesses more than ever before. I think there's something really nice about it. Like in the case of Apt2Bread, there are so many places I could go to get amazing bread, but how do you pick who to support? You pick the baker who is local and who you know and trust to make great product, it can be that easy. In a city where there are so many options, there can also be one or a few great options in each neighborhood, which are fueled and supported by the community.
Definitely. I mean, I can't speak for the whole country, that's a totally different conversation, but I think that here in New York we can honestly do something. The chance is in front of us.
What I've been noticing recently is that there's still this "we need to survive" mentality that exists because obviously there are a lot of restaurants that predate the pandemic and are trying to stay open. There's somewhat of a tension between people who have worked in restaurants and are trying to move towards something different and better, and the people who are still hanging on to an outdated model, because they've already built places within it.
Yeah, and it's their livelihood.
So I'm really curious to see how things will pan out for preexisting restaurants. You see them pivoting with like, meal kits, groceries, this or that, but it does feel like everyone who can is currently focused on outdoor dining, which is kind of just the same as it was.
It's the same. I mean, my parents own a restaurant in Texas and have for over 35 years. So they are very much trying to hang on, but I am also very interested to see if the [old ways of doing business are] going to come to a head in a couple of years. Who knows, but it's exciting. I personally have not sat outside yet anywhere. And I have a lot of friends that feel the same way. Like it's too soon. It feels mainly weird to be waited on when you're potentially putting someone's life in danger… I think a lot of consumers still aren't ready, but these businesses are desperate to come back in some way and try to create that atmosphere that people loved before. But it's hard, and it's forced.
I haven't done it yet either for the same reasons, although I actually feel like Locanda Vini e Olii, which is just down the street, has one of the best setups that I've seen. I think that they have more seats outside than they had inside. 
I agree, that's the beauty of a corner spot.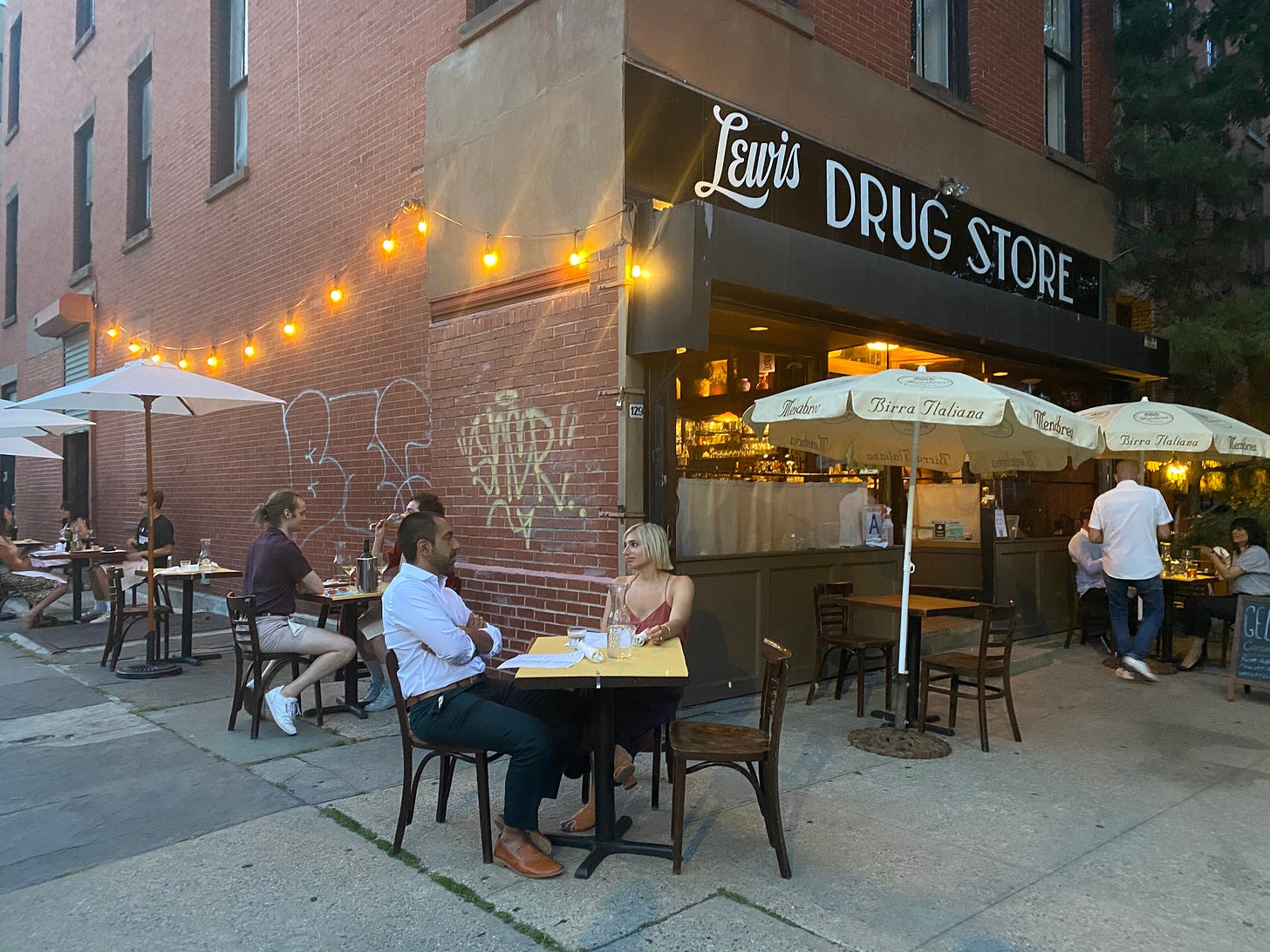 Yeah, totally. And of a true neighborhood spot. It's on this residential corner, things seem to be working for them in a way that it doesn't seem to be working for other restaurants.
I think they have an advantage, they've been there for so long. And all their neighbors know them and love them. It's a community-supported place.
I'm definitely finding myself comforted by those reliable spots, and excited about supporting the local, home businesses that have sprung up, like Apt2Bread.
It's been so fun and there is no desire to stop. I mean, I do want to take like a week off (laughs), but… it's just a matter of pivoting and finding a smarter space and to keep going. I think it could really be something.
---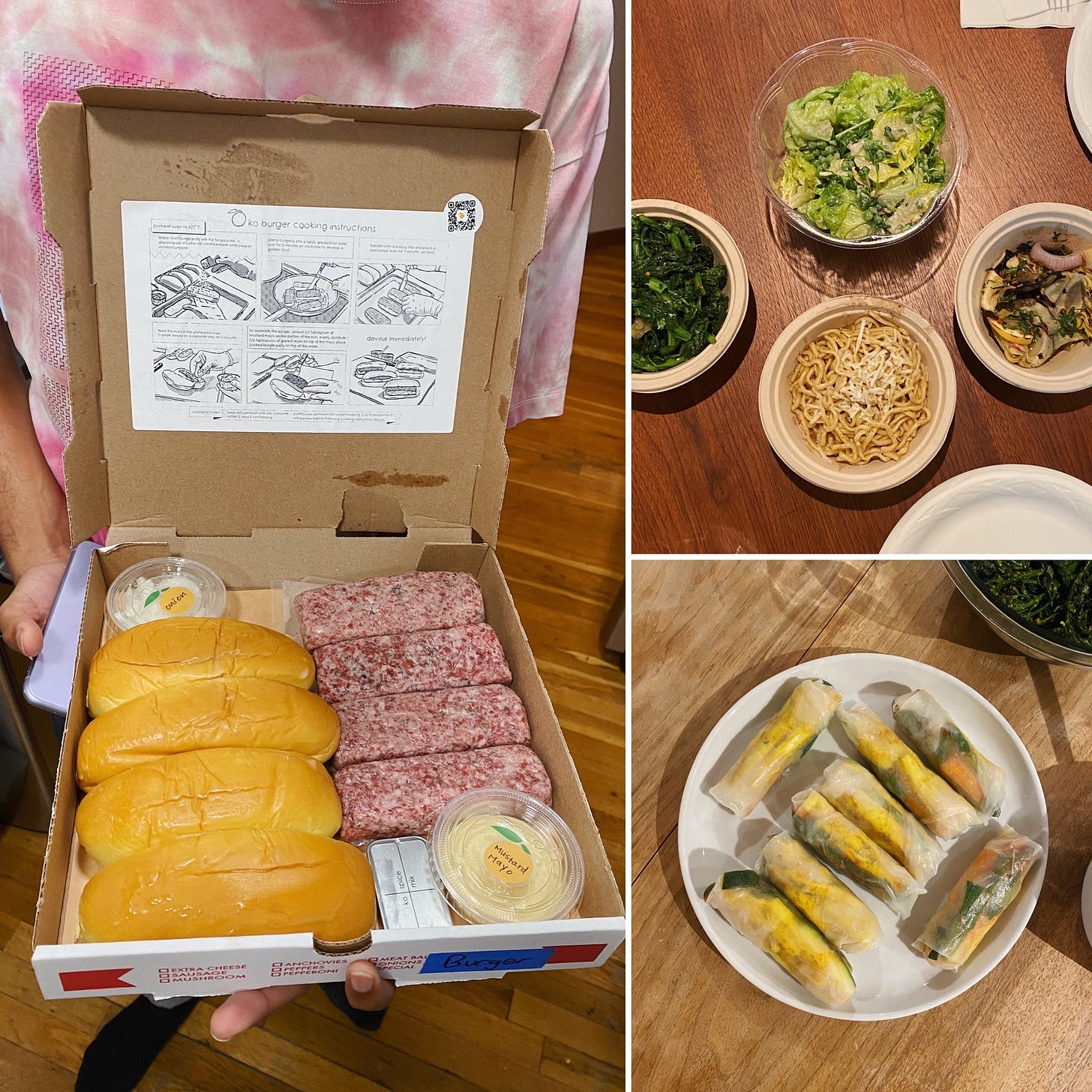 Try This
Read That