Discover more from Some Meals
Writing on — and recs for — food and restaurants. Mostly in LA & NYC, sometimes elsewhere.
Over 1,000 subscribers
Macaroni and cheese
In Charleston, a perfect take on a perfect-potential food.
One could make the argument that all macaroni and cheese is good macaroni and cheese, because how bad could pasta in cheese sauce ever really be? Truthfully, a subpar mac and cheese is an utter disappointment. Why waste the calories when the perfect version can be found at grocery stores nationwide?
My mom is a good cook, so my family didn't eat much from the frozen section when I was a kid. For my little brother and I, Stouffer's Macaroni and Cheese was the exception. Having it for lunch on a sick day or for dinner when our parents were out was like hitting the jackpot.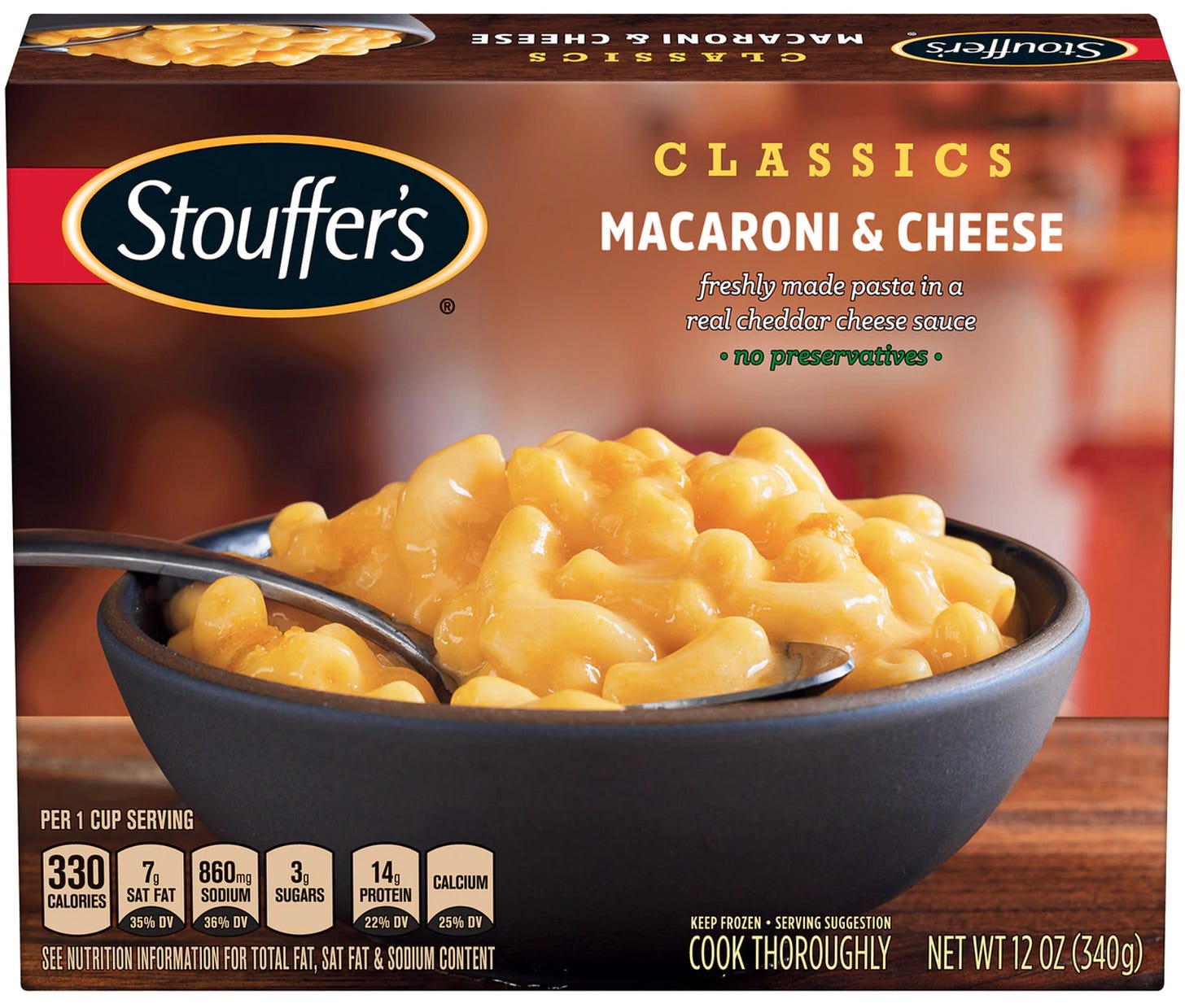 There was usually a box or two in the freezer and if not, one could be easily acquired from the Gristedes around the corner. Josh and I would slip the black plastic container out from its rectangular cardboard box, stick it in the microwave, and keep close by as the sunny orange casserole began to melt and bubble. When four minutes were up, we'd peel off the plastic cover and stir up the mostly gooey contents, breaking up the frozen pieces and spreading them around. Then we'd program the final two minutes on the clock, press start, and stay put, gazing inside the magic-making machine.
"Stop staring at the microwave," my mom would say. "It's bad for you!" But we couldn't look away.
At the one-minute mark is when you start searching for "brownies." These are the little browned scraps of mac and cheese that form at the corners of the casserole. Don't give your mac a mix before you spot them or you'll lose your edges, which is where they prosper. A perfectly cooked serving of Stouffer's should have between six and eight of these toasted morsels. If you try for more, you'll end up with burnt bits.
As we doled out the elbow pasta in its silky sauce, Josh and I were vigilant. Neither of us would be robbed of our fair share of brownies. Finally, it was time to eat. We were happier with each spoonful of the creamy cheddar flavor, the velvety liquid exploding inside the noodle tubes as we chomped down, and we always wished for more once we were finished.
Stouffer's remains my benchmark for a proper mac and cheese. The criteria for success are as follows: For the pasta, shells are fine, penne is not preferable, elbow is ideal. The cook on the noodle has to be bouncy yet soft—not mushy, nor al dente. I don't want a baked, lasagna-like texture and I'm grossed out by too much grease. I'll entertain breadcrumbs, although they're not needed. The cheese can't be too sharp. The texture must be lustrous. The taste should be of pure comfort.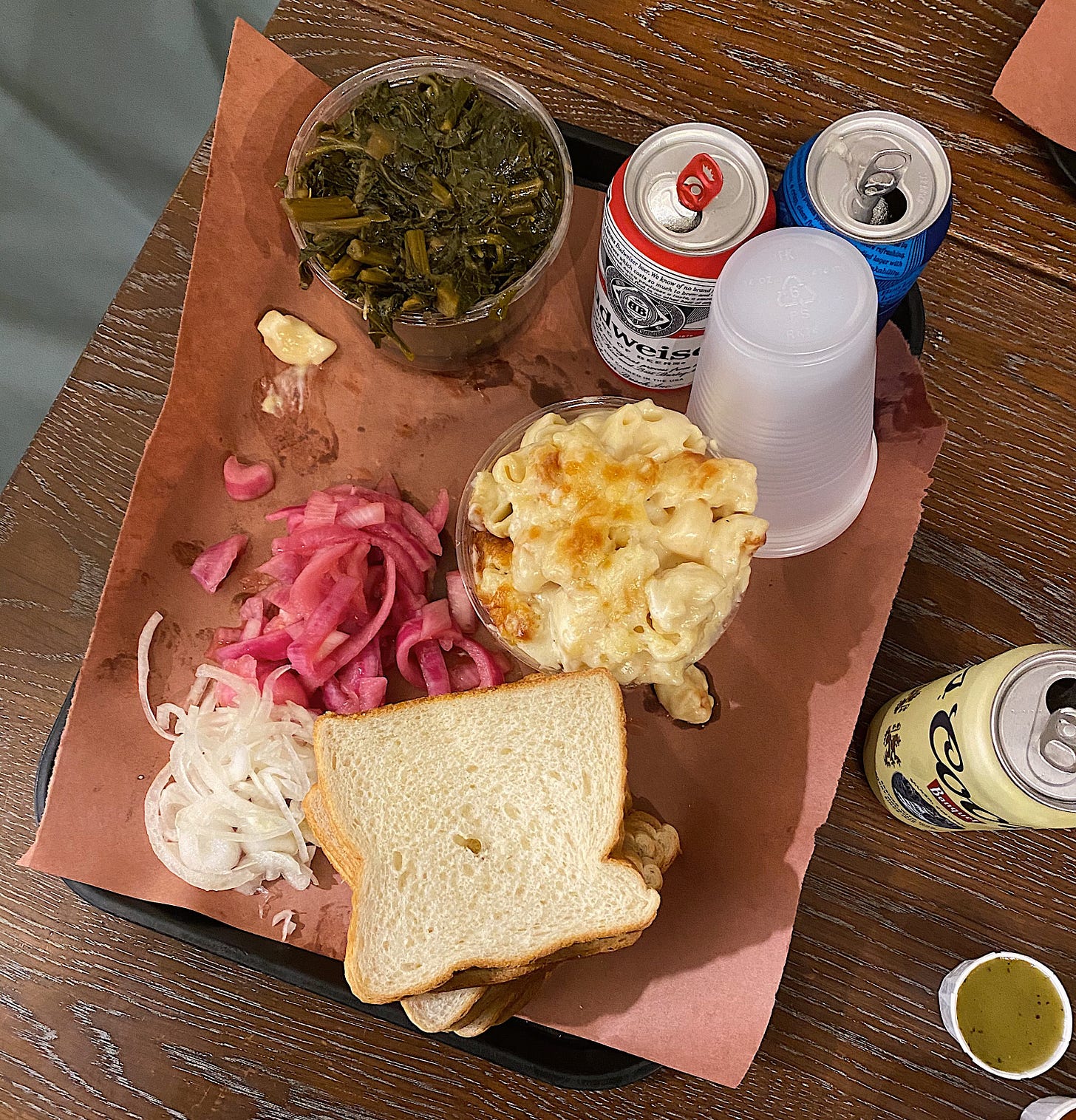 In Charleston, South Carolina, Lewis Barbecue respects these rules and then levels up. The first good sign is the sight of brownies, golden brown and tempting. Extra-large elbow pasta provides an added amount of surface area so that each noodle is thoroughly coated in a richly creamy cheddar cheese sauce. Each bite slips pleasingly on your tongue. And here's the truest signal: you keep your eyes on the prize as the shared meal unfolds, already mourning the end of the side serving. This is mac and cheese done right, American food at its finest.
Go to Lewis for the barbecue, stay for the macaroni and cheese.
🧀
Lewis Barbecue
464 N Nassau St, Charleston, SC 29403
(843) 805-9500



Blind Item
Quotes overheard and uncredited.
"When are you happiest?"

"(Big hearty laugh) when I'm eating lunch."



This week's reads



Some Meals Considered, Mapped
Follow the SMC Google list & use it as your dining guide. 🌎
---
If you're into Some Meals Considered, tweet about it to spread the word!

Find all previous posts here.

Was this email forwarded to you? Sign up for real.

**Housekeeping** If you found me in your spam folder or your Promotions tab, please mark this address as 'not spam.'