Discover more from Some Meals
Writing on — and recs for — food and restaurants. Mostly in LA & NYC, sometimes elsewhere.
Over 1,000 subscribers
Long live Don Peppe!
As I drove the two hours from Amagansett to Ozone Park, my eyes darted back and forth from the road to my Waze app. I knew the route, but I was concerned about the ETA. It started at 9:26 pm and fluctuated by a few minutes now and then, at one point shooting up to 9:33. "You have to get here before 9:30," the man at Don Peppe said over the phone, or else we were shit out of luck. That's not to say there weren't perfectly great back-up options (we were in Queens, with a car), but when a plan for red sauce is made, it's not one you're readily willing to abandon.

The neighborhood, adjacent to the Aqueduct Racetrack and JFK Airport, was sleepy as we drove through its streets lined with single-family homes, eventually pulling up to the beacon of baked clams and linguine, on 149th Ave and Lefferts Blvd. It was 9:28 pm. My friends ran in, and I looked for parking. With its grey cement walls and tinted windows, the restaurant looked as if it was closed for the night or permanently out of commission. I scurried inside, avoiding eye contact with the set of bouncers seated by the front door. At Don Peppe, there are waiters and door guys, no maître d's. "I had to beg a little to get the table," Saarim admitted with a smile. We cut it close, but we made it.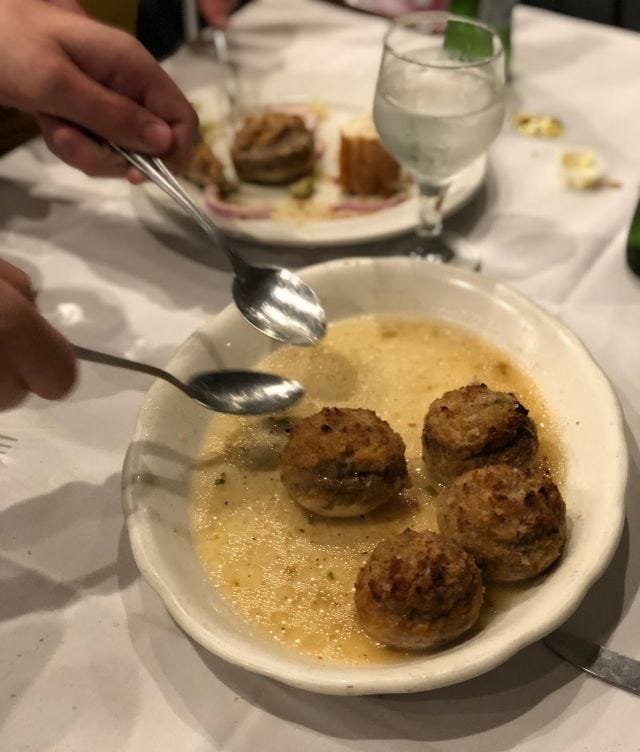 Almost every table in the room was occupied. Groups of families and friends were wrapping up their Saturday nights. Two women behind us were purchasing sweatshirts with the family-style menu printed on the backs. They dealt in cash: the only method of payment accepted. Soon enough, we were smearing packets of butter on complimentary toasted bread that was less than remarkable. You eat it anyway, because you come to Don Peppe to eat, and until you can partake, you're an outsider. Chase it down with a gulp from your Peroni, and you begin to fit right in.

I first heard of Don Peppe as a high schooler who loved Entourage. I finally tried it last summer and was pleasantly surprised to learn that the experience lived up to Vince Chase's hype. On that visit, I licked my plate clean of linguine laced with clams and shrimp and still made room for a giant Tomahawk steak cuddling up against a mess of fried mushrooms. This time, we were less extravagant, opting for spaghetti in meat sauce portioned for our table of five; the Veal Don Peppe, a tray of fried juicy cutlets underneath mounds of chopped tomatoes, red pepper, and onion; and eggplant Parm that lands soft on your tongue, with just the right amount of sweetness. To start, button mushrooms packed to the brim with brothy breadcrumbs and Italian seasoning and Salad Don Peppe, a simple dish of iceberg lettuce, tomatoes, red onions, olives, a dash of oregano, and a punchy red wine vinaigrette. It comes just-dressed, and your waiter doles it out evenly with some left to spare—a reward for whoever is first to finish their portion.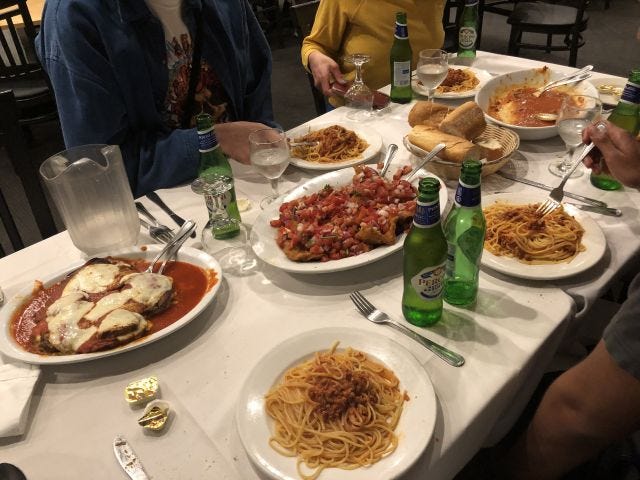 After you finish, order a couple of cannolis and an espresso if you please, or call for the check. When your white tablecloth is blotched with marinara, your second or third round of Peronis is drained, and your combined wad of cash sits heavy atop the hand-written receipt, that's a wrap.

Funny enough, I was at a bar on Friday having drinks with my friend Hannah. I told her about the Queens institution after she recommended a red sauce joint in the Bronx. We'll go some time, I said. Thirty seconds later, Adrian Grenier walked into the bar. This is a true story. Long live Don Peppe!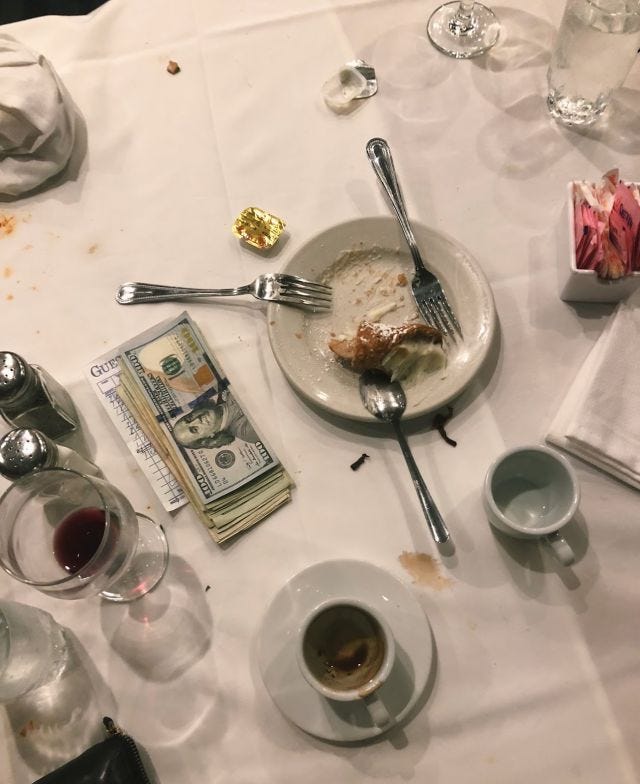 🍝
Don Peppe
135-58 Lefferts Blvd, South Ozone Park, NY 11420
(718) 845-7587

Recommended reads:

New to Some Things Considered? Read my archives here.