Discover more from Some Meals
Writing on — and recs for — food and restaurants. Mostly in LA & NYC, sometimes elsewhere.
Over 1,000 subscribers
Leftovers across state lines
The pleasures of a three-meal Israeli feast, from Philly to Brooklyn.
Last Saturday morning, I drove to Philly to visit my friend Tabi for the day. The evening prior I placed an order for some pastries and a breakfast sandwich from K'far to pick up upon my arrival. And a few weeks before, I made a dinner reservation for Laser Wolf's patio.
I got there around noon, parked in a lot by Rittenhouse Square, and met up with Tabi. It was humid and grey outside as we walked across the park to K'far—an all-day cafe and bakery owned by Michael Solomonov of Zahav—to grab my bag of goodies. Then Tabi picked up a tub of sours from Dr. Pickle at the farmers market and we made our way to Midtown Village where her friends were picnicking on sandwiches from Middle Child. She had asked them to order us a Shopsin Club (turkey with sweet pickles, avocado, bacon, lettuce, and cranberry-miso mayo on ciabatta) to split. Suddenly I was overwhelmed by all the food and lost my appetite. I barely touched my items from K'far.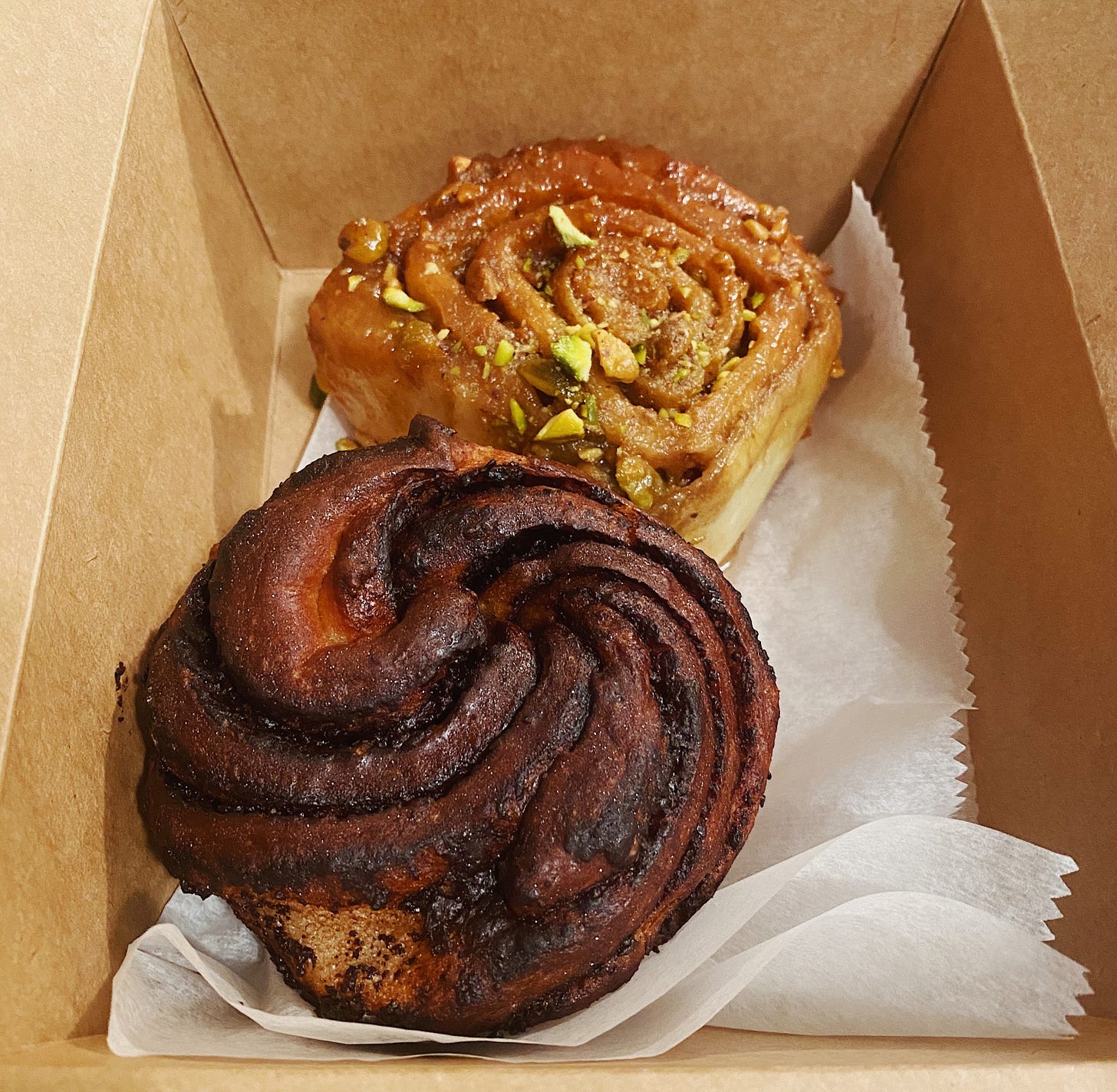 "It'll probably still be good tomorrow, you can just heat it up," Tabi reassured me as we walked back to her apartment before driving over to Fishtown for a drink at Wm. Mulherin's garden.
Dinner was next. Laser Wolf, which opened in February, is also owned by Michael Solomonov. Andrew Henshaw, his former chef de cuisine at Zahav, runs point in the kitchen where charcoal-grilled skewers are the main event. The restaurant is modeled off an Israeli shipudiya (read: kebab house) and housed in a garage-like space in Olde Kensington, just a block from the border of Fishtown. A mix of purple picnic tables and two-tops covered in zebra or fruit-printed vinyl are situated on the sidewalk. Every fifteen minutes or so, a server checks up on the propane-powered heat lamps to make sure diners are staying warm.
The concept is simple. For $39 per person, you receive a fluffy pita plus hummus, salatim for the table (think Israeli banchan), your choice of charcoal-grilled meat or main ranging from lamb kofte to eggplant with braised chickpeas, and vanilla soft serve showered in crumbs of pistachio and white chocolate. You can go big by opting for a larger-format entree for two, like the whole branzino with tomato and ginger or a 50-day dry-aged rib eye. Finally, there's a smattering of tempting a la carte items available as add-ons.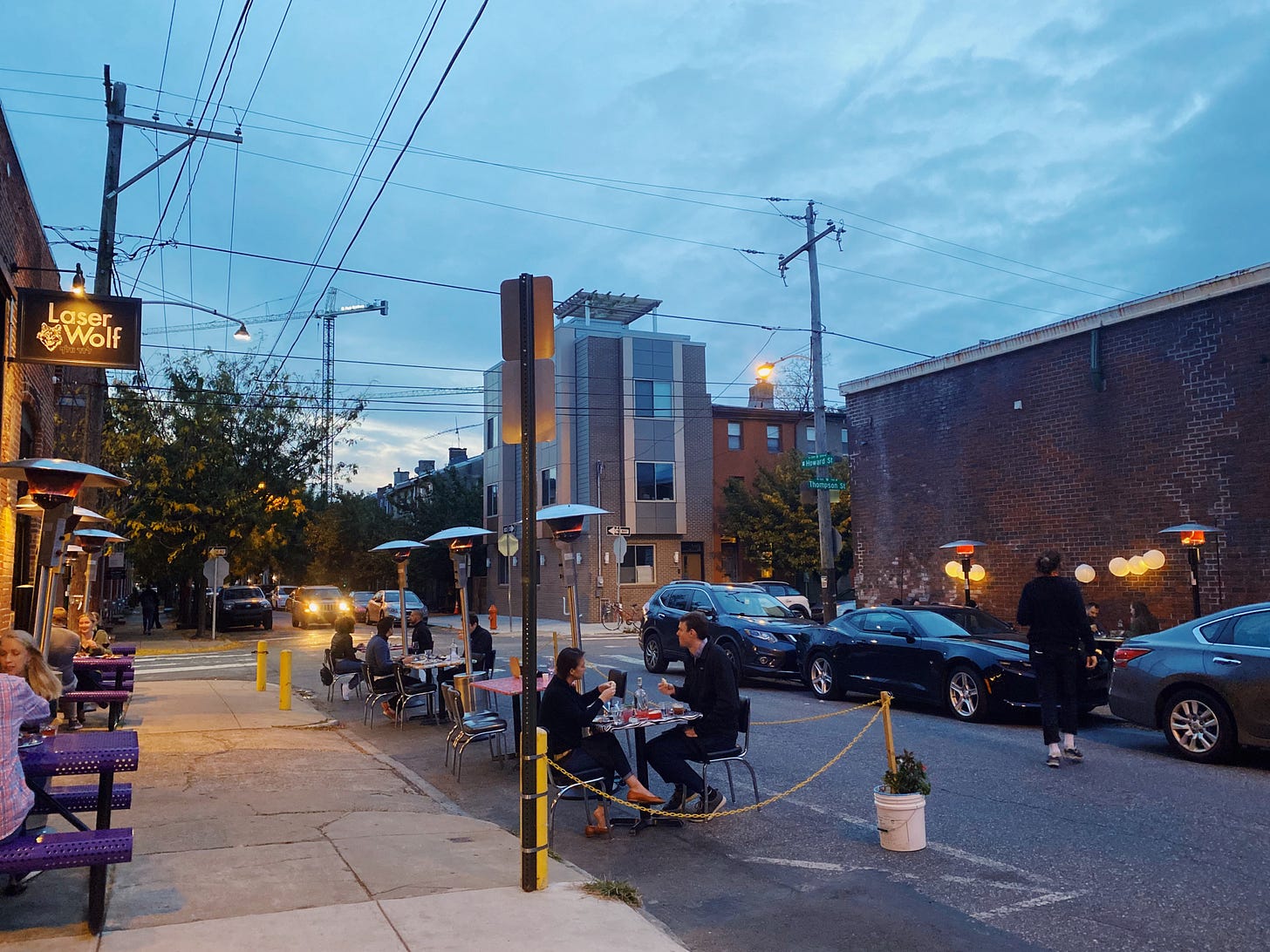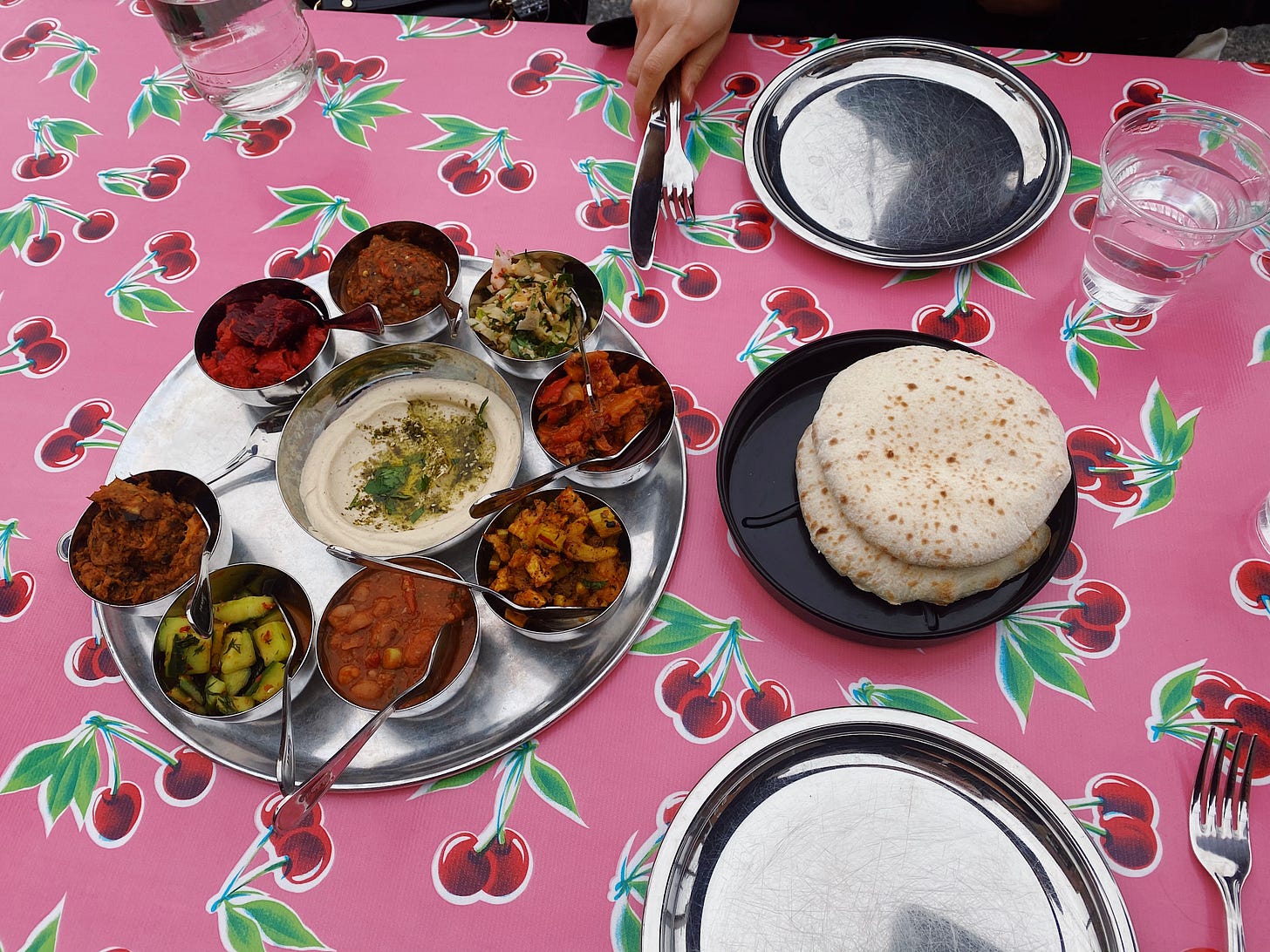 Of the salatim—cucumbers with harissa, cauliflower tabbouleh, Turkish turnip salad, cranberry beans with matbucha, eggplant and pepper relish (ajvar), sweet potato muhammara, carrots and beets with amba, and celery with harif—my favorite were the turnips, crunchy yet soft and stewed with peppers and onions, almost like a ratatouille. The ajvar was a hit, too, it's smokiness lending a strong assist to the perfect pita and silky hummus. If you've been to Zahav or Dizengoff, or made Solomonov's hummus at home, you know that it's pretty spectacular. We tried the crispy-skinned salmon and the chicken shishlik, and I preferred the latter, which gets tenderly marinated in amba and harissa.
I'd go back, particularly in a post-Covid world to dine indoors, perhaps to try the branzino, but especially for the French fries. Our server told us they were flash-frozen before being fried in addition to other laborious details I can't remember. "I normally wouldn't recommend fries," he said. "But these are the best I've ever had." Okay, sold. They're short and stout, a little thicker in width and deceivingly less golden than I normally like, and served with a questionable pile of tehina ketchup (I hold strong my devotion to unadulterated Heinz). And yet he was right: Laser Wolf makes very, very good fries—shatteringly crisp, well-salted, and addictive. Even the dip, while not ideal, totally worked.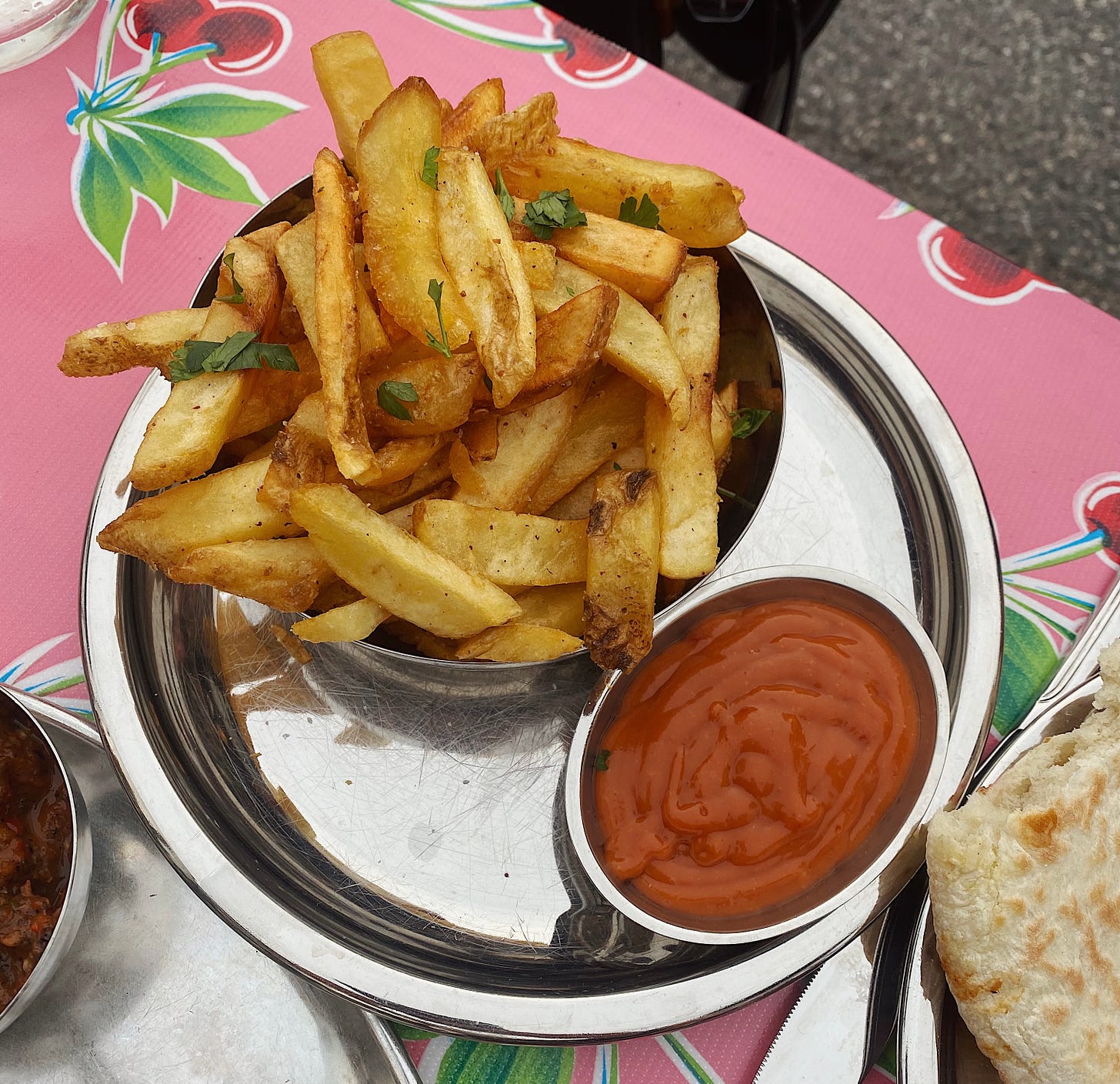 They gave us tupperware to take what we didn't eat to go, and soon I was on my way back to Brooklyn listening to Marisa Tomei's narration of The Lying Life of Adults with several meals worth of leftovers in my backseat. It was 9 PM when I got home and handed Saarim the container of fries. "They're so good," I said. "Although they probably didn't hold up over the two-hour drive."
He opened the lid and popped one in his mouth. "Yeah, they didn't." Alas.
We watched Borat 2 and went to sleep. The next morning I woke up and pre-heated my oven to 350 degrees. I took the salatim out of the fridge and placed it on our dining table, set two plates down and some utensils, lined a baking sheet with parchment, and arranged three K'far pastries on top. There was an orange-scented chocolate babka shaped into a braided roll, a dense pistachio sticky bun, and a savory boreka filled with swiss chard, baked egg, and melted cheddar—all intact, even though I had taken a single bite out of each. I made room for the remains of a Jerusalem bagel egg-and-cheese sandwich, slathered with spicy, herby schug and pressed like a panini, then slid the smorgasbord in the oven.
As the food warmed, I thought of the time my friend Lisa brought me my favorite-ever pastry back from Copenhagen, Hart's cardamom bun. I met up with her a few hours after she landed, then ate it while I walked back towards my apartment. The taste and texture were just as I remembered; what the pastry lacked in absolute freshness, it made up for in the utter joy of eating something baked early that morning (and only in Denmark) on a Williamsburg sidewalk at 5 PM.
Twenty minutes later we were ripping off pieces of pastry, piling salatim on top bites of the Jerusalem bagel sandwich, and sipping cups of home-brewed coffee.
"Pretty good, right?" I looked at Saarim.
"Yeah, it's pretty good," he agreed.
When we finished I texted Tabi.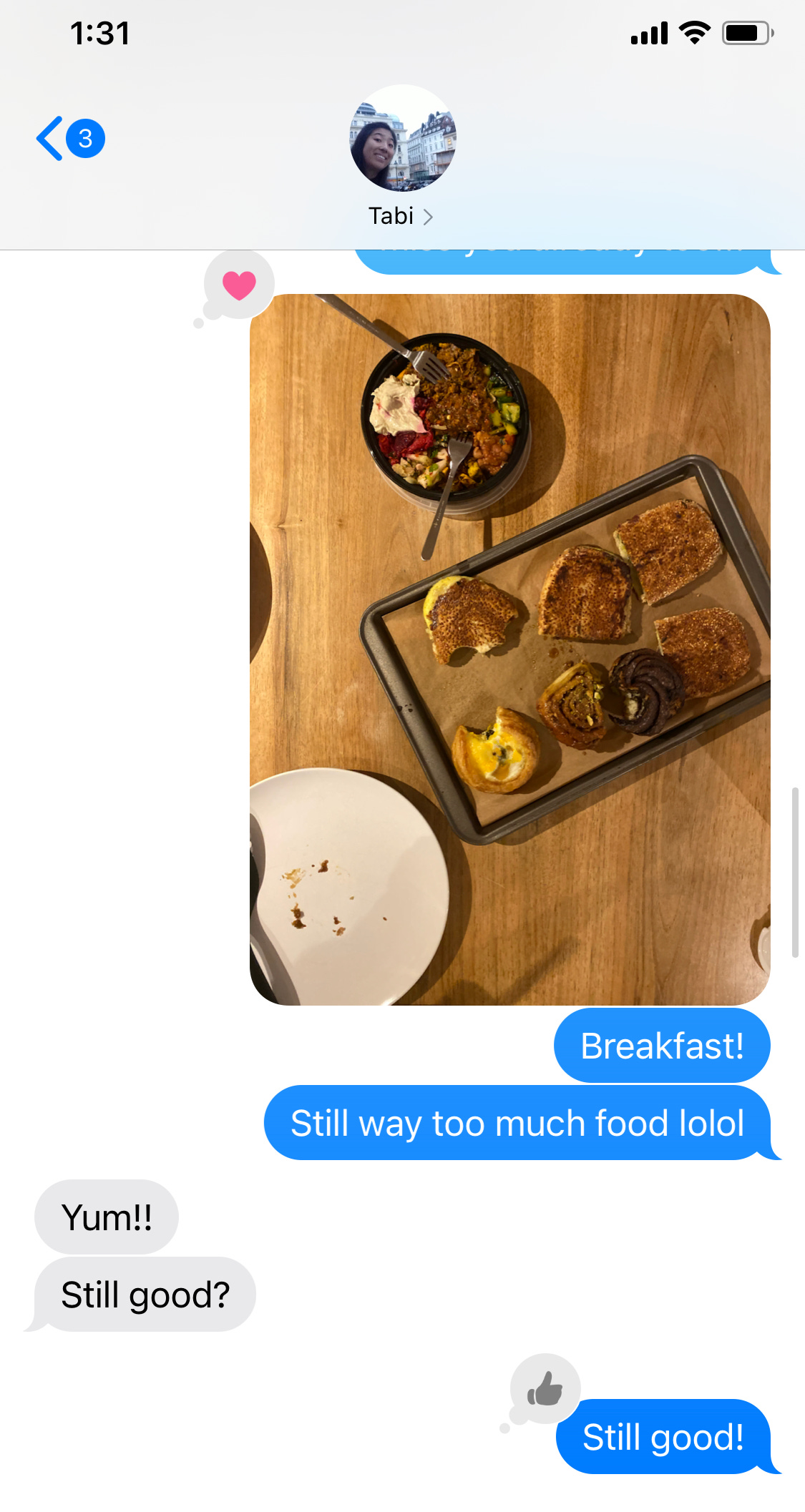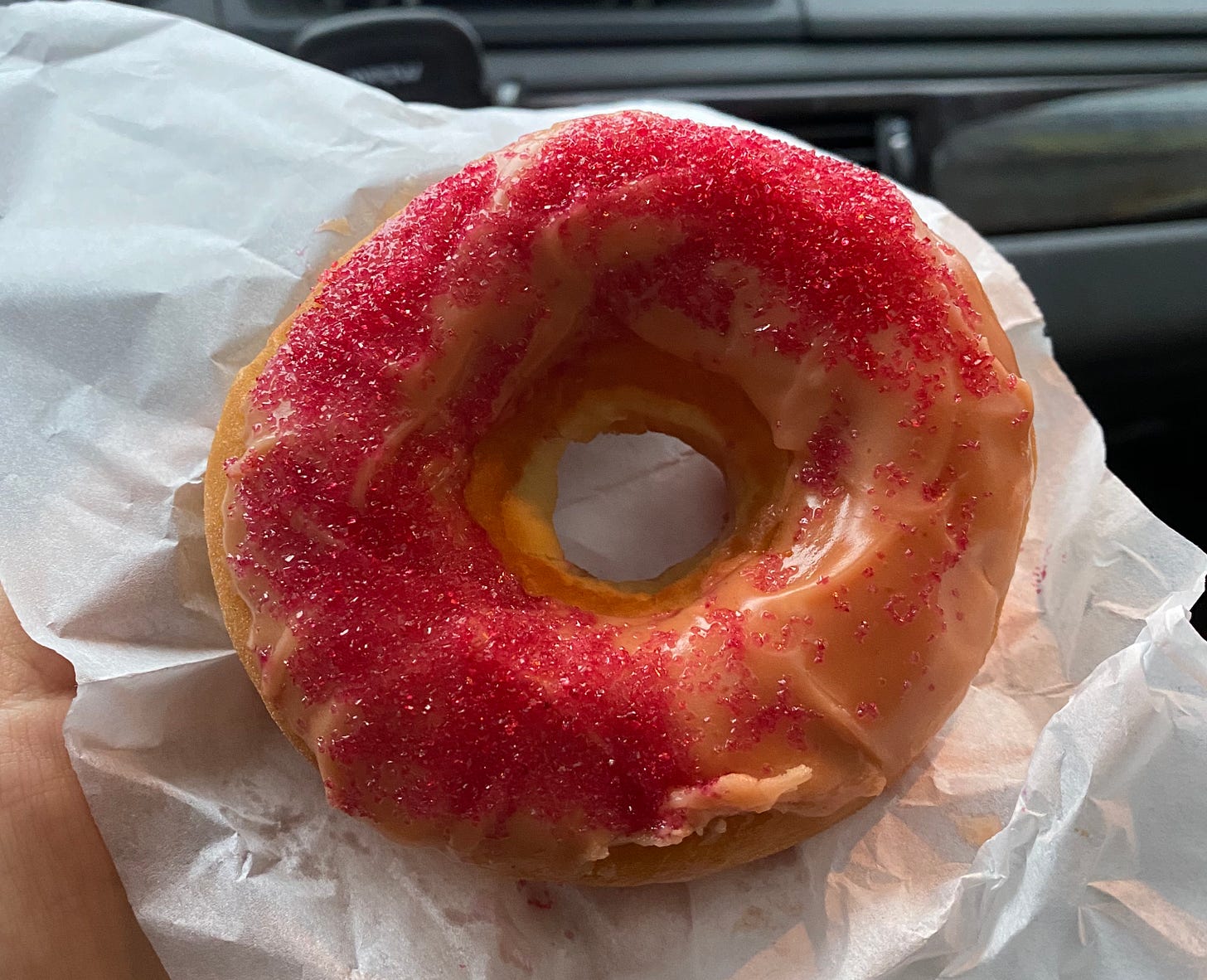 TRY THIS
READ THAT
PUBLISHED (my work):
P.S. I'm experimenting with shortening the newsletter's name to Some Meals—thoughts?

SMC, MAPPED
Follow the Some Meals Considered list 🌎