Discover more from Some Meals
Writing on — and recs for — food and restaurants. Mostly in LA & NYC, sometimes elsewhere.
Over 1,000 subscribers
It's late night in Mexico City and you're hungry
Your eyes widen in awe, and your mouth starts to water as you focus your gaze on the flick of his right wrist. In his left hand, lower down, a corn tortilla catches the extra-thin carvings of crispy, juicy, perfectly-marinated pork followed by a sliver of sweet, sticky pineapple nicked from above. He grabs a fistful of chopped white onion and fragrant cilantro from a bowl and tosses it on top, spoons a generous helping of bright green salsa over it all, then hands it to the hungry patron.

What's the Spanish word for a guy who mans a spit? He feels you watching and looks your way, raising his eyebrows as if to say "how many?" "Dos," you say, or maybe "cuatro"; it doesn't matter because you'll be going back for more and somehow, even though it's 3 am, the mighty cylinder comprised of layers of salty meat is not dwindling. You suddenly have an urge to make an estimation, like in elementary school: 150 tacos worth, maybe. 200? 100? A lot. Within seconds your order is up. "Con todos?" he whips his head back around. "Con todos." All the toppings rain down. Who's next? The ritual goes on.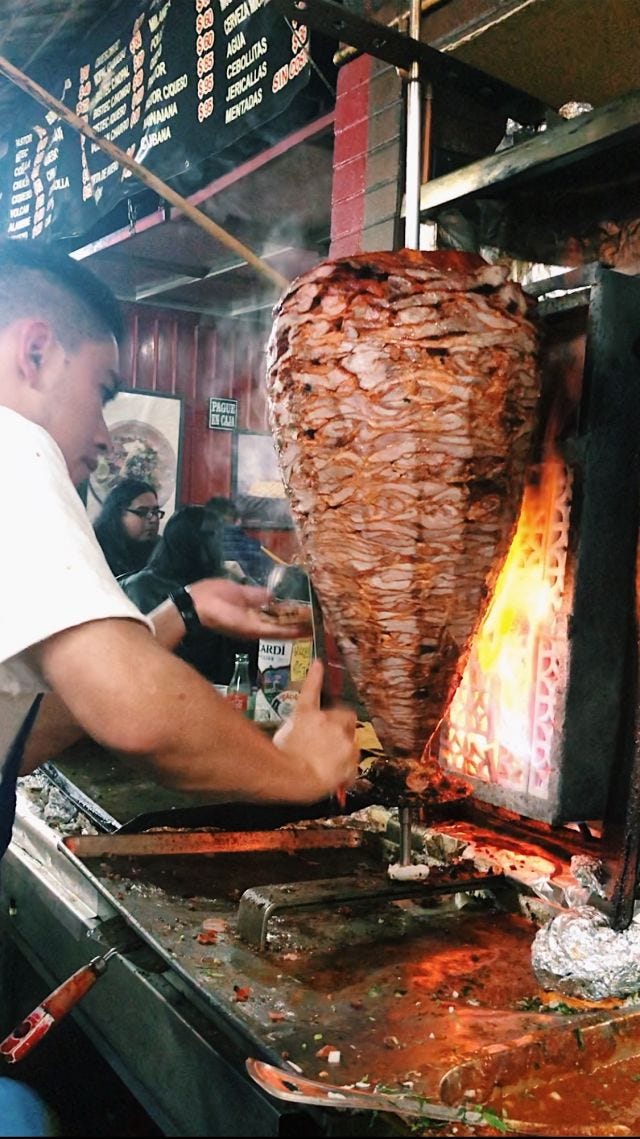 You could eat at least five, maybe even seven, and not just because you've been drinking and they are delicious; the palm-sized al pastor tacos, the signature of this roadside joint, are light and airy and oh-so-easy to eat. You do the rounds at the the salsa bar and pile on a hot sauce or two, turn your head sideways as you hold your plate below your mouth and in one, two, three bites one's gone. You realize for the third time over (you've been here before) that this is what it's supposed to taste like, that the mouthfeel of this very product is what every spitmaster should be after. "I've never had al pastor like this, even in Bushwick," your friend Drew says, and you nod.

A round of Coronas arrives, and you all sip them standing up in a circle, facing the pitch-dark street while the crowd around you scarfs down their savory snacks under the bright lights of the open-air eatery, reveling in the perfect end to a night on the town. "If I had to eat only one meat for the rest of my life, it would probably be chicken," you start to claim, "but there's no doubt about the fact that pork is the best meat."

Your other friend Adam smiles as he comes up for air, his plate empty save for a sprinkling of the aftermath. "Pork is 100% the best meat."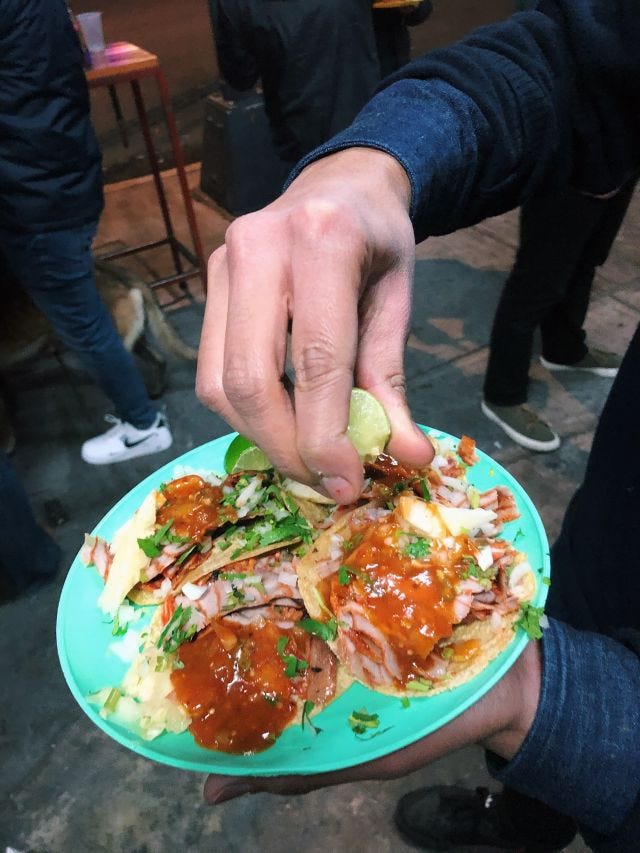 🐽
El Vilsito
Avenida Universidad, Narvarte Poniente, 03020 Ciudad de México, CDMX, Mexico

Recommended reading:
New to Some Things Considered? Read my archives here.