Discover more from Some Meals
Writing on — and recs for — food and restaurants. Mostly in LA & NYC, sometimes elsewhere.
Over 1,000 subscribers
Since dining out has been off the table, I've been cooking a lot more. We all have. The frequency is new for me. I know a lot about food and chefs, but I've always been the type of home cook who treats cookbooks like art books. I save online recipes constantly yet rarely make them. I like to cook, I've just never prioritized doing it or getting better at it. I'm a couple-of-times-a month cook. Every quarter or so, I'll do it up big for a dinner party. Mostly because I want to have a dinner party, and a little so that I can tackle a few of the recipes I've been meaning to make. Is that the old me, now? I'd like to think that even when I return to a life where I'm cooking less, all of the time spent in the kitchen during these quarantined months will have inspired me to cook more frequently than I did in the past.
Still, I miss restaurants. I miss the food, for sure, especially after a disappointing dinner I put together last night. I miss ending the day by meeting up with friends, in public, over a meal. Mostly, I miss the vibrating energy, the human touch of hospitality, the distinct and dynamic equation that defines an experience in any given eatery—what's on your table, how you're being taken care of, what's happening around you, who you're with.
I've been taking a lot of cooking and baking inspiration from Instagram, now that chefs all over the globe are sharing recipes directly with their followers like never before. I scroll through my feed and I see what people are making, whether it's Clare de Boer or Caroline Schiff or Eric Ripert. If something looks good and I can more or less replicate it, I get to work. This impulsive practice keeps my thinking cap on. It motivates me to feed those I'm with and avoid food waste at all costs. It also keeps me connected to the world that I miss.
Ask a chef why they chose to work in restaurants and you'll recognize a generous spirit in their answer. Yet professional cooks tend to keep their tricks close to their chest, whether that's because they're too busy on the line, hope that you'll come to their restaurant to try their food, or have dreams of a cookbook deal. They rarely use their home kitchens and their techniques aren't so easy to execute, but they're adapting, as we all are, in order to keep feeding us. I'm grateful for this. I also can't wait for the day that I'm no longer their pupil and again their guest.
On the upside, if I didn't have all this time, would I have baked these loaves? (Absolutely not.)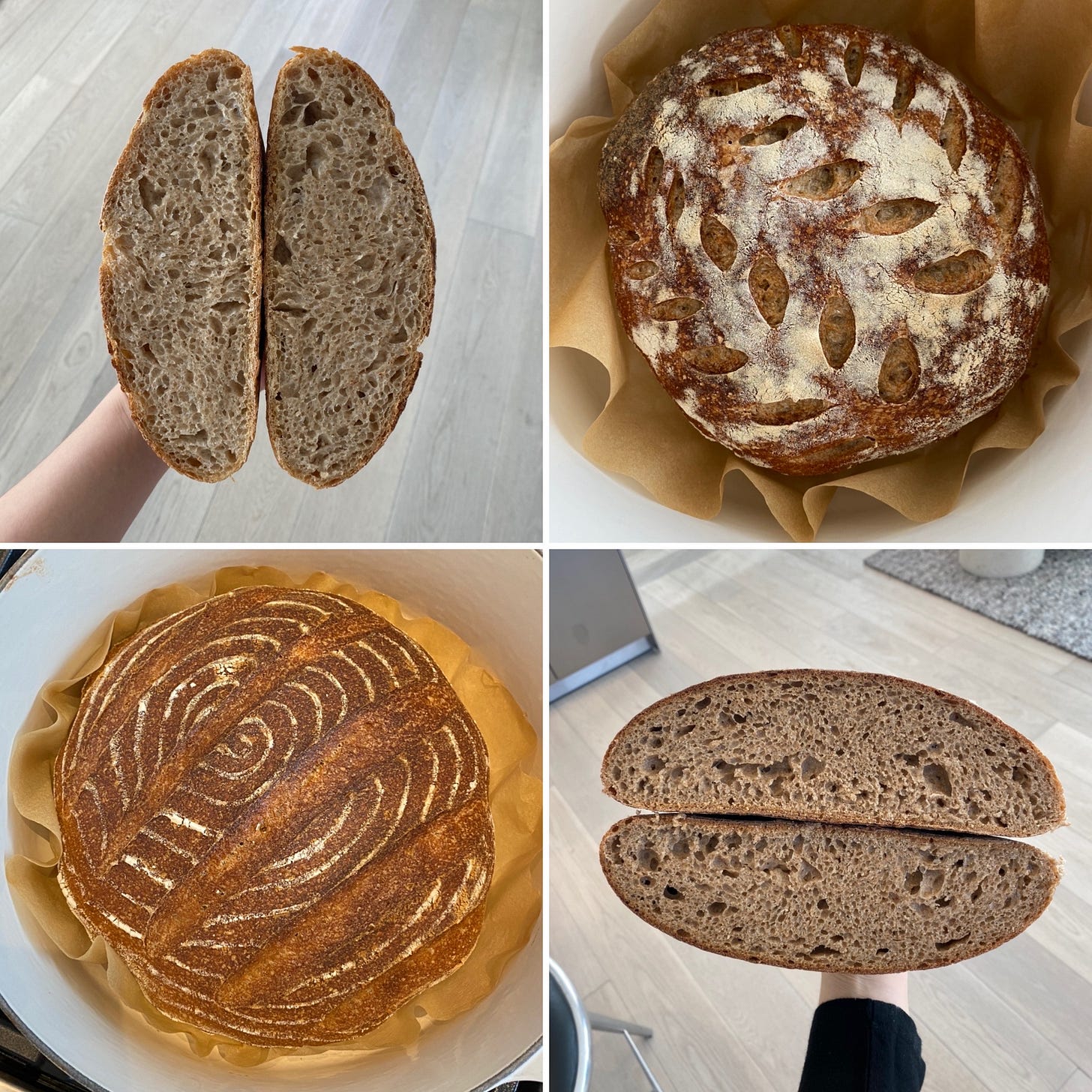 In other news…
Food folks are mobilizing in troves to support healthcare workers on the frontlines and others in need. World Central Kitchen's #ChefsForAmerica initiative partnered up with a number of organizations, including The COVID Clinician Meal Support Program (now Frontline Foods), to lend logistics know-how and increase efficacy. In D.C., prominent chef-operator Erik Bruner-Yang is executing his own plan, called The Power of 10, that solves for loss of jobs and lack of food. Fine dining mecca Eleven Madison Park converted to a soup kitchen. Sqirl is taking over for Chi Spacca as The LEE Initiative's LA relief center for restaurant workers after Nancy Silverton tested positive for coronavirus. Matthew Maddy and Nico Arze, partners in the restaurant and design firm American Construction League, are using their network to collect and disperse PPE. Food photographer Melanie Dunea launched a GoFundMe to deliver treats from bakeries like Ovenly and Breads to "deserving heroes" at hospitals around NYC. And restaurant owners in Philly, Seattle, and Atlanta are throwing their hats in the ring.
The fight rages on for government help. The IRC is asking for co-signs on a letter to Congress that asks for fixed flaws within the Payment Protection Program, the creation of a restaurant stabilization fund, new tax rebates for post-crisis survival, and a requirement that insurers cover business interruption from COVID-19. BIG (Business Interruption Group) is an advocacy group founded by big-time industry players like Thomas Keller and Dominique Crenn that focuses primarily on the insurance issue.
OpenTable is rolling out the ability for users to reserve grocery shopping slots via its app. Has anyone else seen compelling pivots of restaurant tech?
big news! we are having a 3-day bakery pop-up this week: april 8th, 9th, and 10th. place your orders on our special pop-up site (
#linkinbio
) for in-store contactless pick-up or nyc local delivery ($5 flat rate for orders of $25 or more). hot cross buns, chocolate-dipped macaroons and more. we will also be open those days from 9am to 2pm, so you can come by, point through the window for what you want, and we will pack up your order for you. perfect to stock up for the holidays, for any days, and for sending those you miss a sweet delivery of pastry. see you soon! xo
It's depressing to see adored places, forced to close up shop, having to bill themselves as "pop-ups." Still, if you can make it to Mah-Ze-Dahr this week, you'll be better off for it.
Some restaurants set to open when the coronavirus hit ground decided to do so anyway, just without dining rooms.
Still, take-out and delivery efforts are starting to wane. Operators cite meager sales and the lack of official safety guidelines coupled with health concerns for closing up shop completely.


My top three stories
---
If you're into Some Meals Considered, tweet about it to spread the word!

Find all previous posts here.

Was this email forwarded to you? Sign up for real.

**Housekeeping** If you found me in your spam folder or your Promotions tab, please mark this address as 'not spam.'