Discover more from Some Meals
Writing on — and recs for — food and restaurants. Mostly in LA & NYC, sometimes elsewhere.
Over 1,000 subscribers
I ate the best pizza of my life in Philly
I love a New York slice (or two) as much as anyone, especially at the end of a late night of too much to drink, or during a comfy evening in with a movie and a tub of Ben & Jerry's (Kozmo.com-style). But I don't eat them often. I've come to covet a more contemporary pizza-eating experience. I like a nicely composed salad to balance out all the dairy and the gluten, plus a stylish vibe, nice wine... somewhere like Ops in Brooklyn or Lovely's Fifty Fifty in Portland. So, I've been fulfilling my cravings with Neapolitan-leaning pies lately, as pizzerias like these tend to sling slices that are small and doughy. A hungry person could easily polish off four of them.

That's until I went to Pizzeria Beddia. There, the sleek Japanese and Scandinavian-influenced decor features a playfully cool installation of blue neon stars, and the wine list is lovely. The kale salad has bouncy lobes of farro, slivers of summer squash and fennel, torn mint, and creme fraiche laced with charred kale for an earthy edge. And the pizza—which is more New York in style than Neapolitan—is the best I've ever had.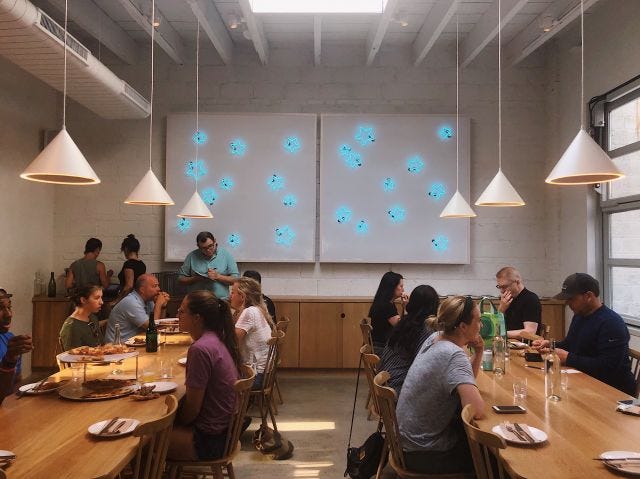 Order the straight-up tomato pie made with whole milk mozzarella, and add pepperoni. Shortly thereafter, your weighty 16-inch specimen will arrive, glistening in orange grease and comprised of gas oven-cooked dough, vibrant tomato sauce, milky cheese, and evenly blanketed slices of crispy meat. Bite into a slice, and your taste buds will go into overdrive with glee: salt, sugar, umami, yeast, acid, the tiniest bit of funk. Savor each moment of the layered crust, undercooked creamy bits, burnt parts, caramelized crevices, and all. Let it crunch underneath your teeth and expand as if it were alive, and breathing.

A slice at Beddia is everything I want a New York slice to be, and more: elevated with top-quality ingredients, boasting a bullseye combination of texture and flavor, and best enjoyed in a restaurant setting.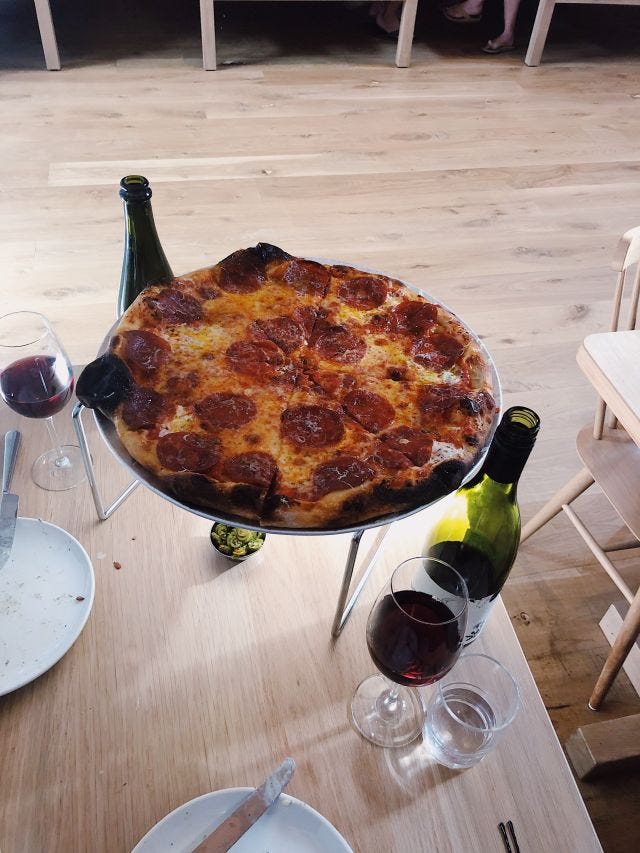 "We plan to eat as much as possible and take whatever we can't to go," the father of a family of four seated next to us said to a server. Their plan must've rubbed off on us. As we sat looking at the final two slices, our tummies beginning to expand after three each, my friend Tabi posited: "I feel like we should just eat them." Our next stop was a train back to New York, so we might as well make the most of it, she reasoned. I shrugged and sprang for my half of the irresistible remnants, a move that cost me discomfort for the next 12 hours. Still, our fellow diners had the right idea; it was worth it.

Don't think for a moment we didn't get dessert. Tabi's moving to Philly next week, but I was just a visitor, and sweet cream soft serve affogato was too tempting to ignore: smooth, cold, fluffy, and drizzled with amaro instead of espresso. We chose Averna in all its sticky-sweet, herbaceous glory. Its digestive properties only went so far after such a meal but were welcome nonetheless.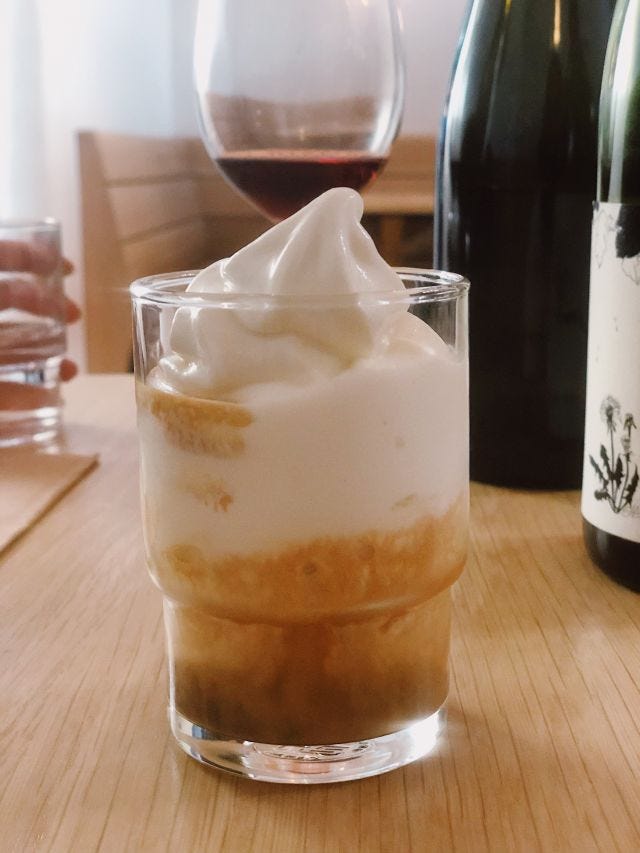 I realize that I'm in danger of becoming the writer of a pizza newsletter, but that's okay.

🍕
Pizzeria Beddia
1313 N Lee St, Philadelphia, PA 19125
(267) 928-2256

Recommended reads:
New to Some Things Considered? Read my archives here.