Discover more from Some Meals
Writing on — and recs for — food and restaurants. Mostly in LA & NYC, sometimes elsewhere.
Over 1,000 subscribers
How to eat a bagel
In the summertime
My friend Maddy moved to New York a month ago, but she hadn't had a great bagel until yesterday. "I even went to Ess-a-Bagel, and didn't think it was anything amazing," she said. To which I nodded and sighed knowingly, because the fact of the matter is that an exemplary bagel experience is not so easy to come by. On one hand, how bad can the city's fluffiest ball of boiled dough be? On the other hand, the expectation is for a revelation, and for that, a more timely and considered approach must be taken.
The best way to eat a bagel is not as a sandwich. That's especially true when someone behind a counter, faced with a growing line of hungry kids and hungover adults, is making it for you. For starters, there's the all too common issue of too much cream cheese. Then there's the toast, which no matter how fresh the bagel, is necessary and rarely accomplished to your liking. The chances you'll end up with a soft and clumpy puck of carbs and cream, only slightly offset by whatever smoked fish or crunchy vegetable topping you choose, are simply too high.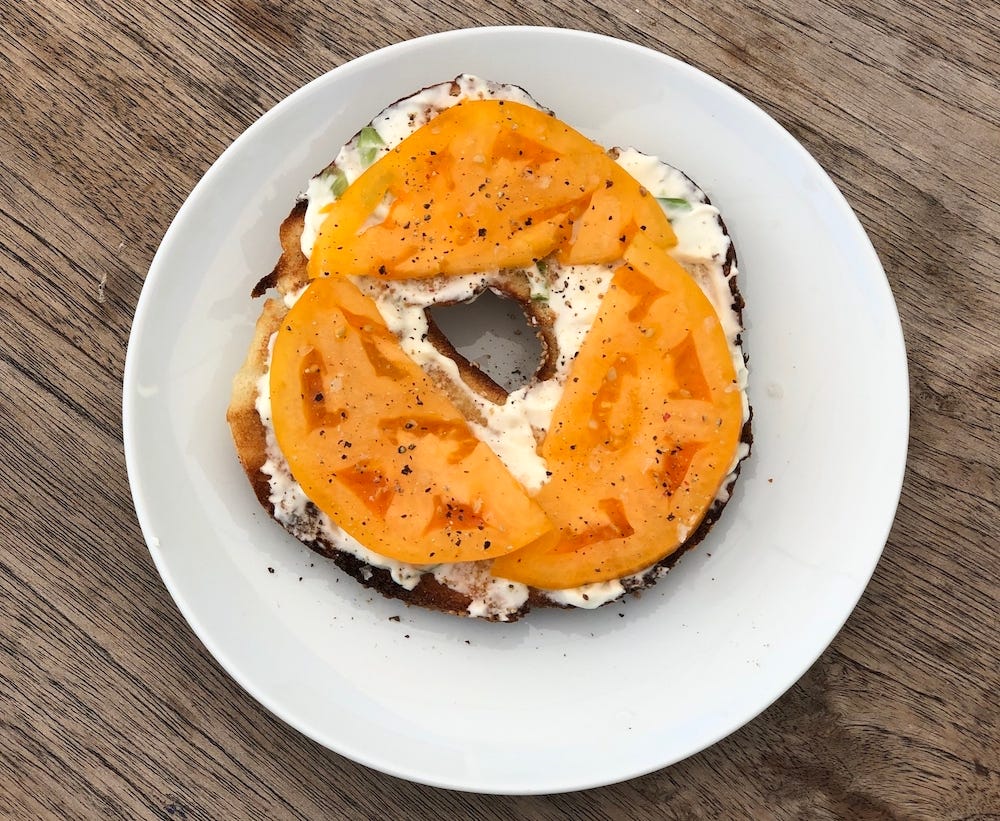 Here's what to do, instead. Arrive at the bagel shop, get in line, call for your favorite kind of bagel—sesame flagel for me—and a tub of (scallion is correct) cream cheese. Skip the lox because it's early September and the only other topping you need is a tomato at its peak. For that, you'll need to make another stop, at your local farmer's market or wherever you can find a ripe beefsteak or heirloom variety. Head home. Grab your serrated knife, carefully cut your bagel in half, stick it in the toaster, and let it get lightly browned with crusty edges. Smear each inside with cream cheese. Slice two slabs off your tomato, not too thin, not too thick, and if they fit to your bagel, plop them on top. If not, cut them into equal-sized strips, then arrange them evenly over the spread. Finally, sprinkle flaky sea salt and grind fresh pepper on top. Take a bite. Now you know.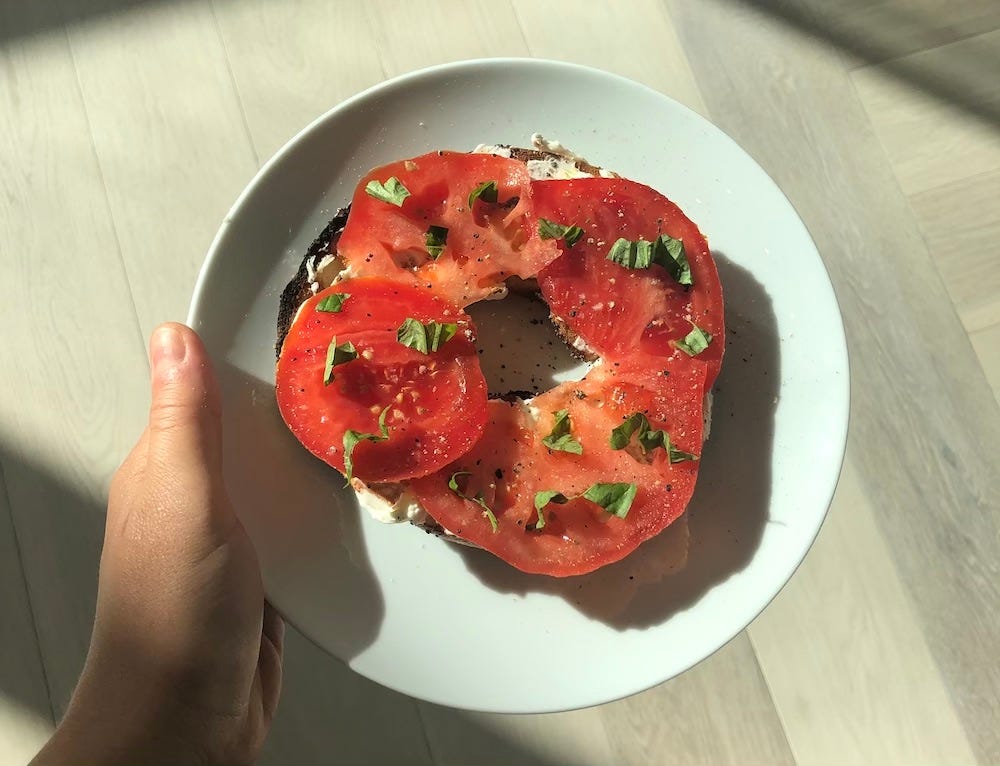 If you're feeling fancy, try adding basil.

Bonus: in my house, we buy a half-dozen bagels at least, and always a variety—in case someone wants to snack on another flavor, and especially when we have guests. But no one should have to eat a day-old bagel, so once breakfast is decidedly over, we make bagel crostinis.

Preheat the oven to 300-320 degrees, carve your remaining bagels into thin slices, and put them into a big bowl. Dribble generously with olive oil, sprinkle generously with Maldon sea salt, and toss to mix. Spread evenly across a baking tray and bake for 10-15 minutes. (Since every oven is different, keep your eyes on the prize; you don't want to end up with burnt waste.) Take the crostinis out when they're crunchy and brown, allow to cool for five minutes, then spring for a warm, crackly wedge of cinnamon raisin. A sweet ending to the bagel experience you were looking for.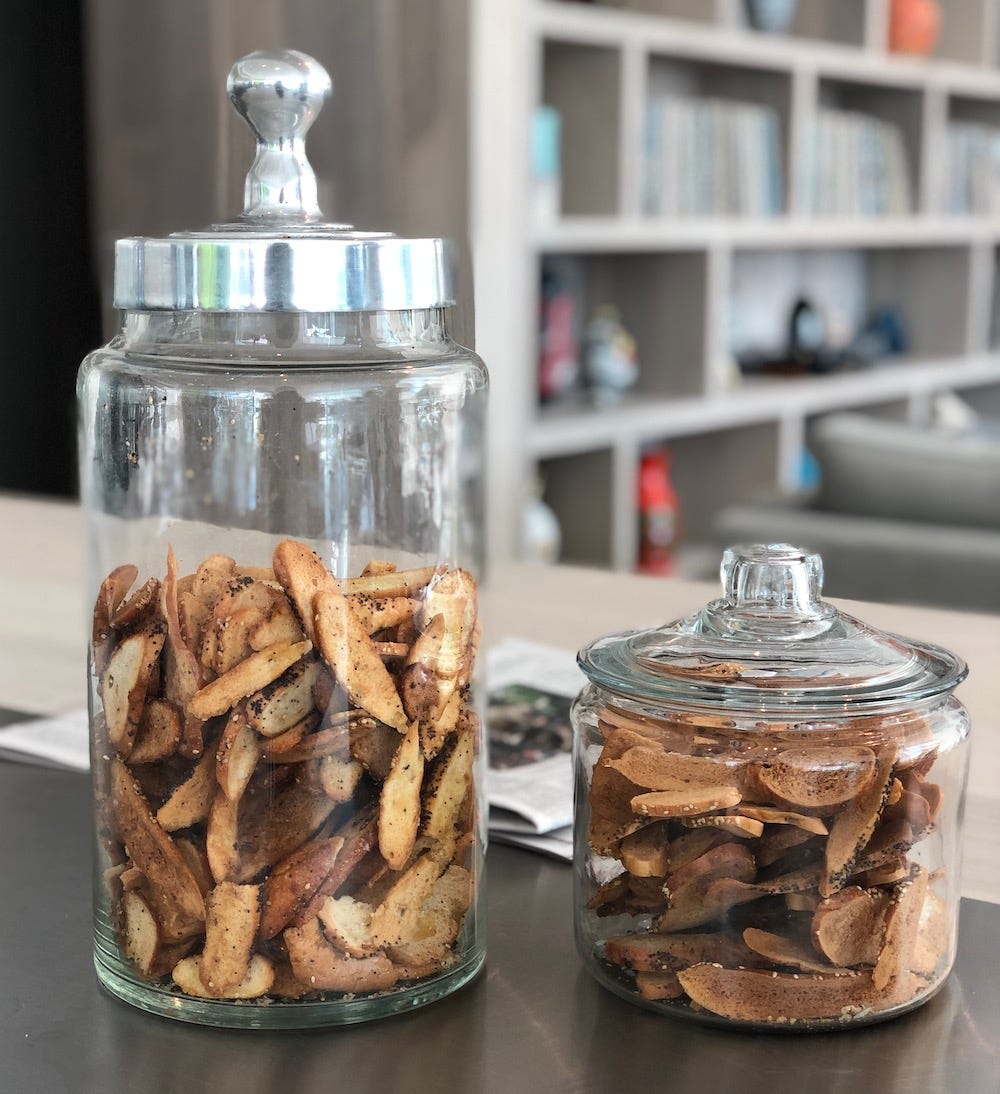 🥯
Goldberg's Famous Bagels
100 Pantigo Pl, East Hampton, NY 11937
(631) 329-8300

🍅
Balsam Farms
293 Town Ln, Amagansett, NY 11930
(631) 267-5635
---
What else is up?
Instead of reads, I'm sharing my favorite recipes from this summer—which technically isn't over until September 21st. Enjoy the rest of it!
---
If you're into Some Meals Considered, tweet about it to spread the word!

Find all previous posts here.

Was this email forwarded to you? Sign up for real.

**Housekeeping** If you found me in your spam folder or your Promotions tab, please mark this address as 'not spam.'
---