Discover more from Some Meals
Writing on — and recs for — food and restaurants. Mostly in LA & NYC, sometimes elsewhere.
Over 1,000 subscribers
How spicy is too spicy?
The answer is not so simple.
I love Thai food. I love how it's funky, fiery, addictive, and sometimes sweet. I love how its chilies melt your mind, drawing sweat from your temples. I love how even with a torched throat, you can still taste the umami of fish sauce, the juiciness of limes, the subtle bitterness of raw green papaya. I love the cool, milky splash of Thai iced tea on your tonsils, the respite it brings and the coating of sugar it imparts, enabling your tastebuds for continued performance. I love the challenge of going back for more.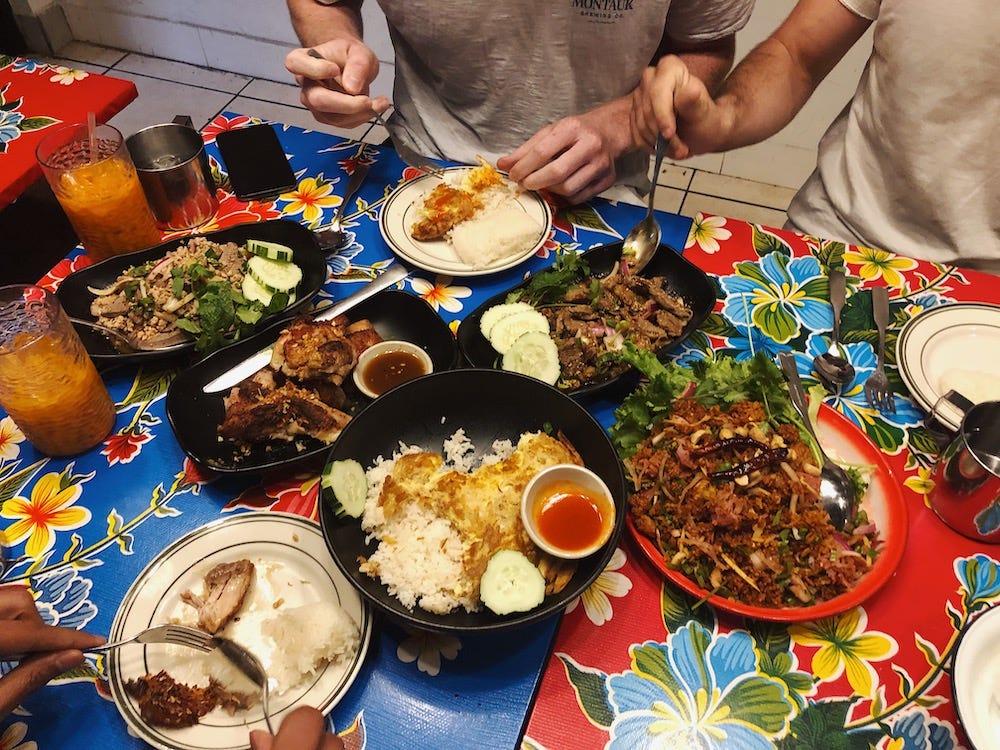 What I don't love is a lover's quarrel at the dinner table, and I'm all too familiar with the type that bubbles up when larb is on the agenda. My partner, Saarim, worries that my tolerance will be judged as low because I'm a white person. I fear that he'll go rogue and order Thai spicy, which he's done before. (Thai spicy is the spiciest you can go; the equivalent of the "Atomic" buffalo wings that come with a warning at your favorite sports bar.) When the inevitable question—"how spicy?"—is asked, mid-order, our hearts race, anxious over a potential miscommunication, knowing that the result could be a feast of mild dishes lacking in the complexity of flavor we've come for. I once confided in a food-loving friend of mine (hi Colin), who said, "I just ask for however the chef cooks it." Not a bad idea.
Eating Thai food is a sport. If you're a true athlete, like Saarim, who grew up in Dhaka and vacationed in Bangkok, you'll ask for prik nam pla—a condiment made of garlic, fish sauce, sugar, lime juice, and bird's eye chilies—and use it generously. Little beads of perspiration will slide down the side of your face as you shovel down spoonfuls of curry and globs of sticky rice, until your forehead is gleaming and your pupils are dilated. If you can't take spice but you love Pad See Ew, I regret to inform you that you're missing out, and you'll never understand why the physical endurance is worth it. My tolerance has increased by threefold, at least, since I started dating Saarim, and for that, I am grateful.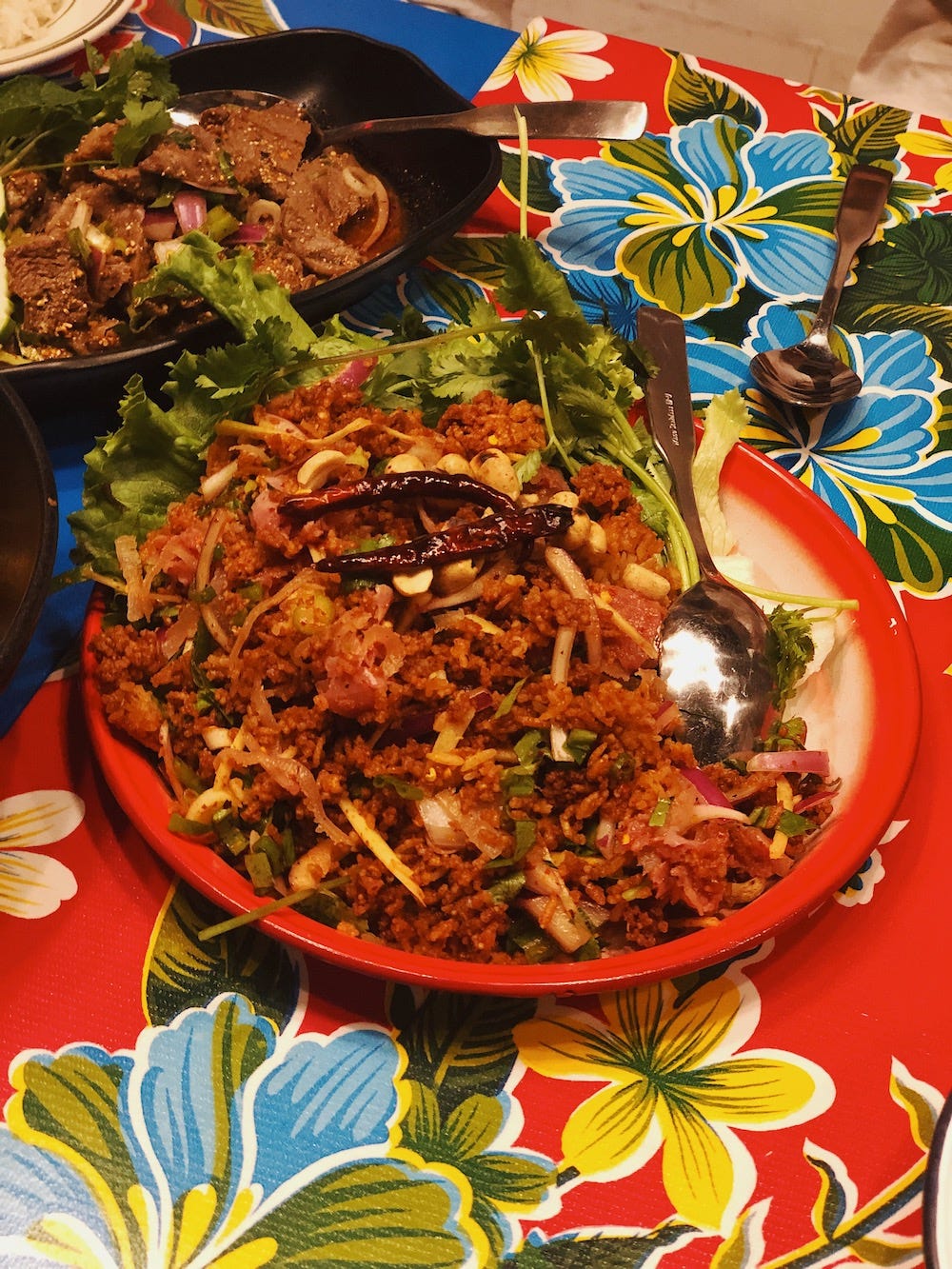 I am also grateful for having picked up a tip at Elmhurt's Hug Esan. We called for Nam Khao Tod, clusters of crispy rice tossed with kernels of sour pork sausage and peanuts, then seasoned with ginger, shallot, scallion and cilantro; Gai Yang, marinated grilled chicken thighs dunked in jaew, a spicy dipping sauce laden with toasted rice powder; and papaya salad, which came with a side of fried pork skins and was sharper, funkier, and better than any version I've tried outside of Thailand. Our friends, Connor and Alex, were in tow, and when the question came, the panic arrived promptly. "We like spicy," I assured. "But not crazy spicy," someone else suggested. Then our waitress stepped in to offer invaluable insight.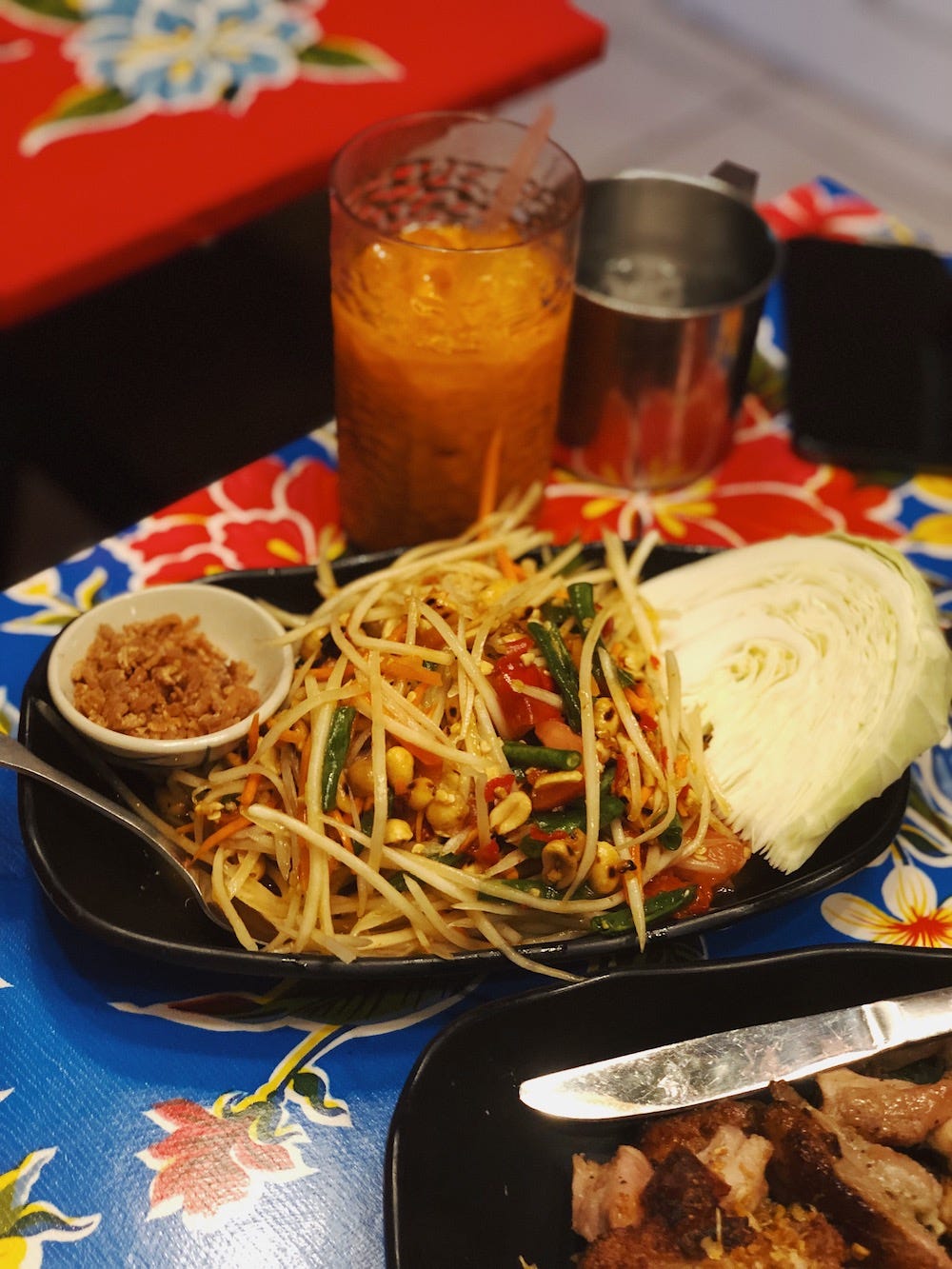 "15 chilies is Thai spicy. So, 10 chilies. Good?" Saarim agreed, I was relieved, and the meal was off to a smooth start.
There was more—a punchy grilled beef salad, pork larb richened with slippery bits of liver and chewy from strips of pig ear, and a golden crab omelet. It was easily the best Thai food I've had in a long time, and my new favorite amongst the usual suspects like Som Tum Der, Uncle Boons, Ugly Baby, and Ayada. We ate with abandon, left little for leftovers, and walked away with a key takeaway: 10 chilies is just right.
🌶
Hug Esan
77-16 Woodside Ave, Elmhurst, NY 11373
(929) 328-0392
---
What else is up?
---
---