Discover more from Some Meals
Writing on — and recs for — food and restaurants. Mostly in LA & NYC, sometimes elsewhere.
Over 1,000 subscribers
Go on, order a spritz. It's al fresco season.
Last Sunday was one of those magical May days when the weather report was wrong. It was supposed to be overcast and maybe rain; instead, we got 76° and sunny. In a perfect world, dinner would be had outside, over people-watching, and start with a spritz.

I got my perfect world! I ate with my family in a belated Mother's Day celebration. We ran into a man who knew my dad, and he said "it's not when you celebrate, it's where you celebrate," which is true. There were crisp white tablecloths and daily menus with three starters and four mains. As we broke off complimentary pieces of the restaurant's wavy, crackly carta di musica, which dripped with peppery olive oil and crisp threads of rosemary, we tried not to overtake each other's glossy fingers. The tablecloths were dirtied; the meal had begun. A second serving came our way and we shrugged, acceptingly. We needed to save our appetite, but we were a table of five, to begin with.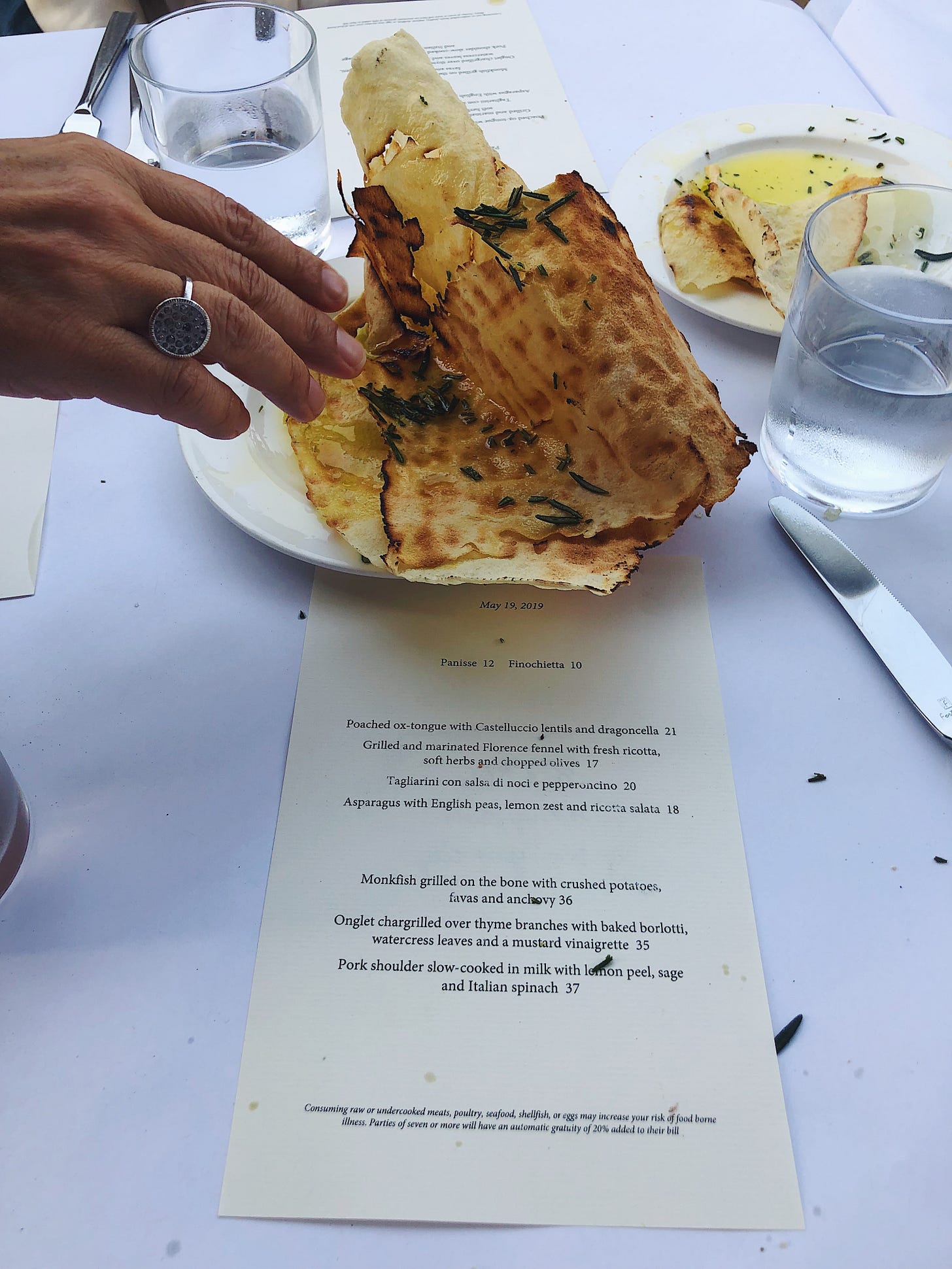 I rarely find myself in dining situations where I'm ordering my own appetizer and then a main. Generally, sharing is involved. The format felt like a treat, and it was the appropriate move at such a casually sophisticated European locale.

But before that first course, panisse: chickpea fritters, longer and wider than fingers, with custardy insides; snappy, browned crusts; and topped with salt flakes and fried sage. A must-order, and one of the menu's only mainstays.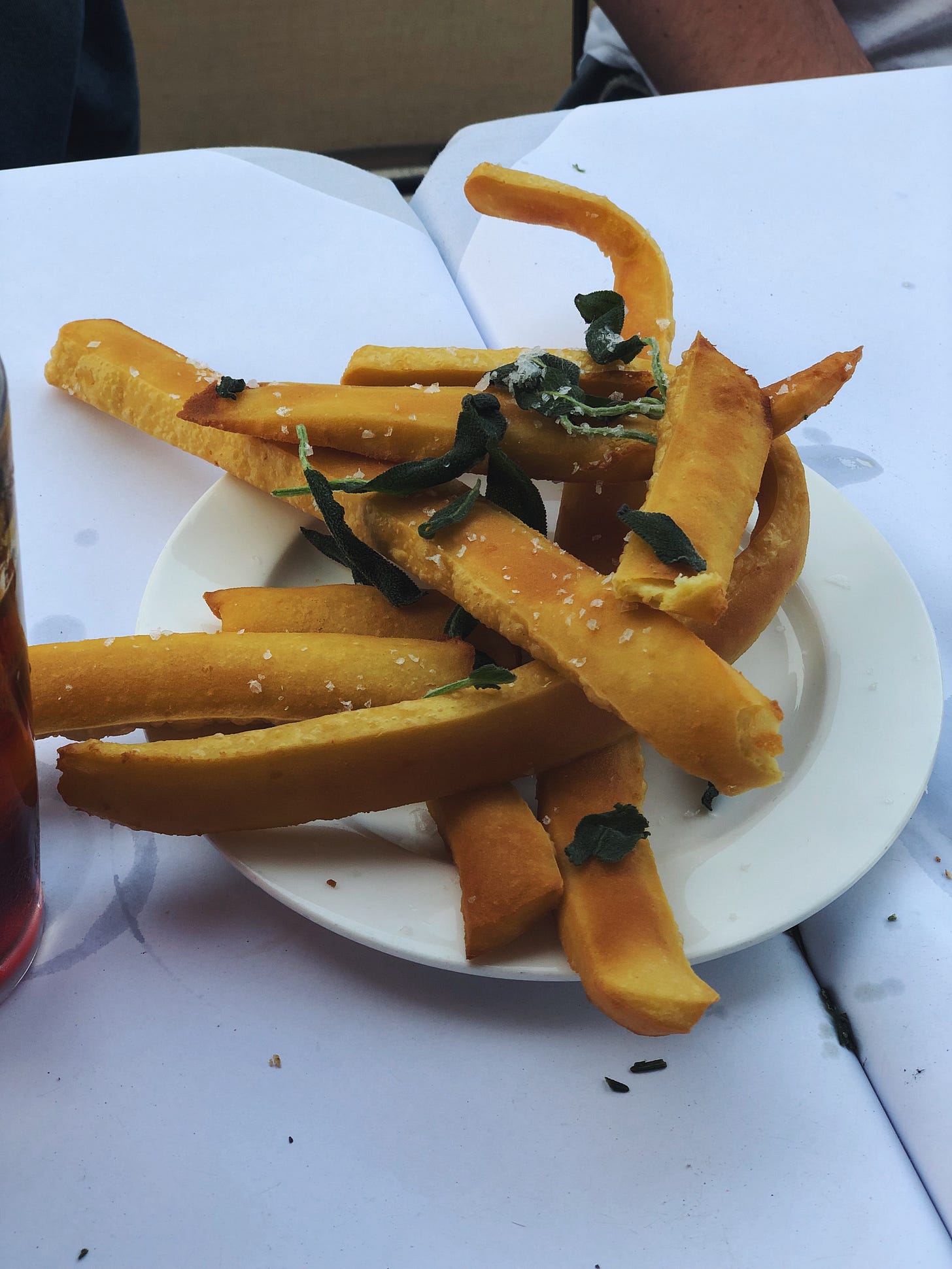 A bottle of crisp, well-rounded Chablis (my mom's favorite) was poured. I chomped on asparagus, blanched to highlight its freshness and paired with lobes of springy English peas, a perfectly-extra amount of ricotta salata shavings, lemon zest, and olive oil.

And for my entreé, something heartier to fuel the week ahead—pork shoulder slow-cooked in milk with more of that lemon peel and another helping of sage, served over Italian spinach with a hunk of burnt and slathered bread. It's a dish I'd had once before when my friend Scott cooked it for dinner, and it was just as delicious as I remembered. I hope to enjoy it again and again.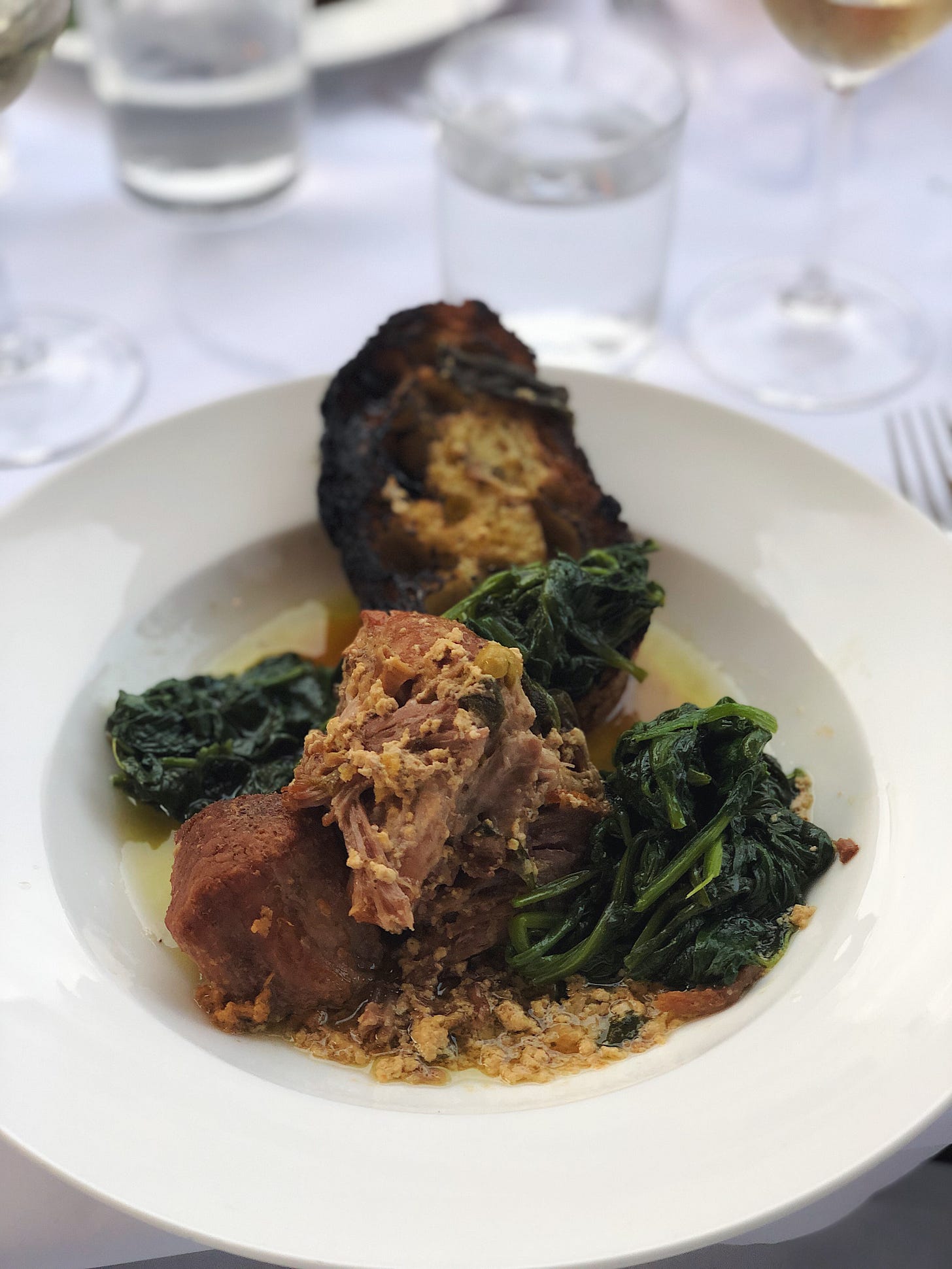 Dessert was a selection of ice creams, a new and exciting offering from the kitchen's co-chefs. We went with butterscotch and lavender-honey. A few weeks prior, I sampled their pain perdu, a flavor named after French toast and laced with crispy clusters of stale sourdough, cinnamon, sugar, and butter. The latter is my favorite of the bunch.

No one needs to be told of the delight that comes with dining al fresco, of sitting still and leisurely amongst the buzz of New Yorkers passing by, over delicious food and refreshing drinks. But I'm here anyway, to say that spring in New York is forever worth savoring, and King is the ideal place to do so.

☀️
King
18 King St, New York, NY 10014
(917) 825-1618

Recommended reads:
New to Some Things Considered? Read my archives here.