Discover more from Some Meals
Writing on — and recs for — food and restaurants. Mostly in LA & NYC, sometimes elsewhere.
Over 1,000 subscribers
Food safety, undocumented workers, street vendors, and farmers
The latest stories and initiatives surrounding the restaurant crisis
Good evening from my neck of the woods, where this happened yesterday:
Who has answers?


Read 📖
J. Kenji López-Alt's comprehensive guide on Food Safety and Coronavirus is a MUST-READ. All your questions answered, with extensive insight from experts. [Serious Eats]

The editors at TASTE rallied contributors (myself included!) for ideas on What to Cook, How to Give. There's lots of great stuff in here, like a recipe for Zuni Cafe's fried eggs and suggestions for supporting undocumented workers in need.

10% of the restaurant workforce is undocumented, and those folks are being hit particularly hard. [The Counter]

Eater's Robert Sietsema on his last restaurant meal at Khaabar Baari, a Bangladeshi restaurant in Jackson Heights, will make you shed a tear.
Have you ever sat down in a restaurant with people you didn't know well, and realized during the course of the meal that you were destined to become friends? I realized that most of my friendships over the past few years had been initiated while eating, and that in fact much of my enthusiasm for the world's varied cuisines has come from dining with eager companions.

If, like me, you're cooking a lot of pasta lately, take some cues from pasta master Evan Funke of Felix in LA. [Bon Appétit]

Street vendors across the globe are suffering steep losses in business, and in certain cases, being mandated to shut down service completely. [Eater, LATimes, NYTimes]

The restaurant crisis means growers are facing short- and long-term struggles, but farmers' markets remain a beacon of hope. [Bloomberg]

Dispatch from Atlanta: prominent restaurateur Hugh Acheson on what's at stake. "Fifty percent of the restaurants that just shut down across this country will never reopen." [Atlanta Magazine]

In New Orleans, hospitality industry vets say the impact of coronavirus is worse than that of Hurricane Katrina. [NYTimes]
Instead of restaurants rising out of the muck to comfort storm-weary New Orleanians, citizens are scrambling to help the restaurants and their employees survive the crisis.

No slice of heaven is protected:


Support 👊
ROAR (Relief Opportunities for All Restaurants) partnered with Robinhood and the National Restaurant Association Educational Foundation (NRAEF) "to provide direct cash assistance to restaurant workers in New York City facing unprecedented economic hardship as a result of the COVID-19 pandemic." Donate here.

Hedley & Bennett, the chef gear company founded by Ellen Marie Bennett, has mobilized an incredible initiative to create masks for healthcare workers at their factory. When you buy a mask for yourself, you also donate one to a hospital. I just bought five for my entire shelter-in-place crew.
We're at the
@hedleyandbennett
factory this weekend 👀⛑and the teams are working on getting thousands more face masks out. ⚡️💛 Thank you to everyone supporting and spreading the buy one, donate one message, you are directly helping get masks into the hands of so many healthcare workers that need them ⛑❤️🙏🏻
#wakeupandfight
For more information on the non surgical face mask we developed with
@drbobbybones
, go to our website www.hedleyandbennett.com/mask and also check out our FAQ. It tells you where you can find material to cut filters out and be ready for when you h&b masks arrive ⛑💛, stay safe and stay home
#covid
-19
#wakeupandfight
#apronsquad
#facemasks

Enrique Olvera is raising a fund to support migrant workers affected by COVID-19.

Taste of Peria is back, for delivery only. Get your fill of Saeed Pourkay's phenomenal Persian stews, which arrive in 32 oz. containers. [Eater]
Saeed is cooking for you!
Place your Order by THURSDAY!
This week menu is.
1-Fesenjan, pomegranate, walnut, chicken.
2-Ghaymeh Bademjaan, yellow split peas with eggplants and beef.
3-Khoresht Karafs, Celery, Artichoke and Beef.
Please place your order by sending your contact number!
Delivery for This Friday or Saturday
Send your message on FB or call me,
917 592 3467 please.

The LEE Initiative turns restaurants into relief centers for any restaurant worker who has been laid off or has taken a significant pay cut. It's now up and running in 14 cities across the U.S., including at Olmsted and Gertie in Brooklyn, Salare in Seattle, Mozza and chi SPACCA in LA, and plenty more. Contribute to the cause.

Jean-Georges is selling its porcelain collection and donating 50% of sales to the restaurant group's employee relief fund.

Superwolf (musicians Matt Sweeney and Bonnie 'Prince' Billy) released a new song for sale on Bandcamp and all proceeds go towards supporting Superiority Burger and Drag City Records. Pay three bucks then give it a listen. (h/t Dana)
NEW SUPERWOLF SONG FOR SALE EXCLUSIVELY ON
@BANDCAMP
ALL $ GOES TO HELP SUPERIORITY BURGER AND DRAG CITY RECORDS RIGHT NOW!
We wrote and recorded the rocker "You'll Get Eaten, Too" a while ago & waited for it to have a purpose & now it has a great one: all $ from sales goes to support
@superiorityburger
and
@dragcityrecords
My cousin Spencer Sweeney did the artwork and it rules, thanks
@dirtyroomba
Thanks to the god
@pmtownsend
for the killer drumming.
Thanks to
@poldham13
for the bass action, and making the recording, the mix and the mastering so sweet.
Thanks to D.V. DeVincentis for the party pic.
LINK AND INFO IN BIO song is $3.


Sip 🍷
How LA wine stores are slinging bottles and offering guidance to customers who can't physically step inside their shops. [LATimes]
I asked him what's hot right now. He gave me the same reply as other boutique wine shop owners: natural wines and especially orange wines, those boldly acidic white grape varietals in which the skins have been left to ferment with the juice.

"It's the great metaphor of spring 2020," Clement said. "People want skin contact."

One of my favorite Brooklyn wine shops, Leon & Son, is pivoting their April wine club to include bottles purchased from NYC restaurants. "Instead of detailed wine notes, you'll get notes on the restaurants you're helping to stay afloat during the shutdown." Sign up here.
At
@leonandsonwine
we've been thinking about how we can support NYC restaurants. One thing we're doing is purchasing all our April Leon Circle wines from restaurants who need our support now more than ever. So instead of everyone getting the same 3 wines, you'll all get different wines from restaurants with inspired lists. Instead of detailed wine notes, you'll get notes on the restaurants you're helping to stay afloat during the shutdown. The wines will be great because NYC restaurants have GREAT wine. Let's keep it that way. 💪🏽🍾
(We're still looking to fill some placements so if you're an operator or beverage director please reach out to info
@leoncircle.com
).


To Finish 🏁
A coping mechanism: don't just cook dinner, make lunch. Samin Nosrat's Ligurian Focaccia (bottom right) was an easy-to-make hit on my table. (Don't worry, it doesn't require a sourdough starter—just some active dry yeast.)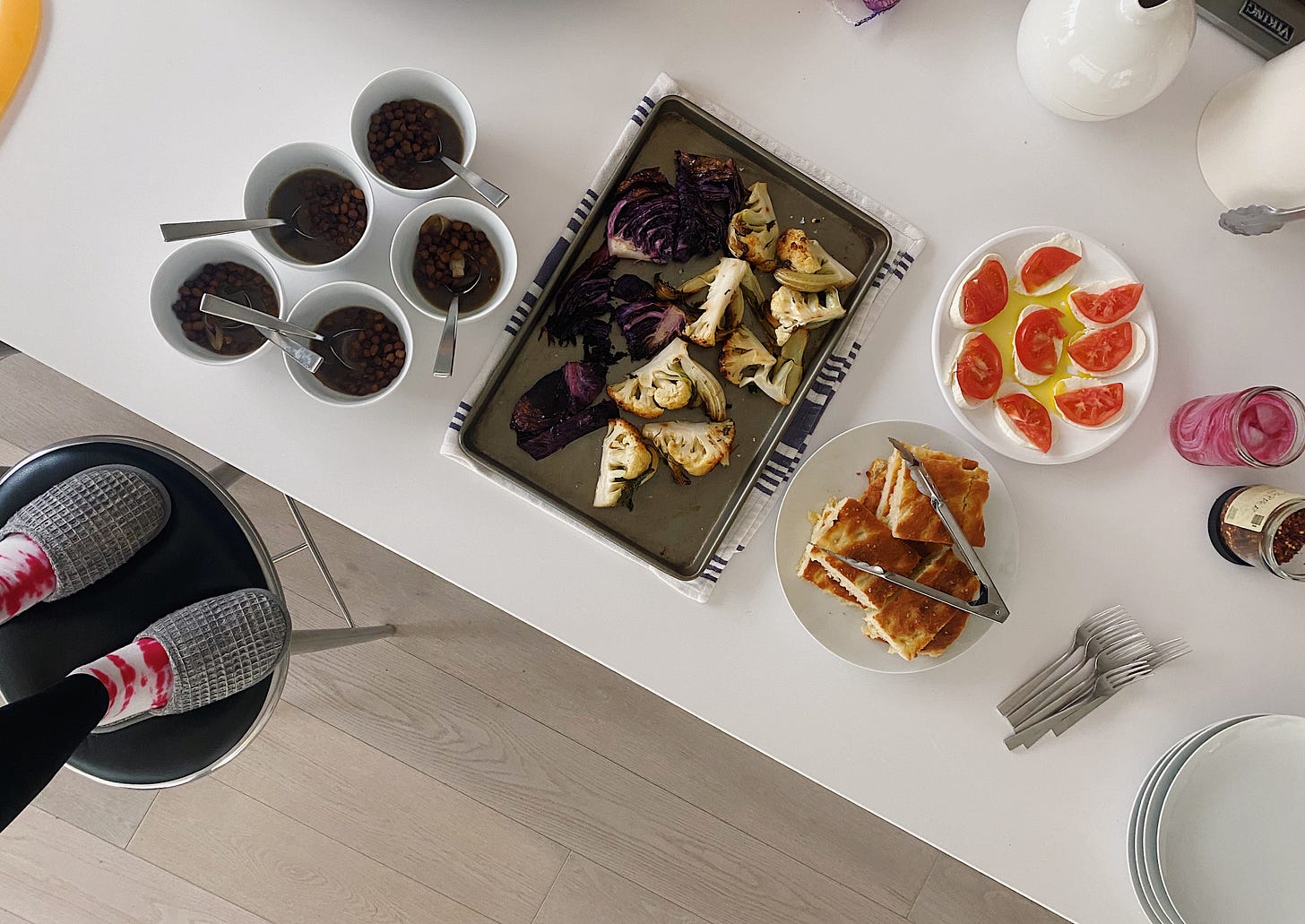 This hits home (h/t Alex):
Here's a silver lining:
We hear you! Dunkaroos are STILL coming back this Summer! More details coming soon...

Hang in there. More on Friday.
---
If you're into Some Meals Considered, tweet about it to spread the word!

Find all previous posts here.

Was this email forwarded to you? Sign up for real.

**Housekeeping** If you found me in your spam folder or your Promotions tab, please mark this address as 'not spam.'