Discover more from Some Meals
Writing on — and recs for — food and restaurants. Mostly in LA & NYC, sometimes elsewhere.
Over 1,000 subscribers
Eye candy
FiDi dining that's worth the hype.
Your eyes move from the snaky granite bar to the giant blonde wood hood hovering over the open kitchen and eventually up the soaring glass walls, pausing to linger on all of the little details. You take stock of the clientele, four-tops of finance execs, a giddy young couple celebrating a birthday, a table for eight women in dresses. You wonder how they all know each other. And then you focus back on your company, who nods in approval. You nod back. It's nice in here, and you're seated, even after having arrived two people short of a complete party. What a treat. 
You're in FiDi, on the ground floor of a gorgeously appointed Art Deco building with a landmarked marble lobby and 67 floors. If it wasn't for the restaurant's sleek, modern design, you'd have felt like you stepped back in time. People have been telling you to come here. Specifically, trusted friends with great taste. "Every single dish was amazing. We got all of the desserts," one said. "The wine list is extremely good," said the other. "The whole operation radiates confidence from start to finish," wrote Pete Wells, in a laudatory review. You were only waiting for an opportunity to secure a reservation and the right set of dining mates.
You found them in Josy and Andrew, an elegant duo and regulars at The NoMad, where James Kent, the restaurant's chef-owner, previously led the kitchen. They arrive and you order wine, a delicious bottle of White Burgundy from Mâconnais. The complimentary bread is a neat pull-apart loaf with an olive tapenade center. You carefully rip off a soft, thin layer and let it melt in your mouth.
Your teeth crunch through the ridges of a savory churro, revealing a squishy inside oozing with gruyere cheese. You wipe a piece of crackly puffed bread through satiny white bean hummus and 'nduja-laced oil. You can taste summer slipping away in a forkful of sugary, semi-dehydrated tomatoes with fresh peaches, creamy feta cheese, and a bright basil sauce.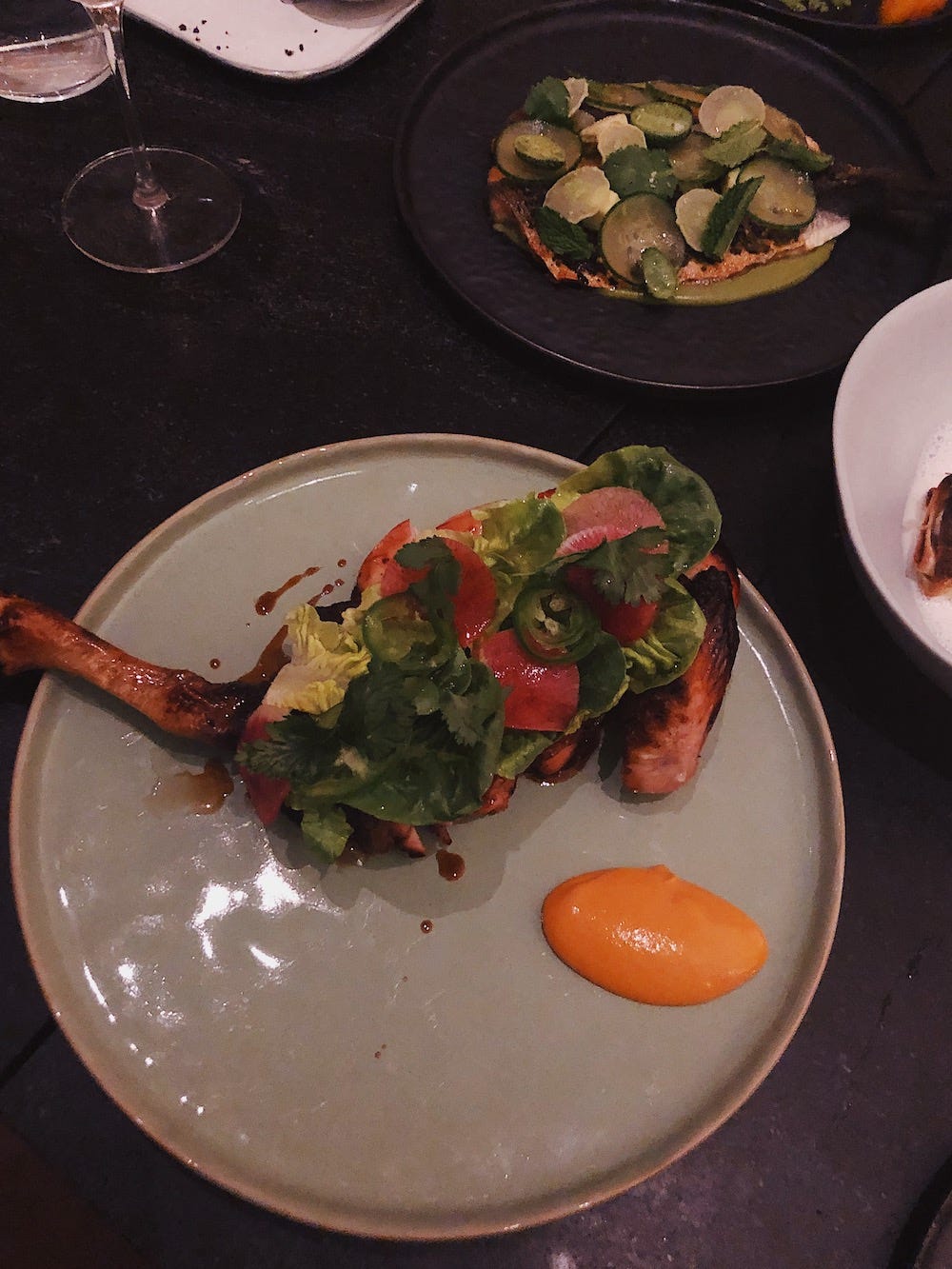 Everything, so far, is very good. You all agree. So is the case with the mains. Saarim's eyes light up with his first bite of the chicken, a Nando's-reminiscent number marinated in citrus and paired with a creamy dollop of creamsicle-colored hot sauce. Its skin, golden and honeyed, peeks through a salad of lightly dressed Bibb lettuce, radishes, cilantro, and jalapeño rings. You can't get enough of the perfectly cooked branzino filet, seasoned just right and addictively refreshing from various types of cucumber, mint leaves, and avocado purée. 
One final treat is in order. The sweets here, made by the pastry chef Renata Ameni, have a reputation of their own. The four of you share her chocolate tart, a masterpiece of texture and rich flavor: salty chocolate crust, mousse filling, pile of curls and shards, scoop of stracciatella ice cream. It's distinctly different but just as delightful as your favorite chocolate tart, which has the addition of hazelnut and is served a mile and a half uptown, at Wildair.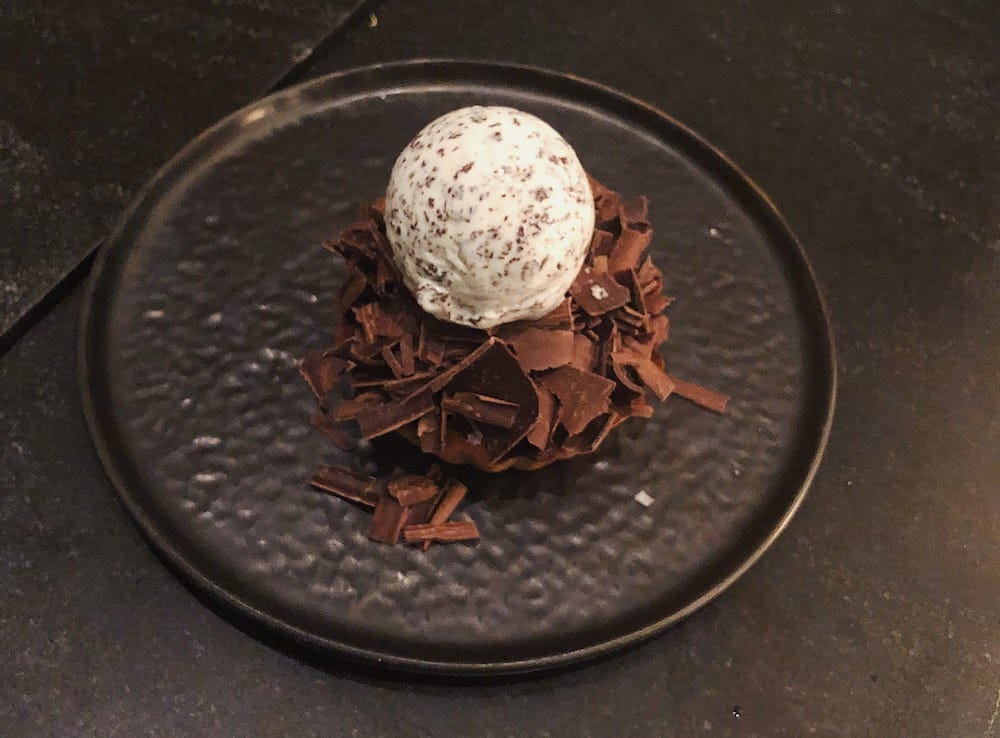 As you make your way out of Crown Shy and into the Gotham city vibe of the Financial District at night, you scan the various rooms of the stunning space once more, studying its crevices and corners, taking a breath, and filling your lungs with the hum of this extraordinarily well-executed operation. You'll definitely be back—when the moment is right.

🍬
Crown Shy
70 Pine St, New York, NY 10005
(212) 517-1932
---
This week's eats
Trying out a new section here. Sometimes you'll get reads, sometimes you'll get recipes, sometimes you'll get eats. It all depends on the week.
---
If you're into Some Meals Considered, tweet about it to spread the word!

Find all previous posts here.

Was this email forwarded to you? Sign up for real.

**Housekeeping** If you found me in your spam folder or your Promotions tab, please mark this address as 'not spam.'