Discover more from Some Meals
Writing on — and recs for — food and restaurants. Mostly in LA & NYC, sometimes elsewhere.
Over 1,000 subscribers
Everyone wants to be in New York right now
Let's enjoy it while we can
I ran into an old family friend on lower Canal Street the other night. He told me he's been thinking about leaving for a bit, maybe to LA or so, but that people keep coming here, so he's stayed put. "Everyone wants to be in New York right now," he said.
It's true. I was in Dimes Square—which some people, myself included, like to call the area, after the healthy-hip restaurant that put the micro-neighborhood on the map—to meet up with my friend Ben who lives in LA but has been in New York for the past month. Earlier that day I walked around SoHo with Ruby, another New Yorker turned Angeleno who is here for most of October. And my friend Adam who lives near SF is talking about subletting a spot in New York for November and December. That's just three of many examples. People are coming and staying for a while since quick trips are unsafe, much of work is still remote, and quality time with friends and family is desperately needed after six months of lockdown. 
It's also because the city is vibrant right now. You can walk or run or bike all over, which the cool fall weather makes all the more appealing. There are no fires like the West Coast is suffering. Parking has become impossible (which sucks for folks with cars like me), meaning many who fled have returned. I haven't taken the subway since March, but lots of people are comfortable riding it these days. 
I ate take-out in Fort Greene Park recently where a jazz band was playing a spontaneous live show. (This blanket is my best pandemic purchase.) Outdoor dining (and drinking) is giving the city new life, and now it's forever. COVID cases remain down.
Who knows what'll happen with the virus in the next couple of months, especially with the recent news of upticks in certain neighborhoods of Brooklyn and Queens and the reintroduction of indoor dining at 25% capacity. 
While I'm not eager to sit inside restaurants anytime soon, I have finally come around to dining al fresco.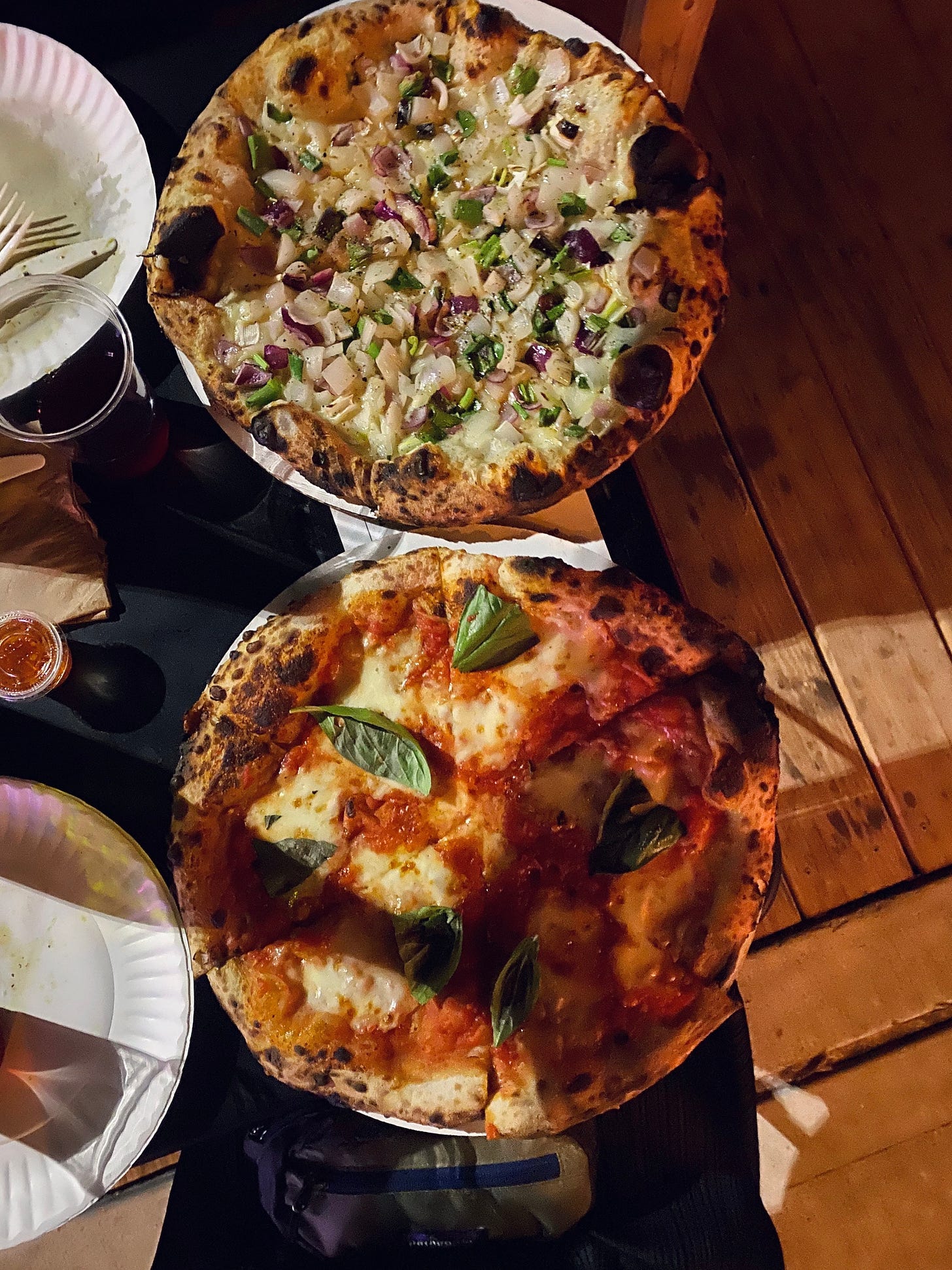 I've had a lot of pizza—one of the few foods I don't like to cook at home—at Leo with chopped and Caesar salads, frozen Negronis and plenty of wine; shared a giant crispy mushroom pizza plus a hot sausage and sage amongst four at Franks Wine Bar via F&F; and polished off two bottles and almost two whole pies (the margherita and the onion-y cicero, pictured above) during a celebratory meal at Ops. All of these places are taking reservations on Resy. (Plug: although I only recently hopped on the bandwagon myself, I've been keeping this guide fresh for Resy.com.)
We had fried olives (pictured below), spicy beans with feta, and our favorite (vegan) paella at Olea, which accepts walk-ins only. I've grabbed outdoor tables at For All Things Good to enjoy chilaquiles in the morning and tacos at night. Last weekend, I situated myself at a sidewalk high-top to dig into a kale patty and sip on a juice from BKLYN Blend.
Mostly I'm sticking to the spots I know and love, although I plan to branch out a little this coming week. What have been your favorite places to eat outside?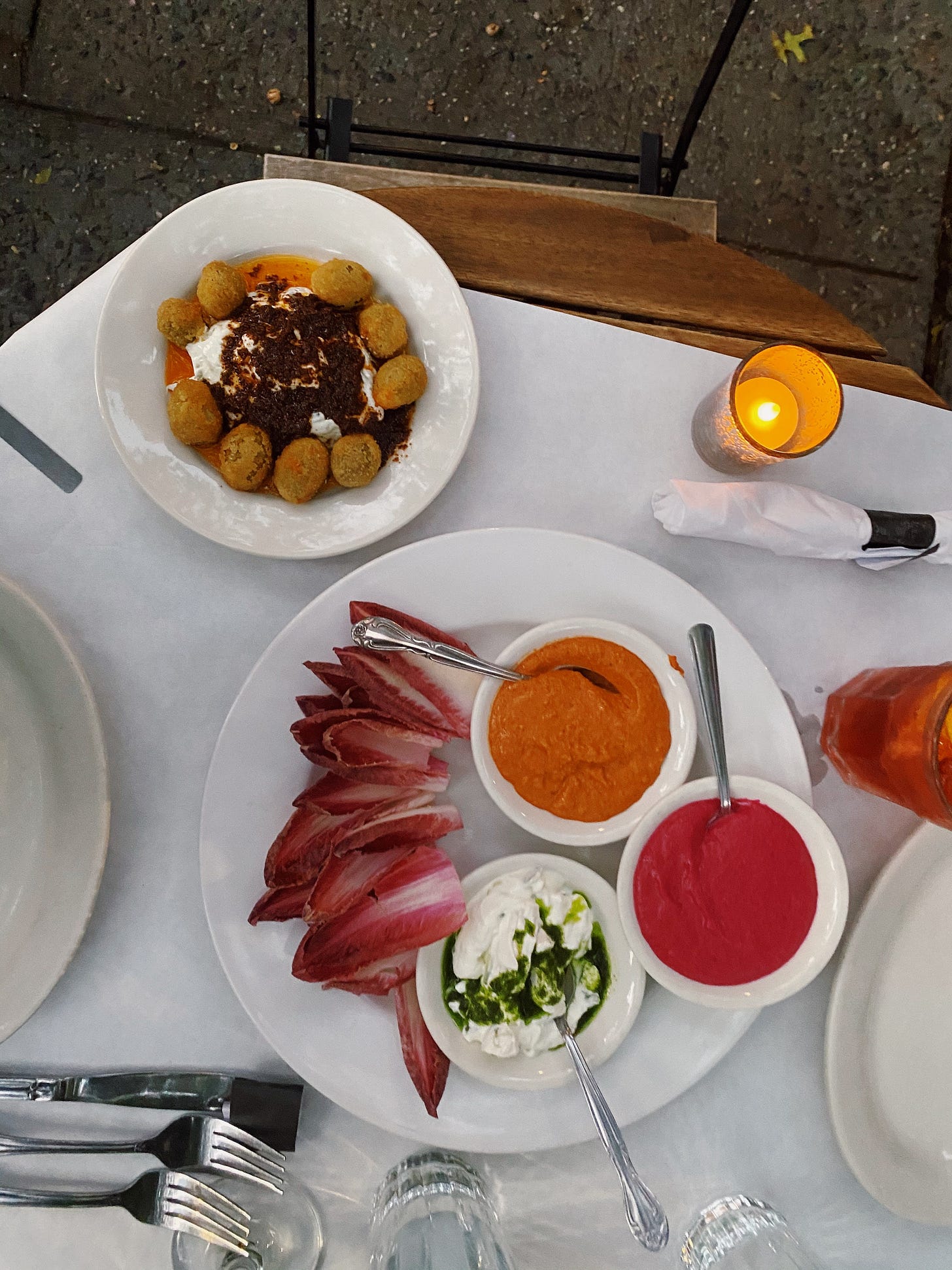 This is not a "New York isn't dead" post—because, duh—although I recognize it kind of reads that way. This is just me saying how it feels good to be spending time at restaurants again, to be eating some of my favorite dishes (plus new items!) where they're meant to be eaten, to be taken care of by teams that are working extra hard to provide hospitality, and to have our third places back to socialize with friends.
That doesn't mean we can let our guard down. Masks aren't over, servers and any restaurant staff you interact with should be treated with the utmost respect—always, but even more so now—and tipped generously. Stay home if you're feeling unwell, keep updated on case counts, get tested when you can, etcetera.
Still, things are looking up, and we should enjoy it while we can.

TRY THIS
READ THAT
SMC, MAPPED
Follow the Some Meals Considered list 🌎