Discover more from Some Meals
Writing on — and recs for — food and restaurants. Mostly in LA & NYC, sometimes elsewhere.
Over 1,000 subscribers
Don't call it brunch
Weekend lunch is one of the best-kept secrets of dining in New York City. I'm not talking about brunch. I'm talking about restaurants that serve their dinner menu during the day. Sometimes it'll be pared down, with added lunch-only items, but you won't find any egg dishes.
Via Carota does this, and before Jody Williams and Rita Sodi took home Best Chef: New York City at the James Beard Awards last month, you could swing by at noon and get a table instantly. In this dinner town, a willingness to dine at lunch grants you easy access to some of the toughest tables to nab come evening time. There's also King, and Misi. All three of these spots serve weekday lunch, too, but unfortunately, I have a desk job.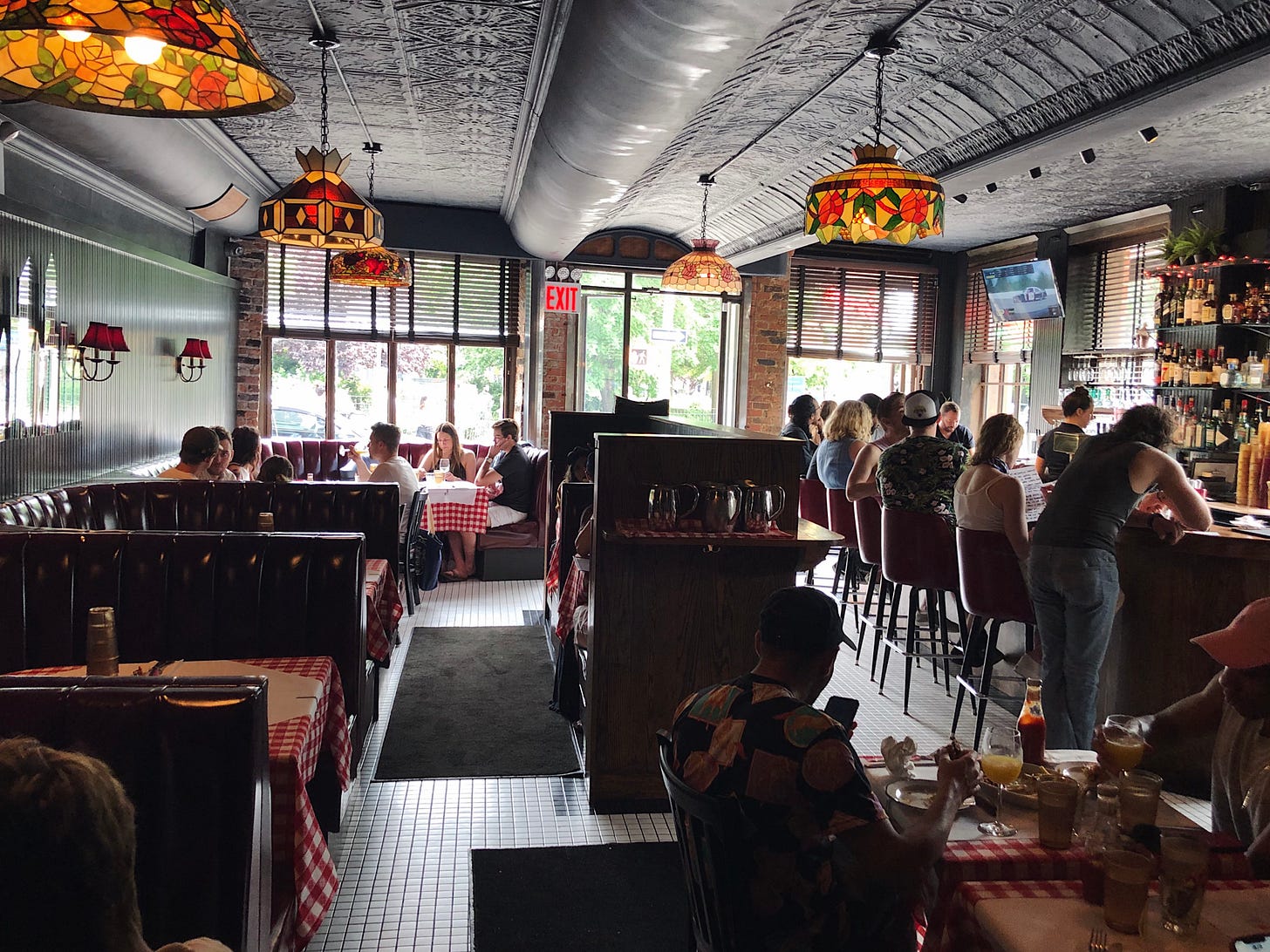 On the outskirts of McCarren Park, you'll find a retro-looking American eatery where lunch, from 12 to 4 pm on Saturdays and Sundays only, is on. You can waltz right in, grab a shiny maroon booth, and call for an order of buffalo wings. They'll be tangy and peppery and thoroughly sauced. And as you await their arrival, you can draw your name in bubble letters on the waxy paper atop your red-checkered tablecloth, using a multitude of Crayola colors. You can have a Greek salad, piled high with crunchy cucumbers and green peppers, crumbly feta, bright cherry tomatoes, and pruned black olives, tossed in a punchy red wine vinaigrette not shy on dried oregano. By the time you've finished, glossy romaine leaves and thin slices of red onion will have littered the table, and you'll wonder how old you are again.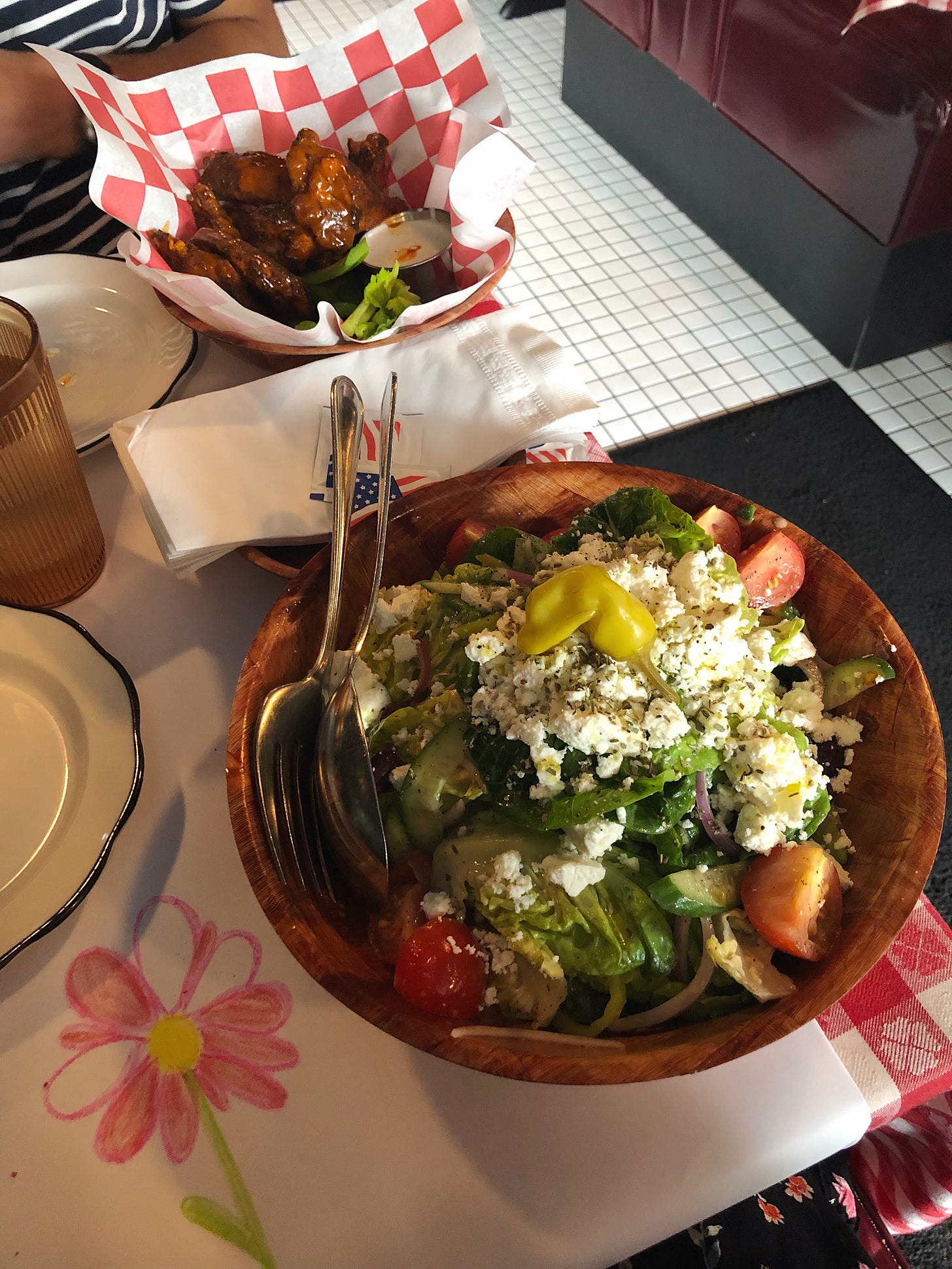 It'll be quiet and pleasant. You'll notice that a woman a few tables away is upset over having splashed a bit of sauce on her white dress. A waiter will appear, unprompted and clad in one of the restaurant's signature white polo tees, Tide pen in hand—a successful effort to restore the carefree energy. "The service here is incredible," she'll say to her friend, laughing while dabbing the stain away.
You could also come on Friday night, kick off the weekend with an ice-cold dirty martini and excellent mozzarella sticks (made fresh, never frozen). I'd recommend that, too. It's a combo worth waiting for—which you'll have to—as is the wedge salad, the vinegar chicken, the brownie sundae, the pitchers of cold ones, the tight selection of natural wines.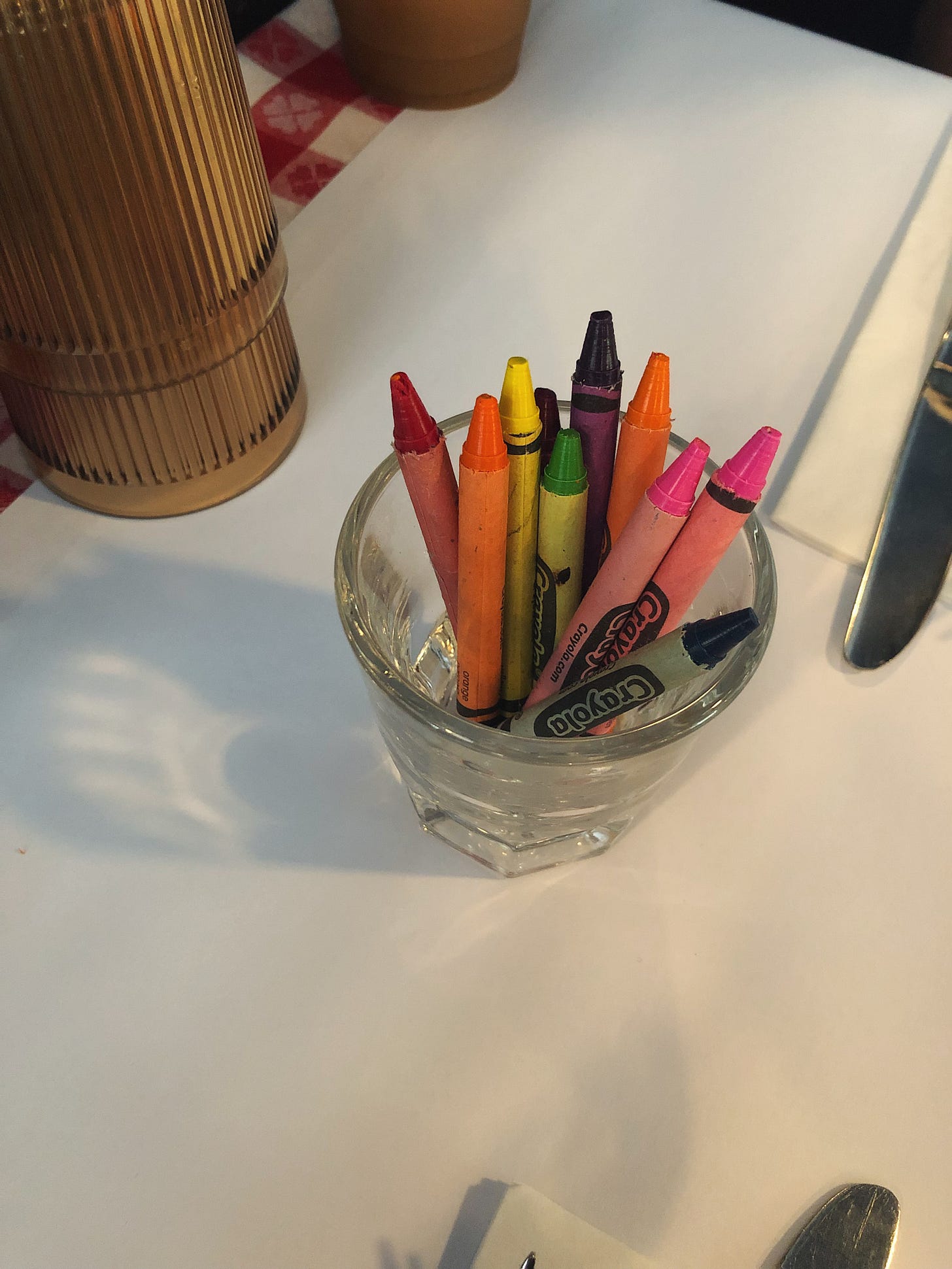 Either way, you win. A hit of nostalgia and perfectly executed comfort food is too craveable a formula to limit your intake. But when you eliminate wait time from the equation, add a leisurely air, plus The Greek and some wings, you get my hard sell on lunch at Bernie's.

🖍
Bernie's
332 Driggs Ave, Brooklyn, NY 11222
(347) 529-6400

Recommended reads:

New to Some Things Considered? Read my archives here.