Discover more from Some Meals
Writing on — and recs for — food and restaurants. Mostly in LA & NYC, sometimes elsewhere.
Over 1,000 subscribers
Cool stuff to buy, fun things to do
+ Feels to feel. Another week of quarantine is in the books.
People are getting laid off left and right. Small businesses continue to struggle. Healthcare workers are on the front lines. The sickness is spreading. So, in lieu of a round-up of the latest efforts and devastations facing the restaurant world, I'm keeping things relatively light-hearted today with cool stuff to buy, fun things to do, and feels to feel.



Cool Stuff to Buy 🤑
NYC restaurants and food shops are offering more than the usual for delivery and takeout. They're slinging groceries, meal kits, and care packages, too. A quart of Bolognese ragu from Da Toscano, 1.5 lbs of frozen Nom Wah soup dumplings, or a ready-to-roast whole chicken a la The Fly could be yours in no time. Or maybe you want to ball out on deli sandwich fixings from Katz's? Longer lists on Eater and The Infatuation.
Now available, our friends and family labor of love care package:
@varietycoffee
beans,
@noesodos
Wine Shots Vol. 5,
@stagiaire.wine
full 2018 lineup, and our house-made sourdough bread, ricotta, and meyer lemon jam. $150 for the set, with free delivery or pick up. We thank you for your love and support ❤️

Jeremiah Stone and Fabián von Hauske combined Contra and Wildair to create the delivery-only restaurant Contrair. The playful, transit-friendly menu includes picks from their killer wine lists and bottled cocktails.

Now's a great time to buy cookbooks, but don't buy them from Amazon. Support local stores by purchasing on Bookshop, which is like Garmentory for independent book shops. [InsideHook]

Merch has never been better. Restuarant PR firm Care of Chan has a sick round-up of stuff to buy here (h/t Lisa). Swag design company CALA launched Support Each Other, which lets musicians and small businesses create and sell merch with no up-front cost. Lingua Franca dropped this "too small to fail" cashmere sweater ($100 of each sale supports ROAR NY). And every purchase of these Jon & Vinny's slip-on Vans supports their furloughed staff.
@vans
"FOOT THE BILL" has partnered with Jon & Vinny's •
With the purchase of every pair of Jon & Vinny's custom vans using our design,
@vans
will give the restaurant(s) the net proceeds to help during this time of need. This money will go directly to the staff members that have been furloughed or have had reduced hours. Thank you for your support!
#vanscustoms

Goldbelly, the online marketplace for regional and artisanal foods—think Ess-A Bagels shipped overnight to Chicago or fresh Texas tamales arriving on D.C. doorsteps—launched GiveBelly City Subscription Boxes. You'll receive a monthly box of curated foods from restaurants in your city of choice and all of the proceeds will go towards Goldbelly boxes for healthcare workers and first responders in that city.

Donate your dollars to a good cause and receive a food or restaurant illustration in return. [The Art Newspaper, Eater]
An unintentionally goth layer cake, for
@zaneta316
, made with mango, passion fruit, and pomegranate. (There are a few unasked-for loquats on the middle tier, too, got carried away there, sorry.)
⠀⠀⠀⠀⠀⠀⠀⠀
_____
⠀⠀⠀⠀⠀⠀⠀⠀
I will draw your favorite food, your least favorite food, or your favorite imaginary food if you help out one of your local restaurants, food businesses, nonprofits, relief orgs, or any GoFundMe campaign your favorite restaurant may have set up in the last few days).
⠀⠀⠀⠀⠀⠀⠀⠀⠀
DM me your request with a screenshot of your donation, in any amount, and I will post your drawing here. It may take a few days — apologies! — but I'm excited to keep this going.

Produce! Direct to your door, from small farmers. [Eater, NYTimes] Relatedly: ramps season is here! So ask the restaurant suppliers you're ordering from if they have them or stop by the greenmarket if you can. Since I can't make my seasonal pilgrimage to Lilia for Missy Robbins' ramp focaccia, I might have to bake my own. [Grub Street]

Bread! Here's Daniela Galarza for The Wall Street Journal on the neighborhood bakeries providing "loaves and reassurance."

Milk! Dairy is making a comeback—and my hunch is that Oatly is tough to come by right now. Via The Counter:
Dairy kings. Milkmen are experiencing a resurgence as Americans retreat into the safety of their homes. In Connecticut, one dairy farm has reinstituted home delivery, after retiring the service eight years ago. In New York, the last milkman in one region reports experiencing a flood of new interest. He has also expanded his offerings to include more than just dairy: Meatballs, ribs, hash browns, and pizza logs are on the menu, too. A similar situation is also unfolding across the pond, The New York Timesreports. Before this, use of milk delivery had plummeted in the last few decades: Just 0.4 percent of the product was home-delivered in 2005, according to USDA, the last year the agency reported such data. 




Fun Things to Do 🤪
Keep up with Ina Garten, the Quarantine Queen. [The Atlantic]

Watch (or re-watch) the best Anthony Bourdain episodes and be somewhere else while you can't leave home with a little help from the best tour guide there ever was. [Vulture]

"Tip Your Bartender" at 5 pm daily. PUNCH is connecting imbibers to the nation's top drink-makers. You get cocktail recipes, they get financial support.

Take a page out of baker extraordinaire Zoe Kanan's playbook: bake a batch of something then deliver it (safety) to your neighbors.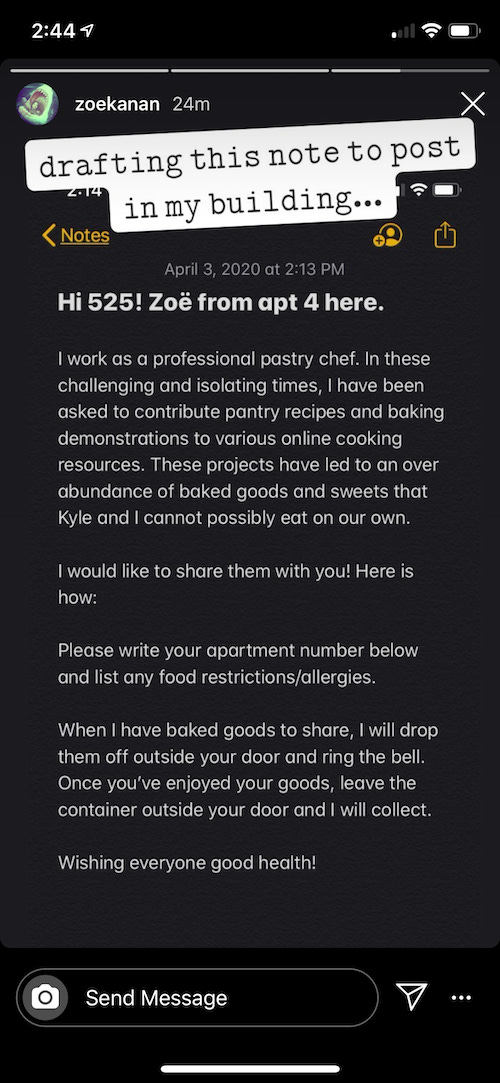 Tune in to Cherry Bombe's virtual Jubilee this Sunday, April 5th. It's free for all and taking place entirely on Instagram.

Follow pineapple collaborative on Instagram for a series of takeovers starting this weekend, where folks like the aforementioned Zoe Kanan and Rosemary Liss of Baltimore's Le Comptoir du Vin will be leading demos and AMAs.



Feels to Feel 🥺
Read this soul-stirring essay from Tejal Rao in the NYTimes: Dining and Driving on the Empty Freeways of Los Angeles

Plus the bread story below, from Dan Barber:
Today, we're launching The Bread Box, a mega loaf meant to feed your family for the week.⠀
⠀
I'll never forget visiting the farmer's market as a 24-year-old line cook in a town not far from Aix-en-Provence, where a handful of old-school bakers offered comically large loaves for sale. I didn't understand it—why buy a week's worth of bread (in France of all places) when a beautiful, fresh loaf was available each morning on nearly every corner? For the months I was living there I ignored it, until one day I didn't. I purchased a monster loaf, just for fun, and brought it back to the basement flat I was living in. (The loaf was wider than my kitchen.)⠀
⠀
I learned for myself the reason the tradition lives on. The bread changed each day. I remember absolutely loving the first slice (it was still slightly warm, what human being doesn't love warm bread?); but the first slice turned out not to be the best slice—bread of that size needs to rest a day or longer. I remember standing there in my flat amazed at how, overnight, and each night, the flavor developed, deepening almost magically as I hacked my way through the loaf. I sliced into it twice a day for seven days, and now, nearly 30 years later, I still remember waking up to it in the morning with apricot marmalade and slathering another slice with milk jam each night before bed. It was fabulous.⠀
⠀
And now in our quarantined moment, it strikes me that the old-time bakers were tapping into something even larger, a deep cultural norm that continued for centuries (until not that long ago) in which French villagers shared a communal oven that fired only once a week. Such large loaves would feed a family for a week. It was a communal event, a ritual—as much as it was a means of sustaining villagers whose resources were limited. ⠀
⠀
Today, resourceED is bringing the ritual back and toasting a French tradition worthy of revival. ⠀
⠀
Order at the link in bio.
#resourcED

We're all in this together—take it from Grub Street's Quarantine Diet series. Here are some highlights from Ruth Reichl's, who gets it.
As long as I have bread, I am a happy person.

Rice is one of those things you pretty much have to have.

I always have wine with dinner and have pretty much have done that since I was 20.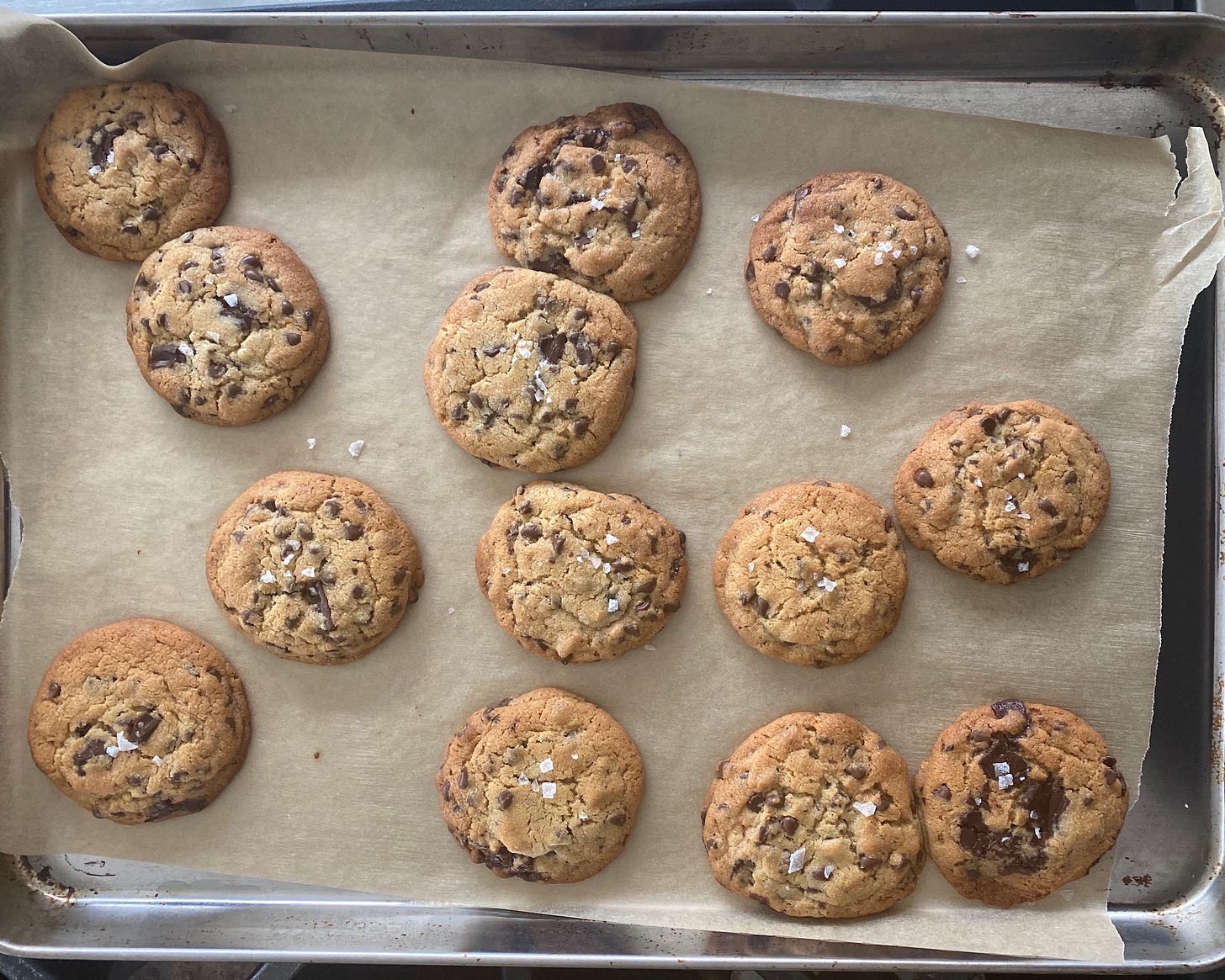 These are salted chocolate chip tahini cookies that I baked with my shelter-in-place pal Alice this morning. We're doing cardamom buns this weekend. Maybe I'll be a baker by the time this is over. No promises, though. 🍞
---
If you're into Some Meals Considered, tweet about it to spread the word!

Find all previous posts here.

Was this email forwarded to you? Sign up for real.

**Housekeeping** If you found me in your spam folder or your Promotions tab, please mark this address as 'not spam.'