Discover more from Some Meals
Writing on — and recs for — food and restaurants. Mostly in LA & NYC, sometimes elsewhere.
Over 1,000 subscribers
Community restaurants
In favor of making way for new models
Thank you to everyone who took the survey in last week's newsletter. I really appreciate the feedback. It turns out many of you want to see me keep doing what I'm doing, with most people interested in recommendations for where and what to eat and personal takes on the restaurant industry. So I won't be making any major changes right now, but I am going to build a bit of structure (starting today!) back into my format with a more fleshed out recommendation section of dishes to order, articles to read, things to buy, etc. underneath the main essay.
Now, let's get back to it.
On Community and Restaurants
Community is a gravely overused word. It's also a term that carries a lot of promise and brings me hope since it's antithetical to the capitalist structures that dominate our day-to-day, as employees in the workplace and consumers participating in the economy. One example of this is community fridges, sources of free food for those who are insecure, established by activists and maintained by locals. It's not a new idea, but skyrocketed unemployment rates combined with the BLM movement's focus on bringing marginalized truths to the forefront has spawned their proliferation across New York sidewalks and bodegas, thanks to groups like In Our Hearts. And a wealth of recent coverage is contributing to the spread of the phenomenon. There's one outside of Playground Coffee Shop around the corner from us, which we donated to earlier this week after realizing we had too much produce to make use of while it was still fresh. It's a win-win: I absolve myself of food waste anxiety, and someone in need can make themselves a nutritious meal for free.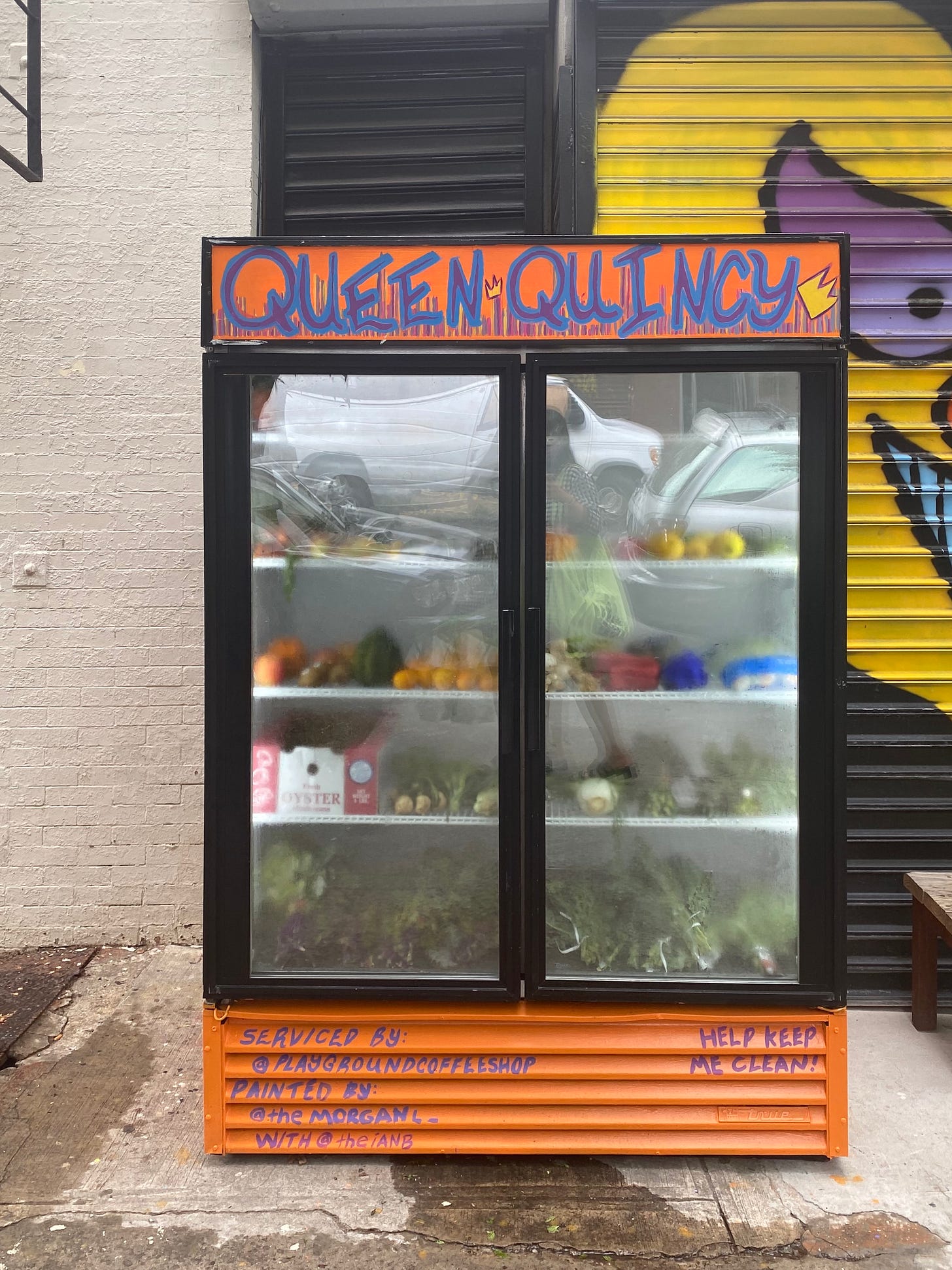 But also… tech companies call their userbase a community. Gated communities exist as cultural wastelands in suburbs across the country. Internet communities can be dangerous or wonderful, depending on what it is that unites their members. Community is an umbrella that's tossed around generously. All it really means, after all, is a group of people (or a feeling of belonging amongst those) that have a characteristic in common, whether that's physical location or ethnicity or niche interest. Community isn't exclusively a good thing; communities can be ignorantly homogenous or ill-intentioned. Because of this, I think it's important that we work harder to define the communities and acts of community that are inspiring and productive and that we approach the word critically whenever it is invoked.
What might a community restaurant look like, then?
It could be an eatery that exists not to appeal to mainstream diners but to provide a feeling of home for a diasporic immigrant group (a type of restaurant that Jonathan Nunn described in the Eater London piece I recommended last week).
Perhaps it's worker-owned so that employees share in the profits and vote on business decisions, like at San Francisco's Arizmendi Bakery.
Or maybe it functions as a vehicle to raise funds for another purpose, such as Ganesh Temple Canteen, a South Indian restaurant located below the community center attached to a Hindu temple in Flushing, Queens. If you can figure out how to get there right now, they're offering "curbside dining," where you take your tray upstairs and eat under a tent outside of the center. The Pondicherry dosa is revelatory.
Another model could be member-based and supported by volunteer shifts, like how college campus co-ops and grocery co-ops work.
When profit isn't the main motivator and there's no top-down structure that rewards investment over labor, more ways to make use of the space become possible, whether it be organizing or donating meals or staging public forums. I recognize that this is an idealistic way of envisioning a future of restaurants. I also realize that stellar food is often a result of the rigorous implementation of a singular chef's creative vision. Still, I welcome a world in which more experimental and community-driven restaurant projects can take shape and thrive. I'm optimistic that the time is ripe.
---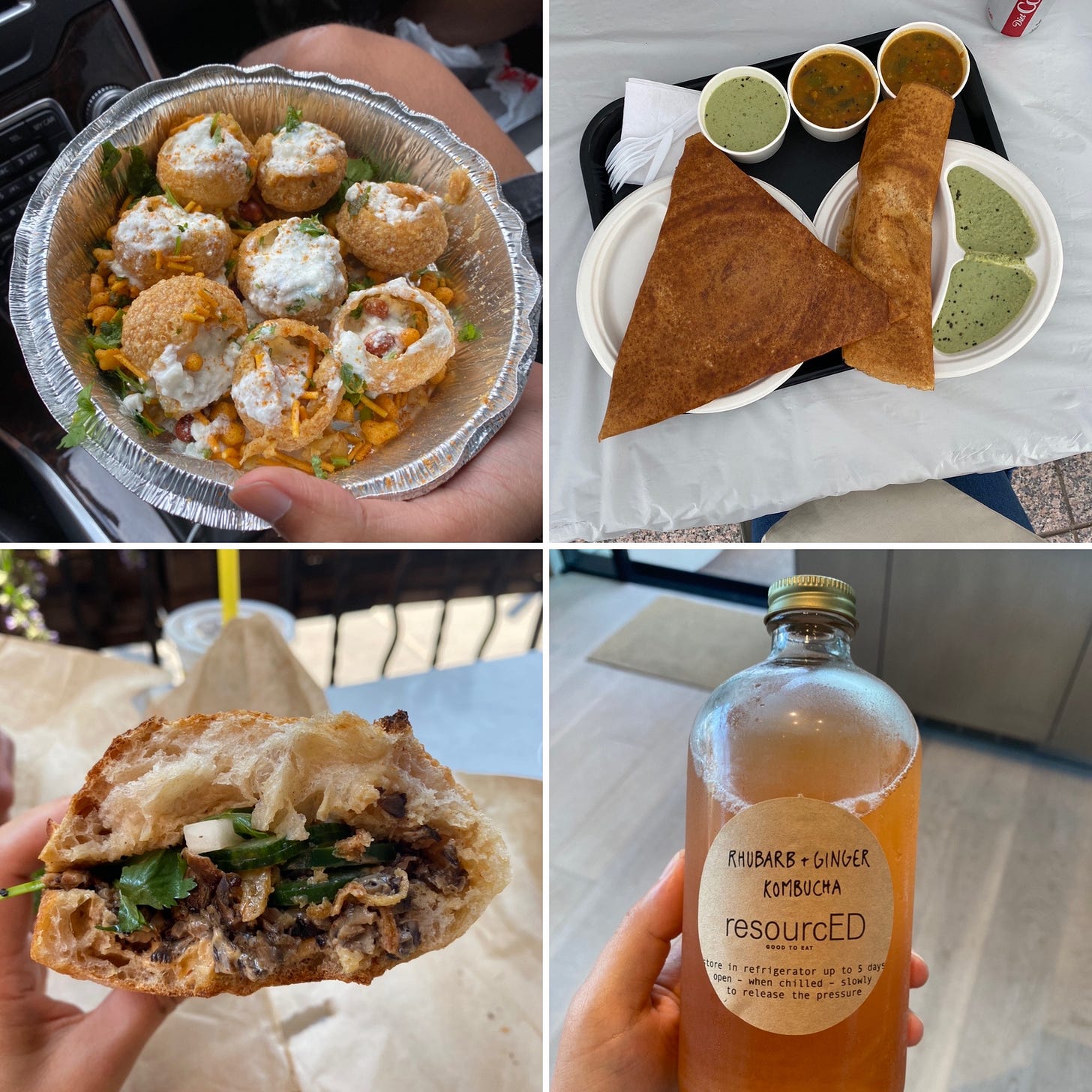 Try This
Read That