Burritos, fajitas, and tacos
Cravings of the American West.
I come from a family of skiers and snowboarders. The spring breaks of my youth were spent mostly in Colorado, sometimes in Utah, and once in Idaho (at Sun Valley). In favor of powder and to steer clear of ice, we always traveled west for ski vacations. When I think of the food that we ate—apart from mid-mountain lunches of chili and chicken tenders—I remember smothered burritos packed with rice and pinto beans; sizzling platters of meat strips, peppers, and onions served with flour tortillas; and tacos with pico de gallo and guac. Not the "authentic" fare you'll find in Mexico or on the coast of California, but Americanized staples. Loaded with carbs and laden with protein, Mexican-American cuisine is the perfect fuel for days spent burning calories on the slopes.
As my siblings and I grew older, went to college, and started our careers, my family pivoted from spring skiing to Christmas in the mountains. Our home base became Park City, Utah—a relief due to the reliability of the SLC airport compared to DIA, and a slight bummer given the state's disadvantageous liquor and marijuana laws. All contrasts aside, some things never change when you're skiing out west. The craving for a shrimp burrito after clocking in 15,000 vertical feet is one of them.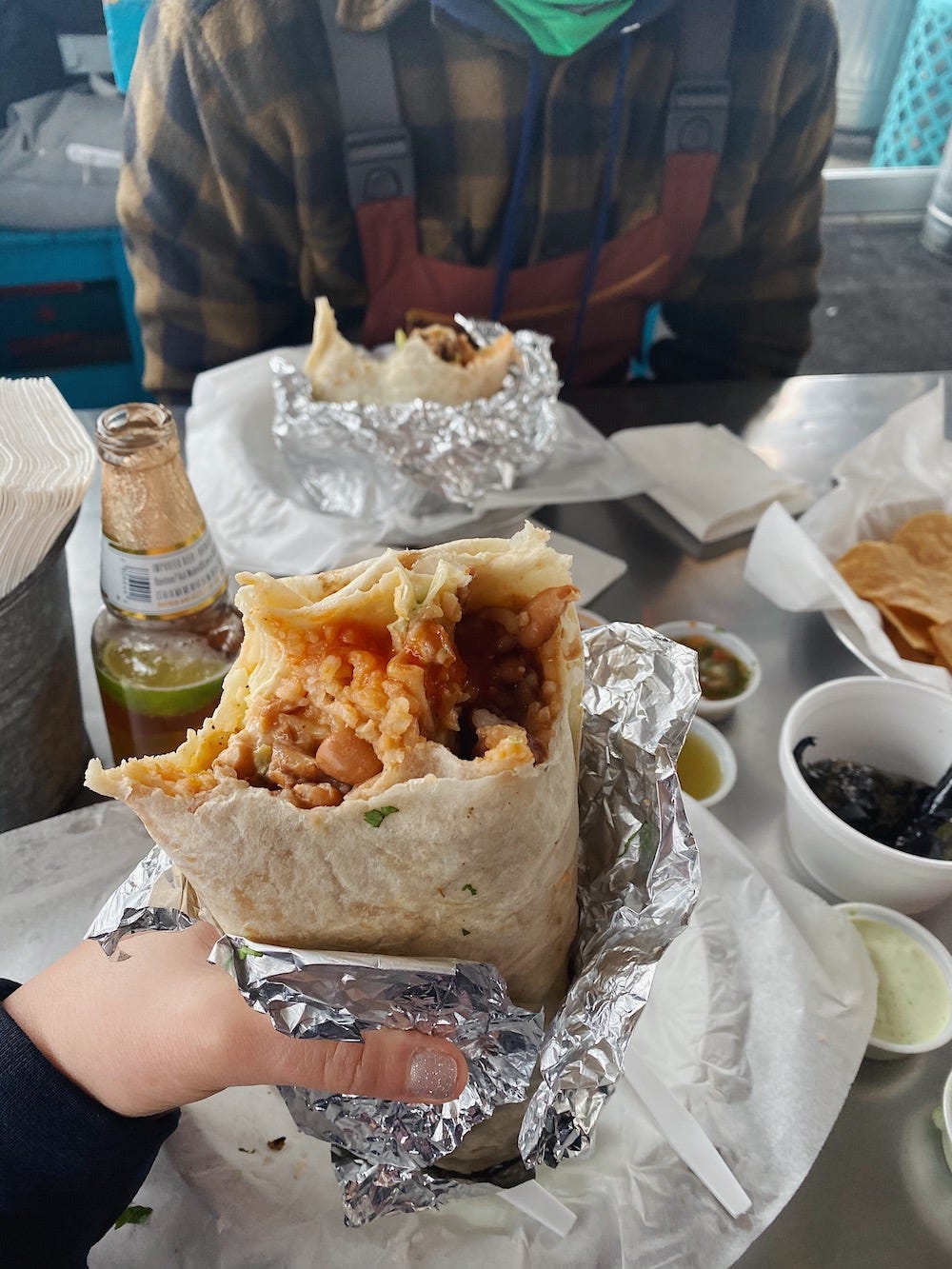 You'll find that on the menu at Lone Star Taqueria, a funky Mexican joint two miles off the SR-210, about halfway between the bases of Alta and The Canyons. Look for a patio lined with tin chairs in mismatched colors, pull into the parking lot, admire the car covered head-to-toe in bumper stickers, then step inside to order. Ask for a basket of freshly fried tortilla chips, a side of cilantro mayo (unless your choice of entree already comes with), and a cold Modelo—if you're not the one driving. Grab a few miniature plastic containers and fill them with sauces in green, orange, and red; mild, medium, and spicy. Dig in.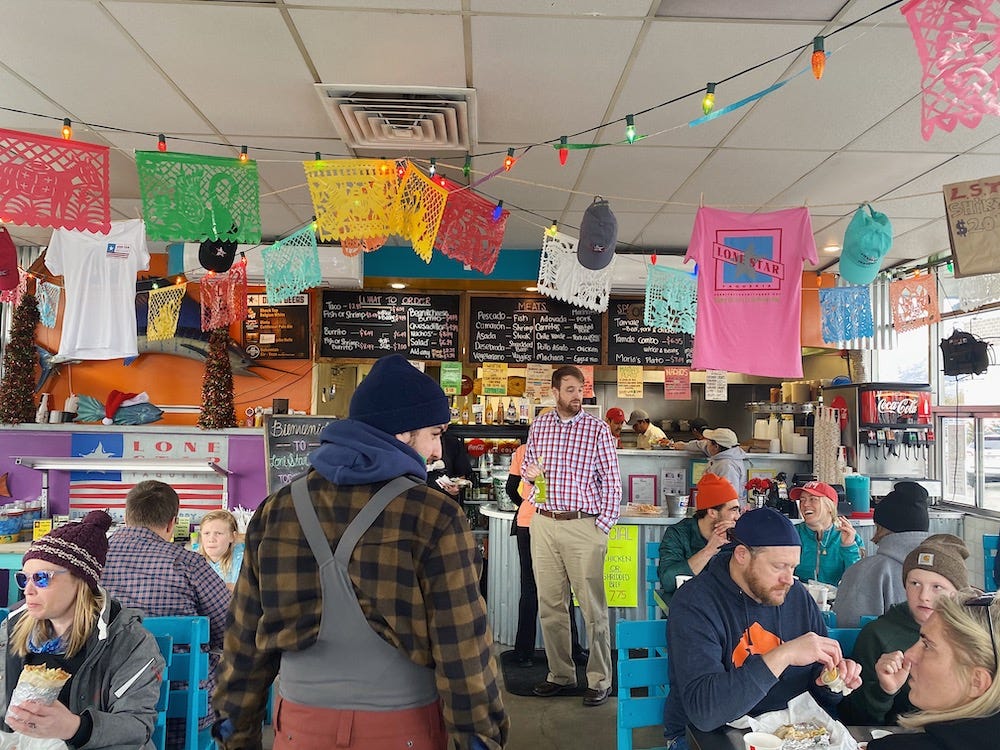 A few days later, it hits again. This time, you want tacos. So you send it down to El Chubasco in a Park City strip mall. You get yours Mexican-style with cilantro and onion, unless you prefer the American version with lettuce, cheese, and chopped tomatoes. A side of rice speckled green with more cilantro completes the order. Yet it's the salsa bar, stacked with buckets of condiments on ice, that makes your day. There are juicy slices of lime; vinegary pickled onions and jalapeños; chipotle and cilantro cremas; salsas made of tomatillo, mango, chile arbol, habaneros, and more. Use your complimentary chips as vessels to try them all. Go crazy. Leave happy.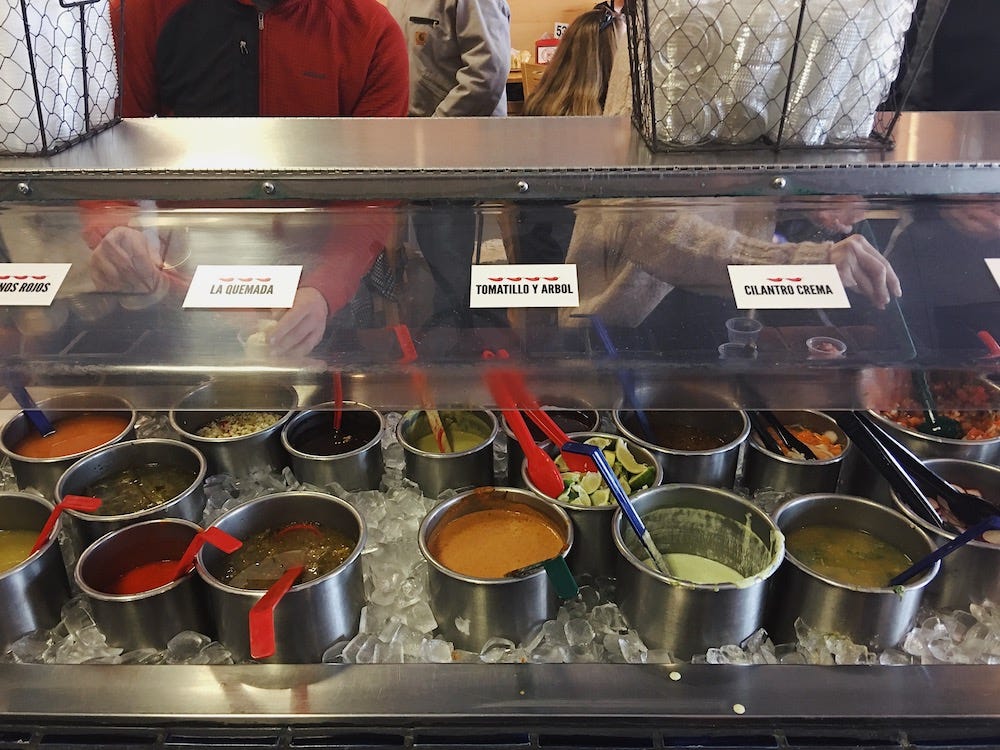 This is comfort food: not the best Mexican food you'll ever have (I hope), but satisfying all the same—and an extra layer of warmth on cold days spent carving moguls and catching up with loved ones.
🌯
Lone Star Taqueria
2265 Fort Union Blvd, Cottonwood Heights, UT 84121
(801) 944-2300

🌮
El Chubasco
1890 Bonanza Dr, Park City, UT 84060
(435) 645-9114
---
This week's reads
---
If you're into Some Meals Considered, tweet about it to spread the word!

Find all previous posts here.

Was this email forwarded to you? Sign up for real.

**Housekeeping** If you found me in your spam folder or your Promotions tab, please mark this address as 'not spam.'