Discover more from Some Meals
Writing on — and recs for — food and restaurants. Mostly in LA & NYC, sometimes elsewhere.
Over 1,000 subscribers
Bars, brand expansion, and ramps season
Oh, you think I, oh, my mind
Happy Friday. It's May 8th and it snowed this morning in New York City. We've been in lockdown for almost two months, and a timeline for reopening should be coming any day now. Here's what's on my mind.



Bars 🥃
There's been a lot of talk about what restaurants might look like when they're allowed to reopen—digital waitlists, tables six feet apart, outdoor dining pouring out onto closed-off streets—but what about bars? As much as I'm longing for restaurants, these days, I've been really missing bars. Because you know those nights out that carry on from spot to spot, flow easily from one conversation to the next, maybe include dancing or karaoke or joining forces with more friends, and tend to end in a few too many? I could really use one right now.
The appeal of visiting restaurants sooner rather than later is to eat delicious dishes that aren't quite the same when you try to cook them at home, and to enjoy a dose of hospitality, even in this new strange world governed by extreme safety measures. But does it really make sense to hit up a bar when movement is restricted? Most of our favorite watering holes aren't exactly spacious.
Even if rocking our protective gear to restaurants and bars that lack the same hum that we're used to seems a bit drab, it'll be one of few ways to socialize in a society still clouded by a pandemic. No one's going to be inviting anyone over, so if we want to see our friends in person, we'll have to meet them out and about.
It'd be cool if New York could function like New Orleans. I could meet up with a friend and we could swing by a dive, order two drinks, then walk around the neighborhood at a social distance, potentially going back for round two once we've finished. Beer gardens with picnic tables hold some promise, too. All I know is I'm tired of getting drunk on Zoom. And I want to see my friends' faces and hear their voices, in real life.



Brand Expansion ✨
Restaurants that were happy—or at least plenty consumed—with running their dining rooms night after night have been suddenly forced to think about brand expansion. In the past, when a restaurateur or chef wanted to build upon their business, the obvious move was to open a new spot. Today, growth (or rather, staying afloat) means expanding your reach beyond physical spaces. It means sharpened takeaway and delivery operations, makeshift grocery stores, bottling and selling house-made products, sharing content like recipes and playlists, and virtual cooking classes.
What's interesting about this shift is how it's likely to alter the makeup of restaurant teams. Suddenly, there's more need for people with marketing chops or backgrounds in CPG. I was listening to René Redzepi on TAKE AWAY ONLY, who said that while Noma's been talking about selling their fermented products for ten years, they never did it because he was content with simply having a restaurant, and if they did it, it would only be for money. "Now I can see obviously that to have a rock-solid financial foundation equals taking care of everyone who is around you in your organization," he said. It wouldn't be about profits, it'd be about security. Still, this would be an entirely new avenue for Noma. Redzepi readily admits that giving home cooks access to Noma's fermented goods could change their cooking for the better. And yet, "actually manufacturing things and producing things and selling them, you could really talk about creating brand and having that awareness factor where things… I have no clue how to do it, so we'll see." While no one has a budget to hire new staff right now, it's something to keep an eye on in the future.



Self-promotion 🔊
Some of you know I used to work at Resy and that I still write for them, specifically the New York Hit List. That was on pause for obvious reasons, but we're now back with the At Home Hit List, which will run every Monday and feature ten of the coolest options for takeout, delivery, groceries, and the like. Here's this week's edition, and stay tuned to Resy.com for the latest. If you don't live in New York, Resy is also publishing this in other major markets including LA, SF, Chicago, Charleston, Atlanta, Seattle, Boston, and Portland.
Another project I've been working on is QB, a newsletter from the Grovehouse restaurant group (Lilia and Misi). We send a monthly email with all sorts of fun stuff, plus a weekly edition that highlights stories from their front- and back-of-house teams. Sign up here if you don't already get it.
Finally, if you're a restaurant/bar/café owner (or you know one) that is looking to launch a new revenue stream or charitable effort in light of the current times, I've partnered with Kickstarter, the OG platform to crowdfund creative projects, to help you launch campaigns. Hit me up if you're interested!


Ramps 🧅
It's ramps season and since I can't stop by Lilia for ramp focaccia, I made my own. If you've got starter, this is a great recipe for the dough, and here's what I referenced for the topping.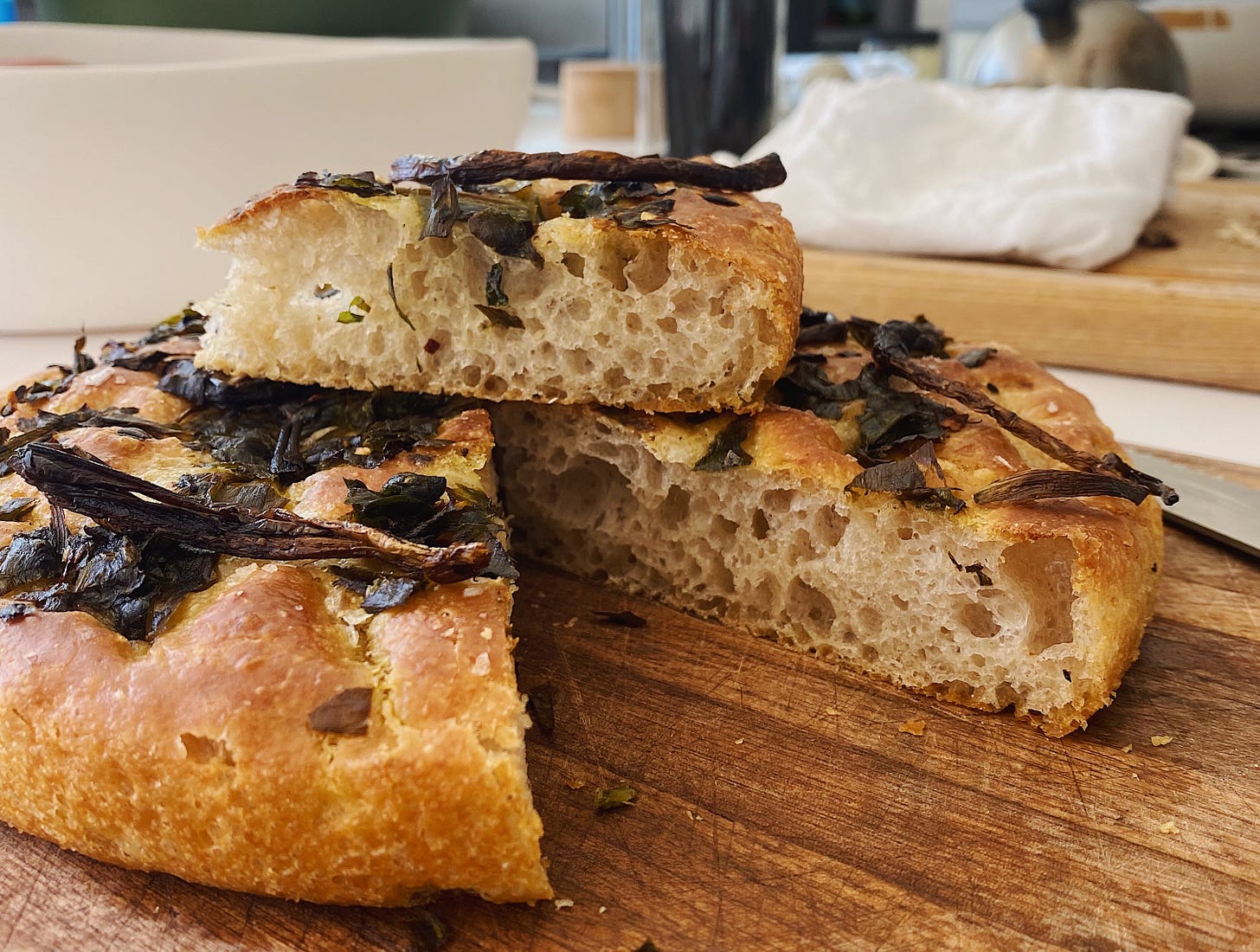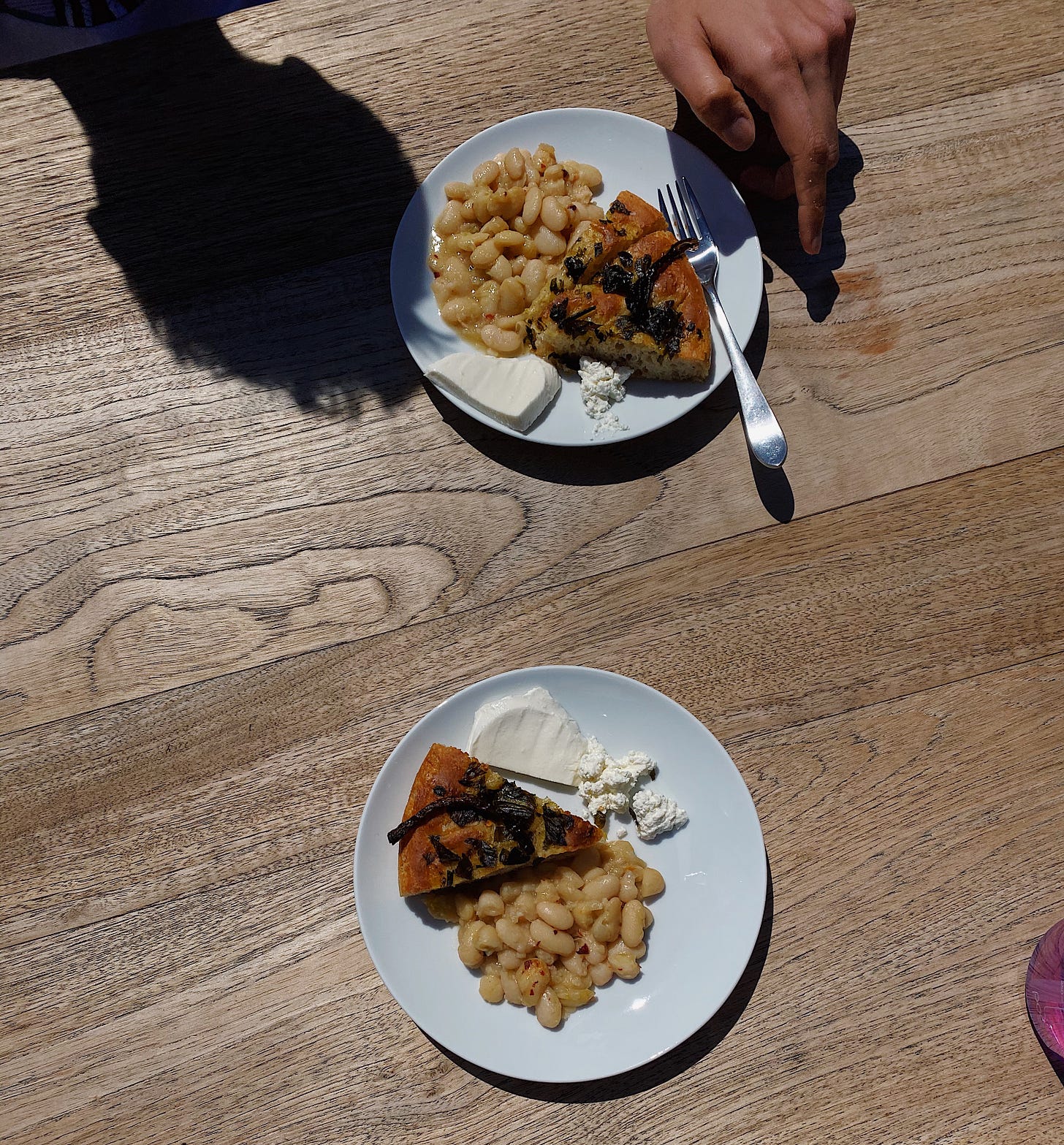 That's all for now, folks.
---
If you're into Some Meals Considered, tweet about it to spread the word!

Find all previous posts here.

Was this email forwarded to you? Sign up for real.

**Housekeeping** If you found me in your spam folder or your Promotions tab, please mark this address as 'not spam.'