Discover more from Some Meals
Writing on — and recs for — food and restaurants. Mostly in LA & NYC, sometimes elsewhere.
Over 1,000 subscribers
A place for every mood
The arrival of a true neighborhood restaurant.
A true neighborhood restaurant is a place you can dine at weekly, if not more. The requirement, then, is a menu with options—and lots of them. Think of a diner, but swap endless egg dishes and sandwich types for a more genuine and tasteful variety.
Oysters more than one way, bar bites like crudité and sliced ham, seasonal salads and vegetables, six pastas ranging from angel hair Francese to spinach ravioli, porgy with prawns, seared salmon, grilled pork chop, roasted chicken (half or whole), hangar steak over melted onions, plus sides including chopped spinach and mushrooms a la King. Such is the situation at Anton's, a new West Village eatery that folks like my parents, who live five blocks away, are lucky to have. 
Anton's is not just a great restaurant in their neighborhood. It's a spot that promises satisfaction on any given night, no matter your mood. You could have a simple roast chicken and a few sides, lean vegetarian, or take comfort in a bowl of pasta and a glass of wine. You could indulge in a little bit of everything, and definitely not skip dessert. Anton's is a game that can be played in many different ways. It'll be there for you in warm weather and cold, for celebratory occasions or ordinary evenings.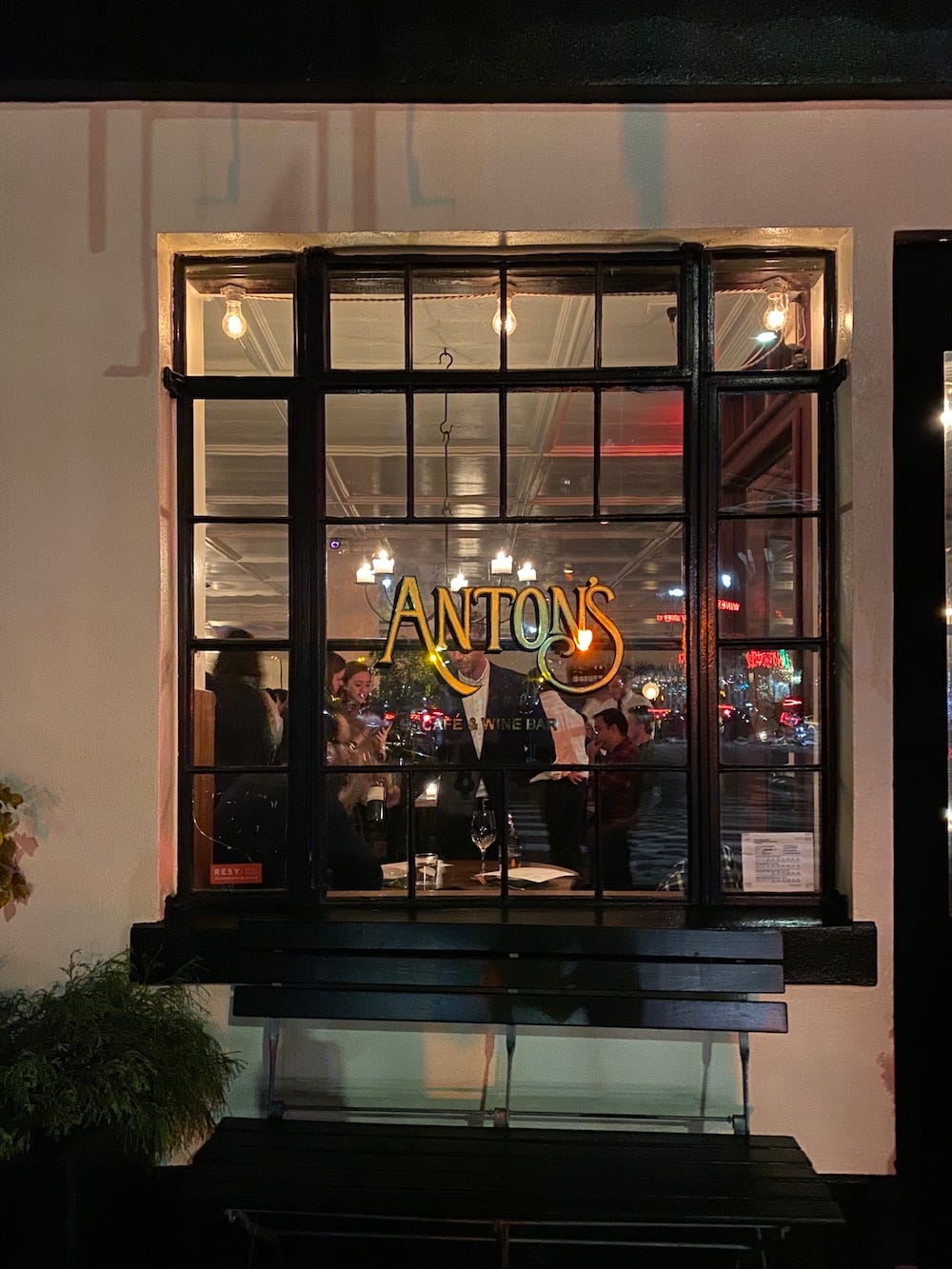 The inspiration for the chef-owner Nick Anderer, who led kitchens under Danny Meyer at Maialino and Marta, is old New York modernized for contemporary tastes. He succeeds in that Anton's doesn't feel like some of the other restaurants that draw on the Mad Men days, like The Grill or TAK Room. His fare is classic yet light and inventive; not pulled from a canon but made for today. 
Inside, Anton's is spacious and elegantly rustic. Formerly, it was Frankies 570. Now, Manhattanites will have to head to Carroll Gardens for their cavatelli with sausage, brown butter, and sage. But that's okay, because that trip will always be worth it, and now they have Anton's.
I live in Brooklyn, as most of you know, so I'll get back to Anton's when I can. Every restaurant-loving New Yorker should go check it out. It's buzzy and delicious. But the people who should be most excited are the residents of the West Village. For them, Anton's is a big win. They'll be regulars in no time.
🙂
Anton's
570 Hudson St, New York, NY 10014
(212) 924-0818
---
This week's reads
---
If you're into Some Meals Considered, tweet about it to spread the word!

Find all previous posts here.

Was this email forwarded to you? Sign up for real.

**Housekeeping** If you found me in your spam folder or your Promotions tab, please mark this address as 'not spam.'