Discover more from Some Meals
Writing on — and recs for — food and restaurants. Mostly in LA & NYC, sometimes elsewhere.
Over 1,000 subscribers
A molino comes to Bed-Stuy
Quesadillas, tetelas, memelas, & more—all on house-made tortillas
I was supposed to go to Mexico City on March 19th for a short trip with friends. For obvious reasons, that didn't happen. We pushed it back to Labor Day weekend, but that didn't happen either. I would've been there right now, somewhere in Juarez probably, eating a concha and drinking a coffee. It's all good though, because something kind of amazing happened.
A molino opened in my neighborhood. "Molino" means mill in Spanish, and in Mexico it's used to refer to places where corn is ground to make masa for tortillas. 
About a month ago, maybe more, we were walking to get a cold brew and spotted activity in the corner space of Franklin and Greene, the former home of beloved neighborhood coffee shop Bedford Hill. A week later, on a Saturday morning, something looked open. A menu was taped to the glass windows: quesadillas, tetelas, memelas, and more, all on house-made tortillas.
We weren't that hungry, so we ordered a single squash blossom quesadilla to share. A tidily filled, folded, and toasted blue corn tortilla arrived shortly thereafter, with a small pile of tangy tomatillo salsa on the side. The first bite delivered an oozy mouthfeel and a delicately floral, deeply earthy flavor. A string of Oaxacan cheese hung from my teeth and a light orange flower peaked out from the remaining taco.
I could've been in Mexico City.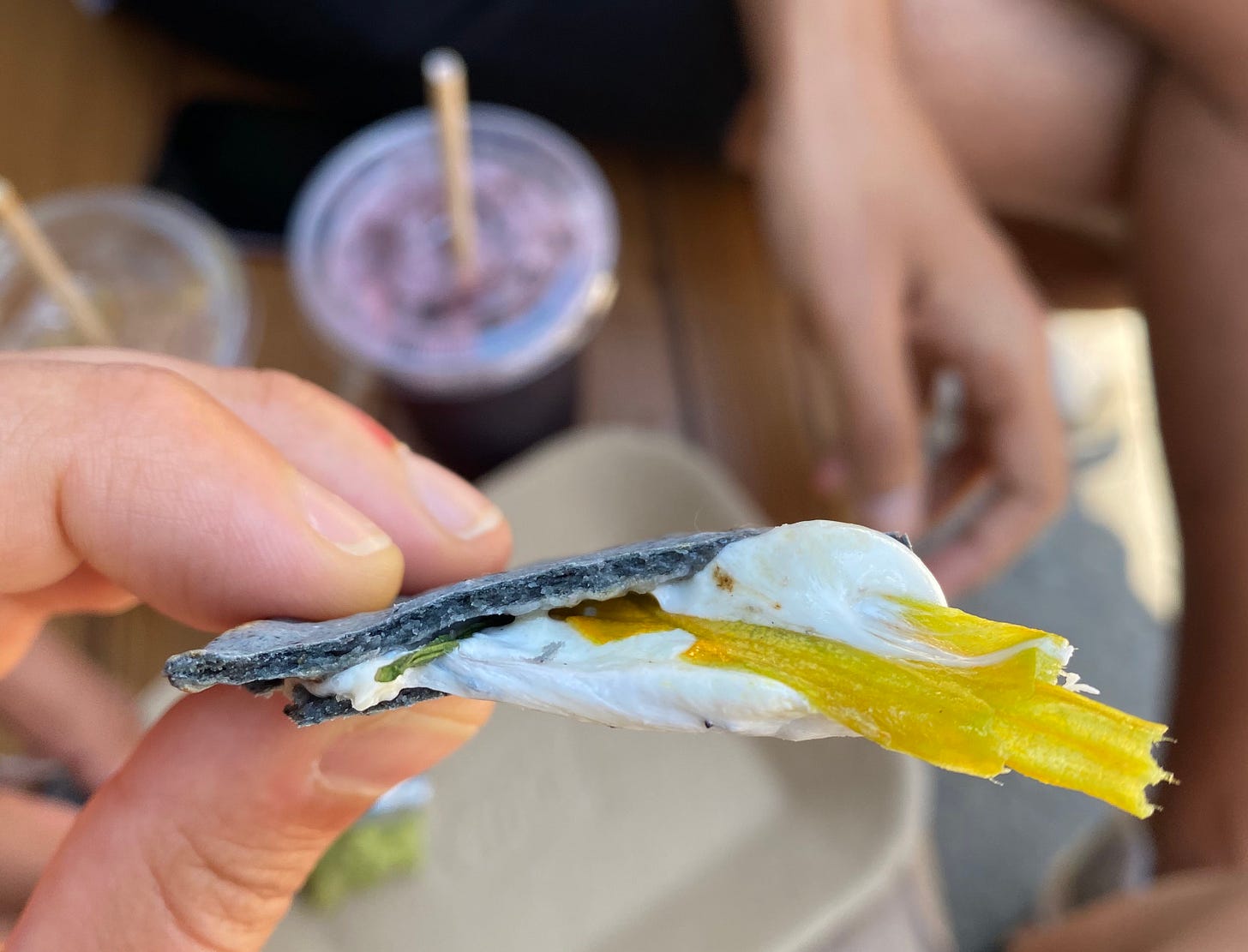 There are taquerias near me, like Chilo's or Gueros in Crown Heights, and better spots in Bushwick (Taqueria Al Pastor), Greenwood Heights (Reyes Deli), and Sunset Park (Tacos El Bronco). Not to mention a common favorite, Los Tacos No. 1 in Chelsea Market. I love the tacos at Claro, which come on tortillas crafted from masa made by hand, in house. 
For All Things Good is in another category. The closest reference point I can think of in New York City is Atla, where the vegetarian-leaning menu is layered with bright flavors and tortillas are sometimes pressed with fragrant hoja santa leaves.
It's a molino, after all, focused mainly on cranking out exceptional tortillas, the result of years of research and trips to Mexico. The small, thoughtfully developed menu of breakfast and lunch items is the added bonus.
I've had the tetela trio, triangular tortilla pockets stuffed with black bean & lime or chihuahua cheese & salsa verde or hibiscus flower & salsa chipotle, then pressed warm. The thick-skinned blue corn memela, spread with lightly mashed avocado and sprinkled with fresh herbs. The beautifully composed mushroom tlayudita, with refried black beans, Oaxacan cheese, chili oil, and a crispy mess of hen of the woods, as well as the breakfast tlayudita, which replaces the shrooms with a fried egg and slices of avocado.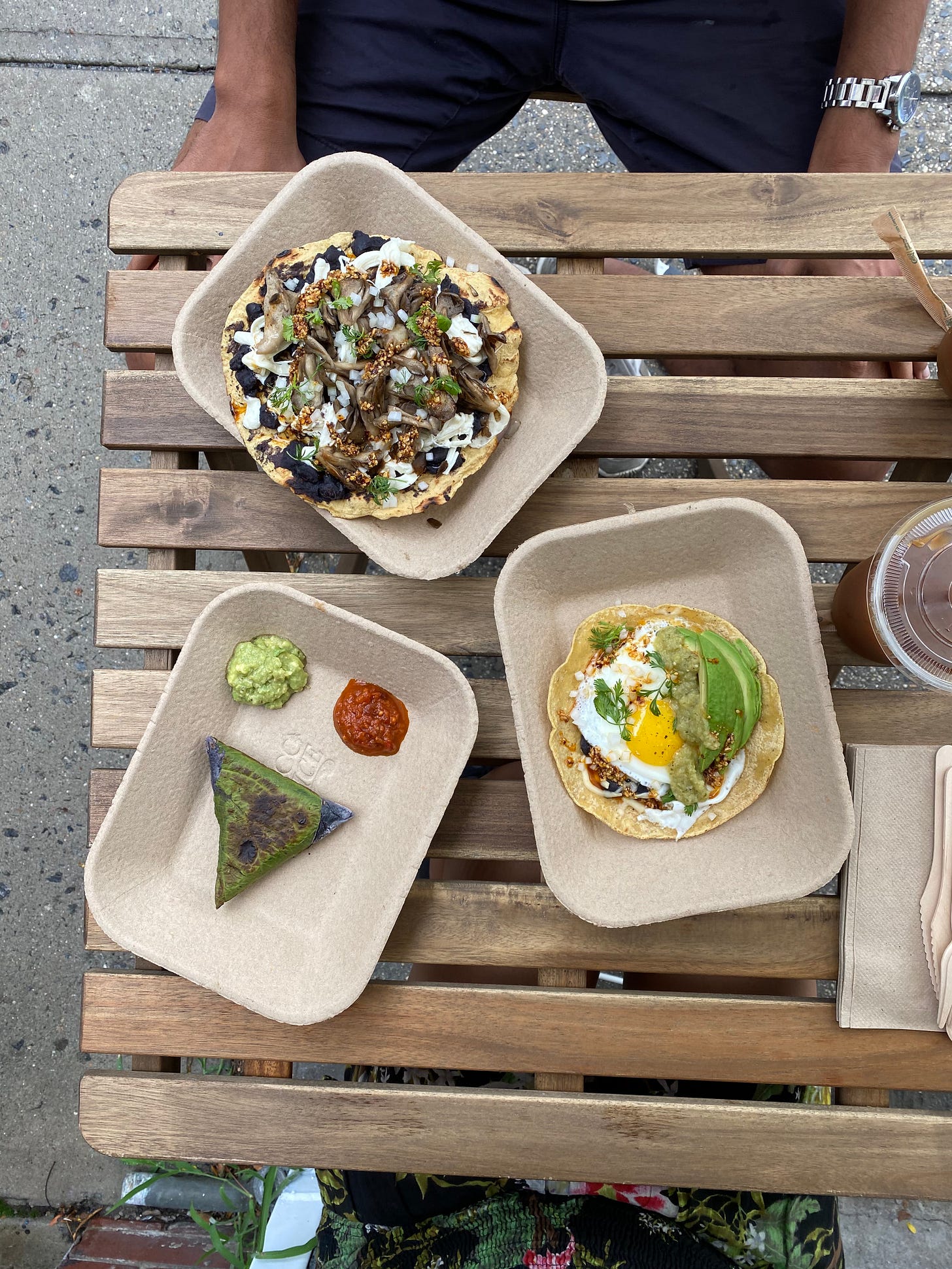 The proprietors, who are kind and warm, have set up a few tables outside to eat. Order a hibiscus agua fresca, magenta and refreshing, to sip on while you wait for your food. Maybe throw in a pack of freshly made tortillas to cook with at home, too.
I'm lucky to have For All Things Good a block away from my apartment, but make no mistake: it's more than a local café, it's a destination spot.


For All Things Good
343 Franklin Ave, Brooklyn, NY 11238
(929) 204-4154
---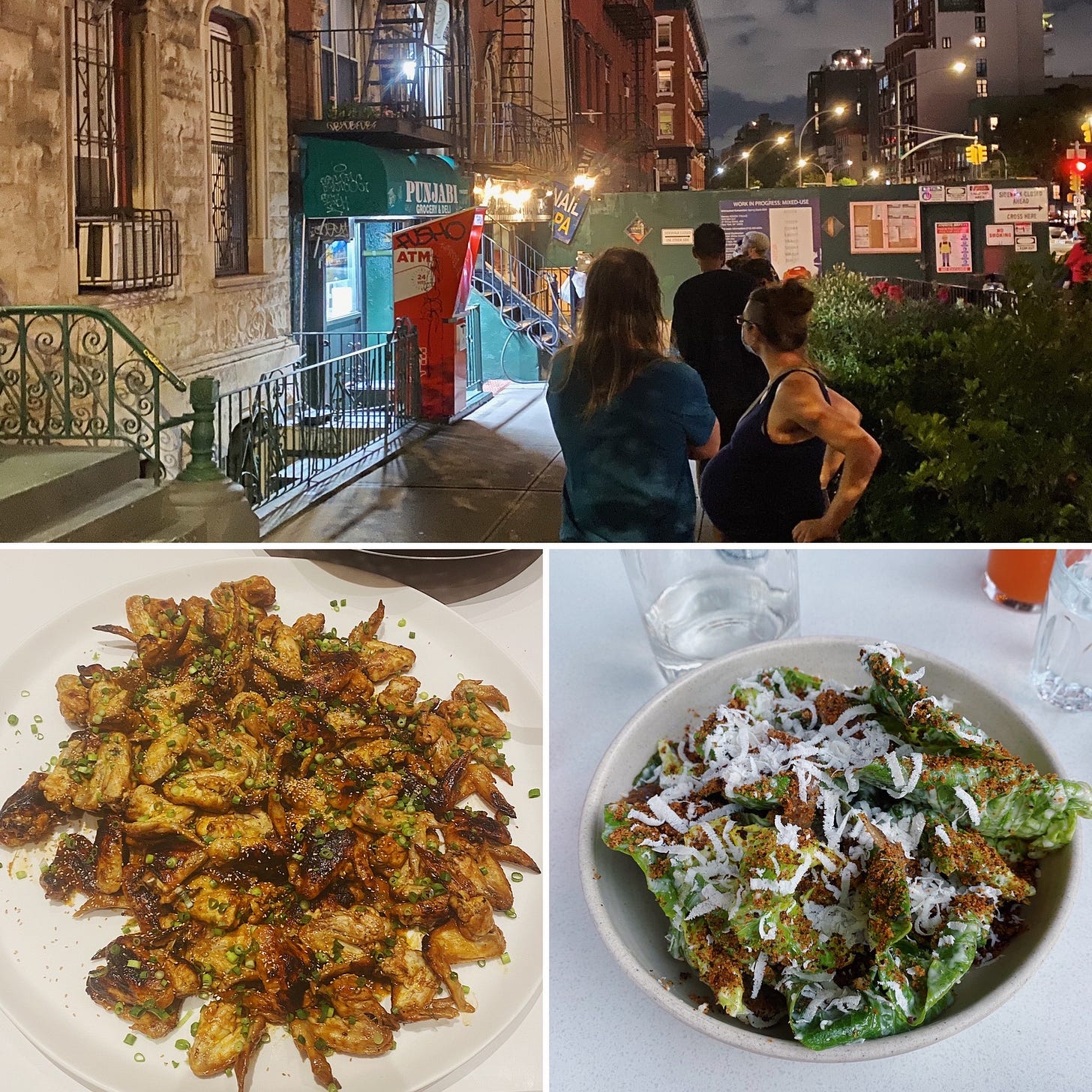 Try This
Everything and anything from Punjabi Deli, which is thankfully booming after this Gothamist article dropped and a longtime regular launched a GoFundMe (so close to its goal!) (Top)

Make your own version of Bar Goto's phenomenal miso wings at home; they're bottling and selling their wing sauce at both locations (Bottom left)

The new Caesar salad on the menu at Leo, also a frozen Negroni (plus pizza and wine, of course) (Bottom right)
Read That