Discover more from Some Meals
Writing on — and recs for — food and restaurants. Mostly in LA & NYC, sometimes elsewhere.
Over 1,000 subscribers
A little something sweet
Mah-Ze-Dahr is a navy-and-gold-clad West Village bakery oozing with sugar, butter, and class. The first taste I had of owner Umber Ahmad's genius was at my parent's apartment. (Full disclosure: my mom is a friend of hers and an investor in the business, but I can assure you that I am not biased.) It was six or seven years ago when I was home from college. In the kitchen, I came upon a simple, partially-eaten, double-layer chocolate cake. It was shaped and frosted perfectly, and dark enough to be daring. Resistance was 100% futile. One bite had me weak in the knees. I'll tell you why: it tasted like an elevated version of a Duncan Hines box cake slathered in store-bought frosting. As a kid, I would sneak spoonfuls of leftover chocolate frosting— straight from the tub—for days after having baked cupcakes to bring in for a grade school birthday.

The cake is called Devil in Ganache, and my closest people know that if I don't have it every year on my birthday, they fucked up.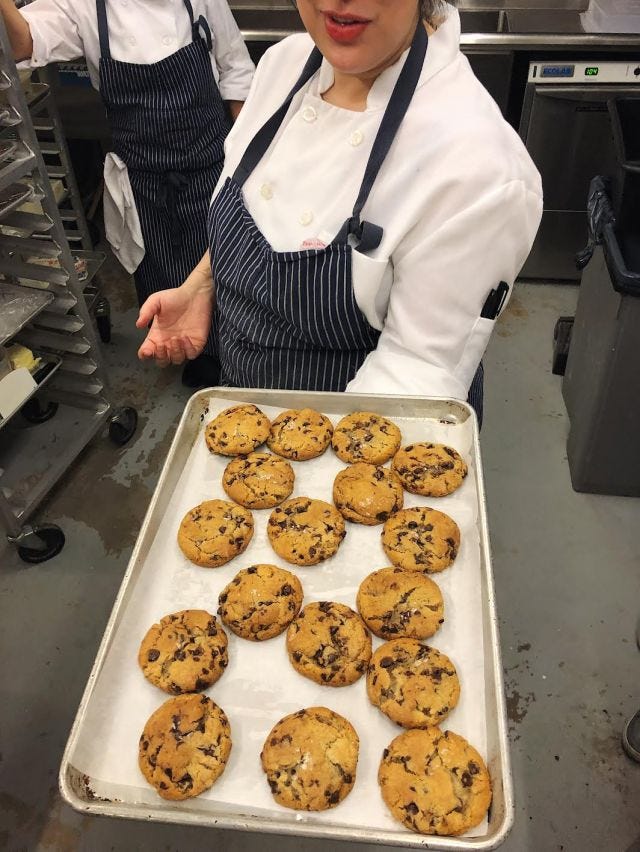 After selling her goods online locally, Umber opened her first brick and mortar location in 2016 to plenty of fanfare—and for good reason. I recently tried her chocolate chip cookie warm out of the oven. It reminded me of a dutifully roasted marshmallow: browned and oh-so-slightly crisp on the outside with a luscious interior. That's topped with flakey sea salt. Then there are the old-fashioned doughnuts, sturdy and dense, soft and springy, and blessed with a yeasty, vanilla-infused flavor. I'm not a doughnut person, but these are something else. In the summertime, chocolate soft serve gets the high-grade treatment; comprised of top-quality product, churned fresh, and topped with rich chunks of gooey brownie. Consider it another reason to dream of summer.

I was lucky enough to do a baking class at the shop with my team from work last week. We made giant cinnamon buns out of brioche dough, which we flattened out into a hefty rectangle, coated generously with a thick cinnamon-sugar paste, rolled up, and sliced into units. After they rose and baked, we drizzled them, liberally, in irresistible icing.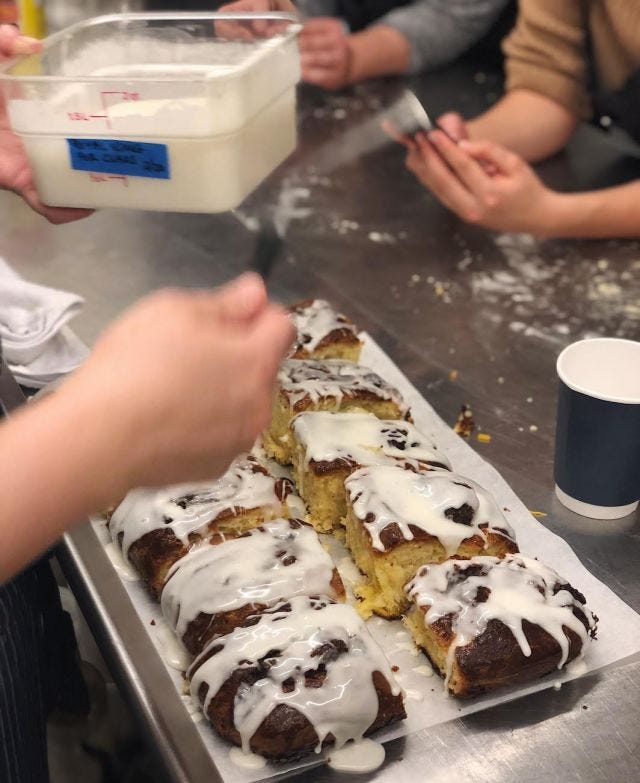 Mah-Ze-Dahr is not known for one thing. They don't just get a few goods really right. Everything in their pastry case is executed at the highest level. Umber has a science background, with a degree in biology and another one in business. She led a successful career in finance before branching out to pastry. And she brings all of that to the table—from recipe development to entrepreneurship. Case in point: she launched Mah-Ze-Dahr not just as a bakery, but as a brand that is serious and sexy and smart. But most importantly, she knows how to make something taste divine. All-encompassing of texture and flavor, Mah-Ze-Dahr doesn't hold back. Her desserts leave you smiley and without regret.

Life's too short to eat sweets that don't bring about a skip in your step.

🧁
Mah-Ze-Dahr
28 Greenwich Ave, New York, NY 10011, USA
(212) 498-9810

Recommended reading:
New to Some Things Considered? Read my archives here.