Discover more from Some Meals
Writing on — and recs for — food and restaurants. Mostly in LA & NYC, sometimes elsewhere.
Over 1,000 subscribers
A glorious feast of banchan, kalbi, and sundubu-jjigae
In typical summer-in-the-city form, we stopped in Queens for Friday night dinner on the way out east for the weekend. This time, it was for Korean barbecue. I had read about a spot called Mapo in Murray Hill at some point, so it was hanging out on my ever-expanding list of places to go, someday. It came to the surface when my friends Anna and Frank wanted to act on a recent recommendation. The two of them are fellow fans of the stopover in Flushing, Jackson Heights, Ozone Park, you name it, as long as it's in Queens—a food lover's paradise and the entryway into Long Island.
We pulled up and opted for the $5 valet (a welcome dose of hospitality in a neighborhood that's near impossible to park in). Thanks to blown up pictures of raw meat platters and reviews from local outlets pasted all over the restaurant's exterior, it was easy to spot. When we waltzed inside, an aroma of charcoal-grilled protein settled around us, but I had a good feeling that the meal ahead would be worth the trip to the dry cleaners. (I was wearing a silk dress.)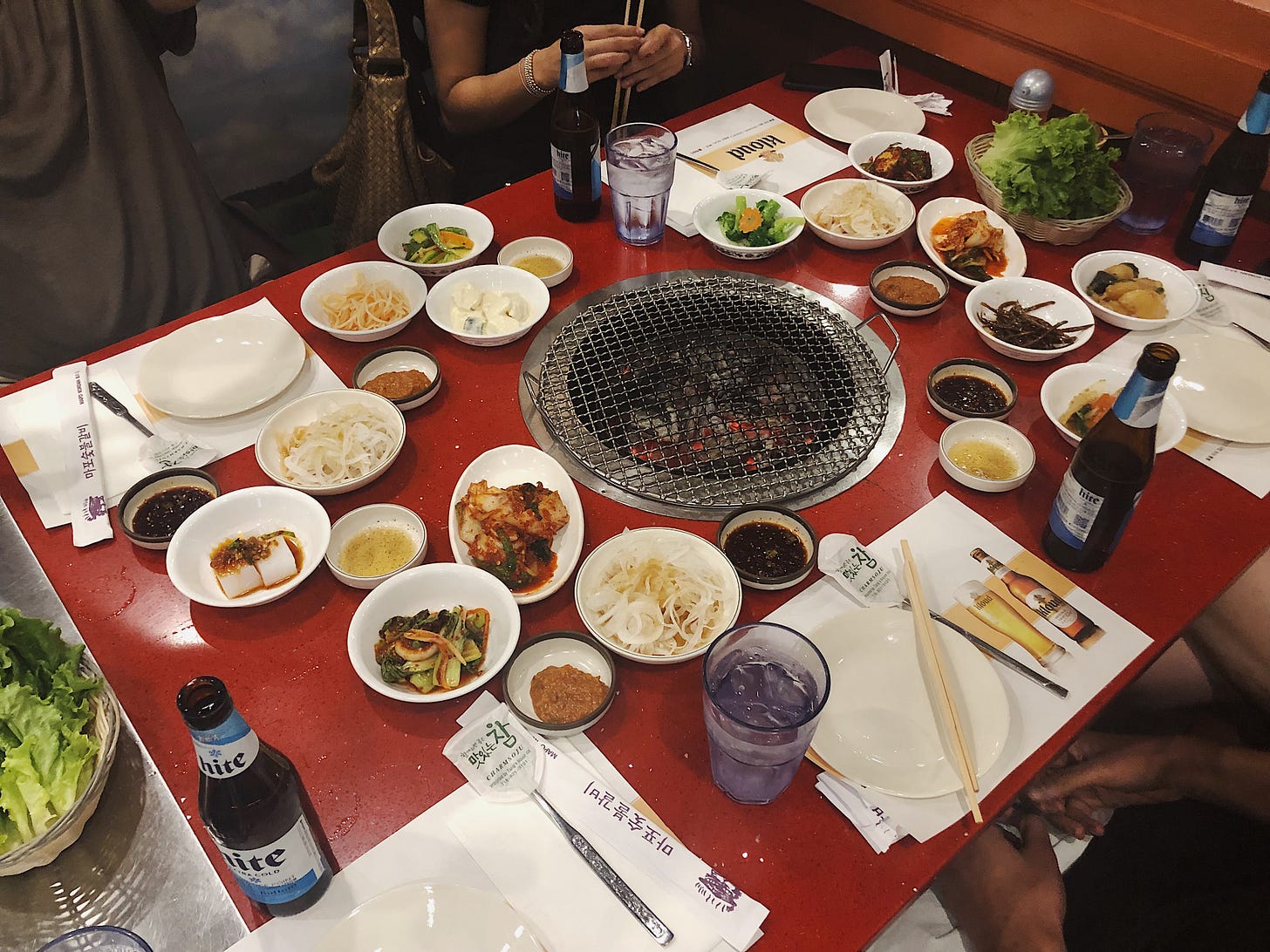 Perhaps it was the image of a stern herd of cows below the grilled meat section of the menu. Or, that after we ordered, a guy arrived at our table holding (with tongs) a blackened receptacle filled with fiery lumps of charcoal, plopped it into the hole in the middle of our table, and swiftly departed as our waitress covered it with a round, steel grill top. Definitely, it was when the generous heaping of barchan arrived, that we knew for absolute sure: this place is the real deal.
We helped ourselves to the dizzying array of sweetly pickled summer squash, pungent cabbage kimchi, braised strips of burdock root (my favorite), thin sheets of fish cake, potatoes (some boiled and fried, others made into a creamy salad), and translucent cubes of dotori-muk, a jelly made from acorn starch. Two baskets piled with firm, leafy lettuce, each leaf larger than the size of my hand, were placed on both ends of our table. A giant scallion pancake came out of the kitchen, got cut into triangles at the table behind ours, and was served to us as individual slices that were velvety inside and bursting with thick chunks of fresh green onion. Then materialized little pots of egg soufflé, shaking in the middle and sizzling on the edges, and a cast-iron dish of creamed, orangey-yellow corn kernels—all part of the epic prix fixe experience.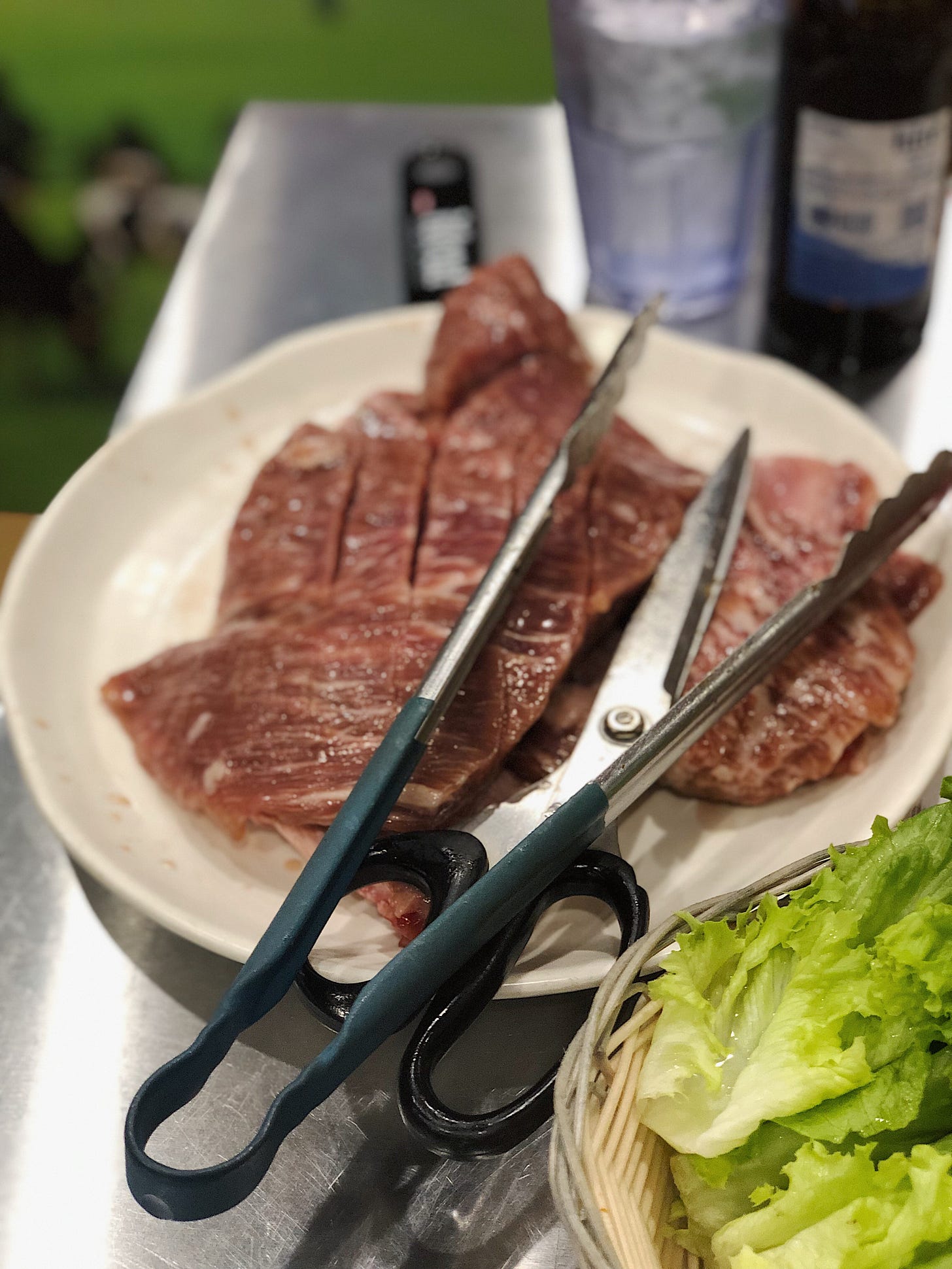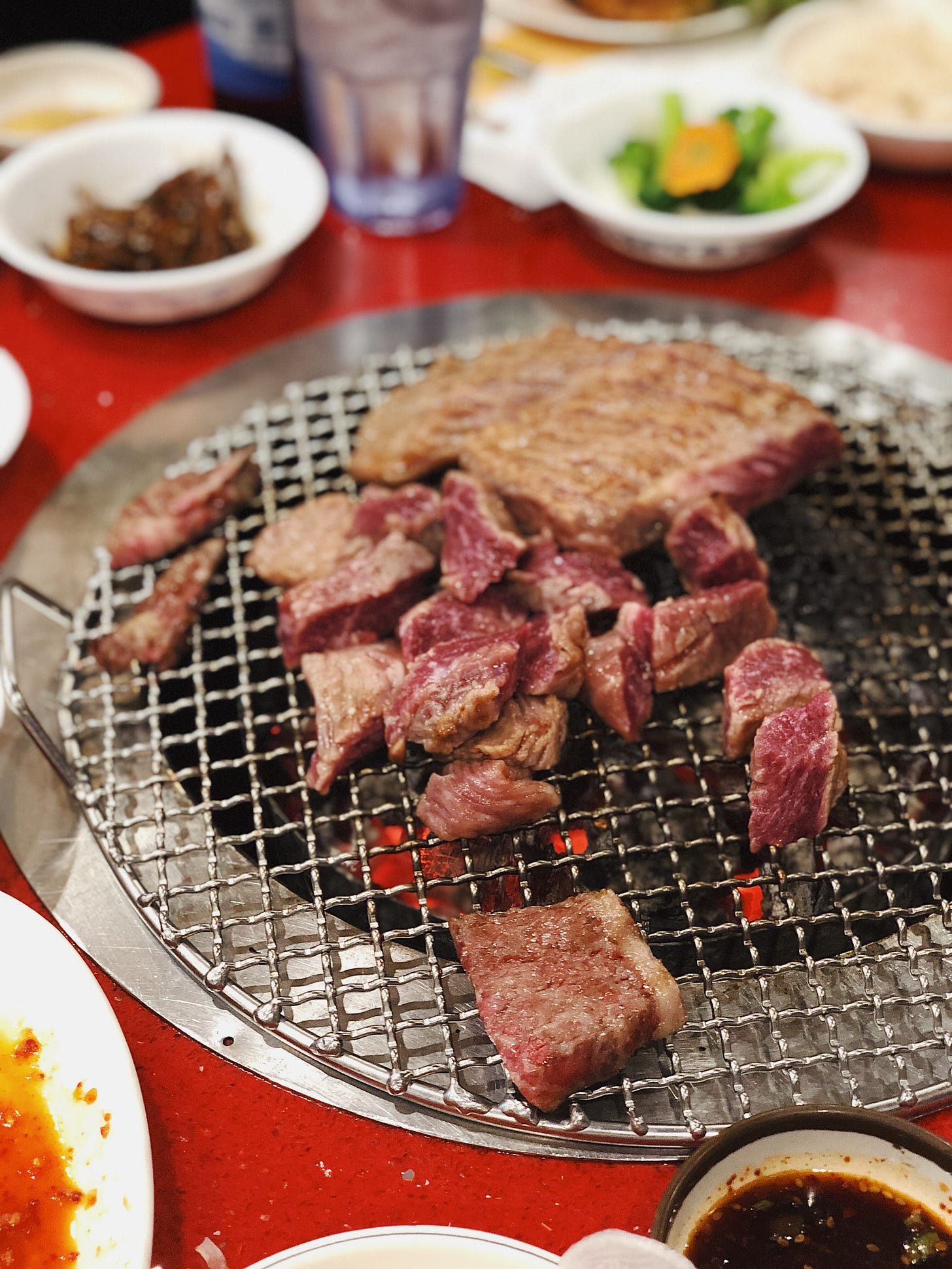 All of it was wonderfully fresh and utterly delicious, and yet it was our waitress, whose name I wish I asked for, that stole the show. She cooked thin slices of short rib to perfection, doled them onto our plates once they hit medium-rare, and after we swiped the meat through various sauces (sesame, soy, a spicy paste called ssamjang) and began to assemble our wraps, she assisted, sticking her chopsticks into ribbons of marinated onions and shreds of daikon, supplementing our creations without hesitation. She spoke little English, but we trusted her entirely as if she was our mom for the evening. She knew best, and we were delighted to let her show us the way.
Finally, the pièce de résistance: marinated boneless beef rib (kalbi). In an unflinching performance, our waitress moved the short rib slices aside, grabbed the brilliant cut of thick, marbled meat with her tongs and threw it onto the grill, slicing it up into juicy orbs over the searing heat with her scissors, as we watched, hungrily.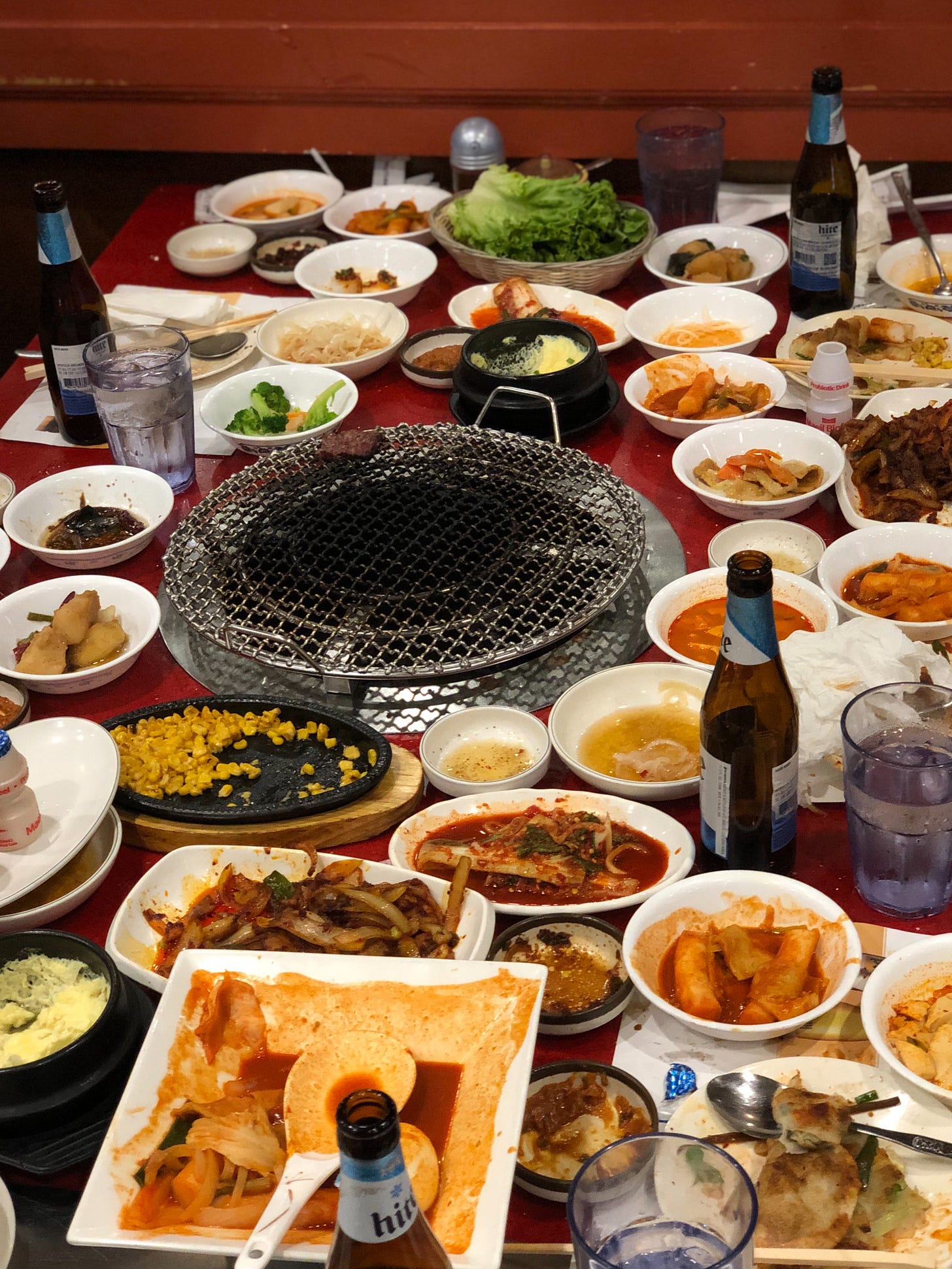 We also had long, chewy rice cake rods in a spicy stew and gochujang-slicked pork with sautéed onions and peppers: the unnecessary additions you can't help but order when it's your first time at an establishment and your eyes are bigger than your stomach. It's the right move, anyway, because next time—and there will be a next time, soon—we'll know exactly what to order.
As we sipped on our bowls of spicy tofu soup (sundubu-jjigae) to end the meal, a group of eight Korean guys in their late 20s at a nearby table erupted into laughter then carried on conversing in a rowdy, Friday night manner, fueled by many cold beers. They had arrived before us, but we hadn't heard a peep from them until then. After all, they had only just finished eating, heads down, immersed entirely in the animated path to total satiation. Another glorious Korean barbecue adventure was in the books.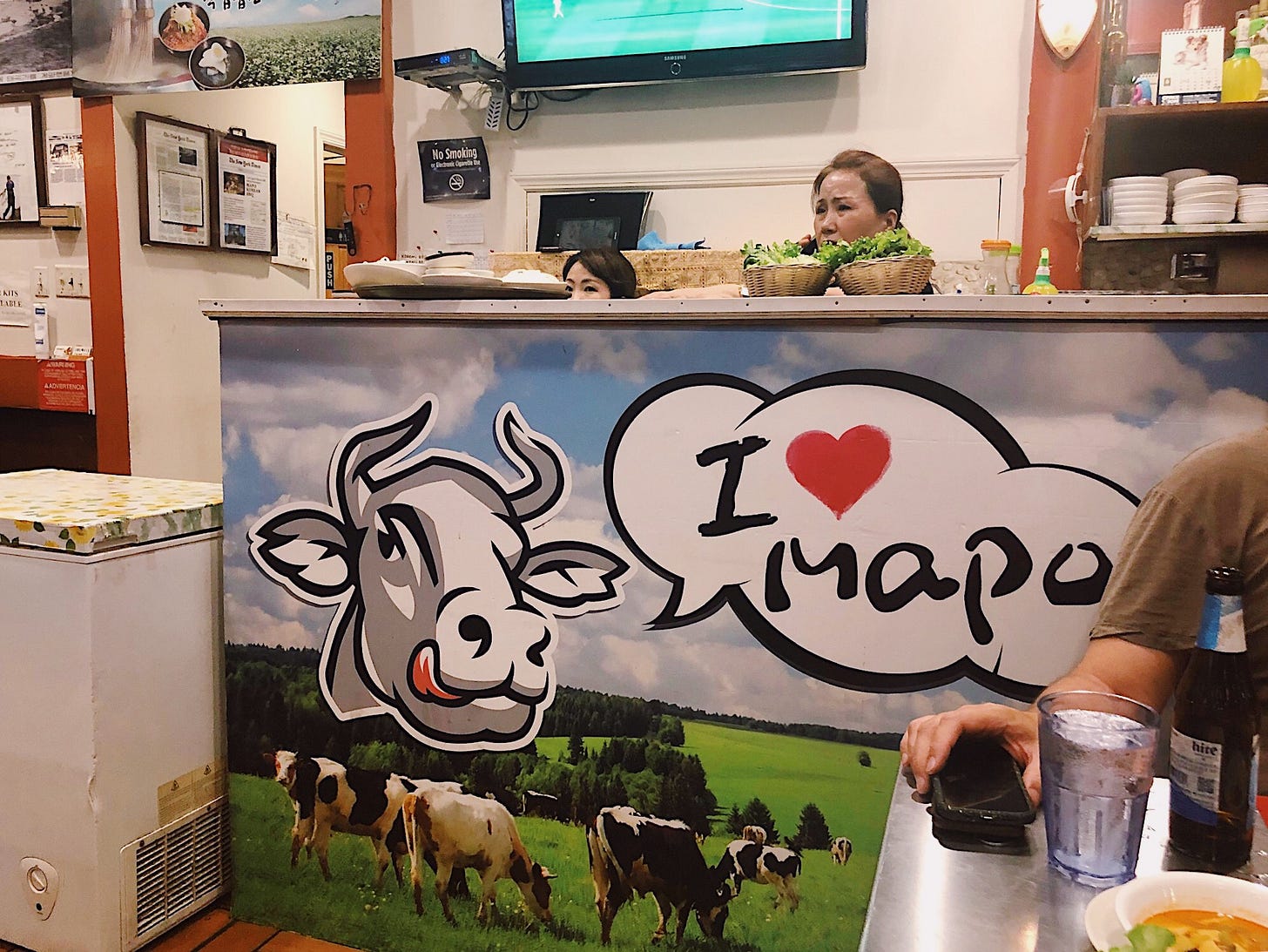 🥩
Mapo Korean BBQ
149-24 41st Ave, Flushing, NY 11355
(718) 886-8292

Recommended reads:
New to Some Things Considered? Read my archives here.